Prema projektima rekonstrukcije i izgradnje stadiona širom Srbije, novi stadion, u skladu sa standardima UEFA dobiće i Loznica.
Direktor Republičke direkcije za imovinu Jovan Vorkapić i Vidoje Petrović, gradonačelnik Loznice, potpisali su ugovore o prenosu prava javne svojine sa Republike Srbije na grad Loznicu u cilju izgradnje stadiona po UEFA 4 standardima na Lagatoru. Na zahtev naručioca i investitora, Gradske uprave grada Loznica, izrađen je urbanistički projekat za izgradnju fudbalskog stadiona u Loznici.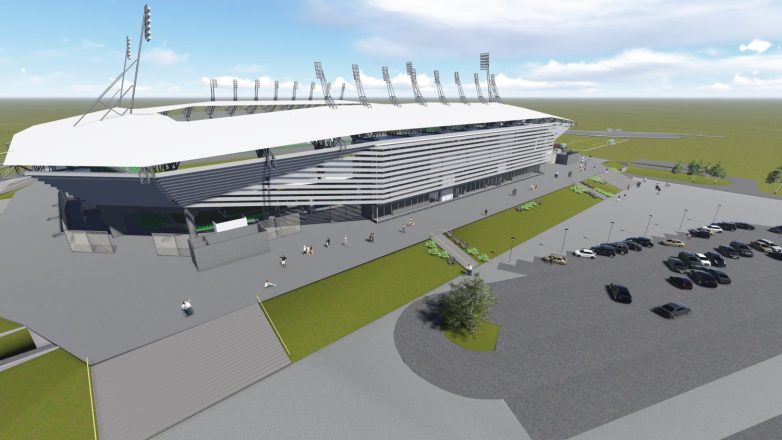 Oko čitavog stadiona je formiran pristupni plato sa koga se stupa na tribine
Ono što je primarna karatkeristika ove lokacije jeste njena relativna izdvojenost iz urbanog tkiva, uz istovremenu blizinu centru, što predstavlja značajan kvalitet koji u narednom periodu treba afirmisati. Takođe, šira zona oko predmetnog prostora je Planom višeg reda namenjena sportskim i rekreativnim aktivnostima, koje doprinose atmosferi gradskog sportskog centra, u okviru koga se već nalaze sportski centar i park.
Urbanističko rešenje je zasnovano na potrebama i zahtevima Investitora, uslovljenostima iz Plana, zahtevima saobraćaja, konstruktivnim ograničenjima i ekonomskoj isplativosti.
Kompleks stadiona čine fudbalski stadion i biletarnice. Pored navedenih objekata, u okviru obuhvata Urbanističkog projekta se nalazi i fudbalsko igralište koje je u funkciji fudbalskog stadiona, kao i planirana trafostanica.
Kapacitet stadiona je između 8.000-8.500 posetilaca
Fudbalski stadion je prostorno koncipiran tako da zauzme središnji i severni deo predmetnog prostora, sa pružanjem u pravcu sever-jug. Kapacitet stadiona je između 8.000-8.500 posetilaca. Oko čitavog stadiona je formiran pristupni plato sa koga se stupa na tribine. Pristrup platou, odnosno samom stadionu je omogućen sa tri strane i to formiranjem dva stepeništa za gledaoce, dva stepeništa za VIP posetioce i platformi za invalide sa zapadne strane, jednog stepeništa sa severne strane i jednog sa južne strane.
Osim navedenih pristupa, formirana su i dva evakuaciona izlaza sa severne i južne strane. Svim stepeništima i platformama se pristupa sa pešačkih komunikacija koje su dimenzionisane u skadu sa očekivanim brojem posetilaca. U okviru pešačkih komunikacija nalaze i objekti namenjeni za prodaju karata – biletarnice.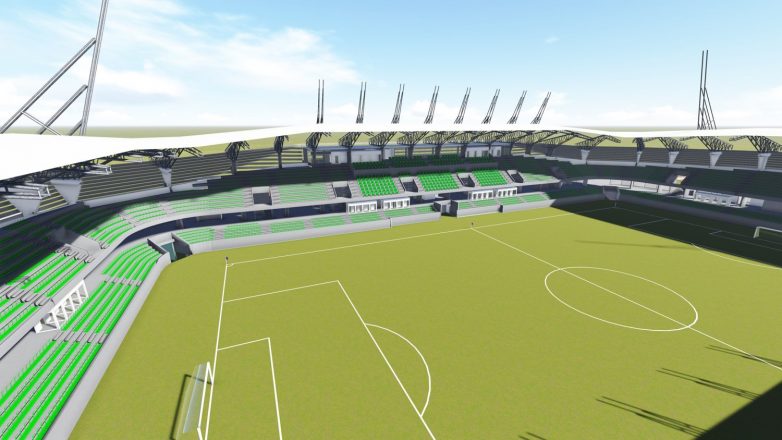 Pomoćni teren s budućom toplom vezom
Oko čitavog stadiona je formiran prsten saobraćajnica, a sve u cilju zadovoljavanja uslova za nesmetano funkcionisanje predmetnog sadržaja kao i protivpožarnih uslova.
U okviru obuhvata Urbanističkog projekta se nalaze četiri parking prostora i to jedan za VIP posetioce, jedan za posetioce, parking za invalide, kao i parking za reportažna vozila.
Južno od fudbalskog stadiona je planirana izgradnja fudbalskog igrališta koje će imati funkciju pomoćnog terena. S obzirom na blizinu sportskog centra, koji se nalazi severno od obuhvata Urbanističkog kompleksa, moguće je u budućnosti, ukoliko se za to stvore svi uslovi, formirati toplu vezu između stadiona i sportskog centra.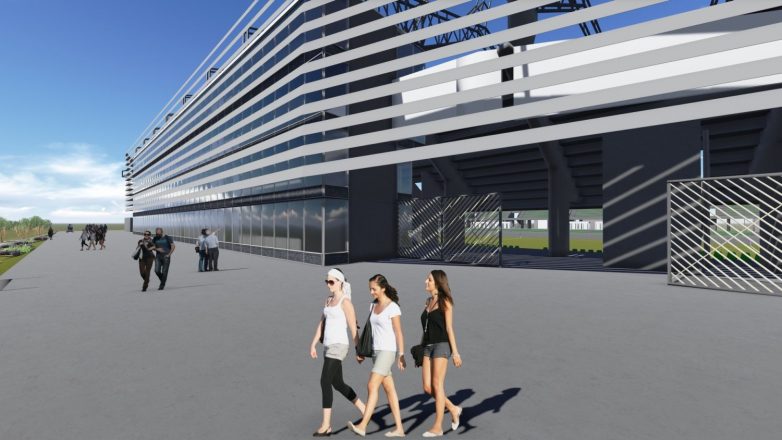 Objekat je postavljen na koti višoj od okolne, blagi nasip je zatravnat tako da ostavlja utisak lebdenja.
Planirani objekat fudbalskog stadiona proteže se u pravcu sever – jug, njegova sadržina odgovara sportskim objektima kategorije 4 koje propisuje UEFA kroz Pravilnik o standardnoj infrastrukturi.
Oblikovanje fudbalskog stadiona omogućava integraciju okolnog prostora i unutrašnjost kompleksa. Objekat je postavljen na koti višoj od okolne, blagi nasip je zatravnat tako da ostavlja utisak lebdenja.
Kretanje ljudi je jasno definisano, ulazi su razdvojeni i pozicionirani po kategorijama korisnika. Gledaoci, kao najbrojnija i najosetljivija grupa korisnika, pristupaju sadržajima stadiona preglednim i lako razumljivim koridorima. Ulazi su obezbeđeni na tri strane objekta. Ulazi za osobe sa posebnim potrebama su obezbeđeni u vidu podiznih platformi. Na koti 0.00 nalaze se svi potrebni sadržaji za gledaoce, punktovi sa hranom i pićem, toaleti, suvenirnice, muzej stadiona i prostorije za prvu pomoć.
Konforno za domaće i goste
Glavni sadržaji su smeštani na zapadnoj strani stadiona. U ovoj zoni se nalazi ulaz za posebne zvanice i druga akreditovana lica, koja najkraćim putevima pristupa svojim odredištima. Na prvom spratu (kota +3.68) nalaze se prostorije sa konferencijskim i medijskim salama, kao i televizijski studio. Drugi sprat (kota +7.36) je namenjen zaposlenima, na njemu su oformljene kancelarije i potrebne sale za sastanke. Treći sprat je najviši nivo zapadnog dela stadiona, sa ovog sprata VIP posetioci pristupaju svojoj loži, ovde je smešten i VIP bar sa hladnom kuhinjom, televizijski studio i kontrolna soba.
U suterenu zapadne strane objekta nalaze se ulazi za sportiste i medije. Ulazi u suteren su podeljeni po kategorijama korisnika, glavni ulaz je namnjen sportistima, ulaz u suteren kod ulazne rampe je namenjen zaposlenima dok su ostali namenjeni medijima. Sportistima je obezbeđen ulaz sa uglova stadiona, izolovanim koridorima preko miks zone pristupaju svojim svlačionicama, prostorijama za masažu, toaletima i tuševima, kako domaći tako i gostujući tim. Svaki od timova ima svoju zonu za zagrevanje i odmor, dok je teretana zajednička za oba tima.
Centralni deo suterena namenjen je prostorijama za pružanje prve pomoći i medicinskog tretmana, doping kontroli, UEFA delegatu i prostorijama za sudije. U medijskom delu suterena nalazi se sala za pres konfenrenciju i prostorije za fotografe. Vešeraj se nalazi u tehničkom delu suterena sa pratećim prostorima za pranje, peglanje i odlaganje čistog veša. U ovoj zoni se nalaze i sve druge potrebne tehničke prostorije za održavanje fudbalskog stadiona.
Projekat novog stadiona u Loznici na Lagatoru potpisuje Pro-ing iz Novog Sada.
Kad ste već ovde…