Za zdravu kuću koja diše vam ne trebaju majstori i pozajmica od banke.
U etno parku Majkin salaš ovo leto se provodi radno, a želja domaćina je da svake godine prošire ponudu i pokažu gostima nešto staro, a zanimljivo. Ideja je da prikažu način kako su naši preci gradili, koristili domaće, jeftine i zdrave materijale.
Osim zemunice, muzeja starih poljoprivrednih mašina i čobanske i alaske kuće, od ove godine posetioci će moći da obiđu i kuću od slame i trske koja je sagrađena za vreme radionice 7 i 8. septembra. Medijski partner je sajt 4zida.rs.
Učitelj je Lehel Horvat, građevinski inženjer koji ima dugogodišnje iskustvo u gradnji kuća od slame i trske i izgradnji dimnih peći. Prema njegovim rečima, eko kuće se grade od prirodnih materijala koji su već bili upotrebljeni i nalaze se u našem okruženju. Ako je to moguće, ovakve kuće se grade u društvu, mobi, sa prijateljima i u tom projektu ne učestvuje banka.
Gradimo od onoga što je u našoj okolini, otpada, bale od slame, starih cigli, crepova.
– Gradimo od onoga što je u našoj okolini, otpada, bale od slame, starih cigli, crepova. Iskopaćemo žutu zemlju kojom ćemo malterisati, koristeći sve što je u našem okruženju. To je osnovni princip takozvane brutalne gradnje. Tako sagrađena kuća je zdrava, jeftina, niskoenergetska, ima nula režiju, nema klasičan toalet, već suvi, kompost toalet (u njemu se ne osećaju mirisi, ne troši vodu i ekološki je) i uz njega ide sabirni kompost – objašnjava Lehel Horvat.
Bez troškova za grejanje
Ističe da za ovu gradnju nisu potrebni specijalizovani majstori, jer ako samo jedan čovek zna šta treba da se radi on obučava ostale.
– Vrlo brzo će od mene svi koji se prijave na radionicu da nauče šta i kako i videće da gradnja sa prirodnim materijalima ide brzo, a rezultat je kuća koja diše. Ne treba otvarati prozor pošto vazduh struji kroz zid, a to se u kući od modernih materijala nikada ne može ostvariti. Zimi je kuća topla, a leti je sveža. Nema grejnih sistema kao što su radijatori, ali nas greje peć na biomasu koja se loži otpadom koji se nalazi u okućnici i tako nema troškova za grejanje. Osim toga, sakupljamo kišnicu i grejemo je – kaže Horvat.
Za grejanje se koristi sunčeva energija i u dvorišta ovakvih kuća postavljaju se sunčani kolektori.
– Dovoljno je imati plastičnu cev sa vodom da nam zagreva sanitarnu vodu. Bojler ne postoji. Zid od slame i blata treba tako zamisliti da zamenjuje 26 cm stiropora i 25 cm zida sa malterom. Imati kuću od tako dobro izolovanog materijala znači da možete uštedeti letovanje za celu porodicu – kaže Horvat.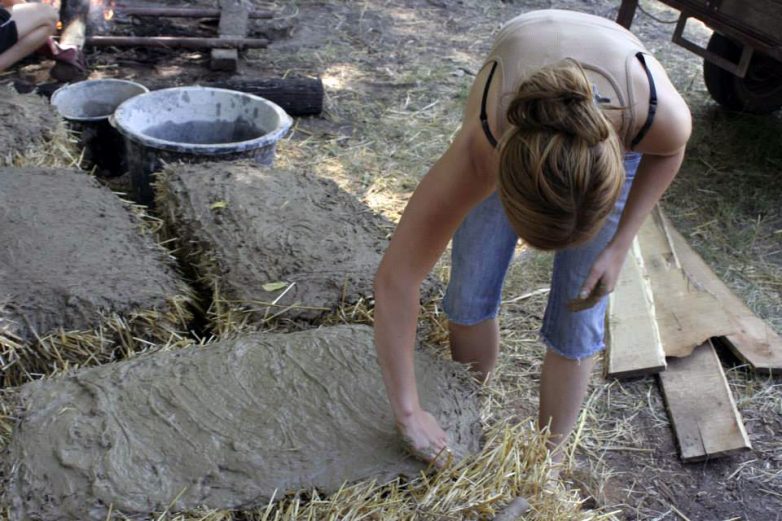 Ova kuća je moderna i nikako je ne treba zamišljati kao nekakvu štalu
Ovakve kuće su, pre svega, zdrave. Kuće od prirodnih materijala kao što su zemlja, slama ili valjci, drže relativnu vlažnost u prostoru gotovo konstantno, između 55 i 58 relativne vlažnosti, a za imuni sistem čoveka najbolja je vlažnost između 55 i 60.
– U principu je kuća moderna, ne treba zamišljati nekakvu štalu, nikako, već je sve savremeno i ima čak i veš mašinu ali ona ne greje vodu već dobija vodu zagrejanu od sunca ili peći. Imamo i štednjak na špiritus i domaćica ne mora svaki dan da loži – kaže Lehel Horvat.
Jedini neprijatelj
Cena ovakve kuće zavisi od hrabrosti domaćina. Horvat kaže hrabrost se odnosi na to koliko će njega da posluša, jer, recimo, on radi temelje od bagremog drveta, ali ima onih koji žele da mu temelj eko kuće ipak bude od betona zbog čega će biti malo skuplja ili ne žele stari crep ili grede što automatski donosi veće troškove.
– Ako me neko sluša, nauči sve i spreman je da radi cena njegove kuće biće 40 odsto od cene bilo koje druge kuće od modernih materijala. Sve zavisi koliko ste hrabri. Ovakve kuće imaju beskonačni rok trajanja. Jedini neprijatelj je voda, ali ako nema poplava i požara ona će trajati jako dugo, više od veka. Najstarija kuća od slame nalazi se u Nebraski i sagrađena je pre 108 godina – kaže Lehel Horvat.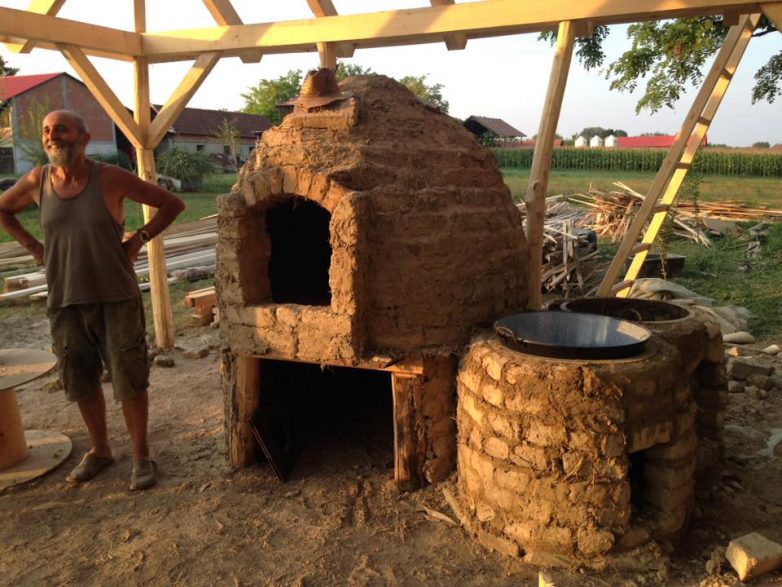 Za kuću od prirodnih materijala potrebne su bale slama, žuta zemlja (glina), pesak, bagremovo drvo, voda i gašeni kreč
Za kuću od prirodnih materijala potrebne su bale slama, žuta zemlja (glina), pesak, bagremovo drvo, voda i gašeni kreč. Prozori su od stakla i Horvat savetuje da budu troslojna. Uvek predlaže korišćeni crep, cigle i grede.
Radionice o prirodnoj gradnji traju najčešće od četiri do osam dana, a suština je okupljanje i druženje. Grupe uče sve o prirodnoj gradnji, a i pritom se druži u prelepom ambijentu.
– Na Majkinom salašu ćemo već postojeću kućicu preinačiti u mali klub. Deo zida ćemo napraviti od slame, a deo od trske. Gradićemo i jednu peć, ali suština je da se družimo i da ljudi izađu iz komfor zona, da se vrate prirodi – zaključuje Horvat.
Kad ste već ovde…