Materijali
Premažite pločice ovim sredstvom i nema više klizanja
Premaz No Skidding istoimenog kanadskog proizvođača radi upravo ono što mu i samo ime govori. 
Sigurno ste se više puta stali na pločice u nekom ulaznom hodniku, ili kuhinji i kupatilu, koje su toliko klizave da ste jedva ostali na nogama. Ukoliko i sami imate takve lomivrat podove, a ne znate kako da ih ohrapavite, obradovaće vas informacija da sada i na našem tržištu postoji rešenje.
No Skidding je kanadska firma koja u svom portfoliju ima razne tretmane. Tu su pre svega protivklizne trake, protivklizni elementi od ojačanog poliestera, protivklizni premaz na bazi epoksida i poliuretana za sve površine, ali i ono što je nama najinteresantnije antiSLIP hemijski tretman pločica koji će učiniti neklizajućim.
Pored toga što sprečava klizanje i omogućavanje bezbedno kretanje, ovaj tretman sprečava prljanje i taloženje prljavština u fugama.
Zaštita od klizanja hemijskim putem započeta je još šezdesetih godina u SAD od strane kompanije Boeing koja je radila na zaštiti avio pista od proklizavanja. Zahvaljujući dugogodišnjem istraživanju i razvoju, sada se može izvesti gotovo bilo koju vrsta hemijske antiSLIP zaštite. To mogu biti keramičke ploče, granit, mermer, crep, beton ali i livene emajlirane kade. Ovaj tretman deluje čak i na pločicama koje su stalno pod vodom kao što su, na primer, one u bazenu.
Vakuum sprečava klizanje
Hemijskim tretmanom antiSLIP može se ostvariti mnogo bolja prianjujuća površina, koja je nevidljiva golim okom, zahvaljujujući stvaranju miliona pora u obliku slova U. Na vlažnim i mokrim površinama ove novostvorene mikroskopske pore pomažu da vodeni film bude utisnut i da u njega ulazi voda. Po gaženju, dolazi do istiskivanje vode iz ovih pora gde nastaje vakuum i ne dozvoljava klizanje.
Tretman antiSLIP hemijskim putem se radi na površini dok ne se dobije odgovarajući efekat trenja koji mora da bude minimum 0,64 μ po međunarodnom standardu. Osim što sprečava klizanje i omogućava bezbedno kretanje, ovaj tretman sprečava prljanje i taloženje prljavština u fugama, a sam pod dobija novi izgled koji je lakši za održavanje.
Pre i posle tretmana vrši se merenje otpora trenja prenosnim FSC 2000 Print uređajem koji dokumentuje čitav tretman. Uređaj simulira kretanje nogu i daje tačnu procenu statičkog i dinamičkog otpora trenja na suvim i vlažnim površinama. Ovim načinom može se tačno i sigurno proceniti dali je postignut željeni efekat.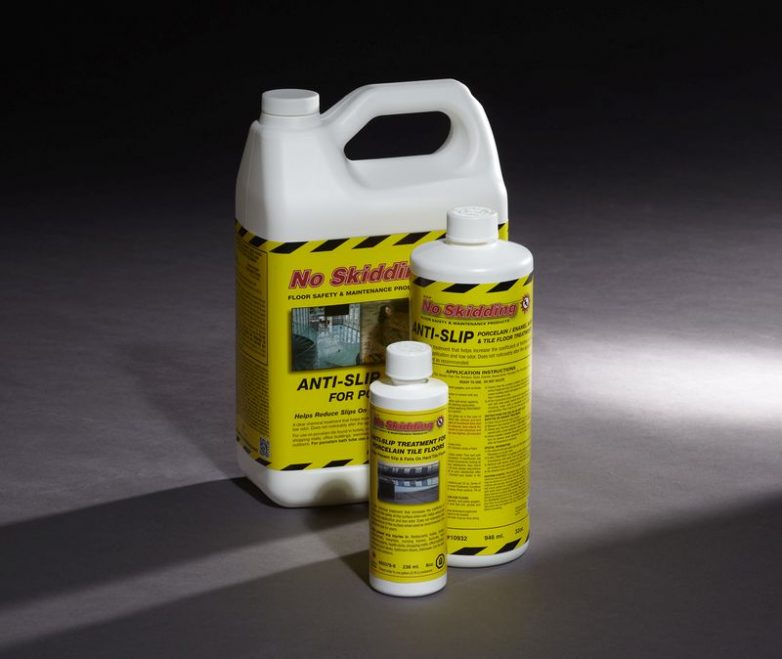 Koliko to košta
Proces tretiranja traje od 10 do 15 minuta po jednom kvadratnom metru, a zanimljivo je da se po završetku tretmana odmah može gaziti po podu. Cena iznosi oko 8 evra po m2, a tu spada čišćenje, odmašćivanje, pranje, tretiranje kao i neutralizacija sa pranjem. Garancija je tri godine, a postupak je potrebno ponoviti kada se podloga istroši.
Naravno, preporuka je da se za podove uzimaju hrapave pločice s oznakom R9 koje su protivklizne. Za eksterijere se uzimaju pločice koje su još hrapavije, odnosno, nose oznaku R11. Međutim, kada je pod vlažan prohodnost je svakako znatno otežana, ali No Skidding tretman u ovom slučaju može da pomogne.
Kad ste već ovde…