Pretpostavimo da je pred vama velika životna odluka koja se tiče gradnje vašeg budućeg doma. Kako na najbolji, a ujedno i po vaš budžet najpovoljniji način, izgraditi kuću? Da li je montažna kuća rešenje za vaše projekat? Možda vam sledeći tekst pomogne da donesete odluku.
Verovatno većinu od nas pojam montažne kuće vezuje za sistem gradnje karakterističan za Severnu Ameriku i Zapadnu Evropu. Deluje da često baš ta asocijacija ima i negativnu konotaciju, jer nam naviknutim na čvrstu tradicionalnu balkansku gradnju, gde se kuće nasleđuju kroz generacije, takvi objekti deluju suviše krhko. Ipak, to svakako nije potpuna istina.
Kako bismo vas uverili da montažna kuća može biti kvalitetna opcija i za vaš budući dom, istražili smo ovaj tip gradnje i pokušali da damo odgovore na najčešća pitanja.
Šta su to uopšte montažne kuće?
Verovatno ćete se složiti da pri pomenu montažnih kuća pomislite na objekte višeslojnih zidova koje kao konstruktivni element imaju drveni ram. Međutim, montažna kuća je zapravo svaka kuća čiji se elementi izrađuju u fabrici i u kontrolisanim uslovima, te se oni zatim donose na lokaciju na kojoj se kuća gradi, gde se montiraju u celinu. Imajući ovo u vidu, montažnim kućama možemo nazvati objekte koji koriste "suvi" tip konstrukcije i kao primarni materijal koriste drvo, ali i one objekte koji se izvode od, na primer, armiranog betona. Kako u svetu, tako i kod nas, zastupljeniji je prvi vid konstrukcije.
Montažna kuća je zapravo svaka kuća čiji se elementi izrađuju u fabrici i u kontrolisanim uslovima, a potom se sastavlja na licu mesta.
Zajedničko za svaki tip montažne kuće jeste da se njeni temelji izvode na licu mesta, baš kao i kod klasične gradnje. Ostali elementi montažne kuće se izvode prema projektu u fabričkim uslovima, da bi se nakon transporta na lokaciju sastavljali u celinu od strane izvođača radova.
Bitno je razlikovati pojam montažne kuće od pojma mobilne kuće. Dakle, u ovom slučaju mobilni su samo određeni delovi kuće, koji nakon ugradnje postaju statični i čine kompaktni objekat, koji nakon izgradnje ničim ne odaje na koji je način izgrađen i može se reći da deluje identično kao i kuća izgrađena na klasičan način.
Koje su to prednosti i mane montažnih kuća
Osnovne prednosti montažnih kuća u odnosu na zidane su ekološka održivost i odlična energetska efikasnost, odnosno lako i efikasno zagrevanje i hlađenje kuće, kao i brzina izgradnje. Neki bi kao prednost naveli i manju cenu izgradnje u odnosu na klasične kuće. Međutim, može se reći da je ova stavka diskutabilna, jer je cena uvek u tesnoj vezi sa odabranim kvalitetom ugrađenih materijala i sistema.
Cena
Po pitanju novčane stavke može se reći da se montažna kuća većim delom mora izvesti odjednom, pa vam je potreban novac "na gomili", dok kod klasičnog tipa izgradnje jedne godine možete uraditi temelje, zidove i ploču, sledeće krov, pa naredne izolaziju i završne radove, odnosno kada vam to finansijski bude odgovaralo.
Grejanje i hlađenje
Zahvaljući dobrim izolacionim svojstvima montažnih kuća, ovakvi objekti uglavnom troše manje energije za grejanje i hlađenje. Za razliku od zidanih objekata, montažne kuće imaju takav sastav zidova da oni ne akumuliraju toplotu. Kod klasičnog zida cigla ili blok akumuliraju toplotu, a spoljašnja izolacija u vidu stiropora ili kamene vune sprečava njeno gubljenje.
Montažni objekti se mnogo brže zagreju, ali isto tako se po prestanku grejanja mnogo brže ohlade, jer nema toplote akumulirane u zidovima. Zidane kuće gledano iz ovog ugla mogu imati i određenu prednost, jer imaju stabilniju unutrašnju temperaturu.
Period izgradnje
Što se tiče vremenskog perioda izgradnje, uobičajeno je da se svaka montažna kuća izgradi za najviše dva meseca, uključujući i vreme potrebno za postavljenja temelja. Montažna kuća se izvodi "suvim postupkom" te je i brzo useljiva. Naravno postoje i varijacije kod ove stavke, zavisno da li se odlučite za opciju "ključ u ruke" koja je brža ili ćete određene radove, poput uvođenja instalacija i završnih obrada zidova i podova obavljati segmentno.
Mogućnost nadgradnje
Kao jedna od mana montažnih kuća može se navesti nemogućnost nadgradnje, zbog slabe nosivosti konstrukcije. Ovakvi objekti se rade na osnovu jasno definisanog projekta, koji ne podrazumeva nadgradnju, te je potrebno unapred dobro razmisliti o budućim planovima.
Vek trajanja
Kao eventualna mana se može navesti trajnost montažne kuće. S obzirom na to da se kuće građene klasičnim sistemima gradnje, uz dobro održavanje, mogu smatrati "besmrtnim", montažne kuće u principu u Srbiji imaju period garancije od 30 do 50 godina, mada se njihov vek procenjuje i do 100 godina, dok postoji primer montažne kuće u Nemačkoj koja je stara 150 godina i dalje je u odličnom stanju.
Ipak, na tradicionalno građenu kuću uglavnom nemate nikakvu garanciju, ako izuzmemo pojedinačne garancije izvođača određenih radova koje se uglavnom odnose na nekoliko godina. Njihova trajnost se podrazumeva, ali i to ipak ne može biti nepobitno, te je ova stavka ipak diskutabilna.
Otpornost na zemljotres
Čak postoje tvrdnje da su montažne kuće otpornije na zemljotrese. Naime, prilikom zemljotresa kod zidanih kuća može doći do potpunog pucanja ili urušavanja zidova ili čak i pucanja armature, te su troškovi sanacije često veliki. Sa druge strane, usled zemljotresa kod montažnih kuća neretko dolazi samo do manjih pucanja na zidovima, te se pukotine mogu jednostavno sanirati.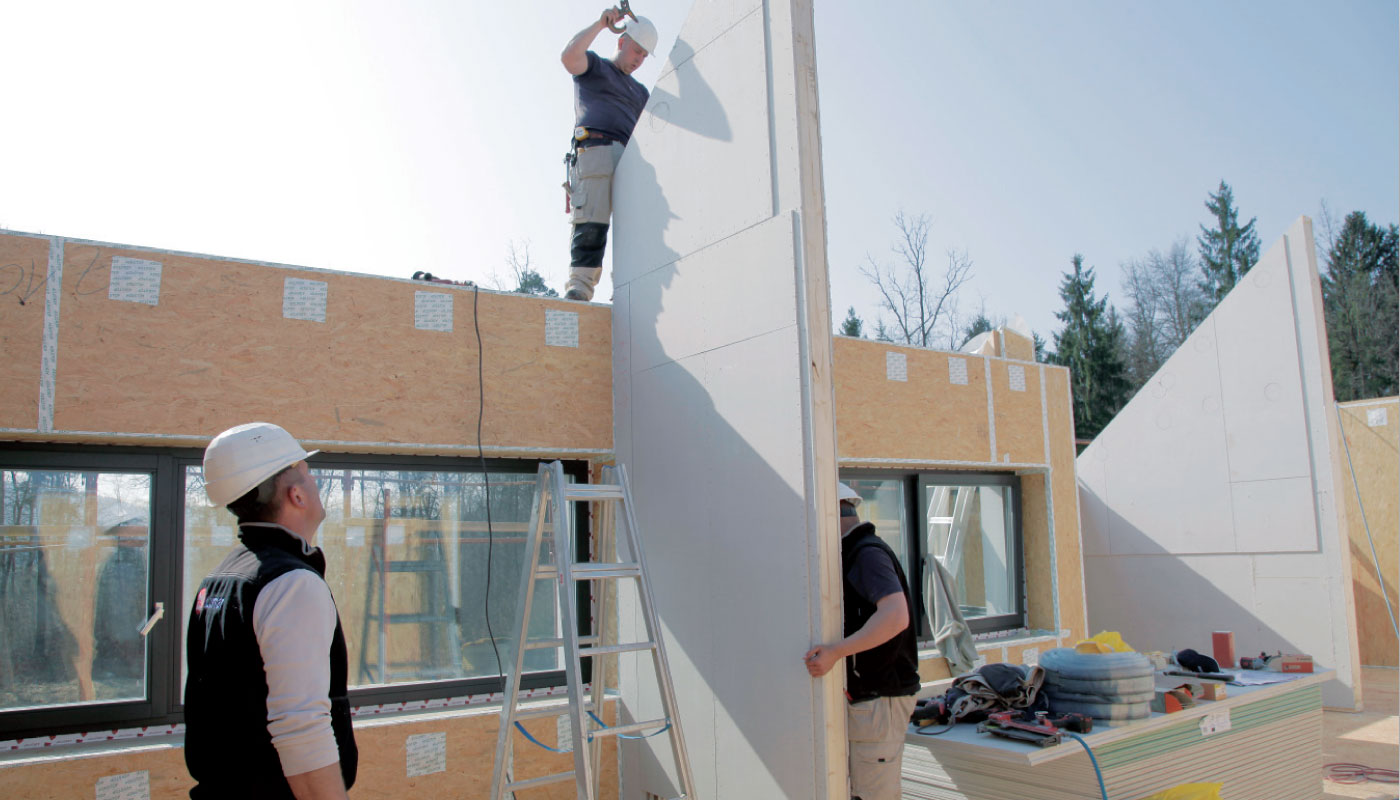 Montažna ili klasična kuća?
Ukoliko vam je brzina izgradnje, pa samim tim i što skoriji rok useljenja prioritet, bilo bi dobro da se odlučite za montažnu kuću. S obzirom na to da njena izgradnja podrazumeva uglavnom upotrebu drveta i gips-kartonskih ploča, u vaš dom ćete se useliti u rekordnom roku.
Takođe, ako niste upoznati sa građevinarstvom i ne želite da se petljate s majstorima, montažna kuća je dobro rešenje jer jedan preduzimač završava sve radove.
Ipak kako smo već pomenuli, ukoliko nemate sav novac potreban za izgradnju i planirate da gradite po fazama vaše rešenje je zidana kuća. Takođe, ukoliko niste sigurni za vaše buduće potrebe prostora, odnosno kvadrature, takođe je bolja opcija zidana kuća, jer montažnu ne možete nadgraditi, ali je ipak možete proširiti po horizontali ukoliko imate uslova za tu opciju.
Povezano: Montažna kuća s placem u Beogradu za 25.000 evra
Što se tiče pravnih odredbi, administracije i potrebnih projekata, za montažne kuće važe isti zakoni kao i za gradnju klasičnih objekata, što znači da je  potrebno obezbediti dozvolu za gradnju, lokacijsku dozvolu i sva druga dokumenta. Firme koje se bave izgradnjom montažnih kuća uglavnom već imaju tipske projekte ili će napraviti modifikovan projekat u skladu sa vašim potrebama i željama.
Trebalo bi istaći i da je specifikacija radova i troškova jasnija kod montažnih kuća, te je manja šansa da dođe do takozvanih skrivenih troškova, što je čest slučaj kod zidanja kuće. Naravno, ako se odlučite za montažnu kuću, pre početka svih radova dobro proučite uslove i ponudu firme koja bi izvodila radove.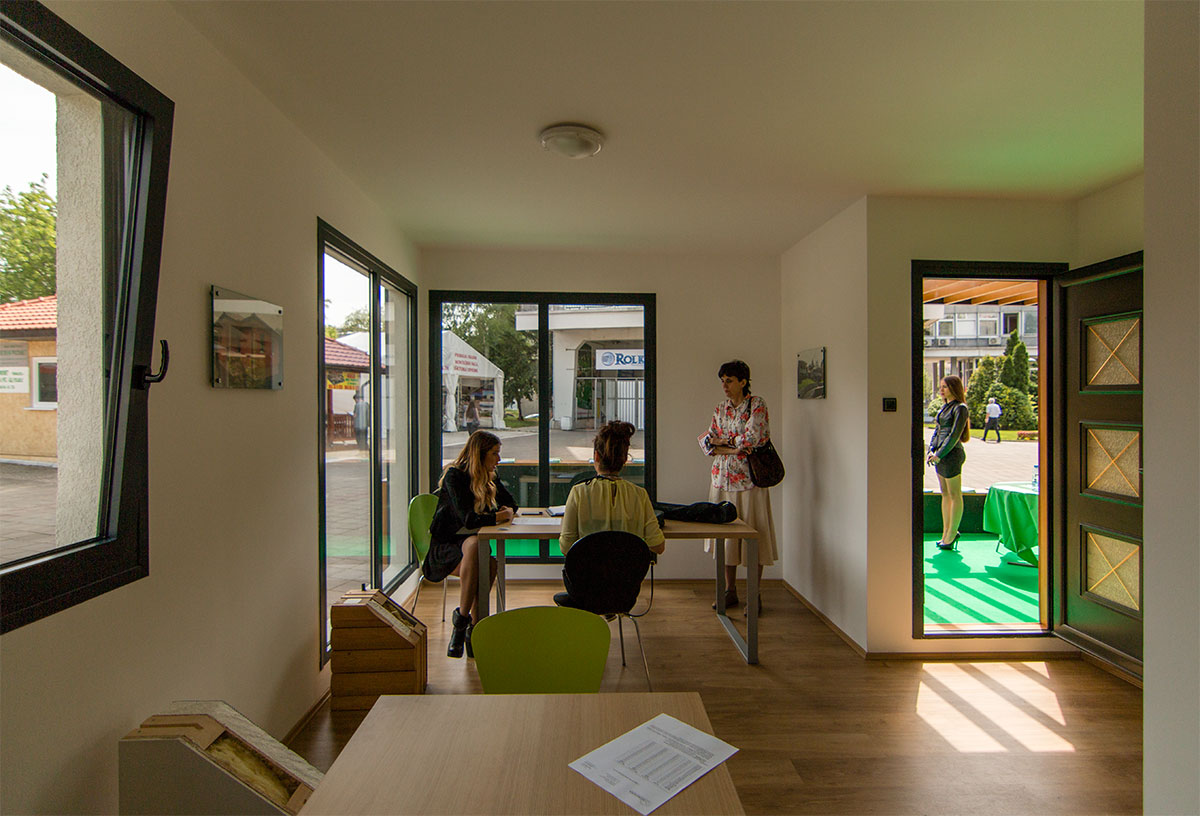 Od čega se sve prave montažne kuće
U našoj zemlji do sada je uglavnom najviše zastupljen sistem montažnih kuća čiji zidovi imaju drvene ramove sa ispunama. Pored ovakvih sistema tu su i betonski prefabrikovani elementi, koji se uglavnom koriste za izgradnju većih objekata, ali su zastupljeni i pri formiranju manjih kuća.
Temelji kuće se rade na standardan način, odnosno prolaze kroz pripremni proces iskopavanja i postavljanja oplate a zatim sledi izlivanje na licu mesta. Ukoliko se okrenemo globalnoj proizvodnji montažnih kuća, sve više se mogu videti sistemi koji koriste različite ekološke i reciklirane materijale, kako za kompletno formiranje zida tako i za ispune.
Koliko koštaju montažne kuće
Tačnu računicu cene izgradnje montažne kuće po kvadratu nije lako odrediti i na cenu utiče niz faktora. S obzirom na to da se gotovi elementi donose na lokaciju gde bi se sklopili, lokacija i uslovi terena mogu imati velikog uticaja na formiranje konačne cene. Ako se plac na kom se planira izgradnja nalazi uz sam put, troškovi su naravno manji. Ukoliko je izgradnja pak planirana na lokaciji koja je teško pristupačna mašineriji i vozilima, troškovi se povećavaju. Ipak, ovaj parameter, kao i neki slični, zajednički su i za montažnu i za zidanu kuću.
Svakako, bitno je da li na placu imate sve potrebne priključke, zato što to može znatno uticati na cenu, za koji god tip gradnje da se odlučite.
Ukoliko postavimo stanje da je u pitanju uobičajena pristupačna lokacija cena montažne kuće po principu "ključ u ruke" uobičajeno se cena montažne kuće kreće od 250 do 400 evra po kvadratu, dok je za zidanu kuću po gruboj računici potrebno izdvojiti od 600 do 700 evra.
Poređenje cene izgradnje montažne i zidane kuće
Montažna kuća od 50 kvadrata
Temelj 2.500 evra
Krov 2.000 evra
Ostalo: 12.500 evra
Ukupno: 17.000 evra
Zidana kuća od 50 kvadrata
Temelj: 2.500 evra
Krov 3.000-4.000 evra
Ostalo: 24.500 evra
Ukupno: 30.000 – 31.000 evra
Ukoliko se odlučite za montažnu kuću imate nekoliko opcija, koje su ujedno i različitih cenovnih rangova. Cena izgradnje objekta u sivoj fazi, koja ne uključuje postavljanje elektro instalacija, instalacija vodovoda i kanalizacije, kao ni postavljanje podnih obloga ni sanitarija kreće se od 160 do 230 evra po kvadratu.
Ako ipak želite kompletno završenu kuću, to će vas koštati od 260 do 450 evra po kvadratu. Najviše proizvođača klasičnih montažnih kuća možete pronaći u Ivanjici, a neki od njih poput firme LuksM imaju svoje predstavništvo i u Beogradu.
Kako smo već pomenuli, postoji opcija izgradnje montažne kuće korišćenjem armirano-betonskih prefabrikovanih elemenata. Prosečna cena za ovakav tip gradnje, za kuću oko 100 kvadratnih metara i za za završnu fazu "ključ u ruke" koštala bi oko 330 evra po kvadratu. Ovakve objekte na primer proizvodi firma Gikont iz Ostružnice.
Jedna od firmi koja proizvodi montažne kuće u Srbiji, a koja se izdvaja od ostalih proizvođača, je Lafarge iz Beočina. Oni u svojoj ponudi imaju devet tipova kuća, dizajniranih od strane arhitekte Jovana Mitrovića. Površine objekata kreću se od 70 pa do 200 kvadratnih metara, a isto tako cenovni raspon je veći i ide od 374 do 900 evra po kvadratu.
Montažne kuće se uglavnom izvode u celosti i to veoma brzo, pa vam je novac potreban "na gomili".
Prilikom sklapanja ugovora o izgradnji obratite pažnju na sledeće stavke:
kako je definisana izrada projektne dokumentacije
transport do mesta izgradnje
da li su uključeni limarski radovi, koji povećavaju konačnu cenu kuće, a neophodni su
kako je definisan razvod vodovoda i kanalizacije objekta
troškovi smeštaja radnika
Takođe, bitno je da proverite kvalitet materijala od kojih će biti izrađena kuća, a posebno pazite na:
krovni pokrivač, koji u budućnosti utiče na troškove održavanja
kvalitet izolacionih materijala koji je od presudnog značaja za održivost i isplativost kuće
bitna stvar prilikom razmatranja ponuda je i da li se cena odnosi na neto kvadraturu, odnosno korisnu stambenu površinu ili bruto površinu u koju ulazi i debljina zidova, površina terase, balkona i spoljašnjih stepenica
Trendovi
Kako je osvešćenje o ekološkim problemima na globalnom nivou u konstantnom porastu, pretpostavljamo da će se tokom vremena pažnja još više usmeriti na održive sisteme i materijale koji se koriste prilikom izgradnje kuće. U svetu već postoje mnogobrojne alternative koje koriste reciklirane i ekološki prihvatljive materijale prilikom formiranja konstruktivnih elemenata, poput transportnih kontejnera, tako da postoji mogućnost da će se slični sistemi u budućnosti primenjivati i na montažnim kućama.
Trend koji je potpuno osvojio svet jeste izrada kuća 3D štampom. Ova tehnika izgradnje je veoma brza pa se cela kuća može podići i za 24 časa. Dovoljno brzo?
Pročitajte još i ovo: