Urbanizam
Pre i posle: 6 radikalnih transformacija gradova
Pogledajte kako su Dubai, Tokio, Singapur i druge svetske metropole transformisane do neprepoznatljivosti.
Prolazili su ratove, promene vlasti, industrijske padove i uspone – nekim svetskim gradovima bilo je potrebno ceo vek, a ponekim i samo nekoliko decenija da gotovo do neprepoznatljivosti promene svoje vizure.
O tome najbolje svedoče fotografije koje je prikupio portal Bored Panda, a koje vam mi prenosimo. Gledajući njihove panoramske fotografije vidljivo je u kojoj se meri promenio svet u kojem živimo, a samo možemo naslutiti u kojem će se smeru razvijati za našeg životnog doba.
1. Dubai, Ujedinjeni Arapski Emirati
Početkom 19. veka Dubai je bio skromno ribarsko naselje kojim su plovili ribarski brodići, a kamile su prenosile teret. Kad je krajem 60-ih godina prošlog veka pronađena nafta u Persijskom zalivu, započeo je razvoj kojem se ne nazire kraj. Ipak, gledajući fotografije od pre 20-ak godina, retko ko je mogao očekivati da će ova emiratska meka poprimiti vizure po kojima je danas prepoznatljiva. Poslovni centar sveta koji označava pojam moći i luksuza još 2005. nalikovao je velikom peščanom gradilištu. No, nepreglednu pustoš je zamenila raskoš na svakom koraku i oblakoderi koji paraju nebo, baš poput Burj Khalife završene 2010. godine. Ova kula visoka je 828 metara, čime je zauzela mesto najviše građevine na Zemlji.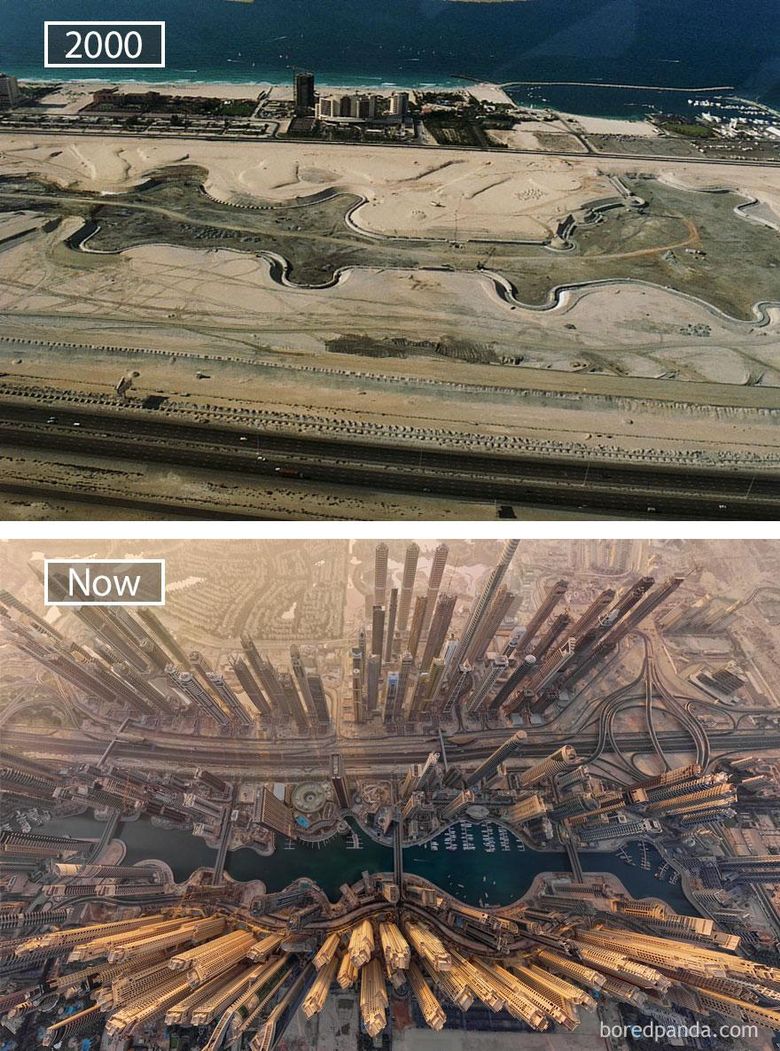 2. Seul, Južna Koreja
Seul, metropola s arhitektonskim čudima i naprednom tehnologijom, dom je za više od 10 miliona ljudi. Pogledamo li stotinjak godina unazad, primećujemo koliki je put Južna Koreja prevalila kako bi postigla ono čemu smo danas svi svedoci. Završetkom Korejskog rata 1953. godine, Južnu Koreju zahvatio je proces nagle industrijalizacije, a u tom periodu nazvanom The Miracle on the Han River, zemlja je potpuno transformisana. Ova fotografija snimljena iz vazduha najbolje svedoči koju je drastičnu urbanističku promenu do danas postigla.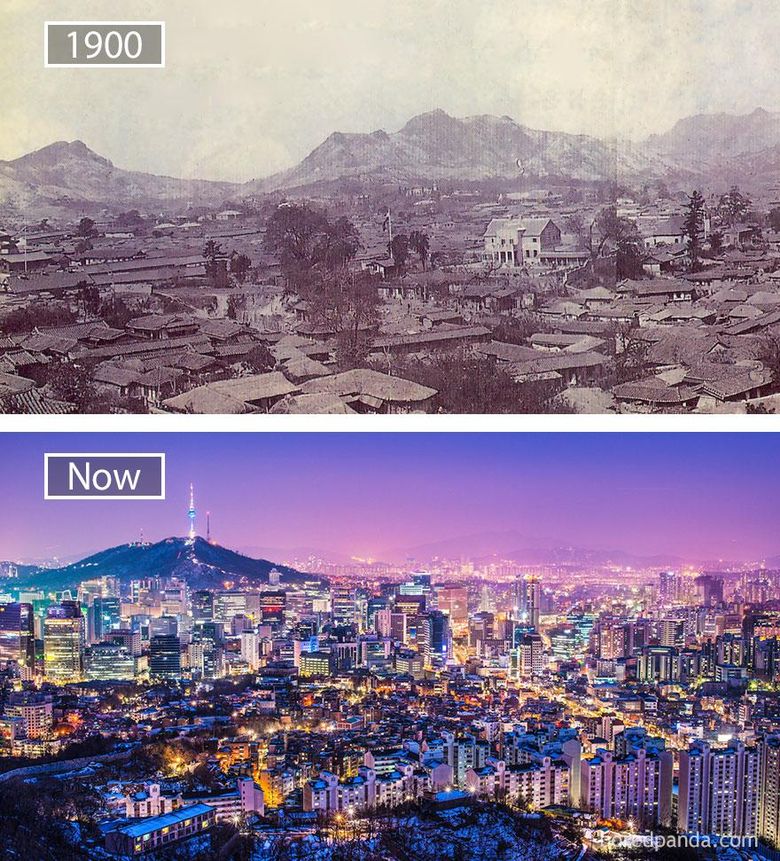 3. Tokio, Japan
U velikom zemljotresu Kanto 1923. i u američkim vazdušnim napadima 1945. godine, Tokio je uništen do neprepoznatljivosti. Tradicionalne kuće od papira, drva i slame sravnjene su sa zemljom i grad je poprimio sablasan izgled. Sedamdeset godina kasnije glavni grad Japana je sa svojih 37,8 miliona stanovnika na širem gradskom području najnaseljeniji grad na svetu i slovi za najveću svetsku urbanu ekonomiju. Tokio nudi zabavne, kulturne i gastronomske sadržaje i, iako je nalik betonskoj džungli, njegove ulice skrivaju zelene oaze koje pridonose kulturi življenja koja je na zavidnom nivou.
4. Fortaleza, Brazil
Glavni grad brazilske savezne države Ceara broji više od 2,4 miliona stanovnika na površini od 313 km². Prostrani grad sa severne strane okružuje Atlantski okean, što ga čini svetski zanimljivom turističkom destinacijom. Vrućinu koja u Fortalezi vlada cele godine pomalo ublažuje stalni povetarac s mora. Može da se pretpostavi da bi se bez "betonskog zida" u poslednjih 40-ak godina u gradu lakše disalo, a mnogi bi se se složili i kako je nepregledna peščana plaža nekada bila primamljivija. Doduše, urbana izgradnja i novi projekti koje uključuje zasigurno imaju svoje prednosti i idu u korak s trendovima novog doba.
5. Šendžen, Kina
Grad na samom jugu provincije Guangdung u južnom delu Narodne Republike Kine zvanično ima milion stanovnika, ali neslužbeni podaci daleko premašuju taj broj. Kao jedini grad u provinciji u kojem se govori mandarinski jezik, još se u ranim 80-im godinama na mnogim nivoima povezao s Hong Kongom, ekonomskim i poslovnim centrom. Do tada anonimno ribarsko selo time je postalo jedan od najbrže rastućih gradova na svetu. Njegova panorama danas je impresivna, posebno noću, a kula Shung Hing Square sa svojih 384 metra ubraja se u najviše građevine na svetu.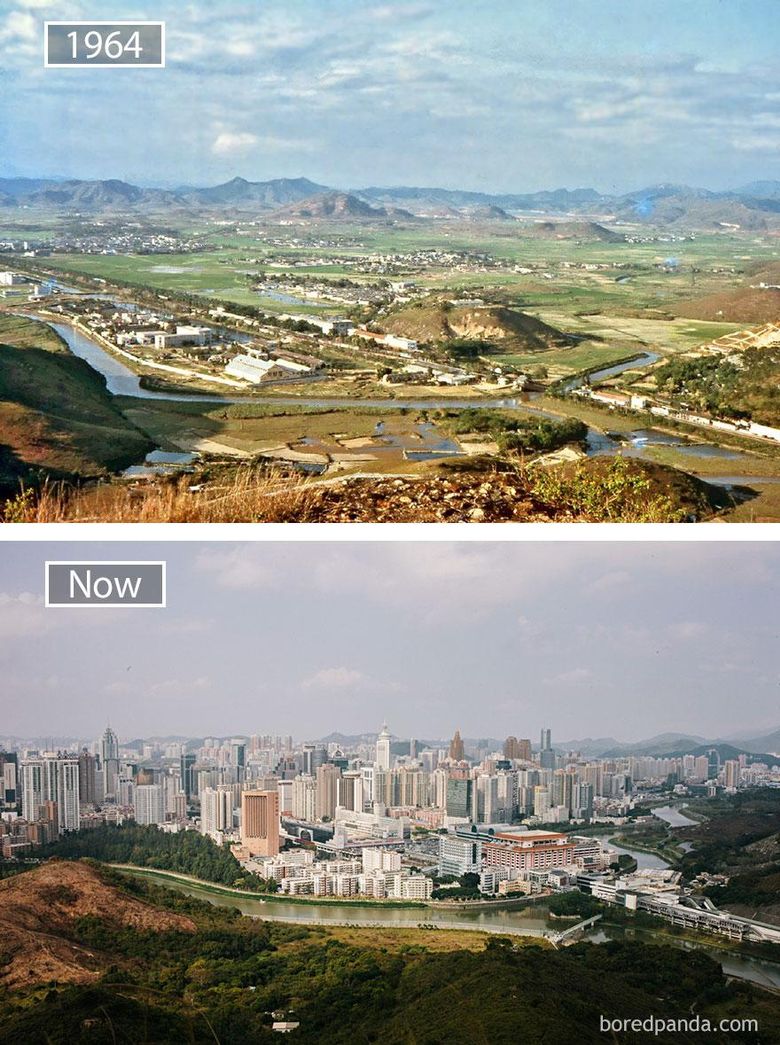 6. Singapur
Singapur, ostrvski grad država na jugoistoku Azije, po važnosti je u vrhu svetskih finansijskih centara. Ekspanzija Singapura počela je početkom vladavine premijera Lee Kuan Yewa kasnih 50-ih, nakon čega je postao jedna od najbogatijih azijskih država. Danas se u Singapuru isprepliću malezijski, kineski i indijski uticaj. Gradom kojim dominiraju visoki neboderi i zeleni parkovi, putuje se automatskim vozovima bez vozača, a pogled na njegove ulice prikazuje podvige naše civilizacije u 21. veku.
Kad ste već ovde…