Ovaj trg ima potencijal da postane ne samo simbol našeg književnika, prevodioca i diplomate Stanislava Vinavera već i simbol grada Šapca.
Nekadašnji trg u centru Šapca bila je jedna nedefinisana velika raskrsnica sa previše kolovoznog prostora za automobile, što je proizvodilo onaj vrlo poznati haos u našim gradovima – kola parkirana ili nepropisno zaustavljena sa svih strana, neobeležene saobraćajne trake, neprijatan osećaj za pešačko kretanje. Dominirao je kolovoz, sa jednim kao zelenim trouglom u sredini raskrsnice, koji se uopšte i nije percipirao kao zeleno ostrvo jer je bio slabo održavan i potpuno okružen parkiranim automobilima.
A onda je Grad Šabac doneo odluku da baš ovaj prostor rekonstruiše i da bude posvećen našem pesniku Stanislavu Vinaveru, te da se kao deo rešenja nađe i njegov spomenik. Međutim, arhitektica Milena Zindović, koja potpisuje projekat ovog trga, imala je drugačiju ideju.
"Ja sam to interpretirala na drugačiji način, jer me inače izuzetno nervira nedostatak kreativnosti i prihvatanje nekog neo-klasicizma u pristupu javnim spomenicima kod nas. Odmah sam odbacila ideju o bilo kakvoj figuri ili bisti. S obzirom na to da se radi o književniku, krenula sam u istraživanje njegovog dela jer sam želela da iz njegovog pisanja nekako "izvučem" trg." – kaže Zindović za naš portal.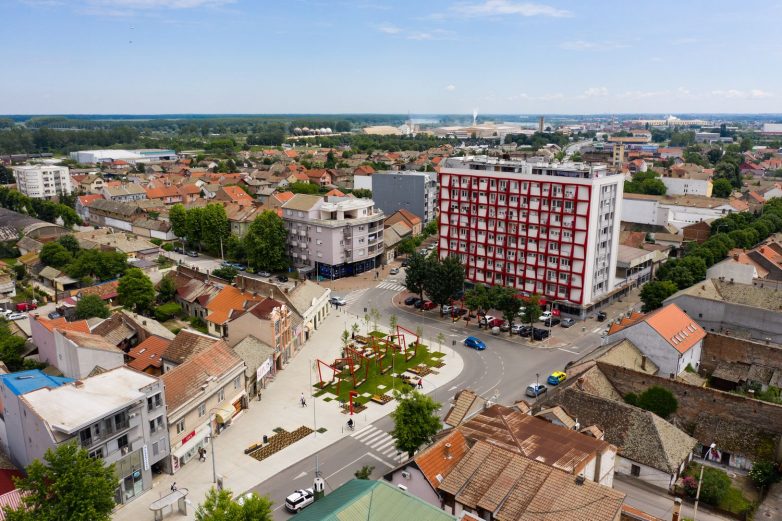 Kada je pročitala tekst "Gromobran Svemira" Stanislava Vinavera, kockice su joj se same složile.
Kada je pročitala tekst "Gromobran Svemira", kockice su joj se same složile. Taj odlomak u kome Vinaver objašnjava poredak sveta koji čine slojevi – odmah joj je bilo jasno da je to urbana sredina, i da na ovom projektu ima sjajnu priliku da otelotvori taj njegov opis.
"Smatrala sam da je ovaj pristup adekvatan i mnogo efektniji, jer na taj način ceo trg postaje spomenik, a čelnici Grada prihvatili su ovu moju ideju. To mi je omogućilo da na ovom prostoru ostvarim i druge ideje koje sam za njega imala, a to je pre svega bio način rešavanja saobraćaja (jer tu je bilo različitih mišljenja i ideja) i uvođenje zelenila." – kaže Milena.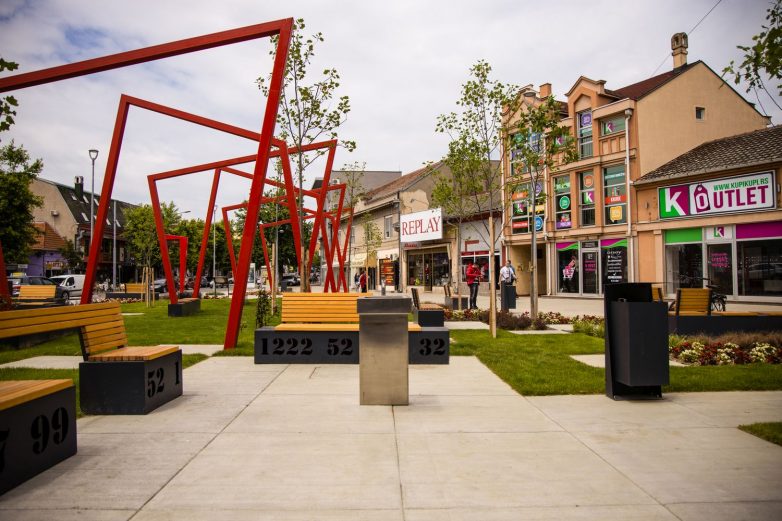 Zelenilo je ključni deo trga
Središnja površina kruga zapravo je travnjak, gde je zasađeno 11 novih stabala. "Zelena površina je samo malo upuštena u odnosu na popločanje, što je bio kompromis. Ja sam želela veće upuštanje, ali je bilo zabrinutosti da li će to predstavljati prepreku za kretanje." – tvrdi Zindović za naš portal.
Ovo upuštanje joj je bilo važno iz više razloga. Najpre, želela je da dodatno naglasi slojevitost, a s druge strane i da zelena površina bude održiva. Upuštene zelene površine sa popločanjem koje je nagnuto prema njima omogućavaju da deo atmosferskih voda koje padnu u urbanim sredinama ipak nađu putu do podzemnog akvifera, a da usput zaliju i biljke.
Ostatak trga – glavni pešački tokovi –  su od štampanog betona. Ova odluka proizašla je iz zahteva projekta da popločanje treba da izgleda kao da se sastoji od velikih ploča, i budžetskih ograničenja sa druge strane. Štampani beton je izveden sa dubokim fugama na projektovanom rasteru, tako da se uspelo u nameri da se stvori utisak ploča.
"Pošto trava ne prelazi nivo ploča nego je malo upuštena dobija se tačno taj osećaj koji sam želela – da pomislite da ako podignete ploču ispod nje će se pojaviti trava, odnosno taj donji zeleni sloj o kome piše Vinaver." – kaže arhitektica.
Zorkin soliter je vizuelni reper i autorki je bilo jasno da je neophodno da se novi trg na neki način odredi prema njemu.
Zorkin soliter je glavni vizuelni reper u ovom prostoru, i autorki je od početka bilo jasno da je neophodno da se novi trg na neki način odredi prema njemu. To je i bila tema početnih rasprava o lokaciji novog trga, jer je jedan o pristup bio da se on nađe ispred solitera, odnosno da se ostavi zatečeni dijagonalni saobraćajni tok. Međutim, prevagnulo je projektovano rešenje jer je ono vezano za funkcionalne repere – a to je ulični front lokala u Karađorđevoj, koji se završava nekada čuvenom šabačkom kafanom Šaran.
"Po meni, za život trga to je bilo daleko logičnije povezivanje. Međutim, ostala je potreba da se trg ipak poveže i sa soliterom, i tu je dobrodošla potreba da na neki skulptoralni način otelotvorimo Gromobran svemira kao Vinaverovo komunikacijsko sredstvo sa drugim svetovima." – kaže Zindović za naš portal.
Skulptoralni dodatak na fasadi
Rad na idejnom rešenju trga poklopio se sa početkom rada na projektu energetske sanacije fasade Zorkinog solitera, pa je Milena Zindović u saradnji sa koleginicom Katarinom Dubljanin osmislila i novi skulptoralni dodatak fasadi kako bi ona poprimila taj ekspresionistički izraz koji odgovara Vinaverovim književnim delima. Forma i boja ove fasadne mreže preneta je onda na formu i boju pergole koja je deo uređenja trga – na taj način postignuto je formalno i vizuelno jedinstvo horizontalne i vertikalne površine trga.
Najveći izazovi pri realizaciji ovog projekta bila je činjenica da se radi o javnom prostoru i o investitoru koji je gradska uprava. To je značilo veliki broj kompromisa u toku razrade projekta – od saobraćajnog rešenja do elemenata urbanog mobilijara, kao i veliki broj uključenih aktera.
"Na kraju, ipak sam zadovoljna jer mislim da je i kroz realizaciju projekat u dobroj meri ostao dosledan ideji, iako je bilo raznih promena i izmena usled čitavog niza ograničenja, do samog kraja realizacije." – kaže Zindović.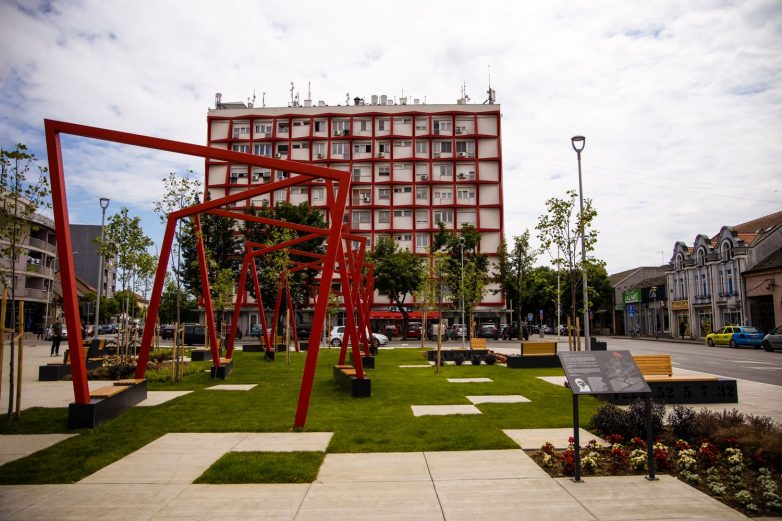 Omiljena pozadina za selfije
Građani Šapca imali su različite reakcije na novi trg. "Uživo, one koje sam imala prilike da sretnem i sa njima popričam, uglavnom su bili zadovoljni činjenicom da je predviđen veliki broj klupa kao i nova česma." – kaže Zindović i dodaje da je bilo dosta pitanja vezanih za simboliku trga – za brojeve na klupama i značenje crvene pergole. Po reakcijama jasno je da mnogi ne znaju ko je bio Stanislav Vinaver i zbog čega je važan za našu umetnost i kulturu.
Ovaj trg ima potencijal da postane ne samo simbol Vinavera već i simbol grada Šapca.
Naravno, na društvenim mrežama je bilo svakakvih komentara, od pozitivnih do uvredljivih.
"Ali na to ne obraćam puno pažnje – mislim da komentari uživo imaju mnogo veći značaj. Zanimljivo, obrada fasade nije gotovo uopšte imala negativnih komentara, iako sam i tu očekivala jake reakcije." – kaže arhitektica.
Naprotiv, fotogeničnost fasade, pa i kontroverzne pergole, čini mi se da će vrlo brzo ostati omiljena pozadina za selfije. "Na nekim televizijama trg je već podloga za snimke i reportaže iz Šapca, što me raduje jer govori o tome da ovaj trg ima potencijal da postane ne samo simbol Vinavera već i simbol grada Šapca." – zaključuje Milena Zindović.
Fotogalerija: