Aktuelno
Le Korbizjeov učenik osvojio ovogodišnjeg Pritzkera
Devedesetogodišnji indijski arhitekta Balkrišna Doši osvojio je najprestižniju arhitektonsku nagradu.
Balkrišna Doši jedan je od najslavnijih praktičara moderne indijske ahitekture. Kao Le Korbizjeov učenik, Doši je kroz svoj rad težio ka modernoj arhitekturi, ali je ipak u svoje projekte ubacivao i aspekte indijske kulture i tradicije zbog čega su njegovi objekti dobili vanvremensku notu.
Zbog velikih doprinosa arhitekturi, Balkrišna Doši osvaja najprestižniju arhitektonsku nagradu – Pritzkerovu nagradu za 2018. godinu. Upoznajte bolje ovog arhitektu, koji je sada postao i njen najstariji laureat, kroz nekoliko zanimljivih činjenica o njemu.
Doši je dobio priliku da radi kod Le Korbizjea zahvaljujući njegovom sjajnom rukopisu.
Kao prvo, treba znati da je Došieova arhitektonska firma Vastu Shilpa napravila spisak obaveznih lokacija koje treba obići u gradu Ahmedabad, tako da se svi zainteresovani mogu upoznati sa kontekstom u kom arhitekta projektuje objekte. A projektuje ih odavno…
Međutim, pre nego što je krenuo da menja lice Indije, Doši je prvo učio zanat od najboljih. Naime, od 1951. do 1955. godine Doši je radio kod Le Korbizjea u njegovom pariskom ateljeu, kao učenik.
Le Korbizje je tokom njihove saradnje razgovarao sa Došijem na lošem engleskom. Ipak, godinama kasnije indijski arhitekta je rekao: "Kada ne znaš jezik, razgovor postaje više vizuelan i prostorni."
Doši je dobio praksu kod Le Korbizjea sasvim nekonvencionalno – na osnovu njegovog izvanredno lepog rukopisa. Indijski arhitekta je nedavno za India Times rekao da mu nije zatraženo da podnese svoj portfolio, već da zahtev ispiše ručno. To je bio odlučujuć faktor.
I danas se na ulazu u Došijevu kancelariju nalazi portret slavnog arhitekte, pored boginje Durga i Lorda Ganeša, piše ArchDaily.
Doši je imao značajnu ulogu u oblikovanju Čandigara, glavnog grada dve indijske države: Pendžaba i Harajane. Arhitekta je projektovao životni prostor za hiljade državnih službenika, a to je bio samo početak njegovog daljeg zalaganja za izgradnju dobrih ali jeftinih zajedničkih prostora.
Tokom šezdesetih godina prošlog veka, Doši otvara arhitektonsku školu u Ahmedabadu sa alternativnim nastavnim programom, koja je od 1972. godine bila poznata kao Centar za planiranje i tehnologiju životne sredine.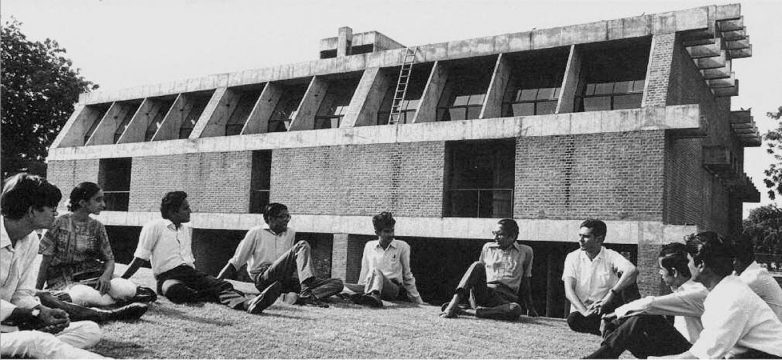 Od 1967. do 1971. godine bio je član međunarodne zajednice Team 10.
Doši je sarađivao sa Moše Safdijem, iranskim arhitektom Naderom Ardalanom i profesorom Josepom Luis Sertom, koji je predavao na Harvardu, i kao produkt njihove saradnje napisan je Habitat Bill of Rights, koji je podnet od strane iranske vlade na konferenciji organizovanoj od strane Ujedinjenih Nacija u Vankuveru 1976. godine.
Tokom Došijeovog rada u periodu od 1979. do 1981. pokazao je progres u svojoj nameri da spoji moderne tendencije u arhitekturi sa tradicionalnim indijskim metodama.
U periodu od 2005. do 2009. godine Doshi je bio član za dodelu Pritzkerove nagrade. Na kraju ju je i osvojio.
Foto: Balkrishna Doshi/VSF
Kad ste već ovde…