Urbanizam
11 principa za pravilno oblikovanje javnih prostora
Potrebno je napraviti okruženje u kom će se ljudi osećati dobrodošlo i prijatno, odnosno, mesto koje će biti udobno za raznovrsne aktivnosti i događaje.
Treći internacionalni Placemaking Week, koji se nedavno održao u Tenesiju, okupio je stručnjake iz različitih oblasti koji su razmenjivali mišljenja i strategije koje vode ka uspešnom oblikovanju prostora. Neprofitna organizacija PPS (Project for Public Spaces), koja je organizovala konferenciju, usmerena je na stvaranje planova kojim bi pomogla urbanistima da kreiraju i održavaju javne prostore, koji će pomoći u građenju jakih zajednica. Sa ovim ciljem na umu, oni su dali 11 principa za pravilno oblikovanje javnih prostora i to kroz konkretne primere.
1. Zajednica zna najbolje
Važno polazište u razvoju koncepta za bilo koji javni prostor je prepoznavanje talenata i potencijala u zajednici, odnosno, pronalaženje ljudi koji mogu pružiti istorijsku perspektivu, kao i dragocene uvide u način funkcionisanja mesta.
Pod motoom izgradnje "A better life in my neighorhood", oblikovan je Tapis Rouge, jedan od nekoliko javnih prostora u Carrefour-Feuilles, u Haitiju kroz koji su stvoreni multifunkcionilni inkluzivni prostori, koji podstiču društvene interakcije, sa ciljem da se razvija sigurnije okruženje bez nasilja i kriminala. Program i dizajn su orijentisani prema zajednici, te ovaj javni prostor povećava osećaj pripadnosti i razvija identitet kod lokalnog stanovništva.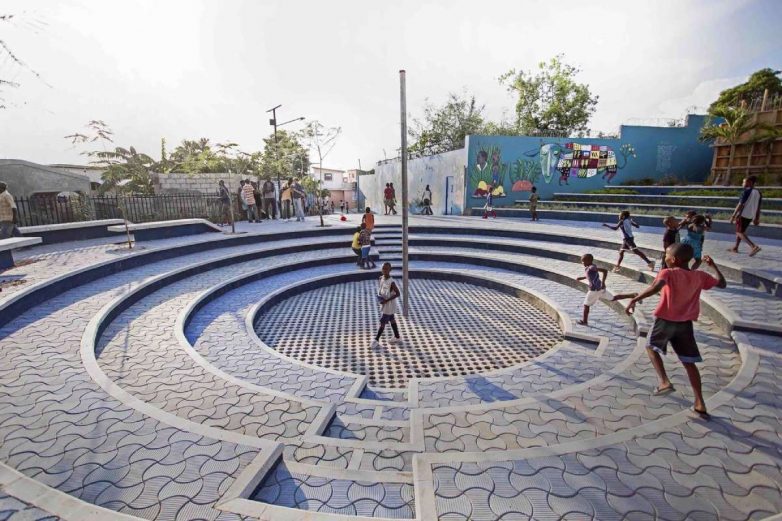 2. Kreirati mesto, ne puki dizajn
Potrebno je napraviti okruženje u kom će se ljudi osećati dobrodošlo i prijatno. Cilj je stvoriti mesto sa jakim osećajem za zajednicu, odnosno, ono koje je projektovano tako da bude udobno kroz raznovrsne postavke i aktivnosti.
Tako je Superkilen savremena i urbana verzija univerzalnog vrta, koji prolazi kroz različite etničke i socijalne četvrti ovog danskog grada. Ovaj prostor predstavlja veliki izložbeni plato 60 različitih nacionalnih grupa koje žive u okolini. U ovom javnom prostoru organizovana su tri trga gde je crveni namenjen prodajnim aktivnostima, kulturi i sportu, crni služi za urbana svakodnevna dešavanja, dok zeleni trg čine sportski tereni i igrališta.
3. Potražite partnere
Partneri mogu biti lokalne institucije, muzeji, škole ili slične ustanove. Oni mogu biti presudni faktor za budući uspeh i imidž projekta. Tako je Urban Amenities predstavio projekat u kom se udružila cela zajednica. Projekat je organizovan od strane opštine Karakas, uz pomoć gradskih organizacija kao i lokalne zajednice. Kao rezultat su nastali rekreativni prostori za lokalno stanovništvo, a predstavnici zajednice su zajedno sa stručnjacima odabrali projektno rešenje kroz konkurs.
4. Može se mnogo saznati jednostavnim posmatranjem
Samo iz posmatranja kako ljudi koriste ili ne koriste javne prostore, može se saznati koje vrste aktivnosti i sadržaja nedostaju. Korak dalje se može ostvariti prilikom posmatranja ponašanja ljudi u novom prostoru, kako bi se dobio uvid u informacije kako dalje upravljati lokacijom i kako je dodatno razviti tokom vremena.
U američkom gradu Leksington postoji naselje Five Fields, nastalo sredinom prošlog veka, u čijem zajedničkom dvorištu se igraju generacije dece. Five Fields su projektovali Architects Collaborative početkom 50ih godina kao eksperimentalnu stambenu zajednicu u kojoj bi stanari koristili zajedničke prostore. Vlasnici su se tokom godina menjali, ali oblik zajednice kao i njihova briga za zajedničko mesto je ostala.
5. Ništa bez vizije
Vizija koja stoji iza projekta trebalo bi da proistekne iz zajednice kako bi se u ljudi ponosili prostorom koji su dobili. Zajedno sa ovim dolazi i odabir aktivnosti i stvaranje slike koja se želi prikazati budućim prostorom.
Park Hussein bin Talal u Groznom smatra se jednim od prvih savremenih javnih prostora na Ruskom Kavkazu i čine ga klizalište, sportski tereni, igralište, rekreativne zone, ribnjak, amfiteatar i slični sadržaji. U sukobljenom okruženju glavna vizija bila je očistiti područje od znakova razaranja i stvoriti u gradu novi tip urbanog centra koji će privući stanovnike različitih starosnih doba, kako bi se povezala nacionalna kultura i moderna infrastruktura.
6. Počnite sa cvećem – to je lakše, brže i jeftinije
Složenost javnih prostora često onemogućava da svaki sadržaj otpočne kako treba. Čak i najbolji prostori eksperimentišu sa kratkoročnim rešenjima koja se usavršavaju vremenom.
Urban Bloom je urbani eksperiment tokom kog je nekadašnji parking pretvoren u urbanu održivu baštu. Pomoću drvenih paleta napravljena je platforma za svakodnevna okupljanja i aktivnosti. Projekat podstiče posetioce da istraže prostor i interpretiraju njegovu svrhu kroz sopstvena iskustva i potrebe.
7. Triangulacija
Prema rečima američkog urbaniste Hollya Whytea, triangulacija predstavlja proces kojim neki eksterni činioci obezbeđuju vezu između ljudi i podstiču strance na razgovor i interakciju. U javnom prostoru dobar izbor i raspored različitih elemenata mogu pokrenuti proces triangulacije, odnosno okupljanje ljudi.
Ulični nameštaj Pop-up! u Sijetlu tokom dvonedeljnog Festivala dizajna transformisao je deo grada. Osam pokretnih modula, koji se mogu kombinovati tako da se stvore beskrajne konfiguracije za sedenje i igru, podstakli su građane na druženje.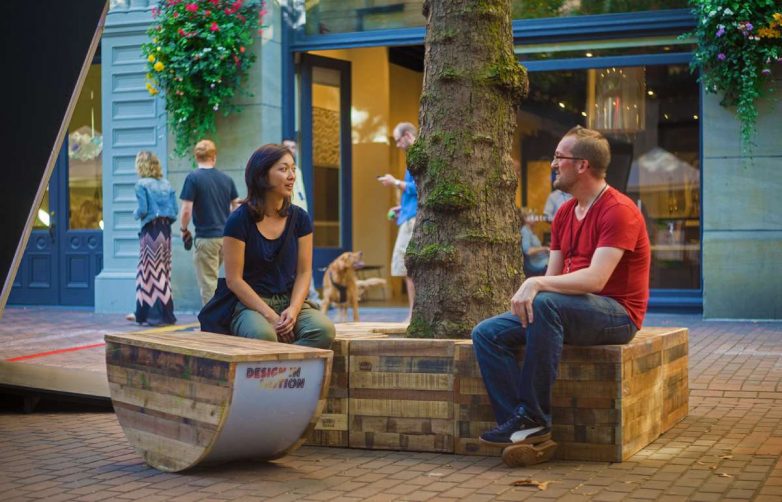 8. "To ne može da se izvede"
Prilikom stvarnja dobrih javnih prostora neizbežno će se naići na prepreke. Tako je i projekat sanacije javnog prostora za stambenu četvrt San Pablo Xalpa Housing Unit imao je za cilj stvaranje jedinstvenog zajedničkog prostora, s obzirom na to da su stanovnici godinama prisvajali delove javnog prostora ograđujući ga zidovima i ogradama. Uklanjanje barijera u početku nije bila prihvatljiva opcija za stanovništvo, međutim zajedničkim razvojem dizajna postavljeni su moduli koji čine multifunkcionalni prostor, koji se najčešće koristi kao biblioteka.
9. Forma podržava funkciju
Smernice od zajednice ili potencijalnih partnera, razumevanje funkcionisanja prostora, eksperimentisanje i prevazilaženje prepreka, pruža koncept prostora. Iako je dizajn svakako važan, ovi parametri zapravo određuju formu budućeg prostora.
Red Ribbon, struktura duga 500 metara, prolazi kroz park Qinhuangdao integrišući funkcije osvetljenja, sedenja i orijentacije. Projekat je imao za cilj očuvanje prirodnog okruženja uz reku ali i stvaranje mogućnosti za rekreaciju i edukaciju o prirodnom okruženju. Ovim projektom je pokazano kako se malim dizajnerskim rešenjem može postići drastično poboljšanje pejzaža.
10. Novac nije problem
Kada se postavi osnovna infrastruktura prostora, elementi koji će podstaći organizovanje zona, nisu zapravo skupi ukoliko se svi uključe u akciju.
CatalyticAction su projektovali i izgradili igralište u jednoj od škola u izbegličkom naselju, uključivši decu u celokupan proces, tako što su primenjene strukture koje su lakosklopive i prenosive.
11. Nikada, zapravo, niste gotovi
Neminovno je da se sadržaji istroše, potrebe se promene i mnoge druge stvari se dogode tokom vremena u urbanom okruženju. Otvorenost za prihvatanje promena je ono što stvara dobre i velike javne prostore, a samim tim i gradove.
Green Cloud je uspostavio metod recikliranja u cilju poboljšanja upravljanja kišnicom i stvaranja funkcionalnog zelenog okruženja za stanovnike. Ova ideja se jednostavno može implementirati u različitim sredinama.
Kad ste već ovde…