Kako je jedna vrijedna istorijska zbirka našla svoje mjesto u prostoru i vremenu.
Jajce, grad u središnjoj Bosni i Hercegovini, nekadašnja je srednjovjekovna kraljevska rezidencija bosanskih kraljeva i grad koji ima najviše istorijskih spomenika na teritoriji čitave BiH. Do 2009. godine bio je kandidat za listu svjetske baštine UNESCO-a zbog svoje srednjevjekovne arhitekture i kompleksa tvrđava starih preko 700 godina unutar očuvanog prirodnog ambijenta obala rijeka Plive i Vrbasa, kao i kamenitog planinskog masiva.
Dakle, radi se o gradu koji posjeduje mnogo slojeva istorije na sebi, i kao takav, predstavlja odličan izazov za arhitekte kada se radi o zaštiti istorijskog naslijeđa, ili pružanja prilike istome da zasija u današnjem kontekstu. Primjer Franjevačkog muzeja u Jajcu je stoga značajan iz nekoliko razloga.
Unijeto je malo novovremenog jezika u prostor, kako bi i sama zbirka zaživjela u određenom vremenu.
Iako sama građevina potiče iz relativno ranog perioda u odnosu na svoje okruženje, jer je sagrađena 1885. godine, ona predstavlja kontinuitet franjevaca u Jajcu i okolini, koji su prisutni još od 13. vijeka, kada su se počeli baviti sakupljanjem i čuvanjem materijalne baštine. Zahvaljujući njihovom zalaganju, u Jajcu se nalaze eksponati koji dokumentuju praistoriju od eneolitika do današnjeg dana. Muzej se nalazi u prostorijama samostana sv. Luke, a prvi put je otvoren za javnost 1905. Dakle, koncept je nosio težinu jednog arhitektonsko-istorijsko-muzeološkog projekta.
Drugo, postojali su određeni otpori i neslaganje između arhitekte i investitora, što zbog specifičnosti eksponata, što zbog određene doze prećutne tendencije da se muzejski prostori osmišljavaju po što je moguće "tradicionalnijoj" matrici. U prevodu, uhodani i uredni, ali pomalo sterilni obrasci uređenja koje definiše izložbeni boks na kojem se nalazi eksponat, monotonost otvora, osvjetljenja, rasporeda eksponata u dva reda ili cirkularno i odsustvo boja kao "jezik" istoričnosti i "autentičnosti". Naravno, to se ne treba zamjeriti ljudima koji tako gledaju na to, nego pokušati unijeti malo novovremenog jezika u prostor, kako bi i sama zbirka zaživjela u određenom vremenu. Enterijer Muzeja je ubo u suštinu problema i postigao upravo to.
Treće, Muzej je primjer kako se, uprkos ograničenosti finansijskih resursa i predrasudama, ipak može uraditi ozbiljan arhitektonski projekat koji višestruko dodaje na vrijednosti prostora. Bez obzira na to što se radi o gradu koji (više) nije prijestolnica, ili poligon za višemilionske investicije, to dodatni motiv da se arhitektura pokaže kao remedijal za takve situacije.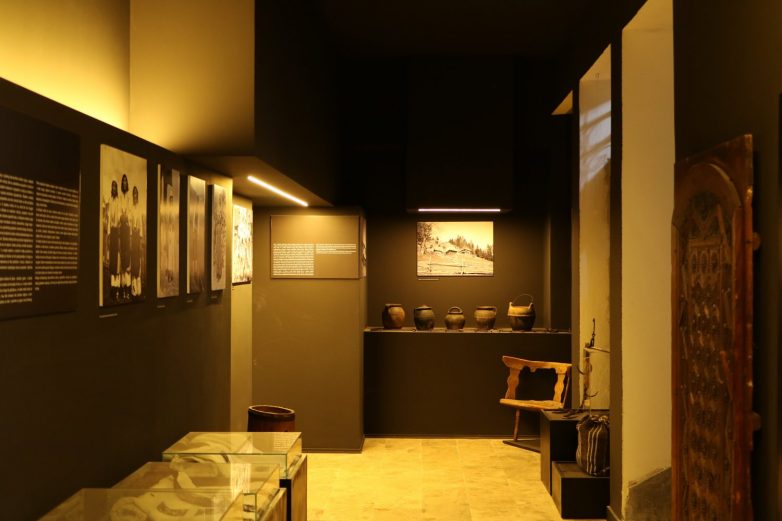 Potpis Amara Zuke
Inicijativa za uređenje je potekla od samih franjevaca, kada je uočena potreba da se eksponatima nađe odgovarajuće mjesto. Naime, zbirka je počela da raste u jednom trenutku i ukazala se potreba za, kako su zaposlenici tada mislili, vitrinama. Međutim, sarajevski arhitekta Amar Zuka je uočio da tom prostoru fali životnosti i izričaja, pošto u pomalo bezličnom i sterilnom prostoru nije bilo ničega što bi govorilo da je riječ o bogatoj i vrijednoj zbirci koja je vrijedna pažnje.
Ograničenost finansija je dirigovala koncept – odabir jednostavnih arhitektonskih formi koje s jedne strane, nisu tehnički zahtjevne za izvođenje, a s druge, ne preuzimaju ulogu samih eksponata, odnosno, tu su u potpornoj ulozi.
Arhitekta je prostor obojio u crnu kako bi naglasio kamen, metal i zlatne detalje cijelog ambijenta.
Fundus zbirke je podijeljen u tri tematske cjeline – sakralnu, etnološku i arheološku zbirku. Kako svaka od tih nosi poseban kontekst i smisao, tako su i te tri cjeline odvojene.
Sakralna zbirka je zamišljena tako da ukazuje na kontinuitet i postojanost religije u istoriji Jajca, ali i na sociološkom nivou, u životu društva i pojedinca. Kao uslovno rečeno, konstanta i simbol postojanosti, morala je da bude u kontrapunktu sa ostatkom zbirke. Arhitekta je osmislio da se pojedinačni eksponati postave u niše omeđene lukovima, na kraju koje se nalazi "oltar", na kojem su ispisane informacije o muzeju i o zbirci – svojevrsna transpozicija sakralnog prostora u muzejski. Pojedinačni eksponati u smješteni u vitrine sa "pozlatom", simbolično kao odvajanje sakralnog od profanog, duhovnog i materijalnog, posvećenost i naročitu brigu ka predmetima i simbolima tog tipa.
Arheološka i etnološka zbirka su također transformisane – umjesto pojedinačnih postamenata koji vizualno i kontekstualno fragmentuju prostor, izduženi pravougaoni oblici, poredani po obodu prostorije rade suprotno – povezuju eksponate prostorno, ali i vremenski, ukazujući na kontinuitet istorije i religije na tom tlu, ali i u ljudskoj kulturnoj svijesti.
Smjenjivanje volumena opet na isti način opisuje smjenu istorijskih perioda, dinamiku i turbulencije, ali i istovjetnost istorijskih formi (procesa) koji sa distance imaju više smisla nego iz pozicije sudionika. Po riječima arhitekte, htio je ukazati na sinhronost i dijahronost istorije i religije te njihovu isprepletenost u datom kontekstu. Osvjetljenje je riješeno istim prostornim oblicima, kvadrima, koji vise sa plafona i daju zanimljivu igru volumena i svjetlosti koja na vrlo pozitivan način obuzima posjetitelje. Određen karakter je dat i igrom bojama – umjesto dotadašnjeg odsustva kolorita i ambijenta, arhitekta je prostor obojio u crnu, kako bi naglasio kamen, metal i zlatne detalje cijelog ambijenta.
Priznanja
Iako 90% zbirke nije otvoren za javnost, govori se o mogućnosti proširenja muzejske postavke i samim tim, proširenju prostora odnosno kapaciteta Muzeja. Uređenja enterijera jednoj takvoj zbirci je potez koji je bio prijeko potreban gradu i nadamo se da je samo jedan u nizu sličnih koji bi Jajce, ali i one koji baštine slične vrijednosti, mogli staviti u bolju poziciju na mapi arhitektonskih i istorijskih znamenitosti.
Projekat je dobio dva značajna priznanja – nagradu Collegium Artisticuma iz Sarajeva u aprilu 2019. i Big See u nagradu u Ljubljani oktobra 2019, za najbolji izvedeni enterijer.
Kad ste već ovde…