Materijali, Promo
Nova generacija zidova s integrisanom termičkom izolacijom za velike uštede
Porotherm IZO Profi blok sastoji se od pečene gline i ispune od kamene vune. Kao takav, ovaj blok ne zahteva dodatni sloj termo-izolacije. Odabirom ovog građevinskog materijala, svoju kuću iz snova sazidaćete duplo brže i jeftinije. Pravi izbor je pola posla.
Planirate izgradnju nove ili renoviranje stare kuće? Onda sigurno morate da odlučite kako ćete je termički izolovati. Potreban vam je građevinski materijal koji će vam pružiti udobnost, sigurnost i ispuniti sva vaša očekivanja. Da li ste neki put čuli za Wienerberger sistemska rešenja?
Značajni udeo izgradnje kuće čine zidarski i izolaterski radovi. Reč je o velikim izvođačkim pozicijama. Ovi građevinski radovi iziskuju znatnu količinu materijala, troškova i mehanizacije. Međutim, da li možete da zamislite situaciju da kuću sazidate i termički izolujete istovremeno, i to primenom samo jednog građevinskog materijala?
Ova opeka sa integrisanom termičkom izolacijom zimi smanjuje račune za grejanje, a leti za hlađenje.
Kuća je nešto što zidate sada, a treba da traje generacijama. Današnje odluke imaće dugotrajne uticaje. Pogrešite sada, greške će trajati celog života. Ako želite da sazidate porodični dom koji će odoleti zubu vremena, onda su Porotherm IZO Profi zidni sistemi, opeka sa integrisanom termičkom izolacijom, pravi izbor za vas.
Porotherm glinena opeka je energetski efikasno, savremeno i ekološki besprekorno rešenje. Porotherm IZO Profi glinena opeka napravljena je od prirodnih i trajnih materijala. Ispuna od kamene vune otporna je na starenje i osipanje tokom vremena. U njoj se ne nastanjuju mikroorganizmi i bube, za razliku od nekih drugih materijala.
Zidanje bez maltera
Porodice koje žive u kućama od IZO Profi opeke mogu očekivati znatno manje račune za grejanje zimi i hlađenje leti. Izgradnja kuća sa Porotherm IZO Profi opekom je brža zato što se lako zida i ne zahteva dodatne izolaterske radove. Primenom Porotherm IZO Profi sistema gradnje štedite energiju odmah i zauvek. Reč je o integrisanom sistemu 2 u 1. Sem svega navedenog, nije vam potreban malter, jer se Porotherm IZO Profi opeka zida uz pomoć patentiranog Dryfix.extra lepka koji dolazi zajedno sa blokom. Uz pomoć ovog sistema zidanja gradilište je čisto, zidanje ubrzano a troškovi struje, radne snage i pratećih elemenata manji.
Najvažnije od svega, glinena opeka sa integrisanom termičkom izolacijom sprečava mogućnost fizičkog oštećenja završne fasadne obrade, što je čest slučaj prilikom ugradnje sloja demit-fasade. Na taj način, vaša kuća neće biti samo topla i ušuškana, već i trajno lepa.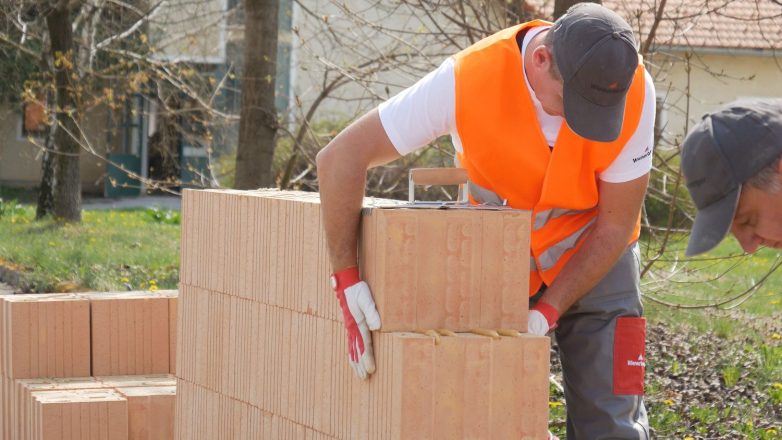 "Čoveku koji zida kuću nije potreban rat"
Prema odnosu cene i očekivanog kvaliteta, izgradnja ili renoviranje porodične kuće jedan je od najodgovornijih poduhvata u čitavom životu. Gradnja kuće je dugotrajna i zahtevna stvar. Kako je to Borislav Pekić jednom rekao: "Čoveku koji zida kuću nije potreban rat". Bez obzira na vašu nameru, pažnju i zalaganje, trajnu sigurnost, garanciju i kvalitet vam mogu pružiti jedino sistemska rešenja. Pravi izbor je pola posla.
Ako zidate kuću, zidajte je da traje. Bilo da gradite novu kuću ili renovirate staru, pomoću Porotherm IZO Profi opeke sazidaćete je kvalitetno, ali za značajno kraće vreme i sa značajnije manje novca. Uštedećete duplo.
Kontakt
Wienerberger tehnička podrška pomoći će vam da vašu kuću iz snova zaista i sazidate. Na raspolaganju su vam i besplatno stručno savetovanje o izboru materijala, kao i besplatan proračun potrebnih količina. Katalog, brošure i tehničke prospekte možete preuzeti na ovoj adresi. Takođe, pogledajte kako izgleda zidati zidove sa Porotherm IZO Profi sistemom.