Arhitektura
80 godina našeg paviljona u Veneciji – politika, kultura, arhitektura
Ove godine se navršava osam decenija od kada Jugoslavija, ali i njena pravna naslednica Srbija, izlažu na arhitektonskim i umetničkim bijenalima u Veneciji.
Za naše prisustvo u izložbenom prostoru Đardini (bukvalni prevod – bašta, vrt) u blizini mletačkog pomorskog Arsenala, možemo zahvaliti izgrađenom paviljonu Jugoslavije, ali i dobrih političkih odnosa koji su pre toga uspostavljeni između Kraljevine Jugoslavije i Kraljevine Italije. Ponovo, arhitektura i kultura su bile epilog politike.
Venecijansko bijenale nastaje krajem 19. veka, tačnije 1895. godine, kada počinje s održavanjem prvih izložbi. U početku je ono imalo isključivo lokalni karakter, ali je ubrzo dozvoljeno i predstavnicima drugih država da se uključe. Naredni korak bila je izgradnja nacionalnih paviljona na prostoru Đardini, što je bio znak da manifestacija postaje sve više internacionalna. Prvi paviljoni bivaju izgrađeni između 1905. i 1907. godine, a najveći zamah je usledio u međuratnom periodu, kada se priključuju i mnoge vanevropske države. Početkom 30-ih godina, uprava Bijenala prelazi s grada na državu, gde su već gotovo čitavu deceniju na vlasti fašisti Benita Musolinija. Musolini je u ovoj manifestaciji video ulogu u dodatnoj promociji svog režima u vidu uglednog domaćina koji bi ugostio više svetskih država i na taj način uspostavio značajne političke i kulturne veze. Naravno, ni Kraljevina Jugoslavija nije bila izuzetak.
Međutim, postojao je jedan mali problem – Kraljevina Italija i Kraljevina Jugoslavija su u tom trenutku bile najveći mirnodopski neprijatelji. Ovo neprijateljstvo je nastalo po završetku Prvog svetskog rata i konstantnih sukoba i pretenzija obe države na teritorije današnje Istre i Dalmacije. Po nekima, jedan od razloga stvaranja Kraljevine SHS/Jugoslavije, bio je nedopuštanje Kraljevini Italiji da prisajedini teritorije izvan Istre, koja je u tom trenutku njima pripadala. Prilika za pomirenje usledila je nakon smrti kralja Aleksandra 1934. godine.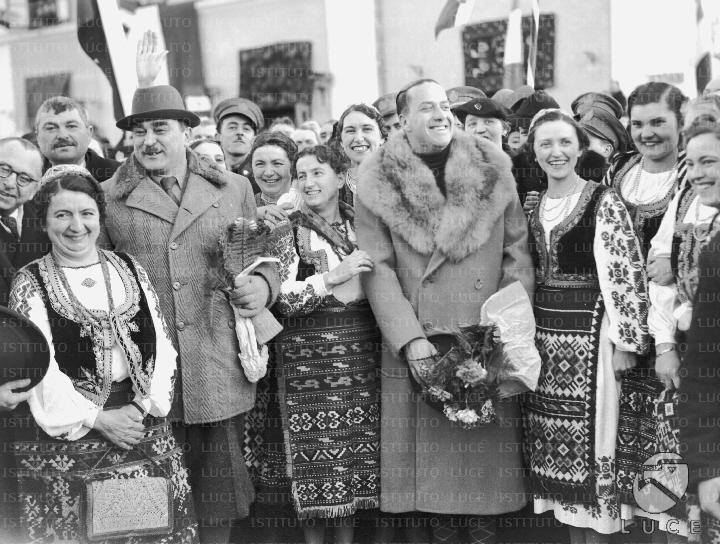 Prilika za zbližavanje ukazala se 1938. godine, kada Kraljevina Jugoslavija dobija svoj paviljon u venecijanskom Đardiniju.
Evropa je od 1933. godine polako klizila u smeru fašizma i nacizma, a taj trend je zahvatao i našu državu. I nije se to ogledalo samo u benignom muškom trendu nošenja "Hitlerovih brčića". Simpatizera totalitarnih režima je bilo i kod nas, naročito nakon uspostavljanja Šestojanuarske diktature 1929. godine. Iako su nakon kraljeve smrti ponovo uspostavljene političke partije, prodor fašizma i nacizma se teško zaustavljao. Konačni momenat odigrao se 25. marta 1937. godine, kada su u Beogradu grof Galeaco Ćano, bliski saradnik Musolinija i premijer Milan Stojadinović, potpisali sporazum o nenapadanju pod nazivom Uskršnji pakt. Ovim memorandumom obnovljene su i učvršćene veze sa Italijom, a sve to je naravno moralo biti i dodatno promovisano kroz kulturnu propagandu i angažman. Prilika za ovo zbližavanje ukazala se već naredne 1938. godine, kada Kraljevina Jugoslavija dobija svoj paviljon u venecijanskom Đardiniju. Izgled samog paviljona svedoči o vremenu i okolnostima kada je nastao.
Otkud mi u tom društvu?
Kako su početkom 30-ih fašisti preuzeli upravu nad Venecijanskim bijenalom, sve aktivnosti našle su se pod njihovom jurisdikcijom. Tu se, pored programa i tema izložbi, pre svega misli na izgradnju novih paviljona i njihovu arhitekturu. Nakon Prvog svetskog rata i raspadom nekoliko imperija, formira se čitav niz novih država, a druge dobijaju znatna teritorijalna proširenja. Ove geopolitičke promene praćene su kulturno-umetničkom promocijom na raznim izložbama, sajmovima, pa i Venecijanskom bijenalu. Tako su svoje paviljone dobile: Čehoslovačka, Jugoslavija, Poljska i Austrija, kao novonastale evropske države, ali i Rumunija i Grčka, koje su iz Rata izašle sa znatnim uvećanjima svojih teritorija. Grade se i paviljoni mnogih vanevropskih država, koje na svetskoj geopolitičkoj sceni postaju važni faktori. To su pre svega SAD, Australija i Brazil.
Arhitektura paviljona ovih država bila je različita, ali ju je povezivala jedna zajednička crta – monumentalnost svojstvena totalitarnim režimima, koji su u to vreme bili u punom zamahu u Evropi. Najočigledniji primer ovog političkog uticaja predstavlja upravo paviljon Kraljevine Jugoslavije. Izgrađen je kao jedan od pet povezanih paviljona, u okviru jedinstvenog objekta, od kojih su četiri identična namenjena državama gostima, dok je centralni, u nešto drugačijoj formi, pripao samom domaćinu. Paviljon domaćina izgrađen je na centralnoj poziciji pročelja, dok su po dva paviljona sa svake strane ugostila Jugoslaviju, Egipat, Poljsku i Rumuniju. Možda bi bilo logičnije da se na ovom mestu pronašla i Čehoslovačka, ali ona je dobila izdvojen paviljon na drugom kraju Đardinija.
Italijanski racionalizam
Prisustvo Egipta takođe je zanimljiva priča, ponovo povezana sa političkim okolnostima. Naime, dve godine pre dovršetka izgradnje i otvaranja paviljona, 1936. godine, potpisan je englesko-egipatski sporazum, po kojem je Egipat dobio znatno povoljniji status u odnosu na nekadašnji britanski protektorat. Izgradnjom paviljona, Italijani su želeli da nagrade Egipat za svoja politička postignuća i time pokušaju da ih pridobiju za saveznike. Podsetimo, Kraljevina Italija je pred i za vreme Drugog svetskog rata imala kolonijalne pretenzije u Istočnoj Africi, pa se ovaj kulturni scenario uklapao u njihove spoljnopolitičke planove. Tako je Egipat dobio svoj paviljon u društvu evropskih država.
Arhitektura mnogih paviljona bila je u duhu monumentalnog ar dekoa, moderne ili akademizma, a prednjačio je italijanski racionalizam ili novećento. U arhitekturi ova poslednja dva stila/pokreta izgrađena je i zajednička zgrada jugoslovenskog, egipatskog, rumunskog i poljskog paviljona, zajedno s paviljonom Venecijanskog Bijenala. U pitanju je podužna zgrada, kod koje je centralni segment konkavno upušten u odnosu na liniju fasade okolnih paviljona. Forma cele zgrade je veoma jednostavna, sa minornim naznakama arhitektonske dekoracije. Fasade su potpuno pročišćene, bele, bez prozorskih otvora izuzev uokvirenih niša u blizini ulaza u paviljone. Ulazi su naglašeni blagim isturivanjem u polje, s lučnim portalima u kojima su smeštena masivna dvokrilna vrata, a sve to nadvišeno je jednostavnim natpisima imena država.
Ako ništa drugo, paviljon treba okrečiti i adaptirati jer je prvi utisak najvažniji.
Autor paviljona je italijanski (venecijanski) arhitekta Breno del Đudičeo. Forma celokupnog zdanja bila je u skladu s arhitekturom koja je tih predratnih godina nicala širom fašističke Italije, a čiji su protagonisti bili arhitekte Gualino, Pagano, Libera, Bala, Durdevil i Teranji. Sama arhitektura, kako joj ime govori, bila je u stvari svedeni, modernizovani klasicizam, koji se mogao smatrati nacionalnim stilom Italije, kao naslednice nekada moćnog Rimskog carstva.
Arhitektura kao odraz vremena
Možda će ova priča mnoge navesti na pomisao da Kraljevina Jugoslavija nikada ne bi dobila paviljon da nije sklopila sporazum na fašističkom Italijom i da je arhitektura paviljona zapravo fašistička. Međutim, nije sve tako crno-belo, niti se naša država može zbog ovog čina može smatrati profašističkom. Za početak, mnoge države, koje su inače bile antifašistički nastrojene, dobile su svoje paviljone. Narastajući trend totalitarnih režima bio je isuviše jak da bi ga evropske države zaobišle ili ignorisale na manifestacijama kao što je Venecijanski bijenale. Jednostavno, prilika se ukazala u tom trenutku i naša država ju je na pravi način iskoristila.
S druge strane, sama arhitektura paviljona je odraz vremena u kojem je on i sagrađen. Ako pogledamo druge paviljone, u okviru, ali i izvan kompleksa gde se nalazi naš paviljon, primetićemo da su svi oni koji su izgrađeni u međuratnom periodu dobili taj nezaobilazni monumentalizovani izraz. Na prvom mestu, možemo biti zadovoljni što uopše imamo paviljon, gde svake parne godine možemo izlagati svoje arhitektonske, a svake neparne godine umetničke instalacije, kojima promovišemo rad naših autora. Naravno, bilo bi poželjno da kvalitetom svojih izvedbi i opravdamo svoje prisustvo na ovoj prestižnoj svetskoj manifestaciji, a ako ništa drugo da se paviljon okreči i adaptira jer je prvi utisak najvažniji.
Kad ste već ovde…