Svetski projekti
Elektrana na smeće sa skijaškom stazom na krovu novi je orijentir Kopenhagena
Marketinški trik ili fenomenalna zgrada u kojoj se spaljivanjem otpada proizvodi toplotna energija za toplu vodu i grejanje 150.000 domaćinstava? Pročitajte utiske o CopenHillu od našeg specijalnog dopisnika iz Kopenhagena.
Pre deset dana, u glavnom gradu Danske, zvanično je otvorena skijaška staza na krovu elektrane locirane u delu Kopenhagena koji se zove Amager. Sama elektrana nosi ime lokacije Amager Bakke, što znači Amager brdo. Mnogi ne znaju, ali elektrana radi punom parom već dve godine, mada je 4. oktobra kompletirana, pa je i njena najveća atrakcija-skijaška staza-počela sa radom.
U skorije vreme, ni jedan objekat u Kopenhagenu nije izazvao više kontroverzi i oprečnih mišljenja od Amager Bakkena. Stručna javnost je ili obožava ili mrzi, a samim tim, takav odnos imaju i prema BIG arhitektonskom studiu. Zašto je to tako?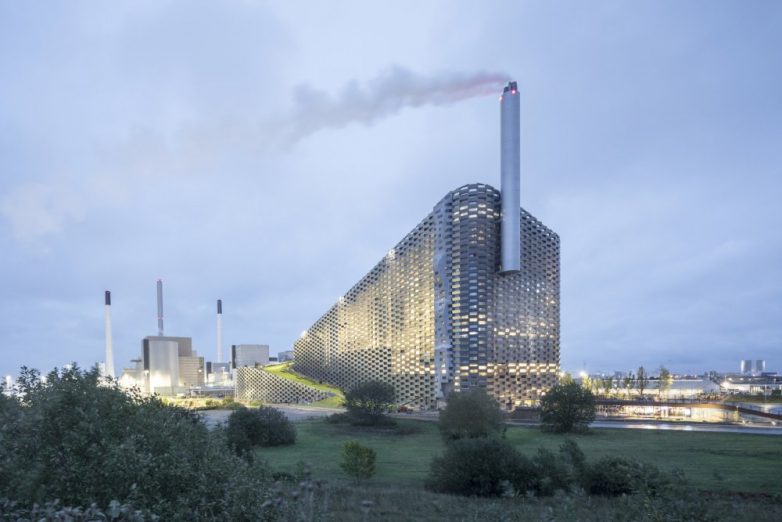 Ova elektrana slavi se kao "najzelenija zgrada na svetu", ali tako ne misle pobornici cirkularne ekonomije, koji smatraju da je ona ustvari jedna obična farsa i marketing.
Ova elektrana slavi se kao "najzelenija zgrada na svetu", ali tako ne misle pobornici cirkularne ekonomije, koji smatraju da je Amager Bakke ustvari jedna obična farsa i marketing, a skijaška staza na krovu samo sebična želja studija BIG da se skijaju u centru Kopenhagena. Jednim delom su u pravu, ali zar ideje ne proizilaze iz subjektivnog misljenja i gledišta projektanta? Zar nije to polazna tačka za svaki projekat? Zato i postoje arhitekte, da daju svetu nešto što još ne postoji – a to je svakako skijaška staza na krovu.
Ono što se smatra propustom Amager Bakkena je to što se u elektrani sagoreva đubre i otpad, a pri tom je objekat predimenzionisan za potrebe Danske pa se đubre uvozi, a samim transportom đubreta emituje se više CO2 nego njegovim sagorevanjem. Pitanje je, da li su u pravu?
Grejanje za 150.000 domaćinstava
U Amager elektranu dnevno stigne oko 260 kamiona otpada, a to je oko 450.000 tona đubreta godišnje. S obzirom na to da se u Danskoj sortira otpad u domaćinstvima (staklo, papir, metal, karton, plastika, baterije) i da se većina reciklira, u elektranu dolazi otpad koji nije za reciklažu. Taj otpad se spaljuje na 1.000 stepeni, a za sagorevanje je potrebno dva sata. Toplotna energija koja se stvara sagorevanjem koristi se 70 posto za toplu vodu i grejanje oko 150.000 domaćinstava, a ostalih 30% koristi se za proizvodnju električne energije koja napaja, na primer, uličnu rasvetu.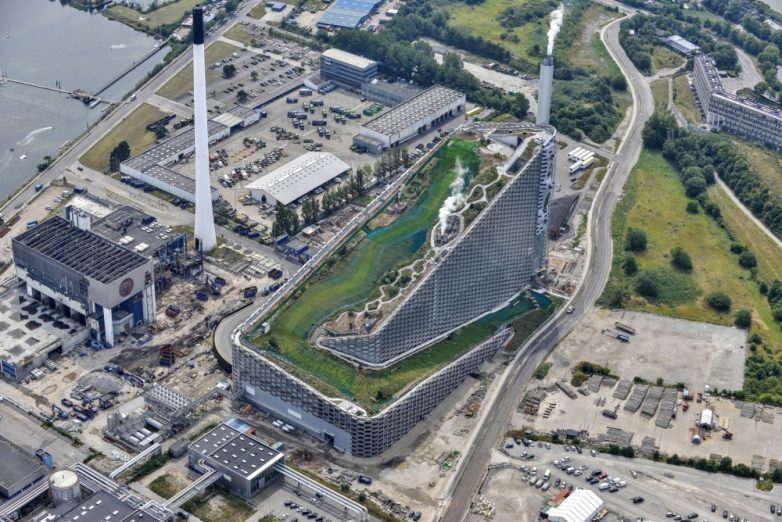 CopenHill je zapravo jedina kula od smeća koja je postala najpopularniji objekat u gradu.
Otpad koji ostaje od sagorevanja, prvo se čisti od otrovnih materija koje mogu ostati od nesortiranih baterija i onda se taj očišćeni otpad koristi kao podloga prilikom izgradnje puteva. Bio je plan da se posebnim filterima potpuno očisti dim od CO2, ali to još uvek nije zaživelo i to je jedan od najvećih razloga što su pobornici cirkularne ekonomije nezadovoljni.
Ali šta bi se desilo s otpadom koji Danska ne bi uvezla? Verovatno bi bio spaljen na nekom polju kao u većini država, a CO2 iz dima bi bio neizbežan. Zar nije onda ekonomičnije, zdravije i logičnije, kada se već pali, tu toplotnu energiju iskoristiti kako je studio BIG zamislio?  Ja mislim da jeste, i da je Amager Bakke jedna fenomenalna zgrada, i jedina kula od smeća koja je postala najpopularniji objekat u gradu.
Ski-staza, skakaonice, uspinjače
Za to što šetnjom unutar elektrane ne osećate nikakav neprijatan miris dok stojite tik uz tone đubreta, zadužena je posebna tehnologija koja vazduhom u suprotnom smeru od vas oduva sav neprijatan miris. Mada, ono što ostavlja najveći utisak na svakoga ko poseti ovaj objekat je definitivno, skijaška staza!
Napravljena od specijalne plastike kroz koju pravi travnati tepih slobodno raste, prava je poslastica za sve one koji vole da skijaju, ali i za one kojima je ekstremni sport blizak. Staza je opremljena skakaonicama za raznorazne vratolomije, ali i liftom za skijaše, pa će ljubitelji zimskih sportova moći ovde da uživaju i u sred leta.
Na najvišem i najstrmijem delu staze nalazi se prava uspinjača (tanjirača), a na nižim i manje strmim delovima, koji su ujedno prilagođeni i za decu, nalazi se ski lift, poput pokretne trake na kojoj skijaši stoje dok ih traka penje do željene visine. Skipas se može kupiti za jedan dan, mesec dana, ili za celu godinu, a u podnožju Bakkena možete iznajmiti svu potrebnu opremu i ugrejati se toplim čajem, kao u pravom skijaškom centru.
Najviši zid za penjanje na svetu
Ukoliko ne želite da skijate, već samo da se popnete na vrh objekta stepenicama, i da uživate u predivnom pogledu na more,  to možete učiniti potpuno besplatno, ali se spremite na sigurnu upalu mišića sutradan, jer Amager Bakke je visok skoro 100 metara što je otprilike 30 spratova.
Pored staze za skijanje tu je i hiking staza, a na otvaranju smo bili u prilici da prisustvujemo i trci mounting bikeova, tako da su mogućnosti uživanja u ovom objektu ogromne. Tu je takođe i najviši zid za penjanje na svetu, ali s obzirom da ga niko nije koristio tokom otvaranja, nismo bili u mogućnosti da doživimo kako to izgleda, ali verujem da će danski alpinisti pronaći svoje omiljeno mesto u gradu baš ovde.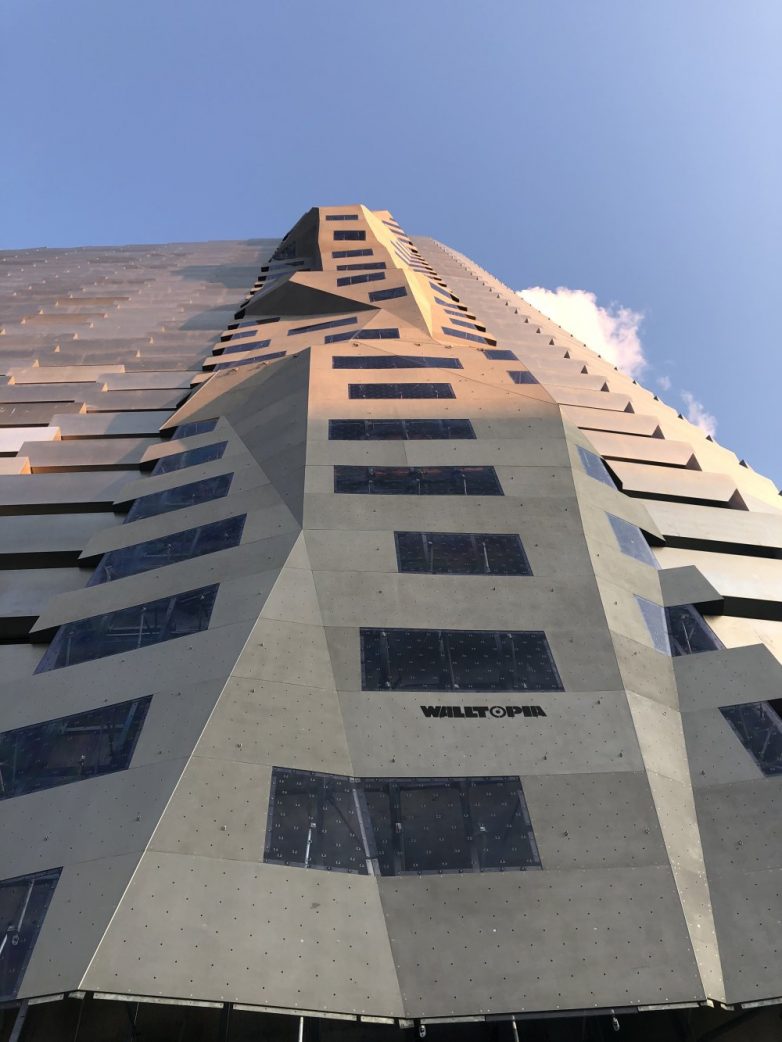 Fotogalerija s lica mesta: