Arhitektura, Izdvojeno
Arhitekta ima uticaja na budućnost tek tada kada poklanja nešto što još ne postoji
Izložba Formgiving u Kopenhagenu i predavanje čuvenog arhitekte Bjarke Inglesa iz biroa BIG formirao mi je jedan sasvim novi pogled na svet.
Trenutno se u DAC (Danish Architecture Center) u Kopenhagenu održava Formgiving – izložba radova danskog projektnog biroa BIG, gde sam imala priliku da upoznam i slušam osnivača ovog biroa, i jednog od najuticajnijih ljudi u svetu arhitekture trenutno, Bjarke Ingelsa. Sasvim ležerno, sa osmehom na licu i u opuštenoj garderobi došao je ovaj slavni arhitekta da nam objasni pozadinu ove izložbe i približi filozofiju i način svoga rada. Međutim, rekao je mnogo više, i ukazao na to, da arhitekta mora biti istraživač, naučnik, kreator budućnosti i da mora preuzeti odgovornost za to kako će svet izgledati i funkcionisati mnogo godina posle nas.
Naziv izložbe Formgiving proistekao je od danske reči formgivning, što u bukvalnom prevodu znači davanje forme, ili oblikovanje nečega što još uvek ne postoji. Bjarke je to objasnio kao davanje forme budućnosti i da je zadatak, zapravo, stvoriti svet u kojem bismo i sami voleli da živimo.
Izložba se održava u nedavno završenom objektu BLOX koji je osmišljen kao skup staklenih blokova poređanih jedan na drugi. Kao takav, objekat je potpuno transparentan i samim tim drugačiji od standardnih prostora za izložbe. Ovu zgradu projektovao je arhitektonski biro OMA i Bjarke Ingelsov mentor Rem Koolhaas, pa se sam Bjarke nekoliko puta dotakao arhitekture objekta i na duhovit način objasnio da je bilo teško organizovati izložbu i jasno prikazati sve projekte jer u zgradi ne postoji ni jedan beli zid kao pozadina. Zato je sve svoje projekte okačio da lebde u vazduhu i koristio boju kao sredstvo kojim će napraviti posebne segmente i prikazati projekte najbolje moguće. Tako se stvorio osećaj soba, iako zidovi ne postoje.
Bjarke arhitekte naziva "Givers of gifts" (Davaocima poklona) jer smatra da je dizajn nešto što arhitekta poklanja svetu.
Možda baš zato što mu se sin zove Darvin, ali na moje iznenađenje, Bjarke počinje priču o evoluciji, kreće se kroz slajdove od Velikog praska preko atoma i molekula, zvezda u univerzumu, stvaranja gvožđa, Sunca, Meseca i Zemlje, preko priče o prvom kamenu, pa stvaranju vode i prvih ćelija, do prvih životinja pre 600 miliona godina. Ustvari, Ingels nam govori da jednom ništa od ovoga što znamo nije postojalo – da se malo po malo stvarala budućnost, odnosno naša sadašnjost i da sada, svaki naš potez stvara jednu novu budućnost, za koju smo svi mi odgovorni, jer mi formiramo svet u kojem ćemo živeti i koji ćemo ostaviti budućim generacijama. On zapravo arhitekte naziva "Givers of gifts" (Davaocima poklona) jer smatra da je dizajn nešto što arhitekta poklanja svetu, i da arhitekta ima uticaja na budućnost tek tada kada poklanja nešto što se niko nije setio da traži, nešto što još ne postoji.
Ekologija kao ideja vodilja
Svi Bjarkeovi objekti vrlo su ekološki i energetski efikasni, a najistaknutiji među njima je Amager Bakke (Copenhill) – najzelenija zgrada na svetu, koja na svom krovu ima skijašku stazu, po uzoru na skijalište Branas u Švedskoj, čije su dve trećine skijaške staze bukvalno preslikane i prenete na krov objekta. Staza na Bakkenu prekrivena je plastičnim materijalom koji omogućava skijanje i osećaj da ste na pravom snegu, ali u isto vreme podržava rast pravog travnatog tepiha u letnjem periodu. Osim staze, ovde je izgrađen najviši zid za penjanje, kao i staza za planinarenje, a sve to koncipirano je kao javni park i biće dostupno svima. Ekološka tehnologija je praktično nevidljiva, najviše pažnje zapravo privlače ovi sportski sadržaji, mada glavna namena objekta je prerada smeća i proizvodnja toplotne energije po principu zero-waste. Bjarke je najavio otvaranje zgrade 4. oktobra ove godine, i jedva čekamo da vam prenesemo utiske.
"Ružna zgrada" u luci
Zanimljivo je da je čak i za Bjarke Ingelsa postojalo nešto što se u arhitektonskom smislu činilo nedostižnim, a to je da dobije priliku da gradi u svom Kopenhagenu na najinteresantnijoj lokaciji – luci Nordhavn. S obzirom da preko konkursa nikada nije dobio priliku za to, poželeo je i uspeo da kupi deo zemljišta i napravi novi objekat u koji će smestiti nove kancelarije svog biroa.
Vodila se polemika kako je zgrada ružna, ali Bjarke kaže da je oblik zgrade uslovljen malim placem. Zapravo, enterijer je veoma otvoren i prozračan i svi nivoi unutar objekta su organizovani kao galerije, tako da svi radnici sede u potpuno jednakim prostorima. Na severnoj strani objekta smešteni su stepenište, liftovi i, kako ih Bjarke zove, mali prostori: kancelarije za sastanke i prostorije u kojima su smeštene makete objekata, te se tako ti prostori ne pregrevaju, pa se samim tim smanjuje potreba za klimatizacijom. Oko čitave zgrade nalaze se stepenice i  terase, pa sa svakog sprata radnici mogu da pristupe otvorenom prostoru i uživaju u pogledu na more. S obzirom da se objekat nalazi na samoj obali, parter je osmišljen kao miks plaže i šume, pa je oko zgrade nasut pesak kako bi se pojačao utisak lokacije. Ideja je da se stvori utisak da grad prestaje kod ovog objekta i da se tu završava popločanje i počinje plaža.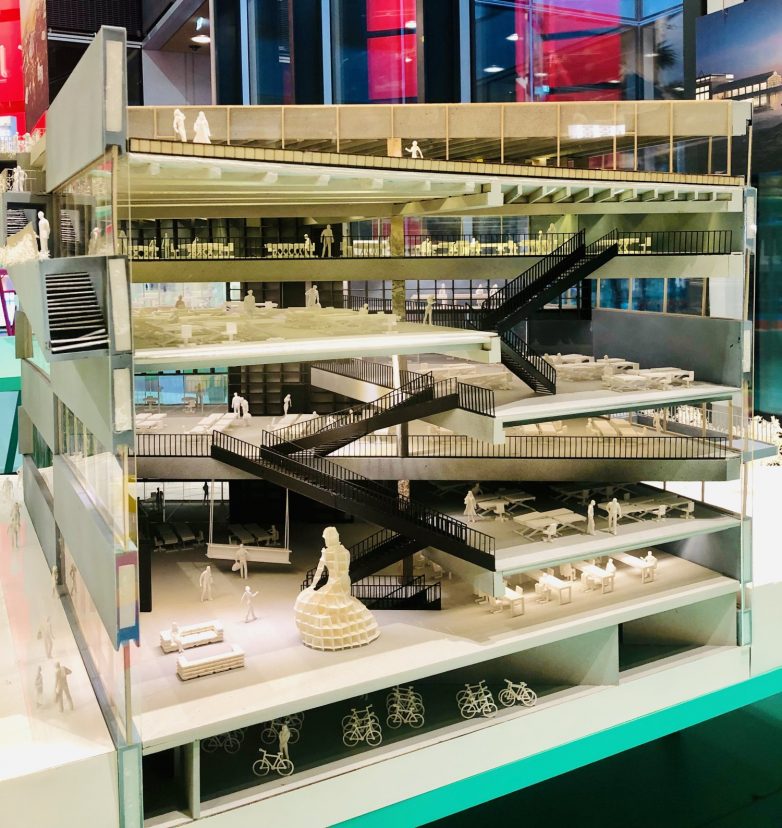 Na pitanje kojeg bi arhitektu iz prošlosti voleo da upozna, Bjarke je rekao Eero Saarinena – smelog arhitektu koji ga je inspirisao svojim eksperimentisanjem i neustrašivošću.
Plutajući grad (Oceanix City) jedan je od mnogih projekata o kojima je Bjarke izlagao na predavanju. Dizajniran je u originalu za jugoistočnu Aziju, ali Bjarke kaže da se ovaj princip građenja plutajućih gradova može projektovati na bilo koji deo sveta, pa možda jednog dana i na hladna skandinavska mora. Trenutno se pravi prototip tog grada, a s obzirom da postoji tendencija porasta nivoa mora i postoje ostrva kao što su Francuska Polinezija i Maldivi koji polako tonu sa tendencijom da će potpuno nestati za 5200 godina, razvojem ovih plutajućih gradova stvara se alternativno stanovanje bilo gde na planeti. Naravno, i ovaj projekat je samoodrživ pa je Bjarke rešio problem pijaće vode tako što bi se specijalnom tehnologijom desalinizovala morska voda ili bi se filtrirala kišnica, a problem hrane rešio je izgradnjom podvodnih farmi.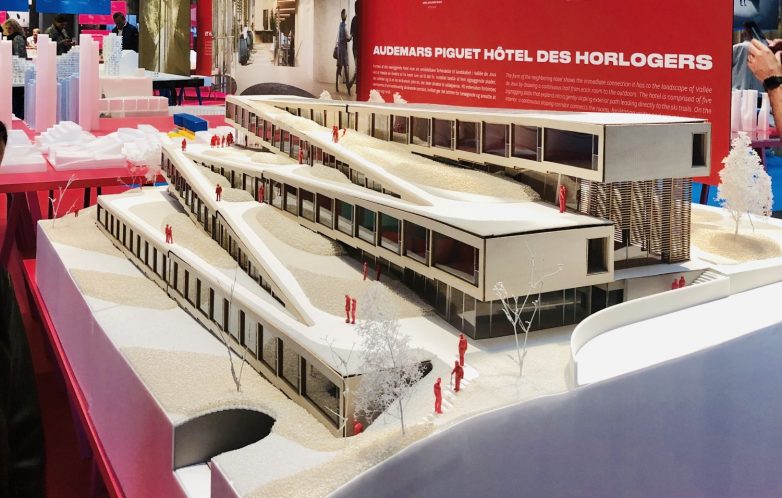 Čovek koji formira budućnost
U kategoriju ovakvih projekata svakako spada i kolonizacija Marsa, i naravno da se Bjarke dotakao i ove teme jer je on projektant objekata koji će u budućnosti biti domovi ljudima na drugoj planeti. Na pitanje zašto se uopšte razmišlja o kolonizaciji druge planete umesto da se fokusiramo na Zemlju i njeno očuvanje, Bjarke je odgovorio: "Reći ću vam samo jedno: s tehnologijom koju imamo, uspeli smo na Marsu, planeti na kojoj ne postoji voda, da stvorimo vodu. S tehnologijom koju imamo, uspeli smo da na drugoj planeti uzgajamo biljke, iako one sada tamo ne postoje. S tehnologijom koju imamo, uspeli smo da stvorimo kiseonik na Marsu. Šta mislite, šta sve onda možemo sa Zemljom da uradimo?"
I tada sam shvatila koliko mi obični ljudi ustvari malo znamo i koliko smo daleko od informacija. Šta je ustvari prava slika našeg sveta i ko su ustvari ti ljudi koji formiraju budućnost? Definitivno, jedan od njih jeste Bjarke Ingels i bila je čast slušati ga.
Kad ste već ovde…