Kompleks zgrada u Tuheljskim Toplicama na prvi pogled izgleda prilično strogo i hladno, no kada se približite na samo par koraka od ulaza shvatićete da od odiše elegancijom. 
Arhitekte Marin Mikelić i Tomislav Vreš iz zagrebačkog studija MVA projektovali su zgradu hotelsko-kongresnog kompleksa Well u jednoj o najpopularnijih termalnih banji u regionu. Njihov glavni zadatak bio je da nove prostorije uklope sa već postojećim, a to su učinili tako što su sve objekte obavili u istovetnu fasadu od aluminijumskih panela.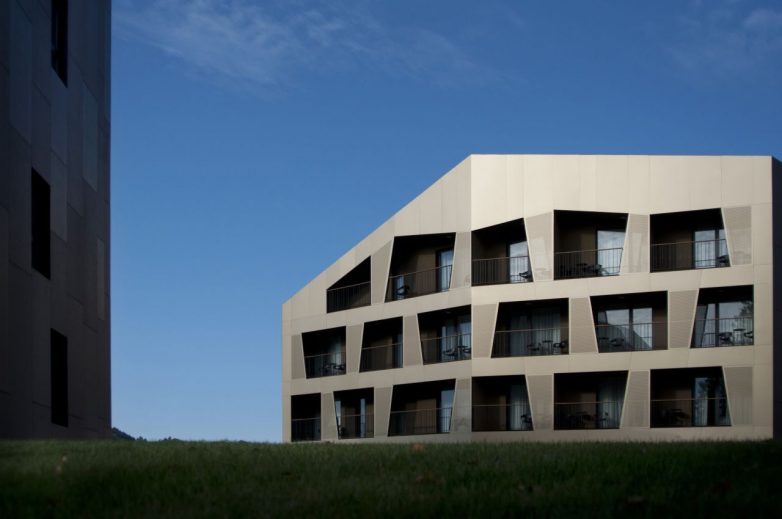 Glavni zadatak bio je da se novi prostori uklope s postojećim. To je učinjeno tako što su svi objekte obavijeni u istovetnu fasadu od aluminijumskih panela.
Alubond U.S.A paneli obojeni su u mat zlatnu nijansu i imaju perforacije koje omogućavaju prijatan prodor svetlosti u prostorije. Manji deo fasade koji nije pokriven aluminijumom, kao i svi krovovi u kompleksu, napravljeni su od prefabrikovanih betonskih panela.
Paviljonski ambijent
Kako su arhitekte izjavile u obrazloženju za ArchDaily, enterijer njihovog aneksa osmišljen je kao paviljon u kojem posetioci mogu da uživaju u miru.
U enterijeru zajedničkih prostorija dominiraju zemljane boje i elegantni materijali visokog sjaja, dok je nameštaj drečavih nijansi pružio dozu živahnosti čitavom prostoru. Na prvo pogled moglo bi da se kaže da je prostor uređen u mid-century modern stilu, ali pažljiviji posmatrač će uočiti da su svi elementi u enterijeru zapravo vrlo moderni i stari maksimalno par sezona.
Logičan raspored jedinica
Zanimljivo je da je novi deo hotela podeljen po vertikalnoj liniji na zajednički prostor za sve goste i individualne smeštajne jedinice. Njih ukupno ima 126 i podeljene su u tri sektora.
Zajedničke prostorije zapravo su smeštene u "međuprostor" između starog i novog dela hotela i krasi ih veliki ravni zeleni krov.
Zakrivljeni prozori
Iz svih soba puca predivan pogled na Zagorje, koji je dodatno zanimljiv po tome što nijedan prozor , odnosno uvučeni balkon na novoj zgradi nema standardni pravougaoni oblik. Linije pod kosim uglom doprinule su tome da ceo kompleks izgleda još dinamičnije.
U dvorištu hotela iza kongresne sale u samoj sredini zajedničkog prostora nalazi se mali otvoreni prostor u formi amfiteatra koji ima raznoliku namenu.
U narednoj galeriji pogledajte i originalne planove hotela:
Ovako hotelski kompleks izgleda tokom noći:

Fotografije: Ivan Dorotić
Kad ste već ovde…