Kroz primere svojih enterijera arhitekta Sonja Brstina vam otkriva kako odabrati odgovarajući tepih za vaš dnevnu boravak, trpezariju, spavaću ili dečiju sobu 
"Iako ih zovu skupljačima prašine i iako bi održavanje bez njih bilo znatno lakše, ne volim prostore bez tepiha jer mislim da oni daju krajnji utisak i toplinu svakoj prostoriji", ističe Sonja.
Pošto zauzimaju veliku površinu, oni su upečatljivi elementi enterijera. Problem može biti ako odaberete mali ili prevelik tepih, odnosno, onaj koji nije odgovarajuće veličine. Pogledajte kako da orijentaciono odredite koja vam je dimenzija tepiha potrebna, a saznajte i koje prosečne dimenzije tepiha postoje na našem tržištu.
Uobičajene dimenzije tepiha:
Kao što se vidi na ilustraciji iznad, dimenzije tepiha proizilaze spram nameštaja u prostoru. Ukoliko će tepih doći samo ispod klub-stola treba vam onaj dimenzija 140x170cm, a ako imate još i fotelju biće vam potreban tepih od 200x300cm. Minimalna dimenzija za tepih ispod trpezarijskog stola sa šest stolica je takođe 200x300cm. Pored kreveta u spavaćoj sobi, najčešće se koriste staze u dimenziji 60×120 ili 80×150 centimetara. Naravno, dimenzije tepiha zavise od proizvođača.
Kako odabrati odgovarajući tepih
Postoji par generalnih saveta kako odabrati odgovarajući tepih ali, naravno, svaki prostor je individualan te njemu tako treba i pristupati. Ipak, evo par generalnih saveta.
Ukoliko je trpezarija u sklopu dnevne sobe, nećete pogrešiti ako se odlučite za dva ista tepiha ali u dve boje. U ovom primeru su to tepisi u kontrastima, crnoj i beloj boji.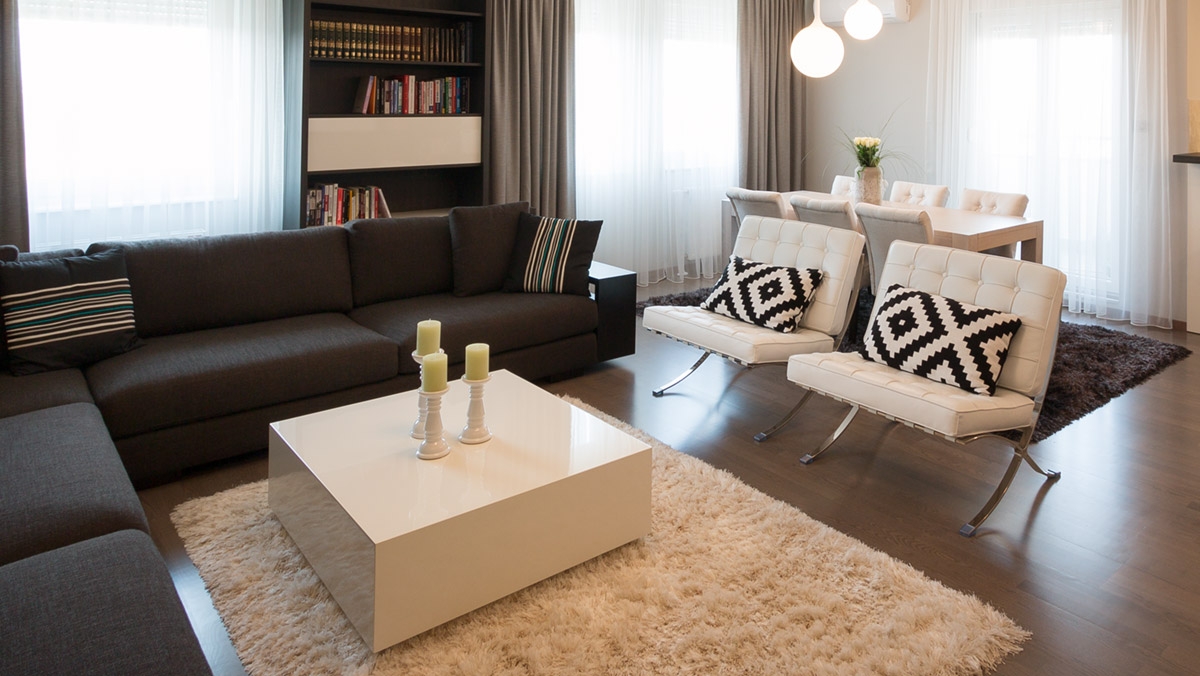 Isti tepih možete da stavite i u dnevnu sobu i u trpezariju ali bi bilo dobro da razmislite o stazi u drugoj boji koja će razbiti monotoniju. Na ovom primeru je to ljubičasta staza koja je povezana sa bojom jastuka.
Kada birate tepihe za trpezariju, obratite pažnju da stolice trebaju lepo da stoje na tepihu i kada su izvučene. Nikako nemojte dozvoliti da tepih samo stane ispod trpezarijskog stola, a da stolice nisu uhvaćene tepihom jer će to delovati nesrazmerno.
Materijali tepiha
Naravno, prva preporuka većine dizajnera jeste da vole prirodne materijale (vuna, svila), to jest, kvalitetnije tepihe za koje se treba izdvojiti veću količina novca. "Lično nisam pobornik skupih tepiha za kojim ćete kasnije patiti sa svakom prosutom čašom vina ili kafe.", kaže dizajner enterijera Sonja Brstina i dodaje da trenutno postoje kvalitetni tepisi od veštačkih vlakana koji su veoma izdržljivi što je pogodno za one koji imaju decu ili kućne ljubimce. Oni odlično podnose česta pranja.
Naravno, u ponudi postoje i takozvani antialergijski tepisi koji su nešto skuplji i predviđeni su uglavnom za dečije sobe. Ukoliko vaša deca imaju problema s alergijama, ovde možda ne trebate da pazite na trošak.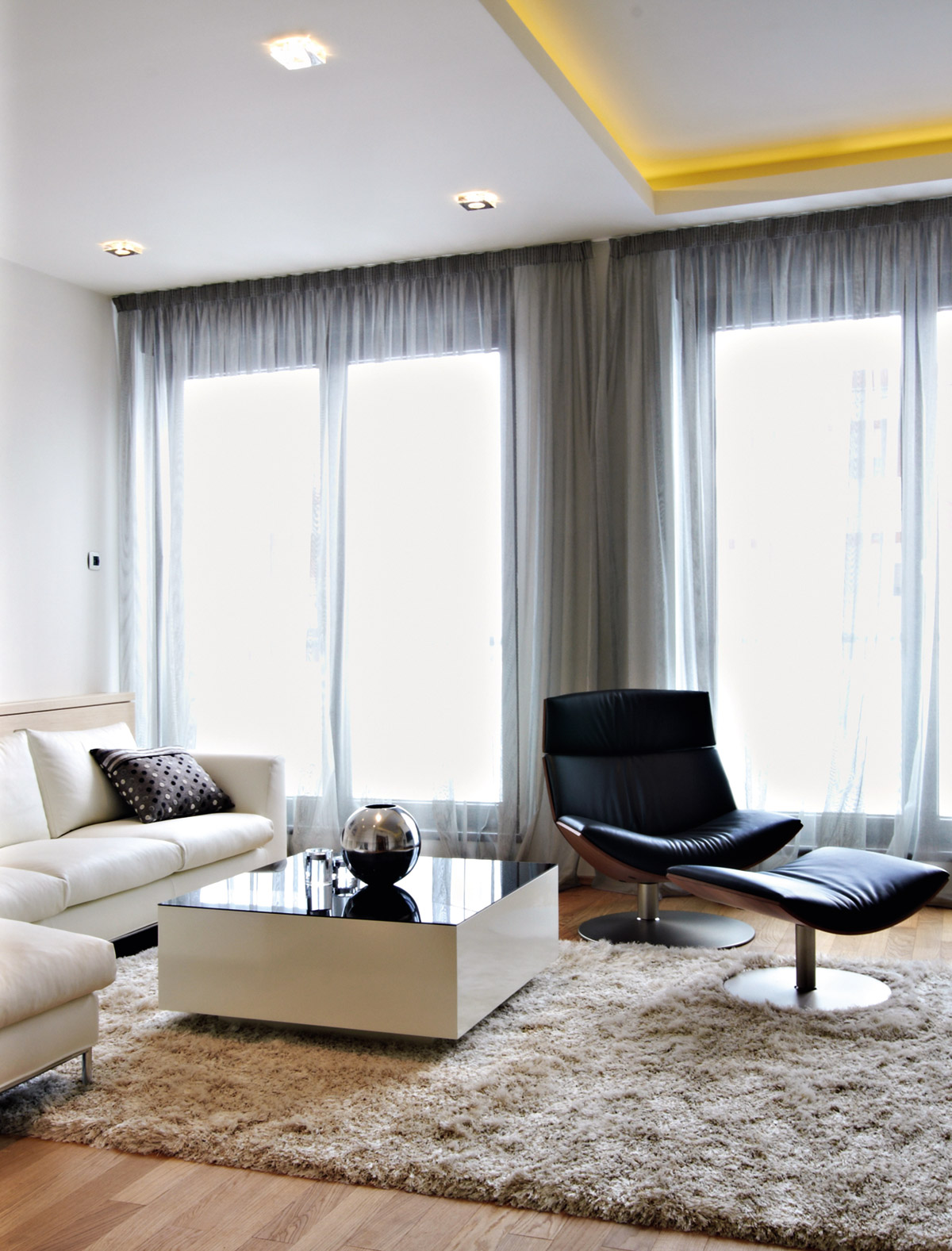 Čupavi VS tanki tepisi
Iako su prethodnih godina bili popularni debeli, to jest, čupavi tepisi trenutno su aktuelni kratki, odnosno, tanki tepisi sa ravnim tkanjima. "Kao i u modi, trendovi se menjaju na sezonskom nivou pa mislim da ne treba robovati njima.", ističe Sonja i dodaje da "iako možda nisu "in", u spavaćim sobama lično volim da pod prstima osetim ušuškanije, debele čupave tepihe."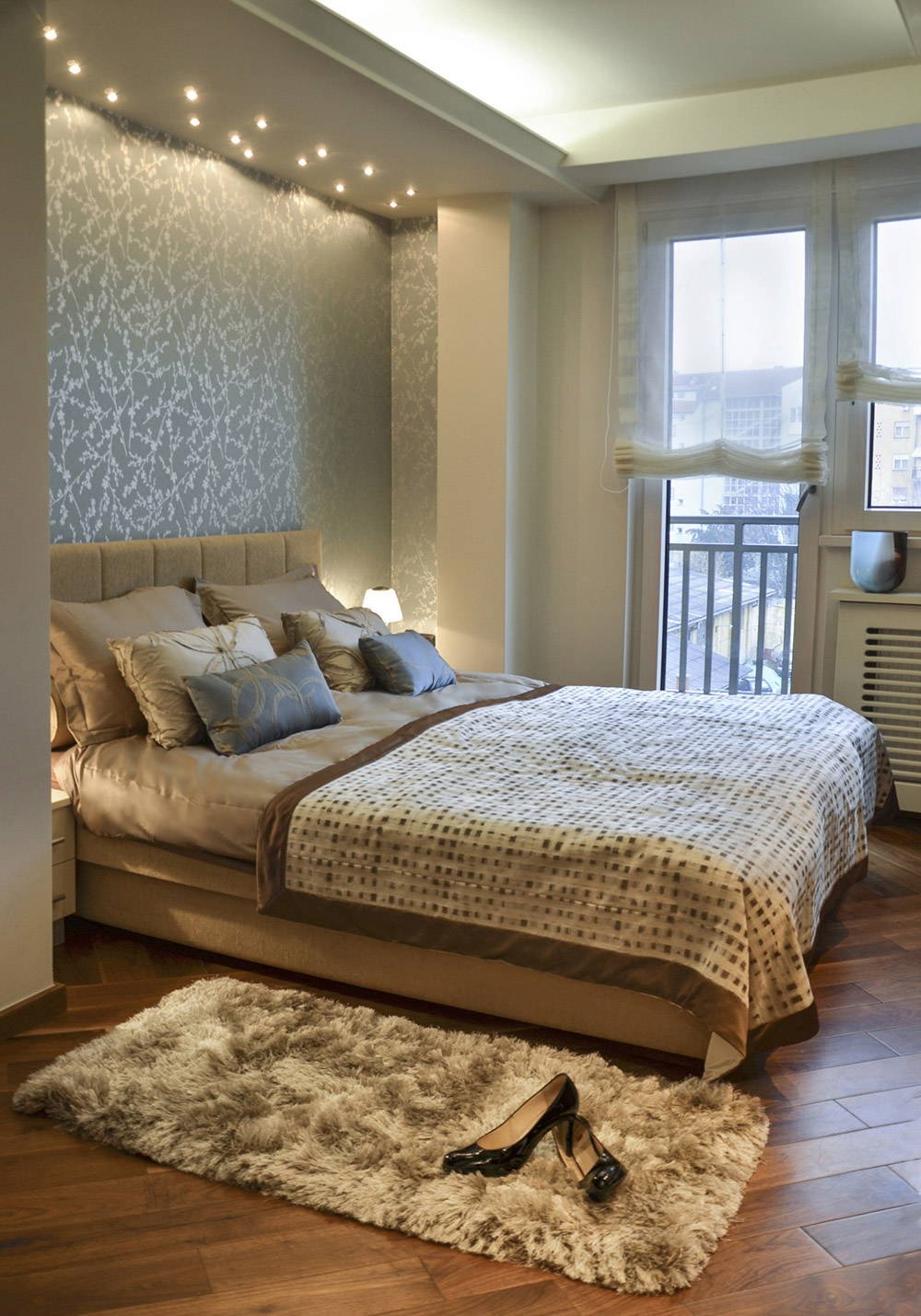 Izgled tepiha
"Kao dizajner enterijera preferiram neutralne tepihe, to jest, one koji se neće nametnuti u dizajnu.", kaže Sonja Brstina i dodaje da "zbog toga u većini mojih enterijera koristim bele, sive, odnosno, jednobojne tepihe. Naravno uvek možete okrenuti priču pa dopustiti da dizajn tepiha zavlada enterijerom kao što je na primeru ispod.
Boja tepiha će takođe uticati na izgled enterijera. Ako volite da eksperimentišete s jarkim bojama, obavezno boju s tepiha povežite s elementima u enterijeru. Znači, jarka boja bi trebalo da se pojavi na jastuku ili na detalju u prostoriji.
Tepisi u dečijim sobama
Kako je u dečijim sobama sve šareno, tako dopuštamo i tepisima da postanu malo otkačeniji. Ipak, da sve ne bi bilo previše haotično, boje sa tepiha prenesite na zidove ili na posteljinu. Kao što je prikazano na slici ispod, iako je sve šareno, sve je povezano u celinu.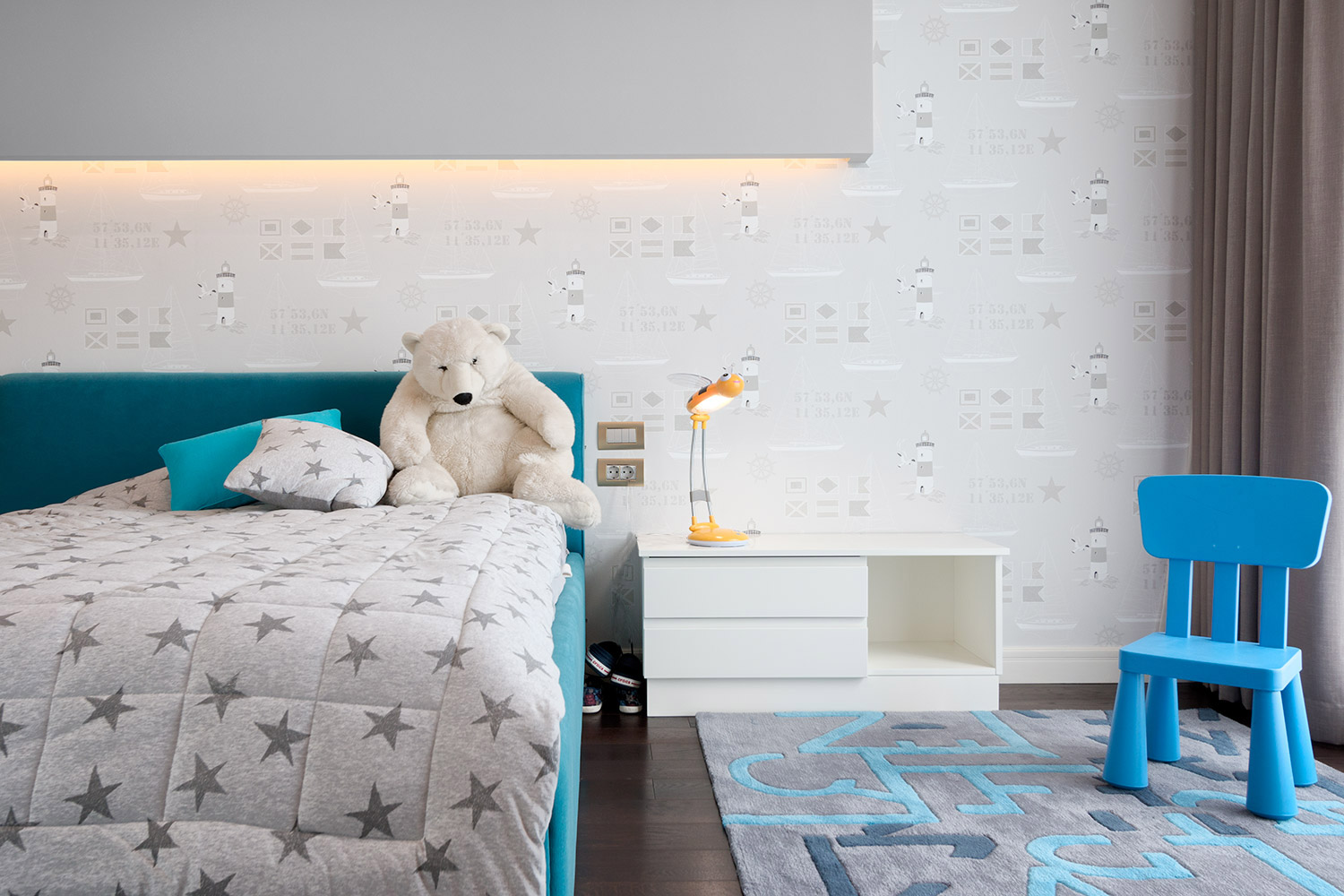 Fotografije i ilustracije: Gradnja.rs, Relja Ivanić, Igor Conić
Kad ste već ovde…