Svetski projekti
Moderna kuća s limenim krovom na koji se možete popeti bez imalo muke
Piramidalna kuća svojim se oblikom savršeno nadovezuje na prirodno okruženje, a kada osvoje njen vrh, ukućani mogu da uživaju u fantastičnom pogledu na okolinu.
Projekat House Usuki koju potpisuje tim iz studija Kenta Eto Architects smešten je u japanski region Oita, pretežno brdoviti predeo na ostrvu Kjušu. Koncept ovog neobičnog rezidencijalnog objekta odgovor je na topografiju lokacije, a posebno je zanimljivo to što se i sama kuća nalazi na padini. Samim tim, izgleda kao da se kuća svojim oblikom nadovezuje na njeno prirodno okruženje.
Istočna fasada je pod nagibom od 24 stepena, pa ukućani bez problema mogu da se popnu na vrh krova bez imalo muke
Kuću karakteriše njena istočna fasada koja se u celosti nalazi pod nagibom od 24 stepena, pa tako ukućani bez problema mogu da se popnu na vrh krova bez imalo muke, da se nameste gde im je udobno i uživaju u pogledu. Doduše, nismo baš sigurni koliko je to bezbedno pošto na krovu nije ugrađena ograda, a i sama činjenica da neko nepozvan može da vam se popne do prozora nije baš prijatna. Ali to je Japan…
Dominantne drvene grede
U unutrašnjosti kuće, prostorije su podeljene na dva nivoa. Dole se nalaze kuhinja, trpezarija, kupatilo, dnevni boravak i glavna spavaća soba, dok se u dnu nagiba nalazi otvor ka prednjem travnjaku. Drvene grede koje definišu krovnu konstrukciju potpuno su vidljive i dominiraju prostorom.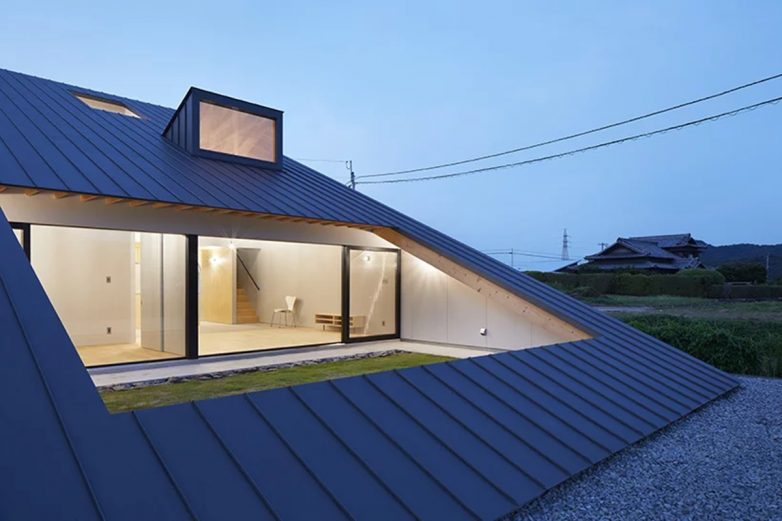 Badža za bolji pogled
Dodatne prostorije na gornjem nivou takođe imaju i unutrašnje prozore zahvaljujući kojim prirodno svetlo dospeva i u najzabačenije kutke u objektu. Na krovu se nalazi se i badža za one koji ne žele da se pentraju po krovu već u pogledu žele da uživaju u sigurnosti svog doma.
Iako objekat na prvi pogled deluje maleno, istina je da je unutrašnjost zapravo vrlo prostrana, čemu doprinosi generalni raspored prostorija, svetle boje i minimalistički stil.
U nastavku pogledajte još fotografija objekta i njegovog okruženja:
Fotografije: Kenta Eto Architects
Kad ste već ovde…