Opremanje
Za objekte bez oluka: Sistem za krovno odvodnjavanje Pluvia
Ne volite da na objektima vidite oluke? Postoji rešenje i za to!
Budimo iskreni – arhitekte ne vole oluke. Zašto? Jer retko kad izgledaju lepo. Međutim, Geberit je smislio rešenje da to promeni. Sistem Pluvia služi da se brzo odvede voda s ravnog krova u skrivene vertikale.
Sistem radi na principu negativnog pritiska (potpritiska) i spojenih sudova. To je slično kao kada umivaonik napunimo vodom pa nakon otčepljivanja vakuum velikom brzinom usisa vodu. Tako se i u ovom sistemu cevi, koje su nešto manjeg prečnika od standardnih, kreira zatvoren vodeni stub, odnosno, cevi se kompletno ispunjavaju vodom, izbacuje se vazduh i time se dobija vakuum. Na taj način se voda znatno brže usisava i brzo odvodi s površine krova.
Velika prednost sistema Pluvia je što cevi za odvodnjavanje ne trebaju da imaju pad.
Krovni ulivni element obezbeđuje oticanje kišnice tako da se usisno dejstvo ne prekida. Visoka brzine protoka, obezbeđuje samočišćenje sistema što redukuje troškove čišćenja i održavanja.
Prednost sistema Pluvia je što cevi za odvodnjavanje ne trebaju da imaju pad kao što je to slučaj kod klasičnih sistema odvodnjavanja s olucima, a takođe je vrlo zgodno što je sa ovim sistemom potrebno znatno manje vertikala nego od običnih oluka.
Ovaj sistem je pogodan za razne vrste tipova krova, a najbolje se pokazuje kod krovova velikih površina. Može se primeniti i kod ravnih prohodnih i kod neprohodnih, kao i na krovovima industrijskih hala pa sve do zelenih krovova. Koristi se uspešno kako u stambenim tako i u poslovnim objektima.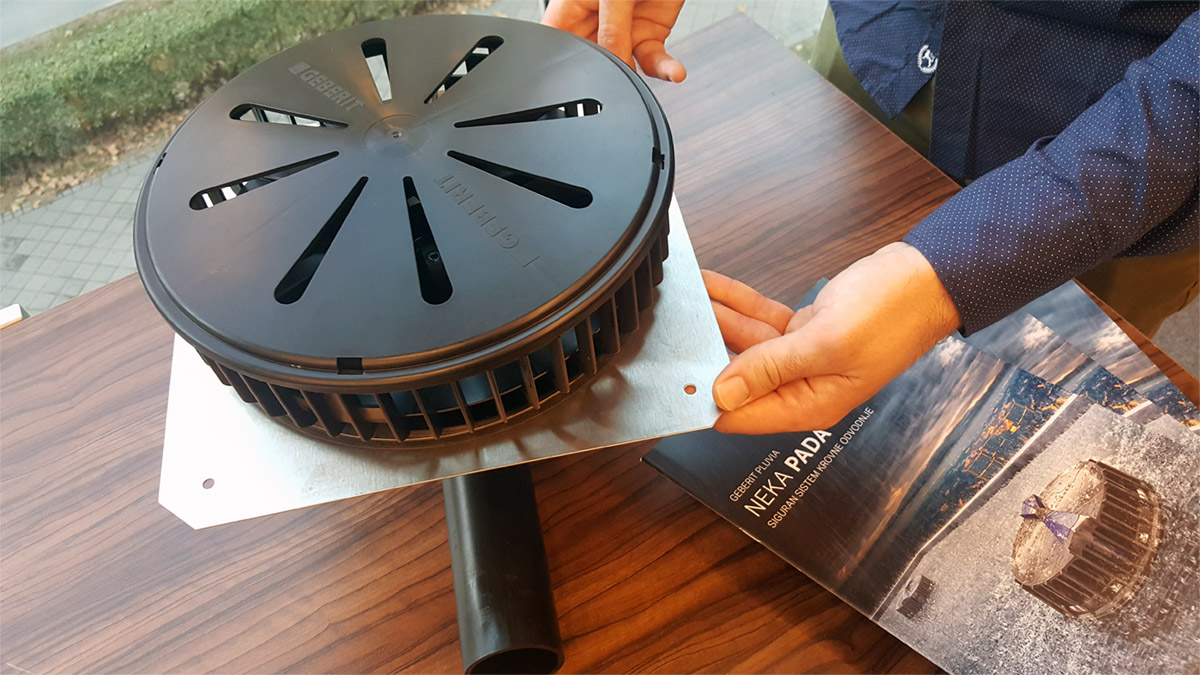 Spremno za BIM
Da je Gebrit mislio na arhitekte govori i podatak da su za sistem Pluvia raspoloživi kompletni BIM podaci, kao i da su Revit razvili plugin zvani Geberit ProPlanner koji radi hidraulični obračun.
Sistem Pluvia ugrađen je u mnogobrojne objekte kao što su u tržni centri BIG, Delta City, Promenada ali i u stambenom bloku 63 na Novom Beogradu i hotelu Sheraton u Novom Sadu.
Foto: Gradnja.rs, ilustracija: Geberit
Kad ste već ovde…