Aktuelno
Naše studentkinje pobedile na takmičenju za membranske strukture
Maša Žujović, Nevena Jeremić i Isidora Kojović su na međunarodnom studentskom takmičenju Textile Structures for New Buildings 2019 osvojile prvu nagradu u kategoriji Urban Living- City of Future.
Studentkinje četvrte godine Integrisanih akademskih studija arhitekture i prve godine Master akademskih studija arhitekture na Arhitektonskom fakultetu u Beogradu, napravile su veliki uspeh na takmičenju koje po 15. put organizuje međunarodni sajam tehničkog tekstila Techtextil uz podršku međunarodne asocijacije za membranske konstrukcije TensiNet. Rad naših studenata pod imenom Voro-Membrane je zajedno sa ostalim nagrađenim radovima prikazan na izložbi: Textile Student Competition u okviru međunarodnog sajma Techtextil koji je održan u Frankfurtu u periodu od 14. do 17. maja 2019. godine, kada im je na svečanoj ceremoniji dodeljena nagrada.
Takmičenje koje se održava pod supervizorstvom profesora Wernera Sobeka, direktora Instituta za lake strukture (Institut für Leichtbau Entwerfen und Konstruieren – ILEK), Univerziteta u Štutgartu, ima za cilj da prepozna inovativna razmišljanja i rešenja za probleme projektovanja i izgradnje objekata od teških materijala, kao i jačanje kontakta između mladih, tehničko-tekstilne građevinske industrije i univerziteta. Ove godine takmičenje je bilo vezano za manifestaciju Urban Living – City of Future i orijentisano na mogućnosti tekstilne arhitekture da unapredi život u urbanim okruženjima.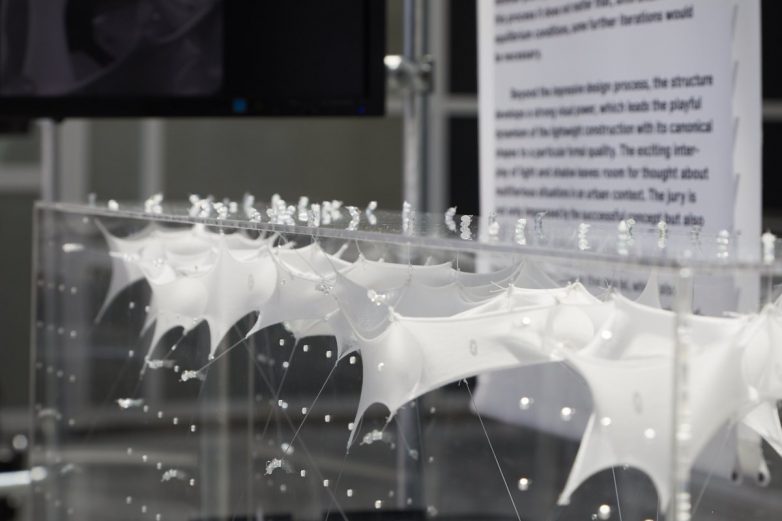 Rad naših studenata zasnovan je na prirodnim algoritmima i procesu rasta u kome se forme razvijaju pod uticajem kompleksnih prostornih uslova.
Žiri je dodelio nagrade za šest radova u četiri različite kategorije (četiri prve, jednu drugu, jednu treću) i priznanja za još dva rada. Pored našeg tima, dobitnici nagrada i priznanja su timovi sa prestižnih univerziteta iz Nemačke, Španije, Tajlanda, Holandije i Kanade.
Radovi prispeli na konkurs iz celog sveta pokrivaju širok opseg raznovrsnih tema od inovativne primene materijala, preko projektnih rešenja, koncepata izgradnje i montaže do prototipova struktura. Rad naših studenata Voro-Membrane izdvojio se specifičnim procesom projektovanja membranskih struktura zasnovanom na prirodnim algoritmima i procesu rasta u kome se forme razvijaju pod uticajem kompleksnih prostornih uslova, a u obrazloženju žirija navodi se: "Žiri je ne samo impresioniran uspešnim konceptom, već i veoma ceni konzistentnost projektne ideje, matematičkog generisanja geometrije, fizičke formacije i realizacije modela u krupnoj razmeri…"
Kurs o generisanju prostornih struktura
Studentski tim našeg fakulteta učestvovao je na takmičenju na predlog dr Jelene Milošević, docenta, nastavnika na predmetu izbornog bloka Istorija i teorija 1 – MASA-11020-07 / IASA-47020-07: Generisanje prostornih struktura, sa projektom koji su radile u toku jesenjeg semestra školske 2018/19. godine. U okviru ovog kursa studenti se upoznaju sa potencijalima korišćenja metoda i tehnika pronalaženja forme (form-finding) u procesu projektovanja prostornih struktura.
Tokom prošlog semestra studenti su radili na projektu Urban Textile Interface (UTI) Structure, čiji je zadatak bio predlog rešenja natkrivanja manje pešačke ulice, a koji je realizovan sa motivom da se, putem praktično orijentisanog istraživanja, upoznaju sa izazovima konstruisanja nekonvencionalnih, lakih membranskih struktura.
Kad ste već ovde…