Od modelovanja nordijskih kuća za Šveđane, preko izrade planova armature betonskih konstrukcija za Nemce i Australijance u Allplanu, do BIM modelovanja za američke klijente – ova mlada startap kompanija ne poznaje granice ali zato ima veoma jasan cilj.  
Kada se spomene termin outsourcing uglavnom svi pomisle na programere, odnosno brojne lokalne IT kompanije koje iz Srbije izvoze programski kod za ceo svet. Međutim, napredni servisi i softveri omogućili su i drugim strukama da se povežu s klijentima iz inostranstva i svoje usluge ponude na tržištima gde god ima interneta. Upravo to je uspelo i građevinskim inženjerima i arhitektama iz Novog Sada iz startap firme NS Drafter, koja je za klijente na svim meridijanima ponudila uslugu izrade tehničke dokumentacije: od detalja armature i oplate pa sve do naprednog BIM modelovanja.
Tako je na primer, ovaj mladi novosadski tim, kreirao 3D modele i radioničke crteže oplate i armature za prefabrikovane gornje i donje segmente kapitela stubova koji pripadaju masivnim betonskim stubovima koji nose novi vijadukt u blizini Melburna. Predviđa se da će za ovaj deo projekata biti upotrebljeno više od 40.000 tona armature, a NS Drafter je celu tehničku dokumentaciju detalja armature i oplate uradio uz pomoć softvera Allplan.
Mi smo klasičan startap iz garaže, odnosno bolje rečeno iz suterena jer smo upravo u jednom stanu u suterenu počeli da radimo.
Međutim, početak ove firme zapravo mnogo više podseća na startap u IT sektoru.
"Mi smo klasičan startap iz garaže, odnosno bolje rečeno iz suterena jer smo upravo u jednom stanu u suterenu počeli da radimo. (smeh). Ne znamo da li su Bil Gejts i Stiv Džobs zaista tako nastali ali mi stvarno jesmo." – kaže Aljoša Vuković, koosnivač i menadžer marketinga NS Drafter.
"Šalu na stranu, početna ideja bila ideja da nas šestoro – Aleksandra Glendža, Milan Tucakov, Ognjen Mihajlović, Nikola Marković, Aljoša Vuković i Miloš Marković – radimo kao freelanceri preko servisa UpWork – onlajn platforme preko koje smo i dobili prvi posao. U početku smo dobijali male poslove, a mi smo iskoristili svo znanje koje smo Ognjen i ja stekli u prethodnoj firmi radeći detalje armature. Međutim, ubrzo smo shvatili da postoji puno prostora za širenje." – priseća se Vuković početka rada firme.
Ugovarajući brojne poslove preko UpWorka, onlajn servisa koji spaja honorarce i poslodavce, dogovorili su i jedan posao sa estonskim klijentom za kojeg su radili detalje armature. "Međutim, u jednom trenutku predložili smo mu da radimo direktno i on je to prihvatio." – dodaje Vuković.
"Mi smo zapravo hteli da u isto vreme učimo ali i da se finansijski osamostalimo. Međutim, četiri sata učenja i četiri sata rada se ubrzo pretvorilo u 12 sati rada, a potom i u brojne neprospavane noći. Ubrzo smo shvatili da nam je potrebna pomoć." – kaže Miloš Marković, koosnivač i direktor prodaje.
Nakon samo tri meseca rada u ovakvim uslovima shvatili su da mogu da naprave nešto mnogo ozbiljnije, a da su bili u pravu govori činjenica da su pre neki dan proslavili dve godine rada i da sada firma broji ukupno 29 zaposlenih prevashodno građevinskih inženjera i arhitekata, koje smatraju pre svega dobrim i poštenim ljudima koji imaju velikog razumevanja za razvojni put NS Drafter-a.
"Od tada nam se sve otčepilo!"
U početku su svi sve radili, a onda su u januaru ove godine napravili veliki rez. U tome im je veoma pomogao konstulant Miha Matlievski.
"On nam je rekao da nam je u firmi potrebna jasno definisana struktura. Nas šestoro osnivača odlučivalo je zajedno o svemu, ali to nije bilo dobro jer se puno vremena gubilo na sastančenju i opet na kraju nismo mogli da dođemo do zaključka niti je bilo nekoga ko će da preseče. Čim dođe problem veoma je teško dogovorite se." kaže Miloš Marković za naš portal.
Konsultant Miha Matlievski predložio im je da se napravi tri sektore – sektor marketinga i prodaje, tehnički sektor i sektor administracije – kao i da se imenuje generalni direktor. Pošto su odabrali ko će biti odgovoran za koji sektor, konačno je svako znao šta mu je tačan opis posla.
"Od tada nam se sve otčepilo! Bili smo kao golf kojem je katalizator odjednom otpušen!" – konstatuje Marković i dodaje da su promene teške, i da ne ide uvek sve idealno ali da je bitno da svi idu u jednom smeru.
Kubikaže betona s velikom preciznošću
Firma NS Drafter je od svojih početaka dugo radila detalje armature u tradicionalnom 2D okruženju, a onda su čitajući i istražujući o ovoj temi, shvatili da se ona može izraditi daleko naprednije.
"Savladavajući Revit, koji nam se pokazao veoma zgodnim u početku, polako smo ulazili u svet BIM-a o kojem u početku nismo znali ništa. Međutim, shvatili smo da nam se BIM tehnologija zapravo veoma sviđa kao i da tu ima prostora za napredovanje i za outsourcing." – kaže Aljoša Vuković za naš portal.
Kada su prvi put upotrebili Revit na projektu u Čortanovcima, shvatili su njegovu punu snagu. Investitoru je bila potrebna pomoć da dođe do precizne kubikaže betona zbog kompleksnih oblika naglavnih greda.
"To je veoma teško uraditi u 2D. Međutim, mi smo za dva sata izmodelovali betonske elemente i izvukli kubikaže betona sa velikom preciznošću. Shvatili smo koliko su softveri koji rade u BIM okruženju zaista moćni!" – kaže Miloš Marković.
"Pored vizuelizacije i preglednosti, shvatili smo da je BIM tehnologija kojom može da se ubrza ne samo projektovanje već i komunikacija s klijentima kroz cloud, a pritom se smanjuje mogućnost grešaka" – dodaje Aljoša.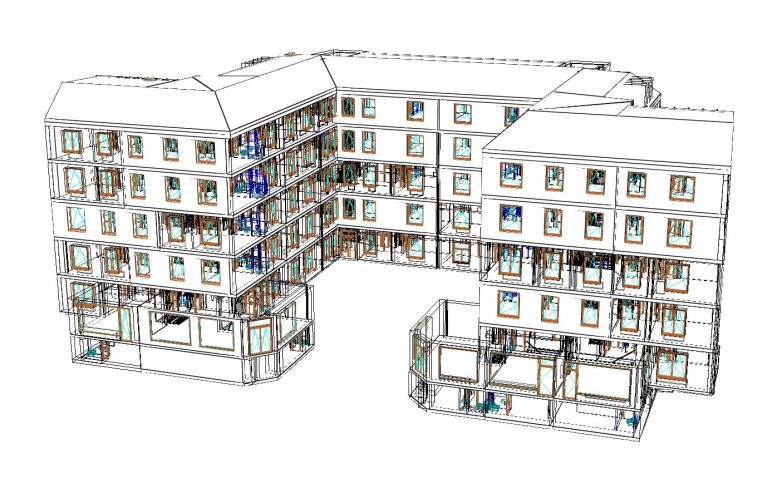 Šta škripi u građevinarstvu
Kako su dublje ulazili u temu, shvatili su, kako kažu, da "puno toga škripi u građevinarstvu kao i da joj je potrebno podmazivanje." Tvrde da je tok informacija ono što najviše škripi.
"Komunikacija između investitora, projektanata, do radnika na gradilištu izgleda isto kao što je izgledala pre mnogo godina a to naravno nije dobro." – kaže Aljoša Vuković za portal Gradnja.
Kako tvrdi Miloš Marković "silne promene koje se dešavaju na projektu ne stižu do onoga kome treba ta informacija, a BIM tehnologija omogućava da se promene mogu mnogo brže izvesti, a da pritom ceo projekat ostane usaglašen." i dodaje da se upotrebom rešenja baziranih na BIM-u neće desiti da pošaljete plan na gradilište u kojem, na primer preseci nisu usaglašeni.
Implementacija BIM-a u NS Drafteru je već dostigla zavidan nivo pa tako ova projektantska firma sada u BIM okruženju modeliraju konstruktivni i arhitektonski deo objekta, kao i instalacije, što sprečava da na gradilište stigne pogrešan crtež.
Dizanjem svesti o kvalitetu projekata će se pokrenuti priča o korišćenju BIM softvera, a time će se podići i cena rada.
"Mi smo korišćenjem BIM tehnologije podigli nivo kvaliteta projekata. Dizanjem svesti o kvalitetu projekata će se pokrenuti priča o korišćenju softvera koji rade u BIM okruženju, a time će se podići i cena rada." tvrdi Miloš Marković za naš portal.
Tako je ova novosadska firma radeći za ceo svet, počela i da pomera granice na lokalnom nivou implementirajući BIM okruženje u svoje radno okruženje.
Građevina u doba korone
Uticaj pandemije koronavirusa na građevinsku industriju je globalna tema koja se naravno reflektuje i na one koji rade u Srbiji ali i na one koji rade za ceo svet.
"Usled pandemije Covid19, par projekata je zaustavljeno. Pomoć države nam je, naravno, veoma značila. Ipak, mi smo imali sreće da su nekoliko velikih projekata počeli pre korone i tu nema stajanja." – kaže Marković.
Međutim, postavlja se pitanje šta sa novim projektima.
"Državni projekti neće stati ali privatnici će verovatno biti veoma obazriviji u investicijama."
Konkurencija znatno jeftinija ali…
Pored pandemije, izazov svake kompanije jeste i konkurencija koja spušta cenu projektovanja kako bi dobila posao. Kako tvrde, na globalnom nivou najveća konkurencija dolazi iz Indije.
"Jedan klijent nam je tvrdio kako to što mi nudimo, on u Indiji može dobiti znatno jeftinije. A potom je dodao da zna i da će dobiti manji kvalitet…" – priseća se Vuković i dodaje da ono u čemu su se oni izdvojili u odnosu na konkurenciju jeste komunikacija i iskrenost sa klijentima.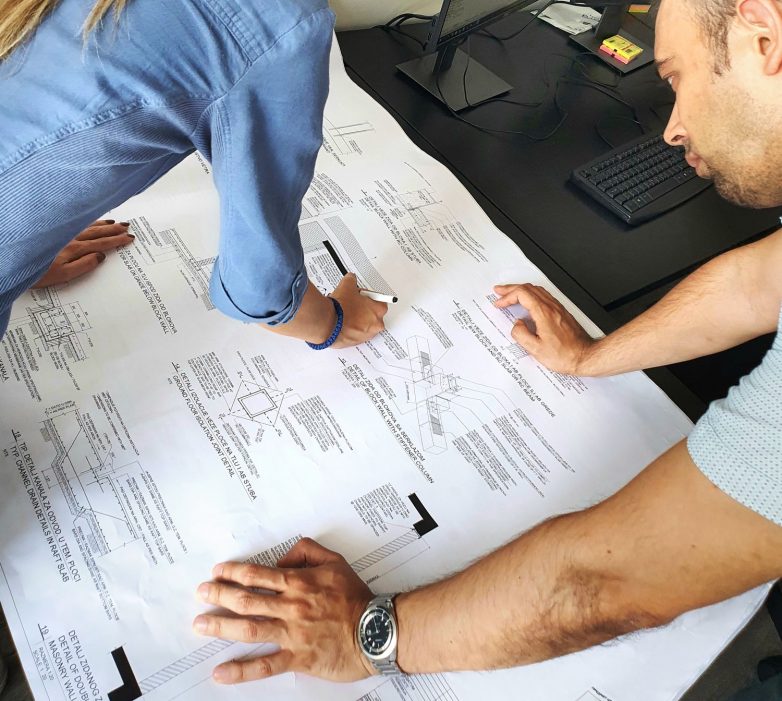 Strani klijenti žele pristupačnije cene ali da i dalje dobiju dobar kvalitet.
Kako tvrde, u početku je teško dok ih klijenti ne upoznaju. Često ih gledaju imajući pred sobom slike iz 90-tih. "Međutim, ljudi se oduševe nama i našim radom kada pruže priliku da nas upoznaju." – kaže Miloš Marković i dodaje da im je jasno da strani klijenti žele pristupačnije cene ali da i dalje dobiju dobar kvalitet.
Dobili su dosta povratnih informacija od klijenata koji kažu da dobijaju bolji kvalitet projekata od NS Draftera nego kada bi angažovali domaće inženjere.
Ostanak u Srbiji
"Mogao sam da odem da radim u Nemačkoj jer su mi tamo roditelji. Ali odlučio sam da ostanem ovde i da pokušam da nešto napravim u Srbiji." – kaže Marković i dodaje da su "izgradili kulturu firme u kojoj svi moraju da budu pošteni i korektni, i to klijenti cene."
Kako kažu, cilj im je da naši inženjeri odavde rade za ceo svet ali da imaju dobre plate. Međutim, u firmi NS Drafter imaju još dalekosežnije ciljeve. Žele da imaju slobodu da pomažu drugim firmama, drugim startapovima, kao i "da prenose znanje na mlade naraštaje jer ima umova koji sutra mogu da naprave od Srbije lepše mesto za život."
"Nama je plan da nas sutra bude znatno više nego danas, da obezbedimo odlične uslove našim zaposlenima, da imamo dobro opremljene kancelarije – da budemo kao moderna firma! Da sutradan napravimo svoju zgradu, da pored napravimo vrtić za decu, da imamo kuhinju za zaposlene – sve je to vizija kojoj stremimo, a koja može da se ispuni za par godina." – zaključuje Miloš Marković.
Kad ste već ovde…