Sa čelnim ljudima vodećih kompanija za distribuciju softvera u Srbiji pričamo o tome šta investitori znaju o BIM-u, zašto firme nemaju dovoljno sredstava za BIM implementaciju i ko će biti dobitnik, a ko gubitnik procesa digitalne tranzicije.
BIM će promeniti svet. BIM će promeniti građevinsku industriju. BIM će promeniti naše živote. Ta promena u Srbiji teče sporo, trapavo i neusmereno. Na primer, ukoliko uporedimo web stranicu udruženja BIM Srbija sa web stranicom udruženja BIM Hrvatska, uočićemo značajne razlike. Ako je BIM tako važan, zašto kaskamo za svetom i za susedima? U čemu je stvar?
U nameri da započnemo diskusiju o (zakasneloj) BIM implementaciji i kolko nas ona košta, pitali smo čelne ljude vodećih kompanija za distribuciju softvera gde smo i kuda to idemo. Da li su investitori i vlasnici firmi svesni koliko ih odlaganje BIM implementacije košta?
Naši sagovornici su Slobodan Lazić, vlasnik i generalni direktor kompanije TeamCAD, Žolt Ivanovič, generalni direktor kompanije hiCAD i licencirani Graphisoft BIM menadžer kao i Snežana Savić, operativni direktor kompanije Baldinistudio International. Odgovori na naša pitanju upućuju na pozitivne primere, ali i na niz zabrinjavajućih činjenica.
Koliko dobro poznajemo BIM?
Na pitanje koliko su inženjeri u Srbiji upoznati sa BIM tehnologijom Lazić, Ivanovič i Savić ukazuju na primere dobre prakse. Broj kurseva, konferencija i radionica koji za temu imaju BIM implementaciju raste. Međutim, niska produktivnost i nedostatak resursa, odsustvo strukovne i državne podrške glavna su prepreka ozbiljnijoj BIM implementaciji.
"Što se tiče samih inženjera i vlasnika firmi, velika većina nije čula za BIM. Mada, kako vreme prolazi, često se pojavljuju teme o BIM-u. Radi se na edukaciji, situacija se polako popravlja, ali i dalje to nije dovoljno" – naglašava Snežana Savić. Savić ističe da "mlađe generacije brzo prihvataju novitete koje tržište nameće, kao i sam BIM". Ona upućuje na postojanje generacijskog jaza između starih i mladih inženjera, ali i iznosi mišljenje da u Srbiji postoji generalni problem prihvatanja novih i savremenih tehnologija.
Slobodan Lazić ističe da problem "predstavlja to što menadžment kompanija ne prepoznaje sve prednosti BIM-a, i onda kada se odluče za prelazak na BIM, kompanije nemaju jasno definisanu strategiju, metodologiju i razrađen plan na koji način to da urade. Inženjeri nemaju dovoljno vremena da se posvete učenju novih alata i procesa. Dakle, u postupku BIM implementacije u Srbiji postoji niz protivrečnosti. BIM implementaciji pristupa se bez strategije, hajdučki i ad-hoc.
Lazić ističe i da je BIM metodologija na našim prostorima u početnoj fazi primene. On navodi da je "neophodno dodatno raditi na edukaciji tržišta, s obzirom da korisnici i dalje često poistovećuju 3D model i BIM. 3D model je samo jedan mali deo slagalice, a pun potencijal se u stvari dobija integracijom podataka u 3D model i upravljanjem samim podacima." Lazić skreće pažnju da je BIM informaciona tehnologija – integrisano rešenje, a ne način izrade 2D crteža kroz rad na 3D modelu.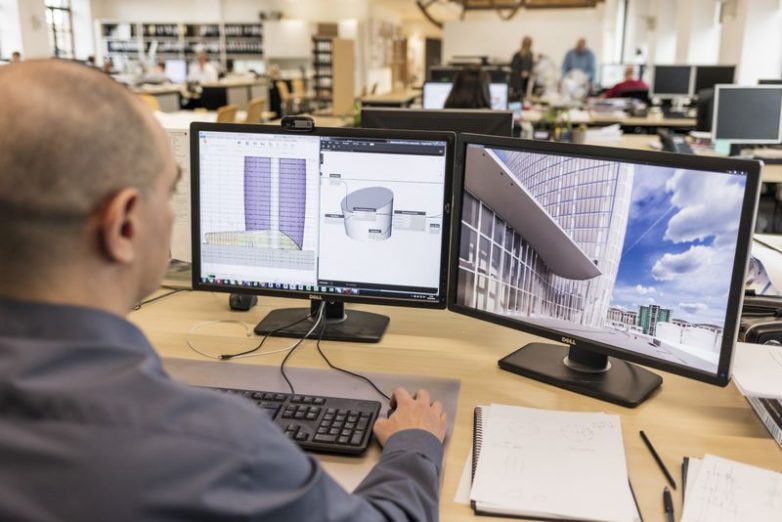 BIM je integrisano rešenje, a ne način izrade 2D crteža kroz rad na 3D modelu.
Žolt Ivanovič dodaje da je problem, pre svega, institucionalne prirode. Ivanovič kaže da je "trenutno najveći problem to što za ozbiljniju primenu BIM-a inženjeri i vlasnici firmi najčešće nemaju resursa. Ne postoji podrška države i jasna državna strategija koja je bila ključna u svim zemljama gde je BIM sada već u ozbiljnijoj primeni. Strukovne organizacije koje bi imale veoma važnu ulogu u aktivnostima oko primene BIM-a, u Srbiji i regionu, funkcionišu loše ili nikako, pa cela stvar dosta stidljivo napreduje." BIM implementacija u Srbiji sprovodi se najviše zahvaljujući entuzijazmu malog broja BIM stručnjaka koji su odlučili da ostanu u zemlji.
Poučen iskustvima iz zemalja koje su u BIM smislu daleko ispred Srbije, Ivanovič odgovara da nam implementacija BIM tehnologija neće ići brzo i lako. "No, obzirom da kasnimo, možemo učiti iz iskustva drugih" – dodaje u zaključku. Poslovanje u zemljama u razvoju ima svojih prednosti, ali i svojih mana. Najčešće, poslovni svet nije svestan svojih gubitaka.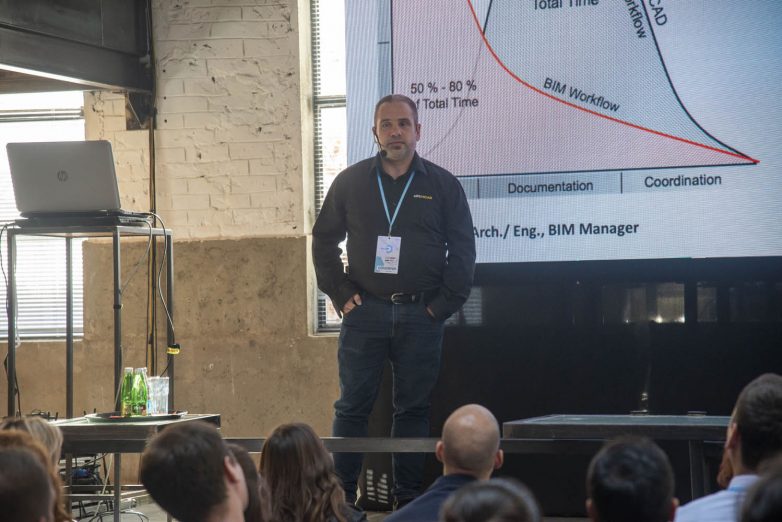 Da li su investitori svesni koliko gube?
Na pitanje da li su investitori i vlasnici firmi u Srbiji svesni koliko gube zato što primenjuju zastarele softverske alate sagovornici su jednoglasno odgovorili "Ne". Gubici koji nastaju prilikom izmene projekta ili tokom izvođenja na gradilištu su svakodnevni. Ali, umesto da se taj novac investira u plate i unapređivanje radnih procedura, on se nepovratno gubi.
Slobodan Lazić ističe da je zabrinjavajuće to što ni vlasnici firmi koje sa bave projektovanjem i izvođenjem radova ne shvataju koliko novca i vremena gube. "Oni koji su implementirali BIM znaju koliko su veći troškovi ukoliko stoji kompletno gradilište zbog toga što su inženjeri prevideli koliziju tokom procesa projektovanja oslanjajući se na 2D sinhron planove, umesto da su taj problem rešili u kancelariji na virtuelnom 3D 'prototipu' objekta." Generalni direktor kompanije TeamCAD ističe da u Srbiji projekti postaju sve složeniji, a rokovi sve kraći, te da se ni najiskusniji inžinjeri ne mogu snaći jedino pomoću 2D crteža.
Žolt Ivanovič kaže da "zahvaljujući BIM-u inženjeri mogu da pruže kvalitetniju uslugu u kraćem roku i oni koji su to uvideli su već sada uspešniji od onih koji koriste zastarelu tehnologiju." Međutim, drugi akteri anuliraju njihov napor i zalaganja. "Nažalost, obzirom da su retki izvođači i investitori koji razumeju da prava primena ove tehnologije upravo njima donosi najveće uštede u novcu i brzini realizacije projekata, BIM je za sada kod nas sveden na 'svetle primere' i one koji rade za inostranstvo." – dodaje Ivanovič.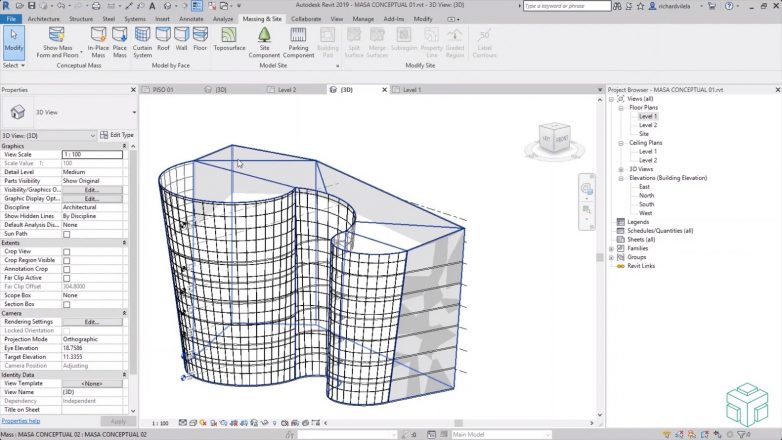 BIM je za sada kod nas sveden na 'svetle primere' i one koji rade za inostranstvo.
Polazeći od teze "vreme je novac", Snežana Savić ističe da su investitori i vlasnici firmi navikli na velike vremenske gubitke i nisku produktivnost rada svojih zaposlenih. "I sa starim načinom rada ćete uraditi posao, ali da li ćete biti brži, efikasniji i da li ćete uštedeti – svakako da ne. U savremenom dobu jedino što nam ponestaje je vreme. Brz način života, zahtevi tržišta nam diktiraju da stalno moramo da se prilagođavamo i menjamo, i da učimo. Mislim da kod nas još investitori nisu svesni koliku bi im BIM uštedeo vremena, a samim tim to je i novac." Slikovito rečeno, umesto da od tačke A do tačke B putuju kolima, investitori i vlasnici firmi u Srbiju taj put prelaze kočijama, uz uverenje da na taj način štede novac.
Kada govori o toku BIM implementacije, Lazić ističe da su investitori ključni akteri. "Iz našeg iskustva sa stranih tržišta, pokretačka snaga BIM procesa su investitori. Oni prvi uoče kolike uštede se ostvaruju ovakvim načinom rada. Tako da investitori postavljaju BIM kao uslov. Projektantske firme prate te zahteve i ulaze u BIM, da bi ispunili očekivanja investitora." Jezik BIM-a jezik je jezik odnosa vremena i novca, cene i kvaliteta.
Ko su "pobednici", a ko "gubitnici" digitalne tranzicije?
Na pitanje kako je pojava BIM-a uticala na domaću privredu – ko su pobednici, a ko gubitnici procesa digitalne tranzicije sagovornici su odgovorili da je digitalna tranzicija tek započeta. Ko je pobednik, a ko gubitnik – još uvek se sa sigurnošću ne zna.
Potrebno je težiti uravnoteženom privrednom razvoju, smatra Savić. "Treba raditi na tome da ne bude te velike podele, kao što si rekao na pobednike i gubitnike. Mi kao softverska kuća koja zastupa BIM softvere radimo na stalnim edukacijama i implementacijama BIM–a i nadam se da će biti puno pobednika u ovoj digitalnoj tranziciji". Međutim, direktorka kompanije Baldinistudio International smatra da će firme koje najpre primene BIM imati i najveće prednosti na tržištu – domaćem, ali i onom inostranom.
BIM je proces. Žolt Ivanovič ističe da domaće inženjerske firme tek treba da oforme BIM procedure i BIM standarde. "O BIM-u se mnogo govori, ali se pojava BIM-a svodi na jedan deo projektanata koji koriste BIM i njegove prednosti, pa su uspešniji; i proizvođače materijala i opreme koji proizvode BIM biblioteke i tako lakše dolaze do većeg, globalnog tržišta. Uvođenje BIM-a je proces koji traje i trajaće još dugo, čak i u najrazvijenijim zemljama." No, bez jasnog državnog i institucionalnog usmerenja, svesni smo, BIM implementacija teče sporo i neusmereno – kao reka bez korita.
BIM eksperti su sve traženiji. Lazić ističe da je "u toku faza tranzicije gde je povećana potražnja projekata koji se rade BIM tehnologijom u odnosu na prethodni period. Za sada nema drastične podele, sve zavisi od tržišta, ponude i potražnje. Očekujemo da će u narednom periodu sve više domaćih investitora, poučenih iskustvima kolega iz inostranstva, zahtevati 3D BIM dokumentaciju. Onda će se, nažalost, oni koji se nisu spremili za digitalno doba naći pred veoma teškom, a možda i nepremostivom preprekom." S druge strane, BIM menadžeri i BIM koordinatori dobijaju brojne ponude i nove poslovne prilike.
Da li nam BIM donosi globalizaciju tržišta projektantskih usluga?
Na pitanje da li pojavom BIM-a tržište rada u Srbiji postaje globalno, sagovornici su odgovorili potvrdno. Naši BIM stručnjaci u svetu su jako cenjeni i traženi. Internet je domaćim inženjerima pružio šansu da rade za strano tržište, za veće plate i bolje uslove. To je ujedno jedna od najvećih poteškoća za domaće firme – stručnih inženjera je sve manje.
Slobodan Lazić kaže da su "firme koje koriste BIM tehnologije, konkurentnije na globalnom tržištu. Kompanije iz Srbije su oduvek poslovale u inostranstvu. Može se reći da sad kroz primenu BIM tehnologija postoji izuzetna šansa i niz novih usluga koju mogu da ponude na globalnom tržištu. Ostaje da i državna uprava prepozna potencijal i različitim podsticajima pomogne kompanijama, strukovnim udruženjima, pojedincima." Tehnološki obrt promenio uravnoteženost moći između poslodavaca i zaposlenih, pružajući BIM inženjerima više snage, slobode i izbora.
Snežana Savić smatra da je globalizacija tržišta neminovnost. "BIM je doneo nekim našim klijentima ozbiljne pozicije na inostranom tržištu. To govori da BIM omogućava da sedite u Srbiji za svojim računarom, a da radite projekat u Nemačkoj. Svakako da imati znanje rada u BIM-u je od neprocenjive vrednosti. Otvarate sebi put ka projektima koji su vam delovali nedostižno." Sve je više inžinjera koji se odlučuju na ovaj izbor.
"Moj glavni motiv za bavljenje BIM-om je upravo vraćanje izgubljenog dostojanstva i društvene pozicije inženjerima u građevinarstvu. Mislim da BIM našim inženjerima pruža veoma sličnu priliku kao što je ima i jako uspešno koristi naša IT industrija" – ističe Žolt Ivanovič, iz kompanije hiCAD.
Da li je prelazak na BIM izbor ili neminovnost?
Na pitanje da li je prelazak na BIM stvar izbora ili nužnost sagovornicu su dali različite odgovore. Nedostatak zakonske regulative značajan je minus.
Slobodan navodi da prelazak na BIM nije stvar izbora, već stvar opstanka na tržištu. "Tržište diktira pravila igre, a ona su veoma jasna: što brža izrada projektne dokumentacije, sve informacije na jednom mestu, potpuna kolaboracija između struka, kompletna simulacija i analiza pre početka izgradnje, najminimalnije greške – 3D BIM dokumentacija. Oni koji se odluče da zadrža tradicionalne metode projektovanja, vrlo brzo će se naći u situaciji da ne mogu da ispune zahteve klijenata i saradnika u vidu komunikacije i neophodnih informacija." Prema rečenom, da li ste prešli na BIM postaće znak ozbiljnosti i poslovnog autoriteta.
Bolje biti u vozu zvanom BIM na početku, i na vreme obići sve stanice i uhvatiti nove šanse.
Snežana pravi podelu na one kojima je BIM izbor i na one kojima je BIM prisila. "Najbolji će regrutovati u svoje redove BIM znalce i pobediti u toj trci. Implementacija BIM–a u celosti će se desiti pre ili kasnije. Neko će sesti u voz na vreme, a neko će čekati. Izbor je uvek na nama samima. Moje mišljenje je da bolje biti u vozu zvanom BIM na početku, i na vreme obići sve stanice i uhvatiti nove šanse." Najveći broj inženjera, prema njenom mišljenju, uploviće u BIM vode tek onda kada budu primorani zakonskom regulativom.
Žolt, takođe, BIM implementaciju vidi kao neizbežan izbor. "U određenim zemljama je primena obavezna po zakonu. Mnogi investitori i finansijske institucije, koje se odgovorno ophode novcem zahtevaju BIM. Ne verujem da inženjeri imaju velikog izbora. BIM se već dešava i kod nas i taj voz je već krenuo, samo je pitanje kada će ko uskočiti." BIM je postao standard u svetu. Neminovnost je da će postati i kod nas. Samo je pitanje vremena.
Koliko nas (ne)prelazak na BIM košta?
Zahvaljujući radu kompanija TeamCad, hiCAD i Baldinistudio International dobar deo inženjera u Srbiji upoznat je sa prednostima BIM-a. Mnogi, naravno, kasne i to nas sve u zbiru skupo košta.
Kako je to Slobodan Lazić jasno naglasio, čak i vlasnici projektnih biroa nisu svesni koliko gube zato što nepravilno koriste BIM, ili zato što su još uvek u CAD sistemu rada. Zbog niske produktivnosti, biroi nemaju dovoljno sredstava da unaprede svoju radnu efikasnost. Na snazi je neka vrsta negativne spirale.
Tema BIM implementacije rezervisana je za tehno-entuzijaste, velike kompanije i inžinjere koji žele da rade za strano tržište.
Žolt Ivanovič ukazuje na nedostatak strateškog plana BIM implementacije na državnom nivou, ali i bezidejnost stručnih udruženja (BAB, DaNS, UAS). Takođe, on upućuje i na nedostatak kritičnog broja inženjera i stručnjaka koji bi se zalagao za uspostavljanje BIM nacionalnog standarda. No, povratak profesionalnog dostojanstva Žolt vidi upravo u BIM implementaciji i globalizaciji tržišta projektantskih usluga.
Snežana Savić potvrđuje ono čega smo svi svesni – veliki broj investitora, inžinjera i vlasnika firmi još uvek ne razmatra pitanje prelaska na BIM. Činjenično, tema BIM implementacije rezervisana je za tehno-entuzijaste, velike kompanije i inžinjere koji žele da rade za strano tržište.
Ohrabrujuća je vest da mladi inženjeri brzo prihvataju tehnološke inovacije, uključujući i BIM tehnologije. S druge strane, mlade kolege svakodnevno doživljavaju otpor svojih starijih kolega. Niska produktivnost i nedostatak resursa, odsustvo strukovne i državne podrške glavna su prepreka ozbiljnijoj BIM implementaciji. Sudbina svih društva u razvoju jeste život u prošlosti.
Kad ste već ovde…