Izvođenje
Ova drvena kuća je cela izvedena CNC mašinom
Digitalna fabrikacija omogućila je da meštani udaljenog planinskog sela u Japanu dobiju mogućnost da sami naprave drvene elemente za gradnju kuće.
Arhitektonski studio VUILD izveo je projekat kuće Marebito kroz koji su se na ozbiljnom nivou pozabavili problemima lokalnog šumarstva ali i izgradnjom stambenih naselja u udaljenim područjima. Oni su se u projektu koristili principima digitalne fabrikacije koja je zajedno sa CNC mašinom omogućila da se od lokalne drvene građe, koje ima koje ima u izobilju, pravi građevinski materijal za izgradnju objekta.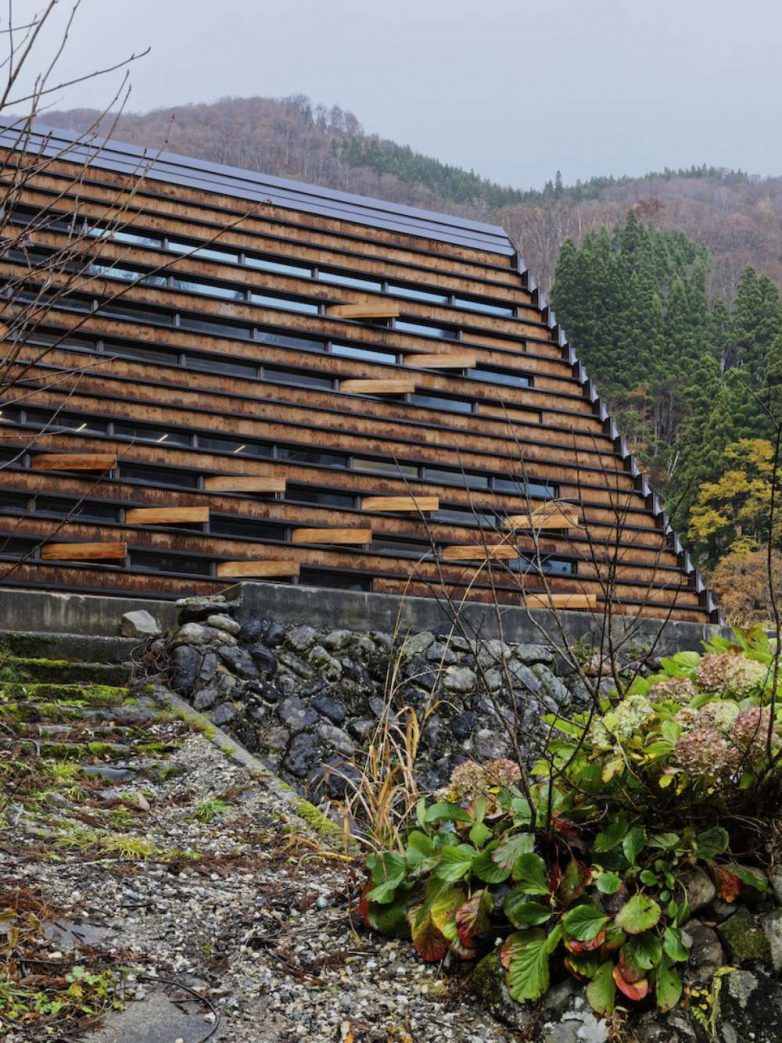 CNC mašina seče trupce i pretvara ih u lagane drvene elemente koji su odmah spremni za ugradnju.
Ovo planinsko selo u Japanu je sa 97 posto pokriveno šumom. I pored te blagodeti u njemu živi samo oko 600 stanovnika koji su uglavnom stariji od 65 godina. Ova činjenica predstavlja veliku opasnost za opstanak sela… baš kao i za mnoga sela u Srbiji.
Ideja studia VUILD je da se izgradnjom ovakvog i sličnih objekata predloži novi koncept takozvanog 'drugog doma', u kojima bi ljudi boravili kada su u poseti familiji ili kada žele da odu u prirodu. Glavna ideja bila je da se novim tehnologijama omogući da oni koji to žele mogu lako da naprave svoj 'drugi dom'.
Digitalna gradnja
Izgradnja kuće zasnovana je na digitalnoj fabrikaciji koju omogućavaju CNC mašine. U ovom slučaju korišćen je model Shopbot čija je cena niska, a performanse visoke.
Zahvaljujući unapred zadatim parametrima ova mašina seče trupce i pretvara ih u drvene elemente koji su odmah spremni za ugradnju. Ovi elementi su malih dimenzija pa su samim tim i lagani što je omogućilo da se u proces izgradnje kuće uključe i deca, žene i stariji ljudi, odnosno svi oni koji su voljni da pomognu.
Tokom projektovanja ceo objekat je 'razbijen' do najsitnijih detalja i potom je stvorena šema slaganja elemenata koji čine kuću.
Elementi malih dimenziju imaju dodatnu pogodnost što se mogu lako transportovati i što se mogu ugraditi u strukturu i bez postavljanja skela, piše Designboom.
Tradicija podržana budućnošću
Digitalna fabrikacija omogućila je da tokom projektovanja ceo objekat 'razbije' u najsitnije detalje i potom stvori šema slaganja drvenih elemenata koji će činiti buduću kuću. Pošto su elementi lagani, lagano je i njihovo sklapanje.
Sem betona kojim su napravljeni temelji, cela kuća je napravljena od drveta pripremljenog na CNC mašini. Zahvaljujući Shopbotu, studio VUILD je uz digitalnu izradu izveo i tradicionalne arhitektonske tehnike 'gassho zukuri' i 'wakunouchi' koje su razvijene kao težnja za odbranu od velikih snežnih nanosa.
I tako je nastala kuća Marebito koja izgleda ovako:
Brzo i jeftino
Zahvaljujući lokalnom umrežavanju, ovaj projekat postao je dostupan svima koji žele da naprave svoj 'drugi dom' u prirodi, a pritom ne žele da potroše puno novca i vremena za izgradnju. To je upravo i cilj digitalne gradnje.
Kad ste već ovde…