Analizirali smo cene pločica i sanitarija u jednom oglednom kupatilu od 4 kvadrata kako bismo saznali koliko tačno košta da se ono kompletno opremi.
Renovirate kupatilo? Sigurno će vas interesovati koliko mogu da vas koštaju keramičke pločice i kompletna oprema koja čini jedno standardno kupatilo. Pošto na tržištu postoji zaista širok dijapazon opreme s velikim cenovnim rasponom, mi smo ovog puta birali srednji cenovni rang, odnosno, zlatnu sredinu ispod koje, ako to budžet dozvoljava, možda ne bi trebalo da idete.
Kako bismo olakšali pregled troškova, uzeli smo primer kupatila od 4 kvadratna metra, koje se najčešće sreće u našim stambenim prostorima, i opremili ga onim što se danas najviše traži: konzolna WC šolja, kabina sa usponskim tušem, umivaonik sa ormarićem i sve to sa pločicama koje su danas vrlo trendi: kombinacija teksture drveta i mermera. Otišli smo u salon keramike Akvadom i krenuli redom – od pločica!
Pločice za pod i zid kupatila
Odabrali smo keramiku koja je trenutno vrlo popularna, a to su pločice u teksturi mermera (za zid) i pločice u teksturi drveta (za pod). Odabir je pao na zidnu keramiku Keros, Livorino Gris u dimenziji 25×50 centimetara (cena oko 11,5evra/m2) koja ima i svoju dekor pločicu Livorino Cubik Gris u istoj dimenziji. Cena dekor zidne keramike je oko 14,5 evra/m2.
Zidnu keramiku smo iskombinovali s podnom keramikom Gorenje Native Almond u nijansi svetlog drveta dimenzije 22,5×90 cm. Cena podne keramike je 14,5 evra/m2.Z
Za ogledno kupatilo, potrebno je oko 4 m2 za pod i 15m2 za zidove, tako da je za nabavku keramike potrebno izdvojiti oko 260 evra.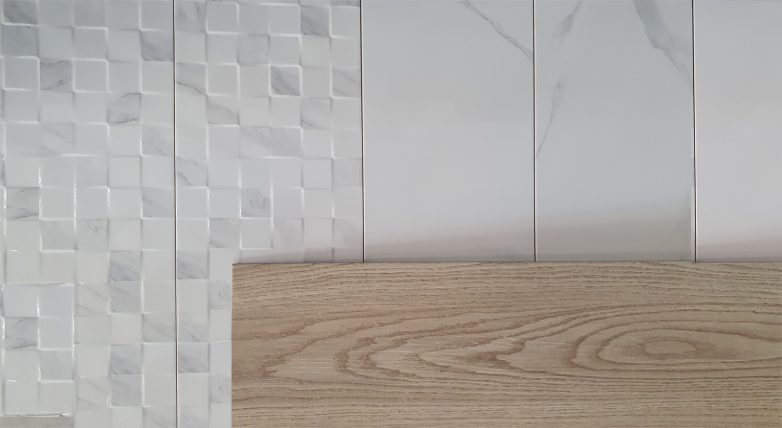 Sanitarije za kupatilo
Ugradni vodokotlić je danas apsolutni standard. Mi smo izabrali ugradni vodokotlić Geberit Duofix Basic Set Delta 20 koji dolazi sa odgovarajućom belom tipkom. Cena ovog seta je 18.590 dinara (ukupno 160 evra).
Na ugradni vodokotlić dolazi konzolna WC šolja, a mi smo izabrali model koji se lako održava. Izbor je pao na model bez ivice (rimless) Rimout Vulcano koji košta 9.590 dinara (80 evra). Postoje i povoljnije WC šolje ali se na njima vide šrafovi za vodokotlić pa su samim tim i nešto teže održavanje.
Na WC šolju ide daska, a mi smo u proračun uključili Soft Close dasku za WC šolju Vulcano 3.450 dinara (30 evra). Soft close daska je ona daska koja se sporo spušta zbog čega ne može da udari pri padu.
Sledeći na redu je umivaonik, a mi smo izabrali model koji je širine 60 centimetara i ispod kojeg se nalazi ormarić u beloj boji. U pitanju je model Euridika (16.900 dinara) sa slavinom Nica 18  (5.095 dinara) što je ukupno 186 evra. Povoljnije ćete proći ako ormarić kupite uz umivaonik, kao u našem primeru, nego da ormarić pravite po meri.
A tuš? Izabrali smo keramičku polukružnu kadicu za tuš kabinu Vidima W836401 u dimenzijama 80×80 cm sa cenom od 8.500 dinara. Staklo za tuš kabinu dimenzija 80×80 sa prozirnim staklom, Elpini R80 AX1602-1 košta 15.850 dinara što je ukupno 206 evra. Umesto kadice možete se odučiti i za pločice u ravni poda sa linijskim ili tačkastim slivnikom što je malo složenije za izvođenje.
Za kraj potrebno je izabrati i bateriju za tuš, a mi smo se odlučili da Grohe Bauedge 23334000, sa cenom od 9.790 din na koji se dodaje usponski tuš BGQ1611 po ceni od 4.050 dinara (ukupno 117 evra)
Ukupna cena pločica i opreme za kupatilo
Dakle, za opremanje jednog kupatila od 4 metra kvadratna potrebno je izdvojiti 260 evra za keramičke pločice i 779 evra za sanitarije, to jest, ukupno 1.039 evra. Dakle, ovo je cena opreme i pločica bez ugradnje i montaže. Nismo uzimali u obzir najjeftinija rešenja, već smo želeli da vam ukažemo na opremu koja će svojim kvalitetom ali i dizajnom ispuniti sve vaše zahteve.
Sve pomenute proizvode možete kupiti u novosadskom salonu Akvadom.