Promo
Kancelarija u mom potkrovlju
Mnogi su u prethodnim nedeljama svoju kancelariju preselili u potkrovlje.
Ujutru više ne pijemo kafu, doručkujemo, pa peške ili prevoznim sredstvom idemo na posao, gde smo često u interakciji sa više ljudi, a nekad čak i idemo na sastanke van kancelarije. Sve u svemu, mnogo više se krećemo i menjamo naše okruženje. Sada se sve promenilo.
U poslednjih par nedelja popijemo kafu i popnemo se stepenicama u radnu sobu u potkrovlju. Kako najviše vremena provodimo u ovoj prostoriji, delimo sa vama par saveta kako da boravak i rad učinite prijatnijim. Ukoliko pak planirate da u narednim mesecima uredite ili renovirate svoj tavan, kako biste imali više prostora, verujemo da će vam ovih saveti i ideje biti itekako korisni.
Pre nego što se bacite na posao, imamo jedan predlog za vas. Bez obzira na namenu sobe, svakako se pobrinite da ima dovoljno prirodnog svetla. VELUX krovni prozori ispuniće prostor dnevnim, prirodnim svetlom i svežim vazduhom.
Bitni razlozi zbog kojih ćete obožavati krovne prozore u vašem potkrovlju su:
1. Bolje osvetljenje
Sigurno ste već čuli da je prirodna, sunčeva svetlost najbolje osvetljenje za vaš dom. Razlog je taj što prirodna svetlost obezbeđuje čisto, belo osvetljenje, koje baca nekoliko senki, za razliku od veštačkog svetla koje emituje žutu ili plavu boju.
2. Zdravlje
Prirodno, dnevno svetlo i svež vazduh su dobar izvor energije i samim time popravljaju raspoloženje.
3. Bioritam
Dnevno, prirodno svetlo pomaže u balansiranju bioritma, pa su krovni prozori poželjni u svim sobama.
Ako se radni sto nalazi u sredini prostorije, prirodno svetlo se može obezbediti ugradnjom krovnih prozora.
Optimalno mesto za radni sto je u neposrednoj blizini prozora, a da svetlost dolazi sa strane. Ako se radni sto nalazi u sredini prostorije, prirodno svetlo se može obezbediti ugradnjom krovnih prozora. Dnevna svetlost prijaće i vašim mališanima, ukoliko u ovoj sobi rade domaće zadatke.
Koristite sunčeve zrake i za besplatno zagrejavanje i topliji dom. Tokom godine, krovni prozori će u prostorijama obezbediti više toplote, nego što će se izgubiti. Krovni prozori omogućuju efikasnu ventilaciju jer se nalaze visoko u prostoriji, tačnije na plafonu, gde se vazduh automatski povlači i izlazi.
Za sobe u kojima radite ili učite, dobro je odabrati umirujuće i hladnije tonove koji pozitivno utiču na našu produktivnost. Naravno, boje zidova treba da budu što svetlije jer one mogu da utiču na to da li će se svetlo dalje širiti u prostoriji ili će stvoriti taman, prijatan kutak. Tamne površine, kao što su tepisi i veći komadi nameštaja, upijaju svetlost i čine sobu tamnijom.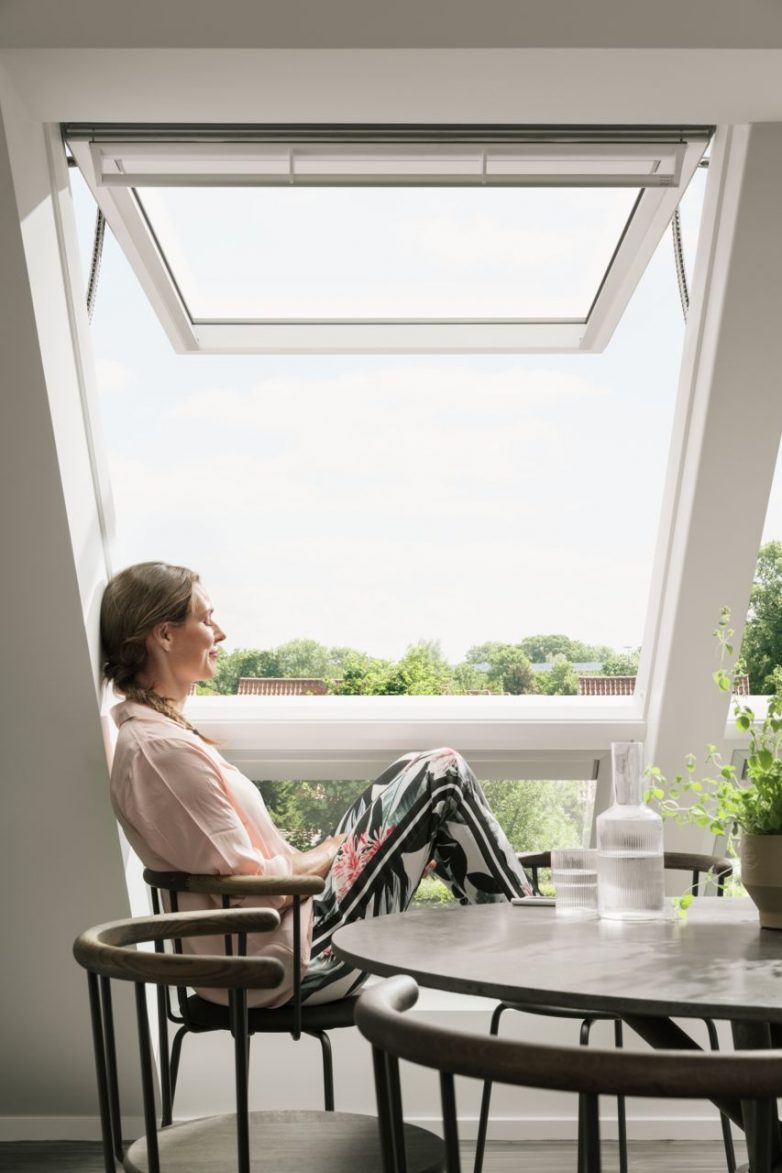 Kada vam je tokom dana potrebna pauza, lako možete napraviti kafu i uživati u pogledu i svežem vazduhu.
Još jedan savet – držite prozorsku dasku praznom. Vaze, biljke i ukrasni predmeti daju vašem domu karakter i stvaraju dobru atmosferu, ali ako se nalaze uz prozor mogu da blokiraju svetlo. Naravno, to ne znači da radni sto ili police ne možete ukrasiti buketom ili saksijom omiljenog cveća.
Dodajte mirišljave sveće ili eterična ulja, po želji. Uključite opuštajuću, ambijentalnu muziku i to je to. Verujemo da ćete biti zadovoljni atmosferom u domu, ali i rezultatima vašeg rada.
Ukoliko vam je potrebno još saveta o optimalnoj količini dnevnog svetla i temperaturi u vašem potkrovlju preuzmite naše besplatne vodiče. Čekamo vaše utiske! ?