Nova pasarela koja će omogućiti lakši pristup popularnom kupalištu ali i tržnom centru, arhitektonski motiv crpi od fasadne strukture Ada Mola.
Leto je počelo, a sa njim i odlasci sve većeg broja Beograđana na Adu, tj. kupalište na Savskom jezeru. Mnogi koji su ovih dana prolazili Radničkom ulicom mogli su da primete građevinske radove, a oni koji su posećivali obližnji Ada Mol su ih zapazili mesec dana ranije. U pitanju su radovi na izgradnji nove pasarele, kao odgovor na sve veći priliv pešaka ovom beogradskom kupalištu/izletištu, ali i kao olakšani pristup novom šoping centru. Međutim, ideja da se pasarela postavi u Radničkoj ulici je stara više od deset godina, a tek od pre koju godinu biva aktuelna. Da li je u pitanju izgradnja šoping mola ili postoje drugi razlozi?
Pasarela premošćavala Radničku ulicu, spajajući je se sa jednom od terasa šoping centra.
Istina, tek prikazivanjem 3D rendera Ada Mola, koji je pre koju godinu bio u pripremi za izgradnju, posmatrači su mogli da zapaze i pasarelu koja je premošćavala Radničku ulicu, spajajući se sa jednom od terasa šoping centra. Tada se moglo primetiti da je i njena arhitektura pratiti senzibilitet Ada Mola, što je možda posledica povezanosti ta dva projekta ili jednostavno logični odgovor na zadatu problematiku premošćavanja Radničke ulice. Ali osim tih ne tako preciznih detalja, javnost je ostala uskraćena za neke detaljnije ilustracije koje bi bliže objasnile kakva struktura će uskoro biti izgrađena.
Ono što je za sada poznato jeste da će cena pasarele iznositi milion evra, što su najverovatnije preliminarna predviđanja. Iz osnove pasarele može se videti da će se sastojati od dva raspona dužine 22,8 metara i dva konzolna prepusta dužine između 3 i 4 metra nad Radničkom ulicom i dva raspona 23,2 metra i dva konzolna prepusta dužine 4 metra nad Paštrovićevom ulicom. Tu je naravno i nekoliko jezgara za biciklističke liftove. Arhitekturu pasarele možemo samo da nagađamo, ali nas to nije sprečilo da malo istražimo istorijat ove inicijative i njegov ponuđeni koncept.
Prvi projekat iz 2009. godine
Direkcija za izgradnju grada Beograda je 2009. godine od Saobraćajnog instituta CIP traži idejno rešenje za pešačku pasarelu, koja bi na nekom mestu premostila Radničku ulicu i Banovo brdo, tj. Čukaričku padinu povezala sa izletištem Ada Ciganlija. CIP izrađuje idejno rešenje, čije slike nismo uspeli da dobijemo u većoj rezoluciji, ali koje ubrzo biva odbačeno, to jest, Direkcija odustaje od spomenute inicijative. Iz ne tako kvalitetnih sličica prepoznaje se forma i arhitektura pasarele. Prepoznaju se stepenišni krakovi, kao i jezgra za biciklističke liftove, ali i zanimljiva hi-teck arhitektura, mada u tom trenutku sve više prevaziđena.
Drugi projekat iz 2017. godine
Nakon završenog konkursa za arhitektonsko-urbanistički projekat rekonstrukcije prostora Beogradskog hipodroma i kompleksa Stare Šećerane, na kojem je sastavni deo projektnog zadatka bilo i predviđanje pešačko-biciklističke pasarele, podeljene su nagrade i prvo mesto odnosi projekat koji potpisuju arhitekte Marija Krsmanović Stringeta, Milena Kordić i Anđelka Badnjar.
Ovaj ženski arhitektonski trio ponudio je smelo rešenje, u kojem se i pasarela sa svojim industrijskim izrazom odlično uklopila u zaštićenu industrijsku arhitekturu. Međutim, kako je ovaj konkurs imao više anketni karakter (istraživanje mogućnosti lokacije), rešenje nije iskorišćeno, pogotovo što pasarela iz njihovog projekta prolazi sa druge strane upravne zgrade Šećerane i time nije podesna za komunikacije sa okolnim sadržajem.
Treći projekat iz 2019. godine
Poslednja rečenica prethodnog pasusa u mnogome govori o tome čemu mora da teži arhitektura kako bi bila prihvatljiva, tj. izvedena. U ovom slučaju mora da sledi neke poslovne interese, a to je povezivanje Ade Ciganlije pre svega sa najznačajnijom tačkom sa druge strane Radničke ulice, a to je Ada Mol. Da li se ovim konceptom dolazi do nezaobilaznog pitanja – da li je izgradnja pasarele bila isključivo vezana za izgradnju šoping centra? Naravno da je spona između državnih i privatnih interesa nezaobilazna, ali nešto nam govori da projekti ovakve vrste često ne mogu biti realizovani ako na terenu ne postoje čvrsti interesi privatnog sektora.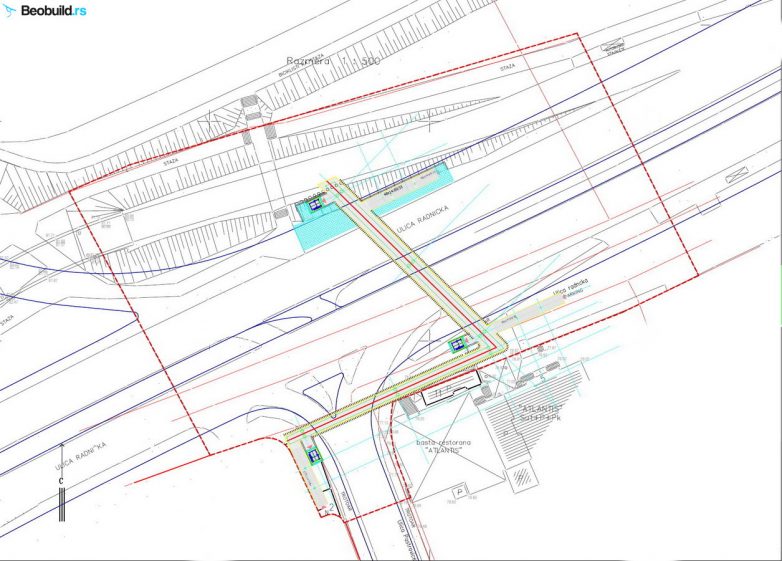 Krak koji će premostiti Paštrovićevu ulicu imaće 48,3, dok će onaj iznad Radničke ulice imati 55,5 metara.
Što se tiče koncepta poslednjeg rešenja, primećujemo da je potpuno odbačen industrijski izraz i da su arhitektonski motivi preuzeti od fasadne strukture Ada Mola, ali sa druge strane primećujemo i neke tehničke sličnosti sa starijim CIP-ovim rešenjem. Novo rešenje potpisuje kompanija Energoprojekt, koja radi i izvođenje, a vrlo je verovatno da su njeni inženjeri imali uvid i u stariju dokumentaciju i time dali konačan pečat ovoj kompleksnoj strukturi.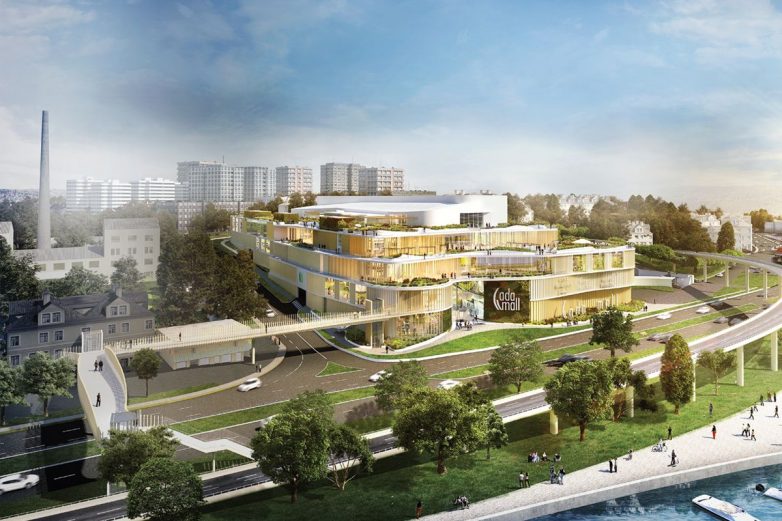 Odnos novog i starog
Tu je i čudno pozicioniranje noseće konstrukcije ispred samog ulaza u Upravnu zgradu Šećerane, koja je zaštićena kao kulturno-istorijsko dobro, u kojoj se već više od jedne decenije nalazi restoran, za koje nismo imali jasan odgovor. O (ne)uklapanju i eventualnom ugrožavanju kulturnog dobra možemo polemisati samo na osnovu detaljnog rešenja u kojem se preciznije može sagledati odnos između novoizgrađenog i postojećeg objekta.
Inače, nakon izgradnje pasarele ili uporedo sa njenim završetkom, grad Beograd predviđa i rekonstrukciju Radničke ulice, koja bi time sa postojećih šest traka dobila osam, čime bi protok saobraćaja znatno bio poboljšan, naročito u jutarnjim i popodnevnim špicevima.
Kad ste već ovde…