Arhitektura
Šta arhitekte (ne) znaju o LinkedInu i koliko ga (ne) koriste
Reklo bi se ne puno i jako mnogo…
Da li ste se možda zapitali zašto pojedine arhitektonske prakse nisu na LinkedInu, kad su svi važni ljudi već odavno jesu? Ako su stručnjaci u svojim industrijama, ali i klijenti tamo, šta čekamo da napravimo lični ili kompanijski profil? Zašto ne bi arhitektonski biroi, kompanije, ali i harizmatični pojedinci iskoristili pun potencijal koji ova platforma pruža?
Gubljenje vremena ili dobit?!
Primer dobre prakse kako koristiti ovu platformu, u cilju dobijanja novih klijenata i sklapanja partnerstava sa investitorima, iz ugla arhitektonskog biroa jeste Zabriskie Studio. Naglašavam da ne samo da imaju popunjen, već poseduju i optimizovan profil. Na taj način, šalju jasnu poruku ko su, čime se bave i šta investitori mogu očekivati od njih.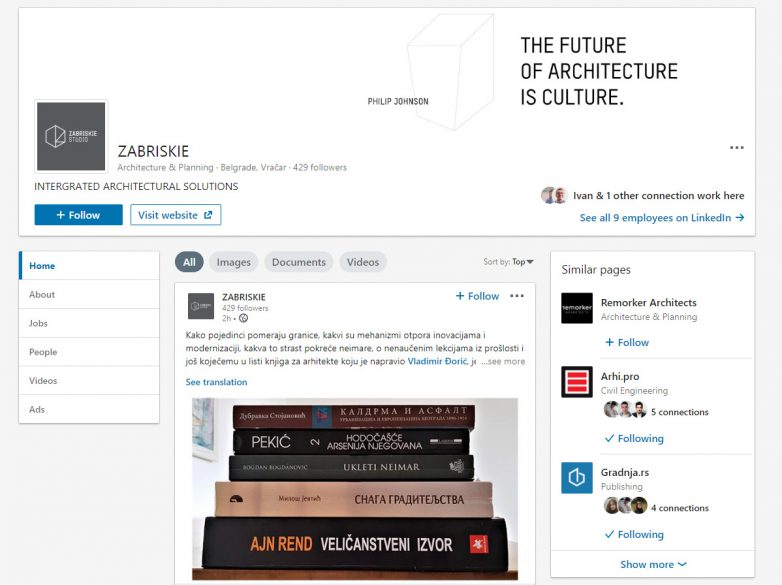 LinkedIn je odličan i nepravedno zapostavljen alat za B2B.
Ono što mnoge njihove kolege greše u startu jeste što, ako i krenu da se pojavljuju češće na ovoj platformi, stavljaju fotografije ili rendere projekata u prvi plan, a ne predstave njihovu funkcionalnost i namenu. Nikad mi neće biti jasno kako to da arhitekte prodaju uslugu a reklamiraju finalni proizvod?
Odavno nije dovoljno da je nešto na društvenim mrežama, u ovom slučaju projekat, samo estetski i lepo. Treba da prikažete na koji način baš vaš projekat može spasiti klijente tragedije lošeg dizajna, ako se ne odluče za vas.
Zadovoljan zaposleni ili magnet za klijente?
Svaka kompanija i njeni zaposleni mogu se putem LinkedIn-a povezati sa potencijalnim investitorima ili klijentima. Da bi se do toga došlo, neophodno je dopreti do pravih ljudi na pravi način, kako kroz sadržaj, tako i putem brendiranja vaših zaposlenih.
Ono što vaši budući klijenti žele da vide jesu drugi ljudi koji stoje iza tih lepih projekata,
Da se razumemo, ako neko provede preko 10 sati dnevno na gradilištu ili jednostavnom u svakodnevnim radnim obavezama, employer branding mu ne pada ni na pamet. Uprkos ovome, kompanija 3LHD odlučila je da ulaže u svoj nastup na LinkedIn platformi, imajući u vidu kakve im rezultate to može doneti. Sa jedne strane, 3LHD predstavlja svoje izvedene projekte u najboljem svetlu. Istovremeno, kao stub oslonac, nastoje i da svojim zaposlenima posvete dovoljno pažnje i ulože u njihovu prezentaciju na poslovnoj društvenoj mreži.
Skriveni potencijal ličnog profila
Personal branding nije više opcija, već realna potreba bilo da radite samostalno ili ste zaposleni u nekom birou ili kompaniji. Naročito ako se nalazite u industriji gde je konkurencija velika, a ponuda kvalifikovanog kadra mala. Ideologija "ako nećeš ti, ima ko hoće više ne stoji". Mlade arhitekte mogu birati gde će i za koga raditi.
Iako mali broj arhitekata radi na svojoj pojavi na društvenim mrežama, ono što propuštaju mogu da vide u nastupu profesionalaca iz digitalnog sveta. Iako iz druge oblasti, možda najistaknutiji primer dobre prakse korišćenja punog potencijala ličnog profila na LinkedIn-u jeste Janja Jovanović, marketinški stručnjak. Na svom ličnom profilu, jasno ističe svoju specijalizaciju, ali isto tako i pruža sve potrebne informacije koje klijent treba da zna o njenom poslovanju.
Krenite da pravite zajednicu ljudi koji su specijalizovani za određene stvari i koji bi zapravo koristili vašu uslugu ili proizvod.
Kao pojedinac, ne treba da nastojite da bespotrebno dodajete osnivače i ljude na top menadžment pozicijama, ako želite da dođete do klijenata. Naprotiv, krenite da pravite zajednicu ljudi koji su specijalizovani za određene stvari i koji bi zapravo koristili vašu uslugu ili proizvod.
Još jedan trend u nizu ili dugoročna investicija?
Počnite od kraja na umu. Treba biti svestan da poruka, koja se putem LinkedIn-a šalje zajednici, jeste: Zašto bi neki klijent angažovao upravo vas? Zašto bi neki perspektivan arhitekta radio baš za vas? Šta nudite zaposlenima, a šta klijentima, a da to ne može da se dobije kod konkurencije? Ko je idealna osoba za vaš tim kroz čiji se nastup na ovoj društvenoj mreži obraćate poslovnoj zajednici?
Šta arhitekta (ne) znaju o LinkedIn-u i koliko ga (ne) koriste. Reklo bi se ne puno i jako mnogo. Jasna poruka, precizirana specijalizacija i garancija kvaliteta je kasnije ključ za identifikaciju vaših idealnih klijenata sa vašom ideologijom, odnosno poistovećivanje sa vrednostima u koje i sami verujete.
Kad ste već ovde…