U toku je Rani javni uvid u Plan detaljne regulacije za izgradnju pešačko-biciklističke veze između ulice Omladinskih brigada i Ade Ciganlije, sa mostom preko reke Save. Ovaj urbanistički poduhvat trebalo bi da rezultira povezivanjem sportsko-rekreativne mreže sadržaja Beograda, kao i da Beograd uključi u mrežu evropskih biciklističkih trasa kroz projekat "Eurovelo". Šta to znači regionalno, a šta za Beograđane?
 Česta primedba Beograđana na funkcionisanje grada je premali broj mostova kojima se lako može prelaziti sa jedne na drugu obalu Save i Dunava. Kao što je i u Elaboratu za Rani javni uvid prepoznato – beogradski mostovi su važni činioci slike grada i gradskog identiteta. Baš zbog toga, važno je prilagoditi ih potrebama korisnika na lokaciji.
Za razliku od većine urbanističkih planova na nivou Beograda, koji su lokalnog ili nacionalnog karaktera, ovaj plan obuhvata i segmente regionalnog planiranja Podunavske regije i Evrope, uvodeći kroz plan mosta i trase projekta "Eurovelo". Ovaj projekat implementira se godinama u Evropi i kod nas, i ima za cilj da različite krajeve Evrope poveže biciklističkim stazama. Tako kroz Srbiju prolaze trase koje povezuju Norvešku i Atinu "Eurovelo 11" , Francusku i Rumuniju "Eurovelo 6" i "Eurovelo 13" koja povezuje krajnji istok i krajnji zapad kontinenta, od kojih trasa "Eurovelo 6" prolazi kroz Beograd.
Tema povezivanja lokalnih planova sa regionalnim i svetskim projektima dugo je prisutna u našem urbanizmu, međutim nije uvek jednostavna za lokalizaciju koja zadovoljava sve zahteve – kako projekata, tako i stanovnika.
Plan detaljne regulacije pešačko-biciklističkog mosta preko Save obuhvata trase biciklističkih staza koje prolaze kroz Zemun i Novi Beograd, i povezuje ih sa biciklističkom stazom koja prati desnu obalu Save i Dunava od Ade Ciganlije do Pančevačkog mosta. Na ovaj način se podstiče upotreba "ekološki prihvatljivih modaliteta saobraćaja", koja dugoročno može uticati na smanjenje aero-zagađenja u Beogradu, kao i na podizanje svesti o upotrebi bicikla kao prevoznog sredstva, a ne samo vida rekreacije.
Možemo se nadati da će novi most na Savi poslužiti kao aktivator biciklističkog saobraćaja u gradu.
Plan je izrađen u skladu sa arhitektonskim rešenjem mosta, koji savremenim arhitektonskim jezikom komunicira sa svojim okruženjem. Povezivanje sa Adom Ciganlijom već usmerava razmišljanje o karakteru namene mosta, koje za sada više govori o sportsko-rekreativnoj upotrebi trase, nego saobraćajnoj, prvenstveno zbog neadekvatne povezanosti biciklističke staze na obali sa bilo kojim delom grada. Ipak, možemo se nadati da će novi most na Savi poslužiti kao aktivator biciklističkog saobraćaja u gradu.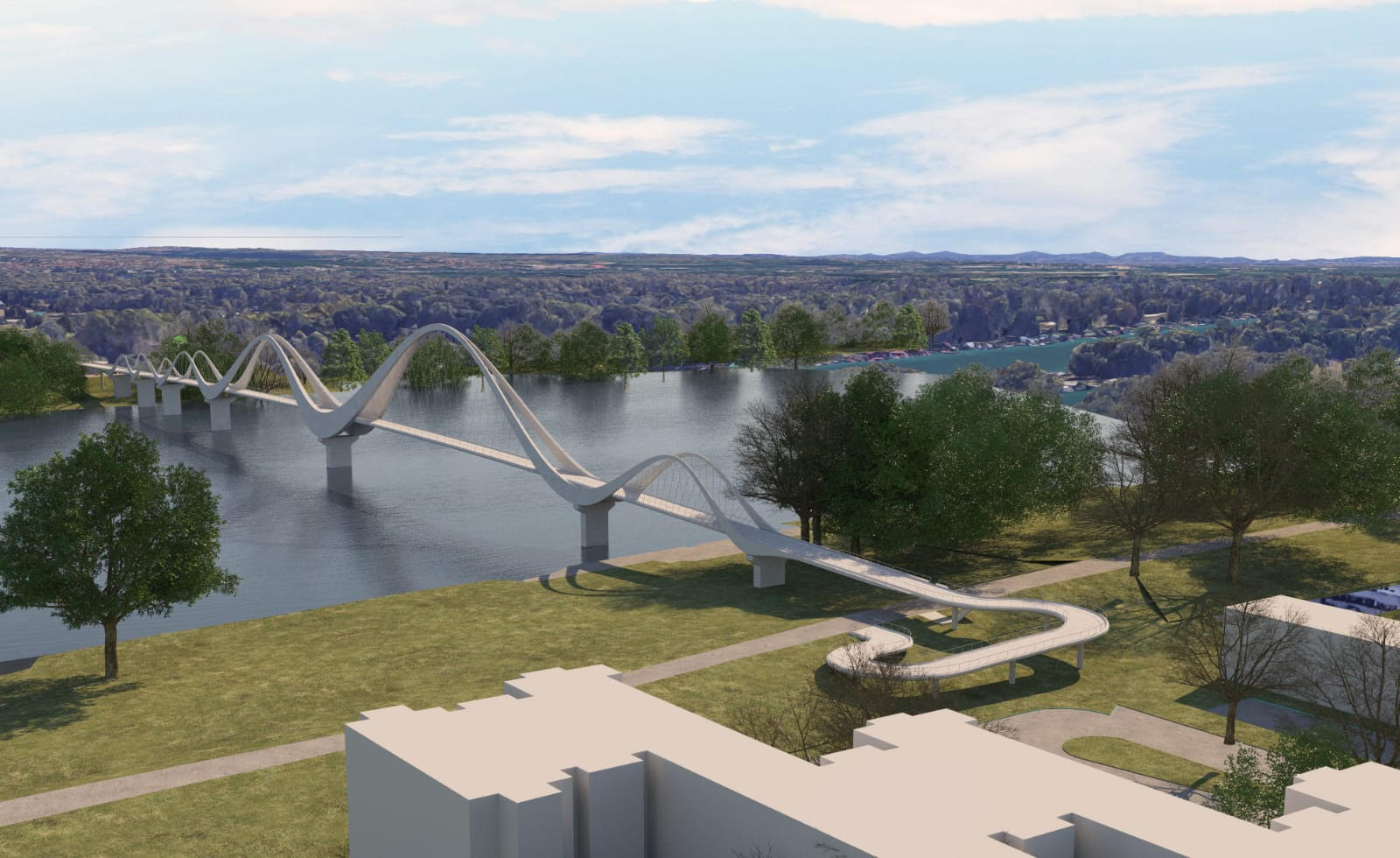 Saobraćajnica kojom se pristupa mostu je ulica Omladinskih brigada, koja prolazi između novobeogradskih blokova 70 i 70a i predstavlja jedno od čvorišta gradskog prevoza kopnenog i rečnog tipa. Za urbanističke intervencije u ovom delu grada, neophodno je uzeti u obzir pejzažne i funkcionalne vrednosti Savskog keja, kao i na afirmativan način urediti pristupe novo jstrukturi.
Kako se čita Plan?
Budući da je nacrt Plana još u razmeri male detaljnosti, i da je u toku faza Ranog javnog uvida, mogu se na vreme prepoznati moguće prepreke u planiranju, odnosno u adekvatnoj realizaciji projekta. Kako bi se to participativnim procesom planiranja moglo korigovati, neophodno je poznavati osnovne elemente plana na osnovu kojih se određeni urbanistički elementi predviđaju.

Obuhvat plana predstavlja površinu na kojoj su predviđene intervencije, ili čije se vrednosti prepoznaju kao trajne i uvršćuju u Plan, kao dokument koji sadrži pravila uređenja i građenja od kojih se ne može odstupati. Obuhvatom plana se prikazuje položaj predmeta planiranja, sa pristupnim saobraćajnicama i okruženjem. U ovom slučaju to je celina ulice Omladinskih brigada između blokova 70 i 70a, sa priobaljem i pristupnom površinom na Adi Ciganliji.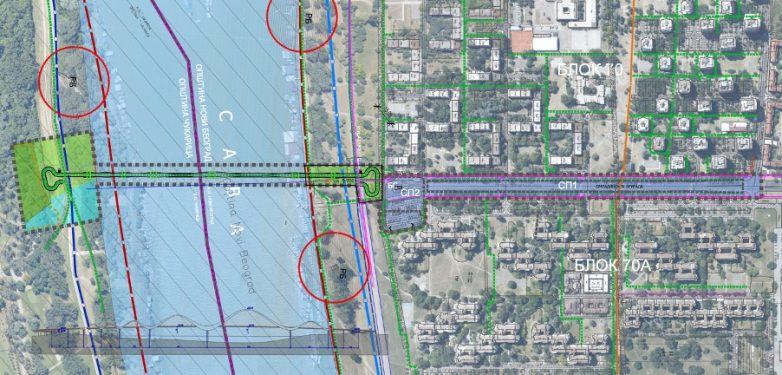 Planirana namena površina je prilog kojim se određuju zone obuhvata plana namenjene različitim funkcijama i sadržajima. U planu namene nalaze se i podaci o svim zastupljenim vidovima saobraćaja, kao i o elementima ozelenjavanja i osnovnog pejzažnog uređenja područja. U ovom slučaju, predviđene su površine za rekreaciju, površina poteza mosta, i saobraćajne površine – parkirališta.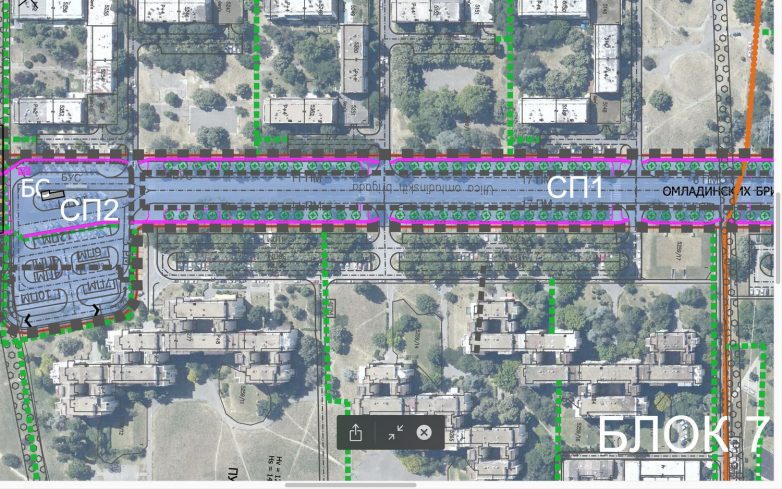 Pristup mostu predviđen je sa postojećih pešačkih i biciklističkih staza korišćenjem rampi koje povezuju nivo obale sa nivoom mosta.
U ovom Planu detaljne regulacije predviđeno je formiranje podzemnih ili nadzemnih garaža uz ulicu Omladinskih brigada, odnosno uz terminus javnog prevoza. Činjenica da u ovoj fazi izrade plana tačan karakter parkirališta nije definisan, može se korigovati u skladu sa primedbama tokom Ranog javnog uvida i Javnog uvida, ukoliko se primeni, makar i retroaktivno participativni proces planiranja.
Ova faza izrade plana predviđa drvored duž saobraćajnice u Omladinskih brigada, uz pretpostavku da će se parkiranje zadržati kao nadzemno linearno parkiralište, po parametrima koji podrazumevaju jedno stablo na svaka tri parking mesta. Ipak, u slučaju kreiranja podzemne garaže, izvesno je da će se postojeća pejzažna vrednost saobraćajnice ugroziti, čime bi ulica ostala ogoljena.
Pristup mostu predviđen je sa postojećih pešačkih i biciklističkih staza korišćenjem rampi koje povezuju nivo obale sa nivoom mosta.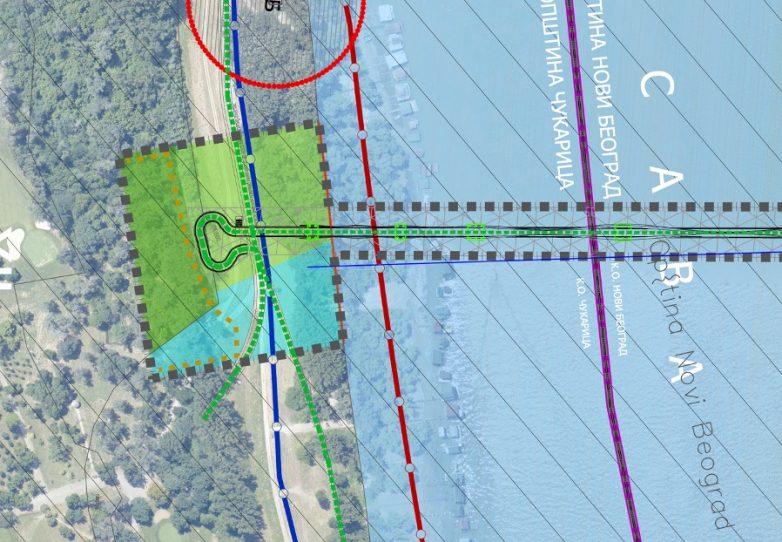 Imate primedbe?
Planirana namena površina na obali Ade Ciganlije predviđa pristupnu zonu mostu sa sportsko-rekreativnim centrom prilagođenim potrebama vodenih sportova. Ovakvom intervencijom, kao javni prostor će se aktivirati i ovaj deo obale Ade Ciganlije, što može doprineti dugoročnom razvoju celine kao savremenog rekreativnog prostora, koji po svom položaju "pripada" i stanovnicima Novog Beograda. Uz prostor sportskog centra, predviđene su i uređene javne zelene površine.
Razvojem Plana i projekta mosta na ovoj lokaciji, olakšava se komunikacija između dve obale Save i smanjuje se jaz u njihovim funkcionalnim karakteristikama, kao i potreba za dupliranjem sadržaja na obe strane reke.
Rani javni uvid je u toku i traje do 29.6.2020. godine u prostorijama Gradske uprave u 27. Marta 43-45, do kada se mogu podnositi primedbe, a Elaborat možete preuzeti na zvaničnoj stranici grada Beograda.
Kad ste već ovde…