Most na Savi akademika Nikole Hajdina sa svojih 262,5 metra je najduži viseći pešački most u Evropi, a spaja Sremsku i Mačvansku Mitrovicu.
U poslednjih godinu dana, jedna od glavnih preokupacija Beograda i Novog Sada su pešačko-biciklistički mostovi. Novi Sad je imao dva konkursa, jedan za most preko kanala DTD i drugi preko Dunava, dok je u Beogradu aktuelan most na Adi. Ali prava je nepoznanica, ne samo široj populaciji već i kolegama iz struke, da Srbija već više od 25 godina ima najduži pešačko-biciklistički most u Evropi! Taj most premošćava Savu i spaja Sremsku i Mačvansku Mitrovicu.
Most Svetog Irineja – najduži pešačko-biciklistički most u Evropi
Sve počinje 70-ih godina, kada država odlučuje da mostom spoji dva grada "blizanca", koji su nikli na dve obale reke Save. Zapravo, reč je o antičkom gradu Sirmiumu, koji se vremenom proširio i na drugu obalu, ali kako on pripada Mačvi, odlučeno je da novi deo grada ponese ime Mačvanska Mitrovica.
Država je tih godina izgradila most, sa priključnim saobraćajnicama, ali na krajevima grada (kompleksna struktura nije mogla da bude izvedena u centru), što decenijama nije odgovaralo stanovnicima sa obe obale, koji su za prelazak morali da kruže nekoliko kilometara. Za jedno sremačko-mačvansko mesto, sa tek nekoliko desetina hiljada stanovnika, u kojem se sve razdaljine prelaze peške ili biciklom, ovo nije bilo baš praktično.
Most preko Save širok je svega 5,5 metara, a dugačak je čak 262,5 metra.
Inicijativa za izgradnju novog mosta, ovaj put pešačkog, koji bi u potpunosti zadovoljio potrebe spajanja dva grada, nastaje krajem 80-ih godina. Za idejnog tvorca izabran je građevinski inženjer akademik Nikola Hajdin, a izgradnja mosta započinje 1990. godine. Zbog ratnih godina, most je završen tek krajem 1993., a svečano otvoren na Vidovdan 1994. godine.
Inženjer Hajdin je ponudio veoma jednostavno rešenje, u kojem dva armirano-betonska pilona kosim kablovima nose ostatak konstrukcije mosta. Da bi razdaljina bila što efikasnije savladana, piloni su postavljeni na 35 metara od obale, pri čemu je raspon između njih dosegao 192,5 metra, učinivši da sa ukupnih 262,5 metra postane najduži viseći pešački most u Evropi.
Zanimljiva je i njegova širina, koja iznosi samo 5,5 metara. Sve ovo je projektovano kako jedan pešački most ne bi dobio masivnu noseću konstrukciju ili više stubova u vodi, što bi predstavljalo veliki problem za reku Savu koja je na tom delu toka ima veliki intenzitet rečnog saobraćaja.
Ime Most Svetog Irineja dobija po jednom od hrišćanskih mučenika, koji su u doba rimskog Sirmiuma, pogubljeni bacanjem sa tadašnjeg Artemidinog mosta.
Most na Adi 2: Parabolični talas
Kada je početkom 2012. godine otvoren novoizgrađeni most, koji preko Ade spaja Čukaricu i Novi Beograd, usledila je anketa za njegovo ime. Od oko 13.000 pristiglih glasova, većina od oko 3.500 je predložila jedan veoma "inovativan" naziv – Most na Adi.
Ovo sve napominjem jer je u toku razrada projekta za novi, ovaj put pešačko-biciklistički most, koji će spojiti Adu sa Novim Beogradom, a koji za sada možemo zvati Most na Adi 2. Nadamo se da će javnost ovaj put biti originalnija…
Konstrukcija mosta na Adi se sastoji od armirano-betonske konstrukcije, koja na prvi pogled liči na skup manjih i većih talasa.
Struka i političari su uvideli da je ponekad mnogo jednostavnije neki postojeći most rekonstruisati ili izgraditi novi, ali samo za potrebe pešaka i biciklista, što isključuje izgradnju kompleksnih pristupnih saobraćajnica.
Iako je možda bilo praktičnije i atraktivnije na to mesto premestiti Stari železnički most, koji bi time nastavio svoju istorijsku ulogu, na osnovu ankete diskutabilnog ishoda, javnost je izabrala da se izgradi novi most, čija će vrednost biti oko 10 miliona evra.
Iako je povodom toga bilo puno negodovanja javnosti, nakon skoro završene ankete portala Gradnja.rs na Facebooku, čitaoci su sa oko 80% glasova rekli da im se zapravo dopada novoprojektovani most. I zaista, njegova silueta je za našu sredinu, ali i širi region, veoma inovativna i atraktivna.
Konstrukcija mosta se sastoji od zatalasane armirano-betonske konstrukcije, koja na prvi pogled liči na skup manjih i većih paraboličnih talasa, pa se u nekim medijima pojavio i potencijalno ime za novi most – Talas. Ime je jednostavno i u jednoj reči opisuje novoprojektovanu strukturu, pa se iskreno nadamo da će to biti konačno ime ovog mosta.
Što se tiče raspona između stubova, tj. kote na kojoj bi se nalazila struktura mosta, oni su i u ovom slučaju precizno određeni, kako ne bi ugrožavali savski plovni saobraćaj. Zamišljeno je da most Adu spaja sa Novim Beogradom u blizini okretnice autobusa u Bloku 70, u produžetku ulice Omladinskih brigada. Ovo je veoma praktično, imajući u vidu značaj samog saobraćajnog čvorišta, ali i intenzitet pešaka i biciklista u tom delu Novog Beograda.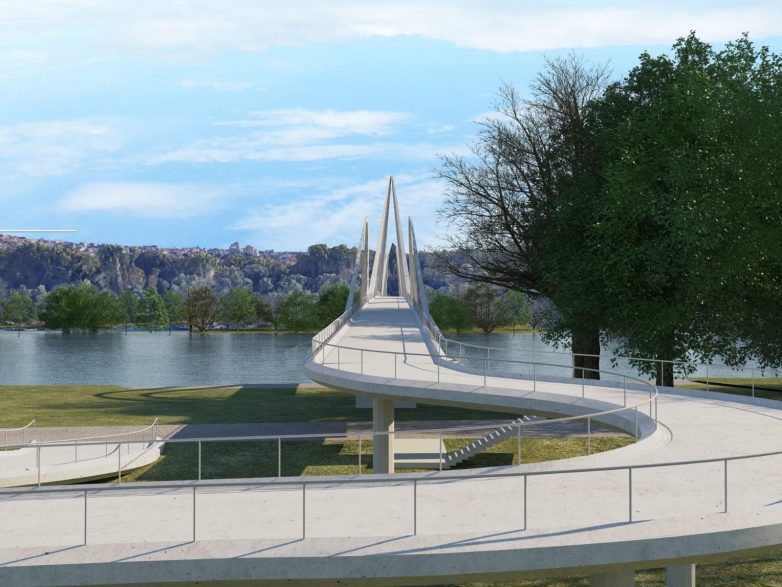 Za sve koji bi iz pravca novobeogradskih blokova i Zemuna dolazili automobilom, predviđena je i garaža sa oko 300 parking mesta. Kako naglašava gradski urbanista Marko Stojčić, čiji tim je ponudio idejno rešenje, ova nadzemno-podzemna garaža rasteretiće drumski saobraćaj ka Adi, što i jeste jedan od vidova očuvanja ove oaze prirode i rekreacije nadomak centra Beograda, što je ekskluzivitet među mnogim svetskim metropolama.
Sa druge strane, imajući u vidu prirodnu lenjost (da ne kažemo bahatost) mnogih naših sugrađana, koji svoje automobile žele da parkiraju po mogućnosti uz samu obalu mora/jezera/reke, garaža uz novi most neće imati funkciju ukoliko se za veliki broj posetilaca ne ponudi opcija iznajmljivanja bicikli ili mini električnih vozila (nešto slično što se koristi na golf terenima).
Ne moramo svugde automobilom
Nakon okončanja vanrednog stanja očekuje se i rani javni uvid u plansku dokumentaciju i ako ne bude značajnijih primedbi, izgradnja mosta može započeti već sledeće godine. Izgradnjom ovog pešačko-biciklističkog mosta može se pokrenuti i inicijativa za izgradnju još jednog, takođe na reci Savi, ali koji bi spajao podnožje Beogradske tvrđave sa parkom Ušće, što je daleko praktičnije, ekonomičnije i kulturološki odgovornije od izgradnje gondole.
Za jedan ovakav projekat su već stvoreni uslovi izgradnjom pasarele, koja spaja tvrđavu sa Beton halom, pored koje bi se mogao izgraditi jedan, nešto manje ambiciozan most, koji bi olakšao prelazak sa jedne na drugu obalu kako našim sugrađanima tako i sve brojnijim turistima. Dobro je polako se navikavati da nije potrebno baš svuda ići automobilom…
Kad ste već ovde…