Svetski projekti
Kako je zgrada koju su zvali "zatvor" postala najtraženija nekretnina u gradu
Ovako izgleda stambena zgrada u kojoj su kriterijumi ekonomije, ekologije i fleksibilnosti dovedeni do krajnjih granica. Višeporodično stanovanje u Usteru daje jednu sliku svakodnevnog života koja je nepoznata našoj sredini.
Bila je 1999. godina kada su Herle Hubacher Arhitekte, u saradnji sa izvođačem Andersom Streh, razvili novu stambenu tipologiju. Dali su joj ime "Balans". Samo ime upućivalo je na želju arhitekata i izvođača da stvore uravnoteženi odnos između neestetskih domena (ekonomije, ekologije i fleksibilnosti) i estetskih domena arhitekture, kao što su lepota, sklad i proporcije.
U početku, prijem novog modela nije bio pozitivan. Korisnici nisu bili naročito zadovoljni. Zbog svog tehnokratskog izgleda, stambeni kompleks u Usteru (gradić pored Ciriha) imao je brojne neslavne nazive. Komšije su ove zgrade pogrdno nazivale "zatvor" ili "ptičiji kavezi".
Međutim, posle par godina, kada su zgrade i fasade obrasle u zelenilu, stambeno naselje "Balans" postalo je najtraženija nekretnina u gradu. Ispostavilo se da je ovaj stambeni model toliko uspešan da ga je investitor posle primenio i u drugim gradovima.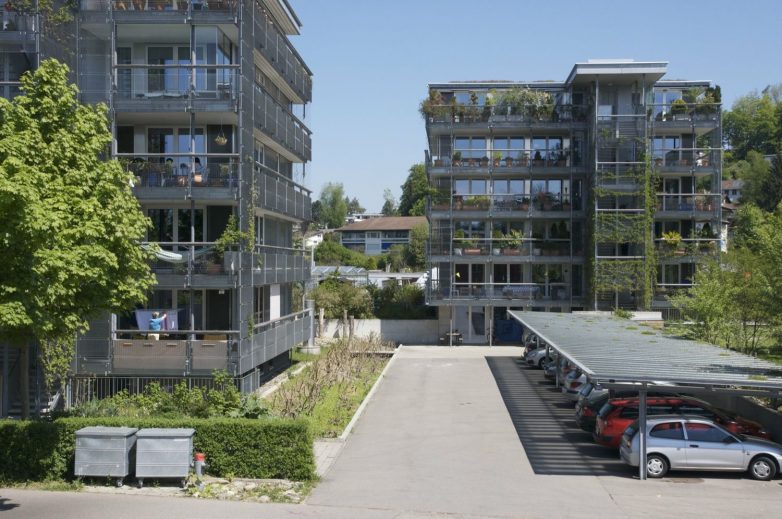 Zgrade su orijentisane tako da svaka fasada u toku dana bude direktno osunčana, a tako da terase budu jugu.
Pojedinačne zgrade tako su orijentisane da svaka fasada u toku dana bude direktno osunčana, a tako da terase budu jugu. Na parceli, zgrade se nižu naizmenično (u pravcu istok-zapad), a prostor između njih ispunjen je zelenilom – travom i drvećem. Svaki objekat, takođe, ima i zelenu krovnu terasu, a svaki stanar na terasi ispred stana ima i svoju malu, privatnu baštu.
Fleksibilna osnova
Fleksibilnost osnove moguće je kroz različite režime korišćenja. Uz male strukturalne korekcije, osnova se može podeliti na dva stana različitih gabarita, ili ostati deo jedne stambene jedinice od 190 m2 veličine. Terasa kvadrature od oko 100 m2, takođe, može biti podeljena na dva dela.
Najveći stepen adaptibilnosti je u noćnoj zoni. U zavisnosti od režima podele i korišćenja, noćna zona može biti raščlanjena na čak 6 spavaćih soba ili biti deo jednog otvorenog plana. Varijacije podele su različite. Fleksibilnost prostora omogućava centralno postavljeno servisno jezgro.
Ovakva osnova naglašava integraciju svih aktivnosti. Servisna zona postaje deo aktivne stambene zone. Linije razdvajanja rada i stanovanja nisu precizno određene. Prostori dnevne zone i terase međusobno se nadovezuju. Jedino intimni prostori noćne zone imaju potencijal izdvajanja kao suprotnost otvorenom i promenljivom režimu unutrašnje upotrebe.
Racionalna gradnja
Konstrukcija zgrade je armirano-betonska, livena na licu mesta. Sve druge komponente zgrade (prozori, ograda, fasada) su prefabrikovani montažni elementi. Ovakvim sistemom gradnje racionalizacija izvođenja dovedena je do krajnjih granica. Radni sat u Švajcarskoj je skup, pa se broj sati provedenih na gradilištu svodi na najmanju moguću meru. Prefabrikacija je ključ.
Grejanje je podno, pa vidnih instalacija nema. Energija za grejanje i hlađenje obezbeđuje se putem sistema toplotnih pumpi i krovnih solarnih panela. Dobra provetrenost i zastori na južnoj strani značajno smanjuju utrošak električne energije za hlađenje u toku letnjih meseci.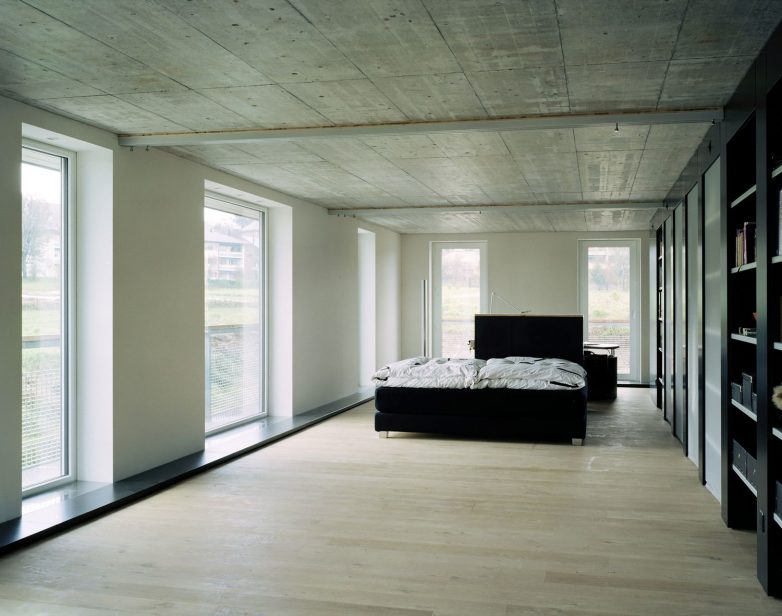 Zbog dobre izolacije, računi za struju, grejanje i hlađenje u ovim stanovima zapravo i ne postoje.
Termička izolovanost objekta je na visokom nivou. To praktično znači da računi za struju, grejanje i hlađenje u ovim stanovima zapravo i ne postoje. Najvažnije od svega, svaki korisnik prostora svoj stan može da prilagodi sebi i da stvori svoj udobni kutak. Sve to dostupno je po pristupačnoj ceni.
Dobrom vinu ne treba reklama. Stambeni model "Balans" bio je toliko uspešan, da je gradić Uster postao središte mladih bračnih parova sa decom koji rade u Cirihu. O socijalnoj održivosti vodilo se računa. Kako je reč o pristupačnom stanovanju, u naselju "Balans" stanuju porodice sa malom decom, ali i penzioneri. Tako je stvoreno raznoliko, ali životno urbano susedstvo.
Nadomestiti nedostatke
Idealna orijentacija, dobra provetrenost i osunčanost, prostrane terase, prilagodljivost osnove i more zelenila, društvena raznovrsnost i vibrantno susedstvo, racionalna gradnja i jeftino održavanje – sve su to kvaliteti stambenog ovog naselja u Usteru. Međutim, mi u Srbiji, iz nekog razloga, stambene zgrade zidamo upravo suprotno. Da bismo prikrili činjenicu da smo zapravo kao društvo i pojedinci jako siromašni, trudimo se da poražavajuće nizak standard stanovanja zamaskiramo bogatom fasadnom plastikom.