Zašto nas određeni stilovi u arhitekturi privlače, a drugi odbijaju? Zašto je "loš ukus" u savremenoj arhitekturi tako zastupljen? Zašto smo, kada je reč o fasadnim pročeljima, tako neumesni u njihovom oblikovanju? Teorija nadomešćivanja nedostataka pruža nam odgovore na sva ova pitanja.
Teorija nadomešćivanja nedostataka pretpostavlja da se vezujemo za one arhitektonske stilove i oblike koji nam pomažu da nadomestimo ono što nam suštinski nedostaje. Svi smo mi pomalo neuravnoteženi, a arhitektonski stilovi su tu da nam pomognu da popunimo unutrašnje praznine.
Pojam "praznina" je iz psihoanalize koji određuje stanje u kom su očekivanja veća od mogućnosti. Praznina je, prema tome, razlika između onoga što potencijalno želimo i onoga što realno možemo. Kada smo u mogućnosti da ostvarimo svoja očekivanja, osećamo se prijatno, zadovoljno, uravnoteženo. Kada nismo u mogućnosti da ispunimo svoja očekivanja, osećamo se prazno, uznemireno, nezadovoljno. Prema ovoj teoriji, uloga arhitektonskih stilova je da nam pomognu da nadomestimo svoju uravnoteženost, da prikrijemo unutrašnje uznemirenosti, da budemo kul.
Primera radi, rastrzani i neorganizovani ljudi lepotu pronalaze u prostorima koji su upravo suprotni – uređeni, skladni, organizovani. Ekstroverti, pak, uživaju u raskošno dekorisanom prostoru. Umetnici vole "kreativni haos". Svako od nas gravitira onom prostoru koji nas dovodi u unutrašnji balans, a kroz realizaciju atributa koji nam suštinski nedostaju. Dakle, ukus nije u sasvim zavistan od školovanja i lepih manira, već od političke i ekonomske stabilnosti sredine u kojoj odrastamo i živimo, karaktera pojedinca, te mogućnosti da se taj karakter ostvari ili ne. Dakle, zasluge za "dobar ukus" ne pripadaju u potpunosti nama, već i okruženju koje ga omogućava.
Arhitektonski neukus – izvori i pojavni oblici
Ali, šta je sa "lošim" ukusom? Koji su njegovi koreni? Šta je to loše u "lošem ukusu"? Prema teoriji nadomešćivanja nedostataka, arhitektonski neukus je masovna kompenzacija predočena u formi prenaglašenih prostornih atributa, koja nastaje kao odgovor na psihičku ili telesnu traumu. Da, traumu. Trauma, kao takva, proizvod je duševnog stanja, stresnog događaja – svega onoga što kod čoveka izaziva strah, jezu i anksioznost. Kada je reč o arhitekturi, najčešći okidači trauma uključuju dugotrajno ponižavanje, nelagodnost i oskudicu. Loše kod "lošeg ukusa" nije sam gest neumerenog preterivanja ili prejedanja već slabost ljudskog karaktera koja pokušava da se prikrije kroz vrlinu, prosperitet ili kvalitet. I to glumatanje, ta igra pokušaja postavljanja omnipotencije gde njoj nije mesto zapravo stvara u nama osećaj zazornosti, gađenja i odbojnosti. To je ono što nam je bljak.
Apsolutni gospodari neukusa u arhitekturi svakako su Rusi. Decenije nemaštine, izgladnjivanja i represije pod sovjetskim komunizmom, u sadejstvu sa surovim klimatskim uslovima i beskrajnim kontinentalnim predelima, ostavili su duboke ožiljke na čitave generacije stanovništva. Pa tako, nakon liberalizacije od komunističke torture, bogataši utehu pokušavaju pronaći u bizarno prenakićenim enterijirama, pompeznim slavinama i najskupljim podnim oblogama. Britanska dizajnerka Džulijet Tomas (Juliette Thomas) specijalizovala se upravo za uređenje prostora ove vrste i njeni enterijere ilustruju krajnje domete potrebe za nadomešćivanjem sredstvima arhitekture.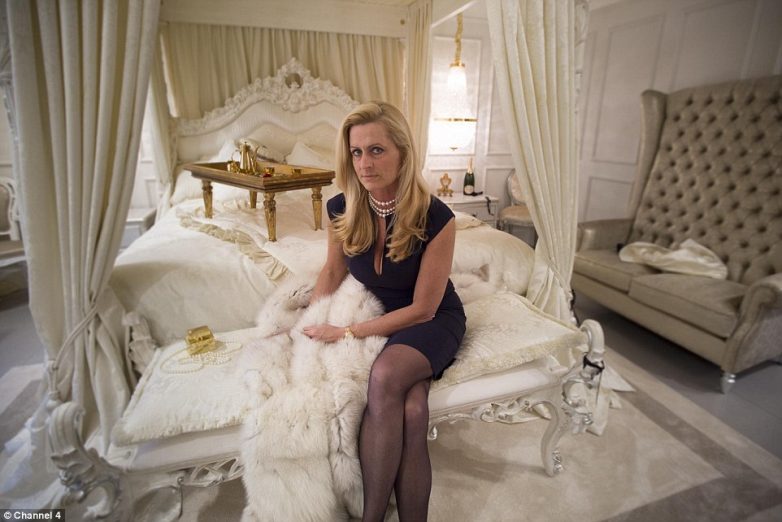 Apsolutni gospodari neukusa u arhitekturi svakako su Rusi.
U bogatim zapadno-demokratskim društvima, s druge strane, arhitektonski neukus je pak instrument nadomešćivanja individualnih frustracija i zanemarivanja. U domenu uređenja stambenog prostora, možda najinteresantniji primer jeste Muzej lošeg ukusa (Museum of Bad Taste). Apartman u fransuskoj četvrti u Nju Orleansu vlasnik i kurator (Sam Malvaney) transformisao je u hibrid stambenog i izlagačkog prostora. U muzeju lošeg ukusa, u istom prostornom okviru koegzistiraju životne aktivnosti i razni skaradni predmeti. Kroz šok i horor, Sam privlači pažnju i pozornost na sebe, a time pokušava da zadovolji potrebu da ga neko primeti, uvaži i ceni. Dakle, kada nije moguće drugim sredstvima, neukus je efektivan način skretanja pažnje…
Neukus i savremena arhitektura višeporodičnog stanovanja u Beogradu
Godine i godine izolacije, nemaštine i nesigurnosti reflektovale su se na načine i oblike kako danas stanujemo. Usled pojave urbanog folka kao hibridnog oblika popularne kulture, ekspresivno dekorisane fasade su se relocirale iz sela u gradove. Pažnju struke i javnosti sve češće privlače tragični pokušaji reminiscencije klasičnih istorijskih stilova i njihovi prateći derivati. Popularno, i sa razlogom, ove zgrade nazivamo starlet arhitektura, a na po ugledu na medijski popularne devojčice koje nastoje da se ostvare u idealu antičke hetere, a zapravo iza kulisa prividnog luksuza kriju lice jeftine pornografije. I ta jeftina arhitektonska pornografija sa plastikom od gipsa koja pokušava da se nametne kao elitna i antalogijska je ono što prihvatamo kao neukusno.
Apsolutno pogrešna interpretacija principa klasične arhitekture jeste to što je kod ovih zgrada tako degutantno i degenerativno, jer je kompozicija elemenata postavljena mimo svakog reda, oblikovnog koda ili proporcijskog principa. Ideja svih klasičnih stilova u arhitekturi je pozitivna manipulacija, osmišljena sa ciljem da u ljudima nadomesti nedostatke morala, empatije i razumnosti. To nije nikakva tajna. Jedna od manifestacija ove ideje jeste koncepcija "prostora kao trećeg roditelja" koja se koristi prilikom projektovanja savremenih pedagoških ustanova. Logika je sledeća – egzistencija je prostorna, pa prema tim gledištima ono što prostor ne omogućava se i ne može ostvariti.
Koreni klasičnih arhitektonskih stilova izviru iz antičke retorike i Aristotelove trijade etos, patos, logos. Ovi retorički aparati u arhitekturi pretočeni su kroz Vitruvijeve principe firmitas (solidnost), venustas (ljupkost) i utilitas (svrsishodnost) i kao takvi koriste se u cilju pozitivnog usmeravanja ljudskog ponašanja i morala. Ali, pokušaji masovnog nadomešćivanja starlet arhitekture u formi preterivanja ukazuje da je pozadina upravo suprotna od naličja. Kada je front tako neumeren, u pozadini nema stabilnosti, prosperiteta i svrsishodnosti. No, pitanje je da li su klijenti zaista hteli previše ili arhitekte koje su projektovale fasade nisu umele bolje? Ko je kriv?
Za skorojeviće, onda i sada, fasada lišena dekoracije značila je oskudicu, širomaštvo i poniženje.
Tendencija dekorisanja fasade stambenih zgrada nije nov fenomen i u evropskim gradovima je prisutna vekovima. Naime, u međuratnom periodu, u Beogradu, reprezentativnost ulaza i dekorisana fasada dizali su cenu stambenih nekretnina, pa su naručioci projekata zahtevali njihovo naročito raskošno oblikovanje. Pored bogato obrađenih fasada, posebno dekorativno tretirani su portali, ulazi i hodnici. Čist modernizam i svedeni dizajn nije bio prihvaćen od strane šireg kruga nove ekonomske elite, čije su turbulentni živopisi i skrivene traume zahtevale dosta grandioznija rešenja. Za skorojeviće, onda i sada, fasada lišena dekoracije značila je oskudicu, širomaštvo i poniženje.
Nekada, komponovanjem fasadnih pročelja, a naročito fasada u gradskim centrima, bavili su se najugledniji predstavnici struke. Danas, stručnost ljudi koji se time bavi tim stvarima je u velikoj meri upitna. Iz kritičkog ugla, najveći krivci za degenerativnost stilova, ružne fasade i neprimereno slaganje elemenata na zgradama su same arhitekte, a ne traumatizovani klijenti. Većina veštih projektanata aktivno odbija da sudeluje u osmišljavanju i izvođenju objekata ove vrste, te njihovo rešavanje prepušta "lošim đacima". Takvo stanje stvari je očekivano jer se većina arhitekata u svojim poslovima oslanja na marksistička ideološka predubeđenja i pokušajima da svoj "dobar" ukus nametne drugim članovima društva, a ne prati oblike potražnje realno prisutnih na tržištu. Posledice su, naravno, katastrofalne.
O ukusima je potrebno raspravljati
O ukusima je potrebno raspravljati, pre svega, iz razloga što nije reč samo o individualnim preferencijama već i o važnom političkom pitanju koje, kao takvo, stoji iznad moći i kontrole pojedinca. Prepoznato je da nestabilnost u okruženju stvara nauravnoteženost u nama, koju mi povratno pokušavamo da nedomestimo kroz različite oblike instrumentalizacije, uključujući arhitekturu. Arhitektonski stilovi su tu da bi nam povratili svet koji smo odavno izgubili.
Međutim, ono na čemu teorija nadomešćivanja insistira jeste potreba za jednom sasvim novom arhitektonskom teorijom, kritikom, politikom. Drugim rečima, prilikom projektovanja stambenih objekata u kontekstu turbulentnog balkanskog konteksta, jednoporodičnih ili višeporodičnih, neophodno je prvo suštinski razumeti naše praznine, traume, frustracije, pa tek onda tragati za primerenim obrascima njihovog praktičnog rešavanja. Za arhitektonsku kritiku važe ista pravila. Iza fronta preterivanja dekorativnim plasticitetom krije se jedna gorka istina, a to je da smo u poslednjih par decenija mnogo toga izgubili i da mnogo doga zapravo nikada nećemo ni imati.
Frustracije klijenta i frustracije arhitekata, najčešće, nisu iste kategorije. Koreni i pojavni oblici su sasvim drugačiji. No, nasilno nametanje "dobrog ukusa" na osnovu ličnih preferencija arhitekata i uspelih inostranih praksi, projektantska strategija je koja se može okarakterisiati jedino kao kuče u čakšire. Radi različitih razloga izvan njihove kontrole moći, klijenti danas i ovde imaju određene zahteve koje im projektanti ne mogu sa uspehom ispuniti. Umesto konstantnog insistiranja da je klijenta neophodno obrazovati, uviđamo da obrazovanja zapravo nedostaje arhitektama.
Kad ste već ovde…