Digitalizacija u građevinarstvu, kuće budućnosti, ekološki materijali, trodimenzionalna stakla ali i manjak kvalitetne radne snage su teme koje su obeležile sajam građevinarstva u Minhenu. 
BAU 2019, najveći sajam građevinske industrije, ponovo je oborio rekorde. Na sajmu se predstavilo 2.250 izlagača iz 45 zemalja što je najveći broj kompanija do sada, a još fascinantnije zvuči podatak da je tokom šest dana sajamske hale posetilo čak 250.000 ljudi. Od četvrtine miliona posetilaca, 85.000 ljudi je bilo iz inostranstva. Na ovogodišnjem BAU predstavila se samo jedna domaća kompanija, a to je Impol Seval valjaonica aluminijuma iz Sevojna.
Veliki interes posetilaca za automatizaciju gradnje i BAU-IT pokazalo je da je digitalizacija u građevinarstvu dobila zamah i da konačno postaje standard. U svetlu razvoja ovakve situacije, organizatori su najavili digitalBAU sajam za 2020. godinu koji će se održavati svake dve godine u Kelnu. Prvi digitalBAU će se održati od 11. do 13. februara 2020. pa svi oni koji se bave digitalnim tehnologijama u građevinskom sektoru sada imaju gde da izlože i gde da vide novosti iz prilagođene IT industrije.
BAU 2019 u Mihnenu bila je idealna prilika da se vidi ko je to u građevinskoj industriji. Na 200.000 kvadratnih metara izložbenog prostora prikazani su inovativni materijali, nove tehnologije i sofisticirani uređaji. Ovom prilikom predstavićemo vam novitete koje su najviše privlačile pažnju stručne publike.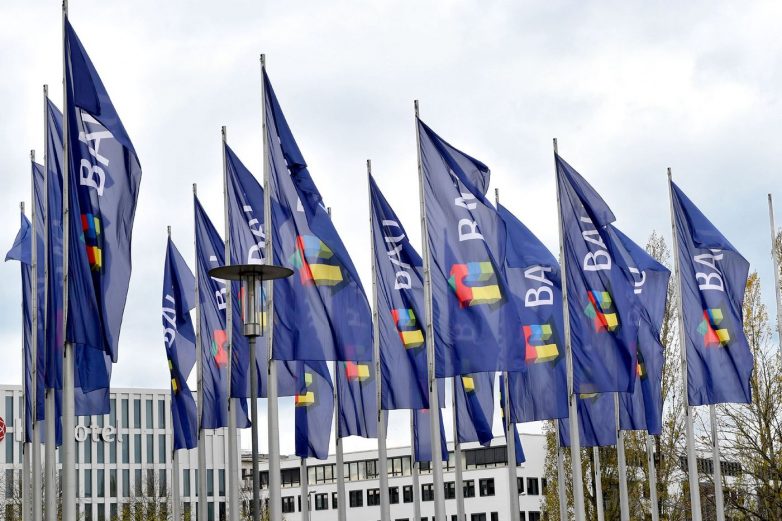 Digitalno građevinarstvo
Na BAU 2019 je dominirala digitalizacija što nije nimalo čudno pošto ona već par godina unazad pravi velike pomake u građevinskoj industriji. Digitalni procesi iz korena menjaju projektovanje i izgradnju, a pritom otvaraju nove mogućnosti koje ranije nisu bile moguće.
Pametni telefoni i tableti određuju našu svakodnevicu u tolikoj meri da se gubi granica između privatnog i poslovnog života pa se mnogi odlučuju da rade od kuće. Promene u načinu rada utiču i na izgradnju kuća pa se one sada grade tako da se mogu fleksibilno adaptirati.
Domovi postaju pametniji zahvaljujući smart home sistemima. Svi kućni uređaji su međusobno umreženi i komuniciraju jedan s drugim što može da ima pozitivne posledice za ekologiju. Na primer, višak energije se može distribuirati komšijskim zgradama.
BIM tehnologije omogućavaju rad više projektanata na istom projektu iz različitih delova sveta.
A kakvu ulogu ima digitalizacija u izgradnji? Na BAU 2019 prikazani su brojni BIM alati za digitalno planiranje i projektovanje koji omogućavaju paralelni rad više projektanata iz više različitih delova sveta. Ovakav način rada omogućava i lakšu prefabrikaciju jer svaki element u konstrukciji nosi kompletne podatke o svojim svojstvima koji su čitljivi na mestu izrade.
Rapidna digitalizacija možda i ne prija svima, pa oni koji zidaju kuće žele da u svoja četiri zida naprave malu oazu. Stoga su prirodni i ekološki materijali dominirali štandovima. Drvena vrata koje je predstavio Rubner Türen karakterišu visok kvalitet obrade i rustične drvene obloge, a trend su kombinacija izraženih drvenih tekstura i tamnog stakla.
MHZ je predstavio novu vrstu zaštite od sunca Solix. U pitanju su eksterne roletne koje se kompatiblne s gotovo svim prozorima i mogu se lako instalirati uz par koraka.
Ništa bez majstora
Iako digitalizacija rapidno menja industriju, paralelno raste interesovanje za građevinskim zanatima i kvalitetnom radnom snagom jer sve arhitektonske ideje, na kraju krajeva, u delo pretvore vredni majstori. Ovo je najbolje ilustrovano na štandu "Treffpunkt Handwerk" u hali C6 gde su talentovane zanatlije prezentovale najnovije građevinske alate i tehnike. Edukacija nije vršena samo praktičnim putem već i u skladu s modernim tehnologijama – preko Instagrama.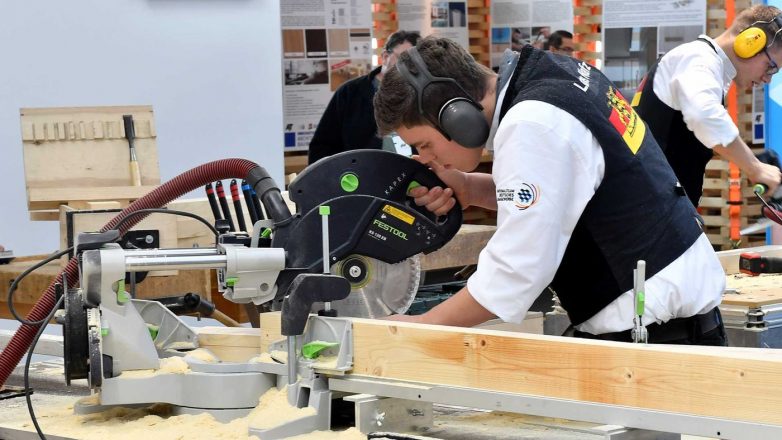 Sve više kompanija pravi ekološke materijale i one bazirane na industrijskom otpadu ili plastičnom đubretu sakupljenom u moru.
U izložbenim halama bilo je puno noviteta koje su privlačile pažnju. Tako je nemačka kompanija Warema predstavila VR aplikaciju za pametne telefone pomoću koje možete videti kako će izgledati tenda na vašoj kući pre nego što je kupite. Ova kompanija je takođe predstavila i sistem za zamračivanje na zastakljenim uglovima fasade. Specijalni venecijaneri nemaju nosače na uglu što je izuzetno bitno za estetiku kod arhitekture u Bauhaus stilu, koji doživljava preporod. Warema je takođe predstavila i roletne koje se prave od plastičnog đubreta sakupljenog iz mora. Ekologija je bila dominantna tema na BAU2019.
Čuvanje resursa je takođe važno i za Object Carpet. Ova kompanija specijalizovana za podove potpuno je napustila proizvodnju podnih obloga od bitumena, pa ih sada pravi od recikliranih materijala. Njihova Econyl podloga pravi se od industrijskog đubreta i mreža za pecanje.
Arhitekte i građevinci su na BAU 2019. mogli da vide brojne primere održive gradnje kojim se uspostavlja pravilo da je održivost nova normala.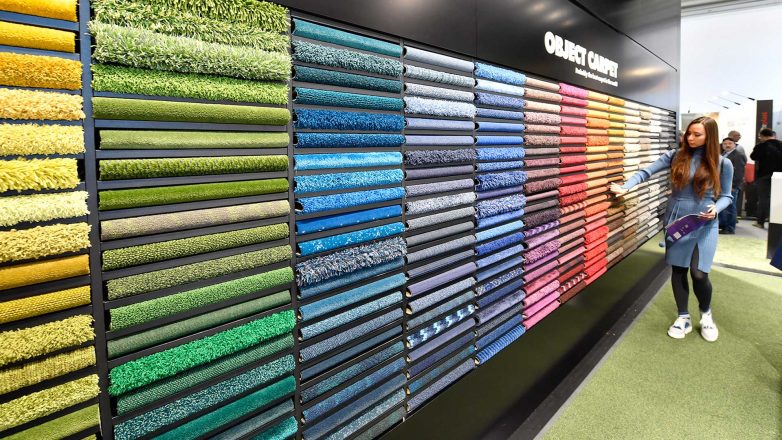 Higijena na prvom mestu
Geberit je predstavio novu WC šolju zvanu One WC koja će se naći u prodaji od aprila. Zahvaljujući novoj tehnologiji pričvršćivanja, svi zavrtnjevi ostaju nevidljivi pod keramikom i daskom koja se pritom može lako skinuti što omogućava lakše čišćenje i bolju higijenu. Ova WC šolja čak omogućava lako pomeranje po visini i posle njenog montiranja.
Specijalista za kupatila Bette predstavio je lajsnu koja eliminiše potrebu za silikonisanjem na spoju kade ili tuš kabine s pločicama. Lajsna visine 35mm pravi se od titanijuma i postavlja se za vreme montaže kade i tuš kabine, a rezultat su lepe ivice i povećana higijena.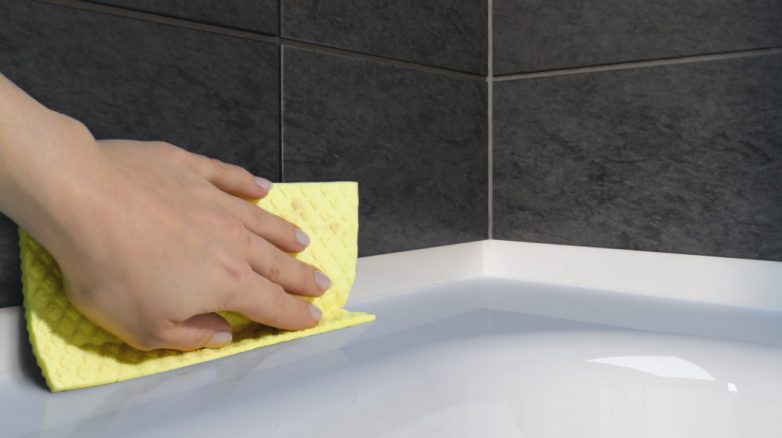 Život bez barijera
Na BAU 2019 se puno pričalo i tome kako dom prilagoditi starijem stanovništvu koji ima probleme ne samo s pokretljivošću već i s demencijom. Iznet je podatak da će do 2060. godine svaki treći Nemac imati preko 65 godina što znači da će celo društvo biti starije. Ovi podaci se moraju uzeti u obzir prilikom projektovanja i opremanja doma.
Tako je kompanija Hewi na zanimljiv način dočarala kako izgleda biti 50 godina stariji – putem odela za simuliranje starosti. Kada ga obučete, biće vam jasno koliko je teško popeti se uz stepenice, ali i na primer upaliti svetlo ili čak pronaći kupatilo. Tako je kompanija predstavila svoje nove modele tuš kabina u ravni poda, ali i kvake u drečavim bojama Buahausa koje će stariji ljudi lakše zapaziti ali i zapamtiti.
U cilju bolje pokretljivosti starijih osoba, kompanija Lifton iz Kelna predstavila je lift bez mašinske prostorije za već izgrađene kuće. Zahvaljujući njegovoj konstrukciji koja sama sebe nosi, ugradnja ovog lifta zahteva samo nekoliko strukturalnih modifikacija i može se ugraditi za svega dva dana.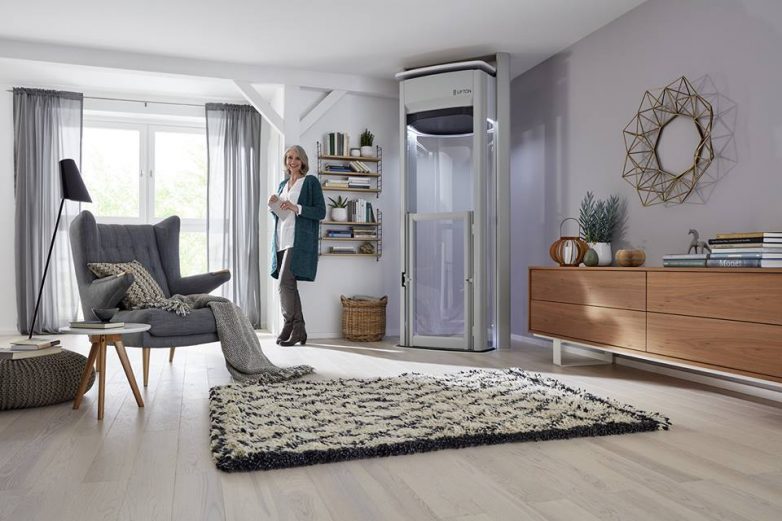 Neka bude svetla!
Sajamskim halama dominirali su i proizvodi koji čine naše živote svetlijim – rasveta! Svetlo je aspekt koji puno utiče na naš život i fizičke sposobnosti. Topla svetla pospešuju naš mir, dok nas hladna svetla drže budnim. Zbog toga je pravilan izbor osvetljenja u domu veoma važan.
Sveprisutna LED tehnologija je puno napredovala prethodnih godina pa sada sem što je energetski efikasnija, proizvodi na njegovoj bazi su ujedno i kompaktniji. Ugradnjom LED rasvete u vaš dom čiji se nivo osvetljenja podešava automatski smarthome sistemom može se napraviti nežna smena između dnevnog svetla i veštačke svetlosti, a takođe se može kontrolisati nivo osvetljenja u zavisnosti od onoga šta trenutno radimo.
Hala C2 minhenskog sajma bila je posvećena osvetljenju, a tamo se izdvojila kompanija Jung koja je predstavila plug-in rasvetu. U pitanju je inovativan sistem koji je kompatibilan sa standardnim doznama na koje se montira modul koji dozvoljava priključivanje različitih svetiljki uz zavisnosti od potreba.
Staklena revolucija
Ceo jedan deo sajma BAU 2019. bio je posvećen industriji stakla i njegovoj primeni u građevinarstvu. Posebno se istakla poljska kompanija Press Glass koja je premijerno prikazala 3D Glass, staklo koje se pravi termoformingom u keramičkim oplatama. Ove oplate koje su zamenile metalne, dozvoljavaju veću slobodu kreiranja i veće površine jedinstvenog staklenog panela. 3D staklo omogućava arhitektama da osmisle trodimenzionalnu staklenu fasadu koje pritom imaju i bolju zvučnu i termo izolaciju od običnog stakla.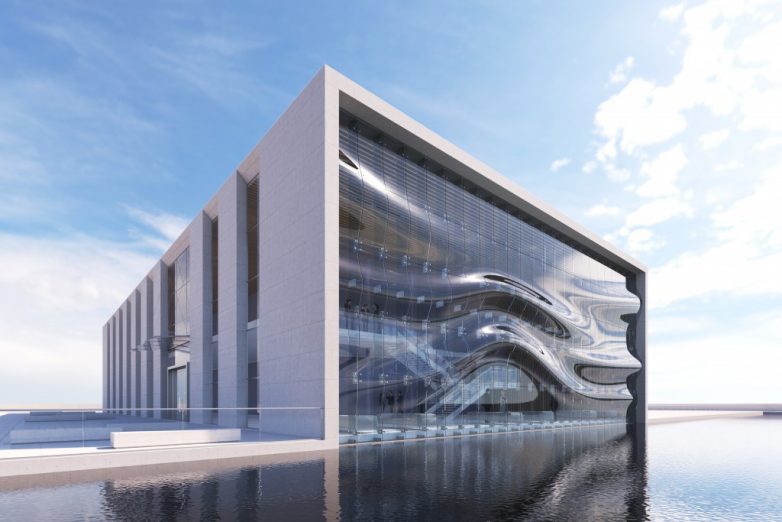 Ništa manje nije ni dostignuće kompanije Sedak koja je izložila klackalicu od stakla dužine 10 metara oslonjenu na, ni manje ni više nego, stakleni stub. Ova providna konstrukcija napravljena je od lameliranog stakla i na pravi način prezentuje koliko je industrija stakla otišla.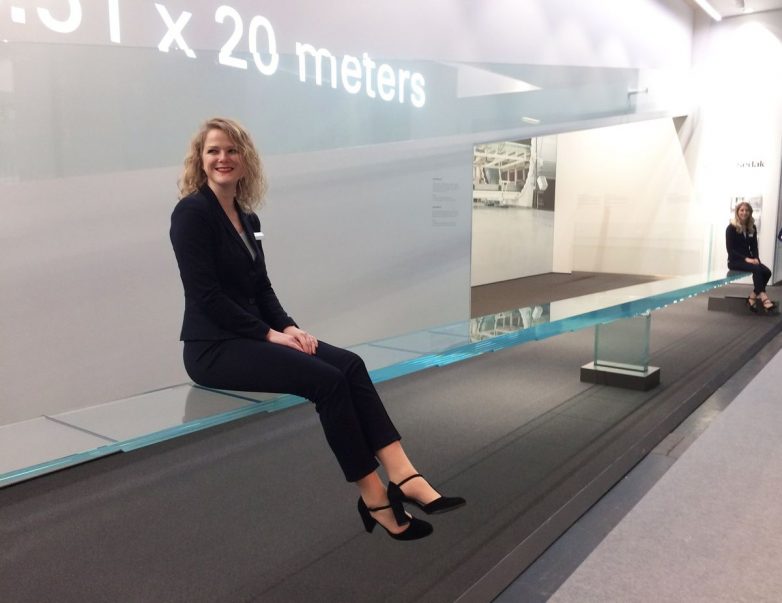 Guardian Glass je predstavio dinamičko rešenje za zamračivanje prostorija bez mehaničkih delova. Zamračivanje se vrši puštanjem slabe struje kroz tanak film stvarajući tako elektrostatičku vezu između lejera i stakla. Ova tehnologija ne zahteva dovod struje već se jednostavno može napajati putem baterija koje se, na primer, mogu puniti i preko solarnog punjača. Pogledajte kako to izgleda:
You're at #BAU 2019? Make sure to stop by hall C3, stand 308 and get introduced to our new and unique dynamic shading solution. pic.twitter.com/UeE4aqdZKk

— Guardian Glass EU (@guardianglasseu) January 16, 2019
Još sa BAU 2019: