Vodootporan parket? Tepisi koji se štampaju? Tihi podovi? Pogledajte koji proizvodi su zasijali na najvećem sajmu građevinarstva na svetu.
Ovogodišnji sajam BAU 2019 pokazao je da digitalizacija stigla u građevinarstvo zbog čega će se od 2020. godine organizovati poseban sajam (digitalBAU) i to u Kelnu. Takođe, mogli smo da vidimo da tehnologija krupnim koracima menja ovu industrijsku granu pa su na sajmu prezentovani novi termoizolacioni materijali koji će bolje i efikasnije ušuškati naše zgrade. Međutim, ni u industrija podova nije ništa manje živahna zbog čega su se u Minhenu razbaškarili u dve hale.
Ono što je bilo zajedničko za sve izlagače iz industrije podova bilo je to što su skoro svi u svoju ponudu uvrstili luksuzne vinil ploče (LVT) koje omogućavaju modularnost i postojanost. Takođe, usled nedostatka repromaterijala za parkete od čistog hrasta, rustični parketi su ušli na mala vrata i postali trend. Još ako se pritom slože u ševron, to jest, francuski slog onda je to dobitna kombinacija. Ali krenimo redom!
Vodootporni parket? Dobar marketinški trik kompanije Floorify za svoje LVT podove.
Na sajmu BAU 2019 je bio naročito primetan trend luksuznih vinil ploča (LVT) koje se mogle videti gotovo na svakom štandu. Mnogi od renomiranih proizvođača parketa poput Kahrs, kao i renomirani proizvođači tepisona poput Interface, značajan deo svog štanda su posvetili LVT-u koji sve više osvaja tržište podnih obloga u svetu. Tako je i kompanija Floorify predstavila novu kolekciju LVT-a koje reklamira kao vodootporne parkete. Ploče koje su zapravo od vinila bile su postavljene u vodu, a ona im zaista nije mogla ništa…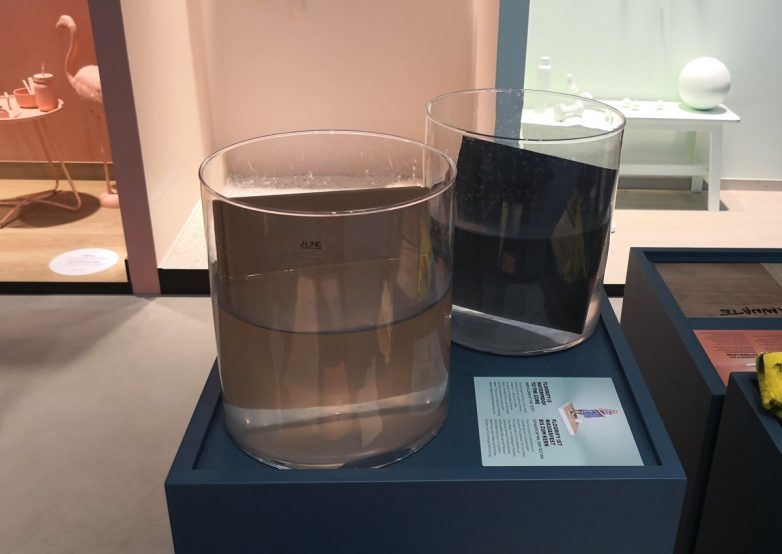 Ploče koje se lako skidaju
U okviru segmenta luksuznih vinil ploča posebnu pažnju je privukao brend Aspecta koji je proširio ponudu s tri nove Elemental kolekcije. Kolekcija Loose-lay su samoležeće vinil ploče koje se postavljaju na čičak lepak i lako se ugrađuju i zamenjuju, kolekcija DL400 ima novi sistem zaključavanja LVT-a koji omogućava jednostavno vertikalno spajanje instalacije, dok Rigid Core ima jednostavniji sistem jezgra poda koji omogućava povoljniju cenu poda. Ovi sistemi su praktični jer se veoma lako postavljaju i skidaju, što je zgodno ukoliko se pod postavlja u prostorima koji se, na primer, iznajmljuju.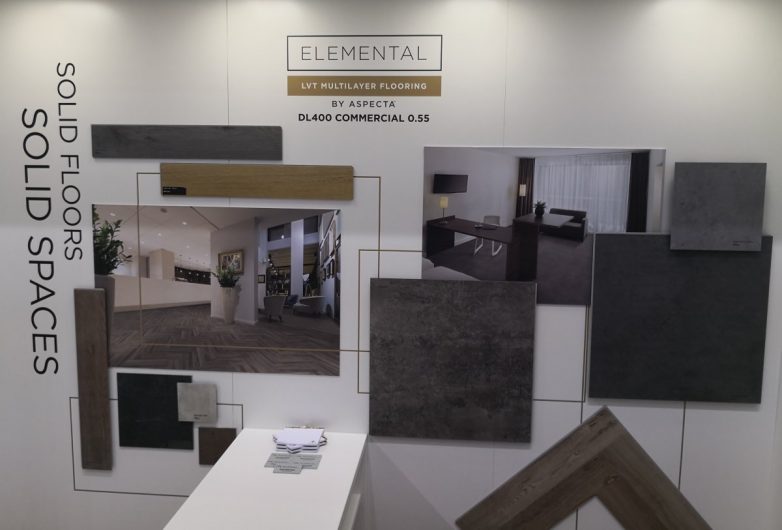 Naročitu pažnju je privukla kolekcija Tilt&Tones koja je prvi put predstavljena u Evropi. Ova kolekcija u geometrijskim formama inspirisana je igrom svetlosti i senki kako bi se stvorio jedinstveni vizuelni efekat u komercijalnim prostorima. Bazirana je na ISOCORE tehnologiji koja omogućava čvrstu, vodootpornu i izuzetno izdržljivu konstrukciju poda uz malu težinu. Ovaj plivajući sistem poda koristi DropLock 400 sistem zaključavanja koji omogućava laku instalaciju poda. Ekskluzivni distributer Aspecta za Srbiju je kompanija Modularni Podovi d.o.o. koju možete pronaći u našem Adresaru.
Izaberite teksturu koja odgovara vašem enterijeru i Halbmond će vam je odštampati na tepih.
Kompanija Halbmond imala je zapažen nastup na BAU 2019 jer je predstavila dva nova proizvoda. Prvi je štampani tepih kod kojeg možete izabrati proizvoljnu šaru za štampanje. Prednost ovih tepiha je mogućnost prilagođavanja, a mana je što nisu otporni na habanje pa se ne mogu koristiti u frekventnim prostorima. Drugi zanimljiv novitet su tepisoni nepravilnih oblika sa živopisnim teksturama i šarama koji su odlično rešenje za neobične enterijere.
Godovi i čvorići
Što se tiče drvenih podova, u trendu su rustični parketi. Forsiraju se godovi i čvorići, pa se tako na svakom štandu mogao videti širok izbor rustičnog drveta za podove.
Tihi parket
Hodate malo bučnije? Upravo je na vas mislila kompanija Bauwerk koja je predstavila novu seriju parketa koji obezbeđuju dodatnu zvučnu izolaciju. Njihov parket Silenzio, koji je za ovu priliku složen kao riblja kost, ima poseban filc koji obezbeđuje tiše korake.
Kompanija Object Carpet specijalizovana za podove potpuno je napustila proizvodnju podnih obloga od bitumena, pa ih sada pravi od recikliranih materijala. Njihova Econyl podloga pravi se od industrijskog đubreta i mreža za pecanje.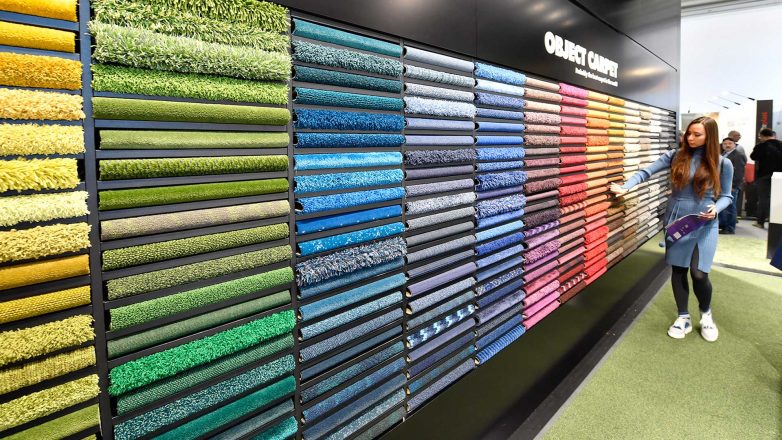 Deking kao tkanina
Kompanija ZIRO je predstavila veoma zanimljive teksture dekinga, a među najzapaženijim bili su oni sa teksturom tkanine (na slici prva tri levo od gore). Naravno, tekstura drveta i dalje dominira.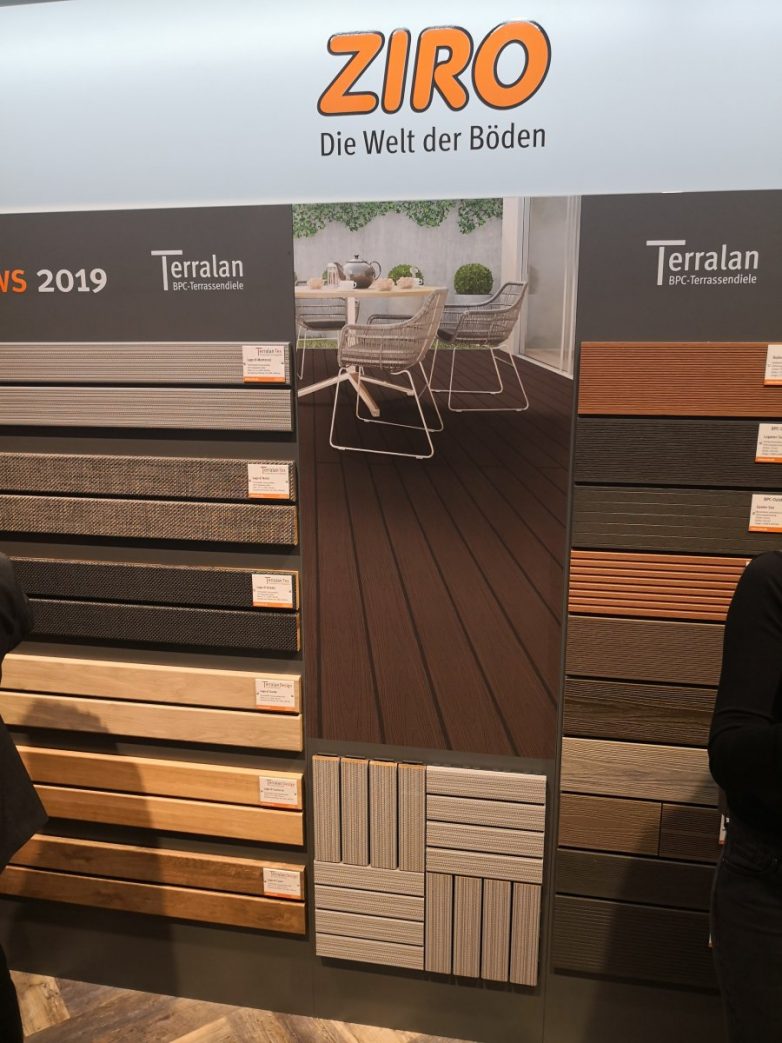 Žive teksture
I za kraj pogledajte najzanimljivije teksture podova koje smo mogli videti na štandovima BAU 2019, koje su osvežile podove sajamskih hala. Upravo tako se mogu osvežiti podovi i u vašim domovima ili još bolje u poslovnim prostorima.
Kad ste već ovde…