Vinili se vraćaju na velika vrata u enterijere zato što se lako ugrađuju, a teksture izgledaju bolje nego ikad. Pogledajte naše utiske o LVT pločama.
Pošto je LVT (Luxury Vinyl Tiles) izuzetno otporan i lako se održava, on je veoma pogodan za frekventne prostore kao što su kancelarije, lekarske ordinacije a mogu se postavljati i u domaćinstvu za, na primer, kuhinje. Mi smo ga postavljali u hodnik poslovnog prostora u kojem smo se odlučili za loose lay LVT u teksturi drveta. Pošto je lak za ukrajanje, sekli smo ga u formu kruga i kombinovali s etisonima. Jednostavno sečenje u željenu formu je veliki plus za LVT u odnosu na druge materijale kao što je, na primer, laminat.
Pogledajte kako se postavlja LVT:
Vinil u rolnama je povoljniji od vinila u pločama ali se teže ugrađuje. Zato LVT dobija na popularnosti.
Inače, vinil pod se može nabaviti u rolni ili tablama, to jest, pločama. Ukoliko ga kupujete u rolnama, širina rolne je 3 ili 4 metra i dužina se uzima po potrebi. Vinil u rolnama je povoljniji od vinila u pločama ali se teže ugrađuje. Zbog toga LVT ploče postaju sve popularnije. Mi smo u našem slučaju koristili loose lay LVT u pločama dimenzijama 25×100 cm. LVT je veoma lagan za ugradnju što je još jedan plus.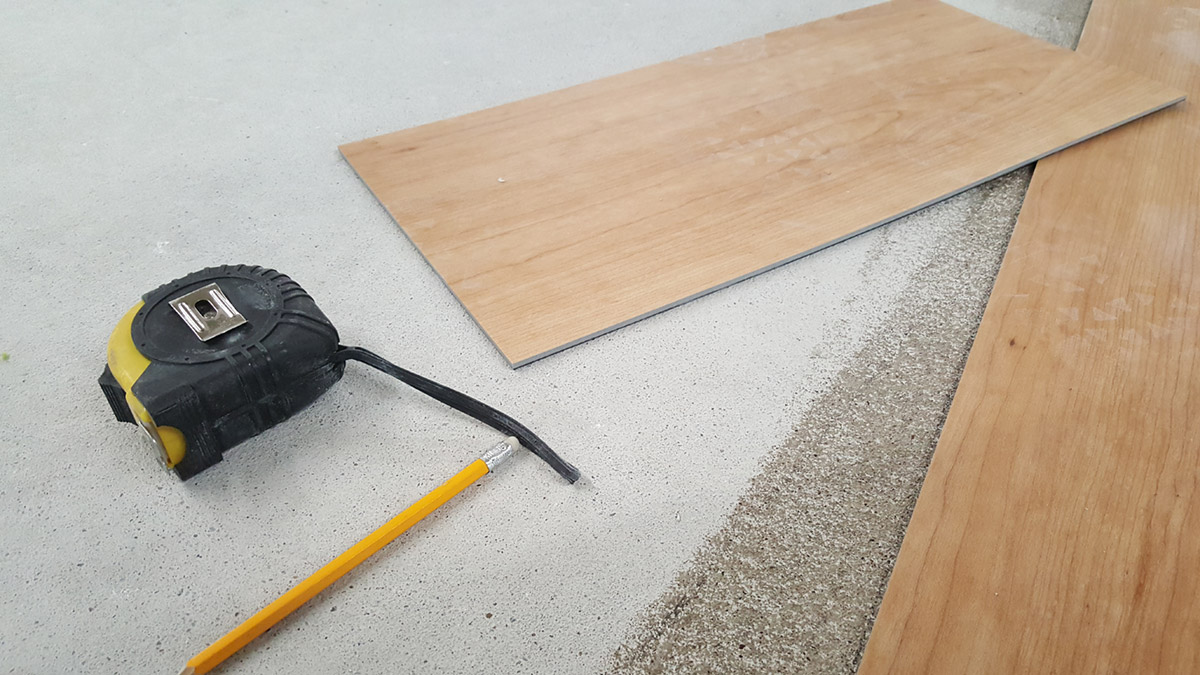 Ništa bez ravne podloge
Pre montaže potrebno je podlogu usisati, očistiti i pregledati da li je košuljica ravna. Ako nije (mada je uvek preporuka) potrebno je da se izlije samonivelišuća masa (podoliv). Priprema podloge je zaista veoma bitna jer  LVT nije podna obloga koja može da sakrije nedostatke košuljice. Kod LVT poda se vide sve neravnine prouzrokovane lošom podlogom (košuljicom). Ako vinil postavljate preko postojećih pločica, koje imaju duboke i velike fuge ili ispucale delove, savet je da ih obavezno poravnate pre postavke kako vam se one ne bi oscrtavale na krajnjoj površini.
U našem slučaju, na površini je bilo neravnina koje su se pokazale tek nakon postavke vinila te smo ga morali podizati, dodatno popravljati podlogu i vratiti ponovo na mesto. Pored prethodna dva plusa, ovo je jedan minus za loose lay LVT.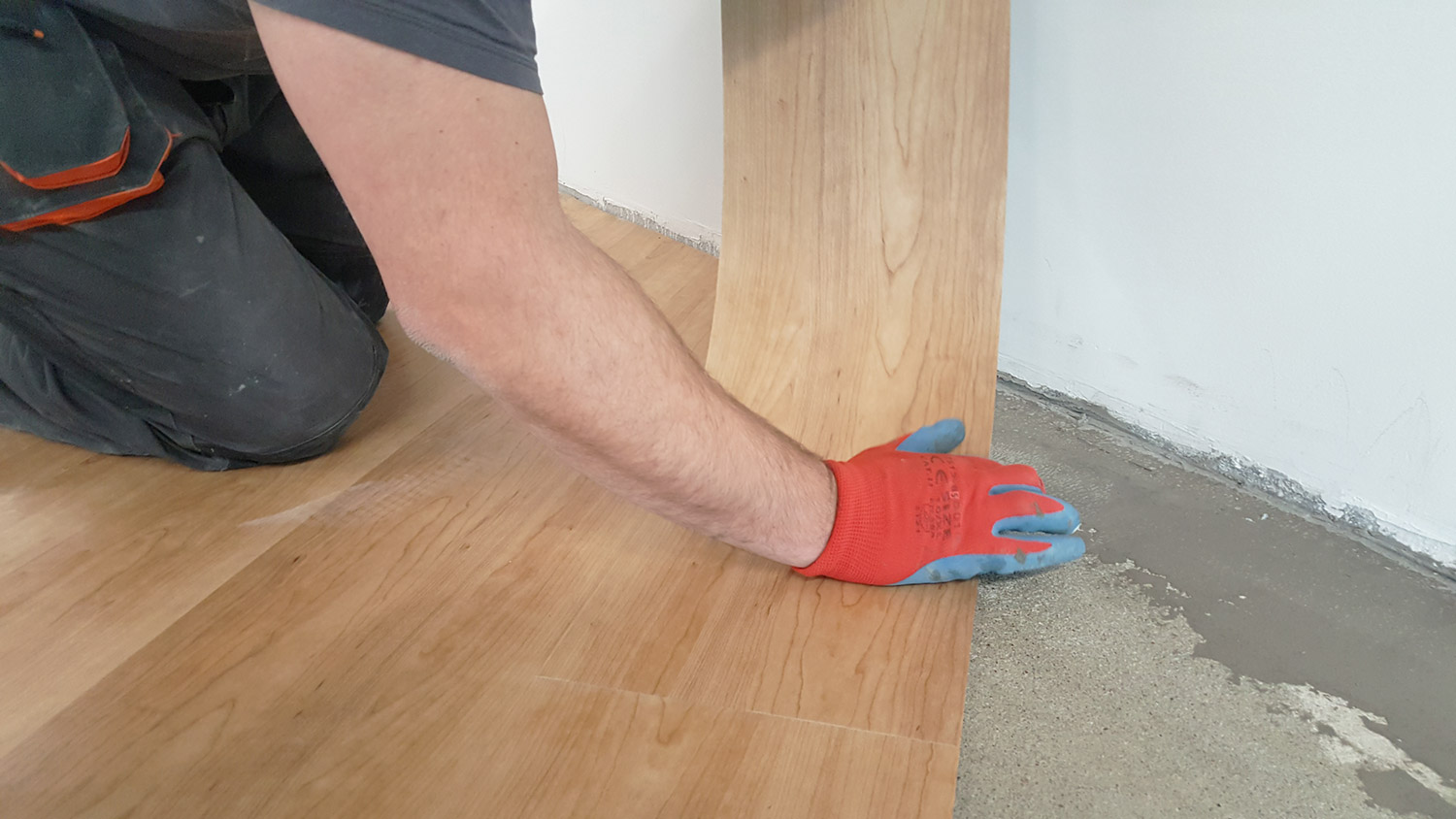 Cena LVT ploča i postavka
Loose lay LVT ploče se postavljaju na čičak lepak (Uzin 2000s ili Mapei Ultra bond) ili na Tac –tiles nalepnice (za manje frekventne zone). Lepak se nanosi valjkom na očišćenu i ravnu podlogu. Čičak lepak omogućuje da LVT ploče odvojite od podloge i zamenite ih ako je to potrebno.
Cena vinila zavisi od proizvođača i teksture, a kreće se oko 10 evra po m2 za vinile u rolnama, do 30 evra po kvadratu za skuplje LVT ploče.
Cena postavke loose lay LVT ploča iznosi oko 3,5 evra/m2 dok se za izlivanje samonivelišuće olmo mase uglavnom naplaćuje oko 5,5 – 6 evra/m2 za oko 3mm debljine. Ostavićemo vama da spram navedenih cena sami date plus ili minus ovom materijalu.
A lajsne?
Ne preporučujemo da soklu pravite od vinila jer, kao što smo naveli, on otkriva sve neravnine na površinama, a u ovoj zoni su one neminovne. Zbog toga je bolje koristiti plastične ili metalne sokle, to jest, sokle od etisona, a mogu se koristiti i drvene ili sokle od MDF-a u zavisnosti od budžeta. Dakle, još jedan minus za LVT.
Održavanje LVT poda
Vinili dobijaju plus za održavanje jer je ono veoma jednostavno. Koristite usisivač i džoger koji ne bi trebalo da je jako vlažan. Ipak, na našem primeru primetili smo da je ovaj pod, iako vrlo otporan na velike frekvencije, nije toliko otporan na točkiće kako od stolica tako i od ladičara za radne stolove. U ponudi postoje i LVT za komercijalnu upotrebu koji su značajno otporniji ali i skuplji. U svakom slučaju, pazite šta ćete postaviti ispod stolice s točkićima!
Primer primene LVT ploča u zdravstvu
Primena vinila u zdravstvu je ne samo odobrena već i pogodna, a zahvaljujući bogatoj ponuda tekstura LVT ploča moguće je postići fantastične enterijerske poduhvate. Tako smo u jednoj beogradskoj pedijatrijskoj ordinaciji, koristili LVT podne ploče u dimenziji 50×50 cm u tri različite nijanse, dok je lajsna urađena od belog MDF-a. Pogledajte konačan rezultat: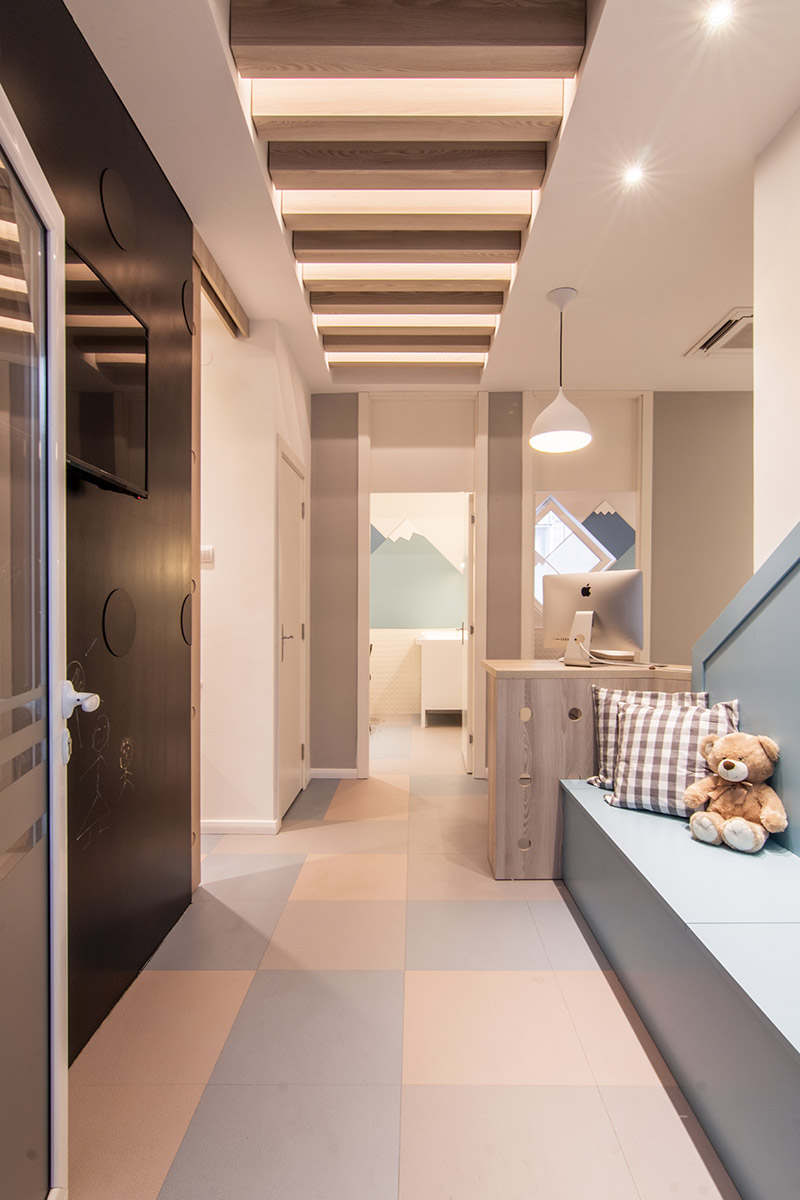 Pogledajte i ceo prostor:
Pedijatrijska ordinacija u Beogradu iz koje deca ne žele da idu kući
Foto i video: Gradnja.rs
Kad ste već ovde…