Širom grada počele su da niču višespratnice odevene u nešto što bi trebalo da bude imitacija istoricističke arhitekture, ali u spratovnosti koja pre odgovara zgradama iz Čaušeskuove Rumunije, piše istoričar umetnosti Marko Stojanović.
Ako ukucate termin "parižanka" na internet pretraživaču, ni posle nekoliko stranica nećete dobiti ništa drugo do modnih časopisa i poznatih dama koje žive u francuskoj prestonici. Naravno da se neće pojaviti ništa na temu arhitekture jer je sam termin relativno skoro primenjen u struci i to tako da na jedan ciničan način imenuje savremene stambene zgrade, koje munjevitom brzinom niču po Beogradu. Zašto baš ovaj termin, niko za sada sa sigurnošću ne može da objasni, ali dok čekamo detaljnu analizu, koju priprema arhitekta Dr Đorđe Alfirević, napravimo jedan kraći osvrt na ovaj aktuelni arhitektonski fenomen.
Skopje 2014 – potencijalni uzor ili slični epilog
Ne tako davne 2010. godine bio sam iznenađen kada sam prvi put video film pod nazivom Skopje 2014, gde su tadašnji makedonski političari prikazali jedan nestručni i degutantni projekat prekrajanja makedonske istorije, a sve uz pomoć vulgarnog oživljavanja klasične arhitekture i skulpture, kojima su planirali da potpuno promene lice glavnog grada Makedonije. Svi smo sa nestrpljenjem iščekivali trenutke kada ćemo videti konačni rezultat ovog projekta.
I ono što je usledilo par godina kasnije zaista nas je zapanjilo. Bar nas koji se bavimo arhitekturom. Kvazi-klasična ostvarenja, politička replika romantičarskog zanosa devetnaestovekovnog traženja drevnog nacionalnog identiteta, bljesnula je pred očima. Naravno da su u prvom planu bile atike, kupole, kolonade, trijumfalni lukovi i šuma skulptura, ali niko nije obraćao pažnju na potrebu oblačenja postojećih stambenih zgrada u ruho istoricističkih fasada. Pošalica "Napravićemo mi ljepši i stariji most", koja se odnosila na ponovnu izgradnju Mostarskog mosta, ovde je doživela svojevrsni rimejk, ali kao "Napravićemo mi poubavu i postariju čaršiju".
Mislili smo da ništa slično ne može da se ponovi kod nas u Beogradu, ali gotovo iste godine u gradu je počelo da niče nekoliko zgrada koje su neodoljivo podsećale na ono što je izgrađeno u Skopju. Da li je moguće da su investitori iz Beograda počeli kao uzor da uzimaju unutrašnjost Balkana? Teško, jer vrlo malo njih ima bilo kakvu potrebu da putuje južnije od Niša. Ali odakle onda ovaj trend?
Investitori su uvideli da je ukus građana na nivou glorifikacije međuratnog perioda i tadašnje arhitekture, pa su odlučili da zidaju zgrade koje bi imitirali ovu arhitekturu.
U slučaju Makedonaca, definitivno je u pitanju političko prekrajanje kulturne istorije, gde je Skopju u 21. veku podarena arhitektura koju je taj grad trebalo da dobije u 19. veku. Međutim, kako je taj deo balkana u 19. veku uveliko bio pod Osmanskim carstvom, klasična arhitektura tamo dolazi tek u formi poznog akademizma i to u vidu nekoliko državnih zgrada Kraljevine SHS/Jugoslavije, koje su projektovale naše arhitekte. U slučaju Beograda, pre bi se reklo da je u pitanju ukus stanovništva, koji nema dodira s arhitektonskom strukom, o čemu je bilo reči u jednom od prethodnih tekstova.
Mnogi građani Dorćola, Vračara i drugih delova Beograda, u kojima se u poslednjih par decenija pored starih zgrada projektuju i grade nove, često su izražavali svoje otvoreno nezadovoljstvo arhitekturom ovih objekata. Da se ne uklapaju u akademizam, ar deko ili secesiju iz okruženja i da svojim likovnim izrazom odudaraju od istog. To je naročito postalo aktuealno na prostoru ulica u blizini Hrama Svetog Save, gde je samo u poslednjih 15 godina podignuto na desetine stambenih objekata, koji svojom gabaritima i arhitekturom zaista ugrožavaju okolne zgrade podignute u međuratnom periodu. Takođe, investitori su uvideli da je ukus građana, bez obzira na njihovu materijalnu situaciju ili obrazovanje, na nivou glorifikacije međuratnog perioda i tadašnje arhitekture, pa su odlučili da zidaju zgrade koje bi imitirali ovu arhitekturu.
Arhitektura simulakruma i kiča
Sve je započelo ekranizacijama romana Mir Jam, ali i Bjelogrlićevog ostvarenja "Monte Video Bog te video", u kojima se oba autora pozivaju na "zlatni period" našeg društva i države, iako takav period uopšte ne postoji, to jest, za svakog pojedinca to je neki drugi period (Kneževine, Kraljevine Srbije, Kraljevine Jugoslavije, SFR Jugoslavije itd.). Tada dolazi i do izgradnje papirnih Terazija ili Terazilenda, kako je u šali prozvana na brzinu sklopljena scenografija predratnih Terazija na Novom Beogradu. To je već bio demagoški izgrađeni simulakrum, jer su političari uvideli da je stanovništvo na TV-u oduševljeno gledalo old-tajmere koji krstare Terazijama i gospodu u odelima koji uživaju u carskom ruskom šampanjcu, dok pregovaraju o poslovima u hotelu Moskva ili Kasini, pa su odlučili da taj osećaj priušte svim građanima.
Isto je i sa arhitekturom, gde je simbol glamura postao period međuratnih bankara, industrijalaca i njihovih mladih žena, koje ništa ne rade u životu, osim što sede u svojim vilama i uživaju u zvucima džeza i fokstrota i bave se tračevima beogradske elite. Kada vidimo u kojim vilama su snimane serije i filmovi odmah se shvata zašto je novonastala beogradska elita poželela da i sama uživa u lepoti ovakvih zdanja. Naravno, investitori su prepoznali želje svojih klijenata i započeli sa izgradnjom objekata koji bi se vrlo lako prodali na tržištu nekretnina. Širom grada počele su da niču višespratnice (5 i više spratova) odevene u nešto što bi trebalo da bude imitacija istoricističke arhitekture, ali u spratovnosti koja pre odgovara zgradama iz Čaušeskuove Rumunije. Nema ni govora o proporcijama i primeni odgovarajućih materijala, pa se ova ostvarenja nalaze ispod arhitekture totalitarnih režima, koji su takođe vulgarno oživljavali istoricizam. Neko je želeo da se ugleda na Beč ili Pariz, ali je dobio potpuni promašaj, to jest, kič.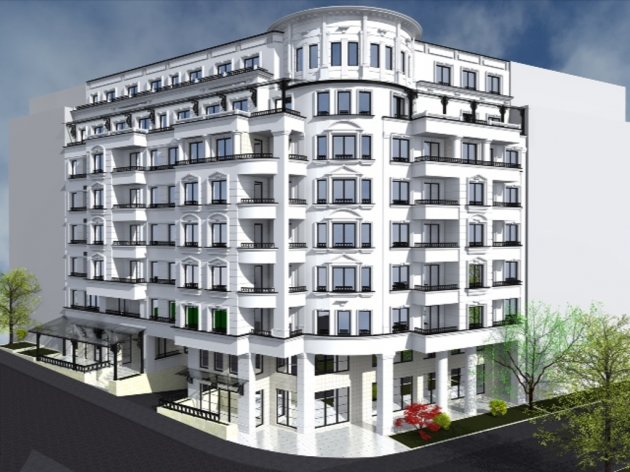 Neko je želeo da se ugleda na Beč ili Pariz, ali je dobio potpuni promašaj, to jest, kič.
Ko je odgovoran? Na prvom mestu neprosvećeni investitori, koji pored arhitektonskog stila ne poštuju ni odgovarajuće spratovnosti, a često ni postojanje dovoljno parking mesta, što sve ukupno daje sliku opšteg haosa ovih zgrada i njihovog okruženja. Zatim su tu i kupci stanova, čiji ukus nije otišao dalje od ukusa investitora, pa kupuju stanove u ovim zgradama. Ali tu je i krivica arhitekata. Autori ovih zgrada je cilj da isprojektuju sve ono što im investitor naredi, bez ikakve pomisli da to može da se izvede s iole ukusa. Teško da nadležne stručne institucije ili gradska uprava mogu da zabrane izgradnju ovakvih zgrada na osnovu fasada koje jednom delu građana ne odgovaraju, ali šta bi onda moglo biti rešenje?
Dobri primeri
Kao i u slučaju drugih problema, početak rešavanja nekog problema je u edukaciji, to jest, bar u minornom informisanju investitora od strane arhitekata, kako bi neka stambena zgrada mogla da izgleda, ako mu se dopada taj klasični arhitektonski izraz.
Jedan od pozitivnih primera je projekat arhitekte Nebojše Glišića, koji je urađen za investitora koji je želeo "parižanku", ali je na predlog arhitekte projektovano savremeno rešenje, koje ima uzora u predratnim ostvarenjima, naravno bez insistiranja na kitnjastom kiču i disproporcionalnosti. Na prvom mestu prisutna je bela boja fasade, što je po svemu sudeći najvažnije mnogim investitorima. Zatim je prisutna simetričnost na fasadi, što je jedno od glavnih karakteristika klasične arhitekture. Ispoštovana je spratovnost susednih objekata, pa su etaže iznad četvrtog sprata uvučene, a fasade su im izvedene u materijalu tamnije nijanse. Celokupna fasada je pročišćena, bez suvišnih dekoracija, izuzev prizemlja gde je akcenat stavljen na stepenasto izveden ulazni portal, kao odlična reminiscencija na karakteristične beogradske ar deko ulaze. Zgrada je stambeno-poslovnog karaktera i poseduje garažni lift.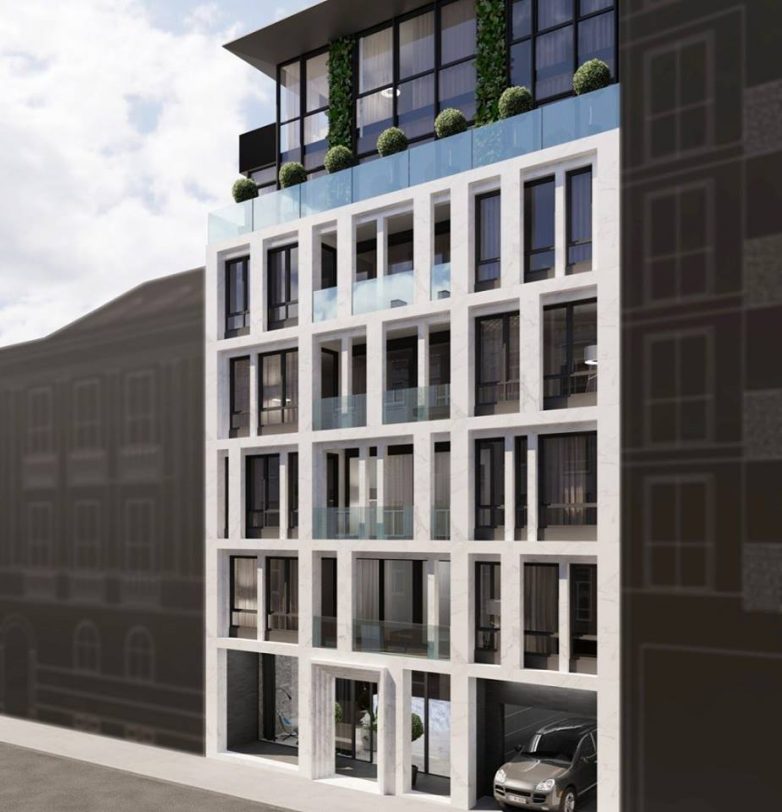 Drugi primer je bio nešto komplikovaniji za projektovanje, a u njemu su učestvovali arhitekte Mackay Andrew (Chapman Taylor), Milan Rašković i Tanja Milovanović (Bureau Cube Partners), dok je investitor kompanija MPC. U pitanju je lokacija preko puta Kalemegdana, unutar bloka koje okružuju ulice Tadeuša Košćuškog, Cincar Jankove, Cara Uroša i Uzun Mirkove. Parcela je bila posebno zahtevna zbog svog okruženja, zgrada čija je arhitektura zaštićena kao kulturno dobro. Na prvom mestu tu je prizemna zgrada Prve beogradske Realke, sagrađena davne 1838. godine po projektima arhitekte Franca Jankea kao porodična kuća trgovca Cvetka Rajovića i predstavlja jedinstveni primer klasicizma iz tog perioda. S druge strane novoprojektovanog kompleksa uzdiže se višespratna stambena zgrada, izvedena u međuratnom periodu po projektima arhitekte Mate Bleha.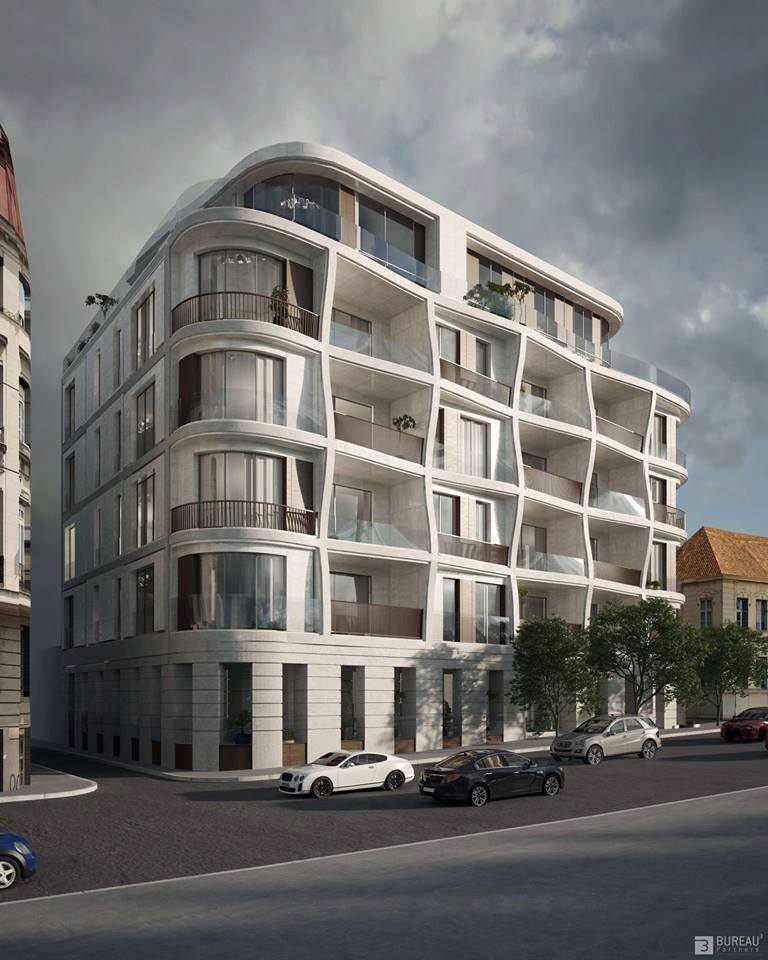 Kada se uzme u obzir ovo okruženje, kao i činjenica da se parcela izlomljeno prostire unutar bloka i izlazi na tri ulice, može se reći da je pred autorima bio veliki izazov. U ovom slučaju se nije smelo eksperimentisati sa savremenom, ekcentričnom arhitekturom, koja bi ugrozila autorska ostvarenja dvojice proslavljenih beogradskih arhitekata, pa je primenjen eklektički izraz, koji se najviše ogleda u rustičnom prizemlju. Horizontalne, spratne podele fasade prate one na zgradi na koju se naslanja, dok je spratovnost objekta takođe uslovljena zgradom na susednom uglu (arh. Bleha), pa su i u tom slučaju poslednje etaže povučene, kako zgrada ne bi previše dominirala okruženjem. Tu je i gaudijevska izlomljenost fasadnog platna, kako bi se razbila monotonost, u čemu dodatno utiče smena različitih vrsta terasnih ograda. Čitav kompleks je masivan i prostire se kroz čitav blok, ali su i u ovom slučaju autori upotrebili tamniju fasadu na onim delovima zrade za koji su želeli da ne bude naglašen.
Dakle, ako sagledamo oba primera, možemo videti kako arhitekta ima prostora da napravi kompromis sa željama investitora i prikaže autorsku arhitekturu. Da se može napraviti saglasje s okruženjem, a da se ne zapadne u kič, što je možda i važnije. Još samo da investitori shvate šta je to autorska arhitektura i za potrebe projektovanja svojih zgrada angažuju prave arhitekte, kako Beograd ne bi dalje zapadao u loš simulakrum istorijskih evropskih prestonica.
Kad ste već ovde…