Pogledajte kako izgledaju pobednička rešenja za novi most na ušću kanala DTD u Dunav.
Gradska uprava odabrala je pobednička rešenja na arhitektonskom konkursu za idejno rešenje poslovno-ugostiteljskog objekta i pešačko-infrastrukturnog mosta na ušću Kanala Dunav-Tisa-Dunav u Dunav.
Predmet konkursa bila je izrada idejnog rešenja za pešačko-infrastrukturni most preko Kanala Dunav – Tisa – Dunav, kao i idejno arhitektonsko rešenje za poslovno-ugostiteljski objekat, koji se nalaze na ušću Kanala DTD u Dunav. Cilj konkursa bila je detaljnija urbanističko-arhitektonska razrada svih elemenata u obuhvatu konkursa: mosta, pristupnih saobraćajnica, biciklističkog i pešačkog povezivanja sa okruženjem, način i vrstu uređenja zelenih i drugih slobodnih površina u okviru konkursne lokacije, kao i da se za objeka.
Na konkurs je pristiglo 10 radova, svi iz Srbije, a kao pobednički izabran je rad biroa ARCVS.
Prva nagrada
Biro ARCVS, arhitekte Branislav Redžić, Dragan Ivanović, Zoran Milovanović, Dušan MIlošev, Milica Tasić, Nevenka Redžić, dok je autor konstrukcije Sreto Kuzmanović, konsultant Vanja Vukadinović Đurić, a fotografi Mlađen Jovanović i Igor Srdić.
Ova megastruktura zrači hrabrošću, atraktivnošću, pa i estetikom primerenom ovim ravničarskim prostorima.
U obrazloženju žirija se kaže da ovaj rad predstavlja pozitivan i hrabar pristup u rešavanju zadate teme, sa jasno izraženom konceptualnom namerom koja je dosledno i uspešno sprovedena. Objedinjavanjem funkcije mosta i predviđenog objekta u jednu celinu, most postaje ne samo infrastrukturni objekat već mesto aktivnog korišćenja. Most nije samo veza dve obale, već postaje mesto dešavanja, nije samo mesto "prelaska", nego postaje mesto susreta, pa i sama tačka odredišta za građane Novog Sada, kao i za sve posetioce Grada, slučajne i "namerene" prolaznike. Iako ovaj način rešavanja u vidu privatno-javnog partnerstva predstavlja novinu u našoj sredini, faznost realizacije nije isključena, već naprotiv moguća sprovođenjem etapnog opremanja objekta (prvo konstrukcija, a zatim ostalo opremanje).
Funkcionalnim povezivanjem objekta i mosta u jednu celinu, pružena je i mogućnost za razmatranje dodatnog objekta na lokaciji visoke spratnosti kao izrazitog vertikalnog repera, koji bi predmetnu lokaciju sa mostom–objektom učinio dodatno ekonomski i prostorno atraktivnim.
Multifunkcionalni most objedinjuje svoju osnovnu saobraćajnu funkciju sa ostalim traženim programima za (poslovno-ugostiteljski) objekat. Na ovaj način most – koji je primarno infrastrukturno-saobraćajni objekat, praktično postaje "kuća na vodi", pasarela, "kuća na lakat"… U estetskom smislu, "senka" je srušenog Varadinskog mosta… A " želimir"? Tumačimo kao "želim mir"…
Program konkursa je pretočen u jednu posebnu megastrukturu koja zrači hrabrošću, atraktivnošću, pa i estetikom primerenom ovim ravničarskim prostorima… Koncept prevazilazi uslove konkursa, dajući novu, hrabru, inventivnu, atraktivnu ideju.
Ovakvo rešenje bi svakako zahtevalo preispitivanje važeće planske dokumentacije i ozbiljno promišljanje vezano za samu mogućnost realizacije. Ali, obzirom na odličnu ideju, to svakako i zaslužuje. Postojanje "mosta – objekta" nije novina u arhitekturi u svetu, ali je svakako novina u Novom Sadu.
Ovakvo rešenje pleni svojom potencijalnom atraktivnošću, a ono što ostaje kao pitanje i kao zadatak, jeste da se pronađe adekvatna zakonska, kao i planska osnova za njegovu realizaciju i implementaciju.
Druga nagrada
Spring studio, arhitekte Maja Dragišić, Milan Božić, Milica Milosavljević, Jelena Kesić, Konstrukcija: građevinski inženjeri Rada Mladenović i Predrag Radojević
Mostu je data nedvosmislena prostorna elegancija i potpuna izrazita kontekstualnost u odnosu na sve pristigle radove.
Objašnjenje žirija: Kvalitet rešenja predstavlja jasno definisan saobraćajni tok sa naglašenom i razrađenom vezom sa biciklističkim tokovima na keju i, s druge strane, sa biciklističkom rutom prema Kovilju. Istovremeno, ovakvo rešenje je "nosilac" estetike mosta, sa svedenom i elegantnom linijom.
Sam objekat hotela je u jednom nivou povezan sa mostom i svojim monolitnim volumenom postiže efekat vizuelnog repera u vizuri sa vode kao i sa keja.
Nedostatak rešenja je odsustvo bilo kakvih dodatnih sadržaja na mostu, koji je ostavljen samo u funkciji saobraćaja.
Rad na jedan sveden i funkcionalno jednostavan način odgovara zadatoj temi. Jasno radvojena funkcija mosta i predviđenog poslovnog-ugostiteljskog objekta je postignuta, ali prostorno veoma uspešno objedinjena čineći nedvosmislenu celinu. Korišćenjem čitave parcele da bi se formirala rampa, mostu je data nedvosmislena prostorna elegancija i potpuna izrazita kontekstualnost u odnosu na sve pristigle radove.
Osnovni motiv ovog konkursnog rešenja jeste i njegova primarna funkcija – saobraćaj. Međutim, autor je veoma elegantno i vešto ovu osnovnu funkciju razrešio, razložio, kako funkcionalno, tako i svedenom, ali vrlo efektnom materijalizacijom predmetnog prostora. I posebno naglašenom linearnošću.
Elegantno protkani osnovni pravci kretanja, pešačkog i biciklističkog, daju poseban duh ovom prostoru,
predstavljajući pravi produžetak novosadskog omiljenog šetališta – keja, dajući mu potrebnu i traženu ekstenziju
na drugu obalu, pa i dalje…
Ono što posebno odlikuje ovo rešenje jeste njegova dvojnost u sopstvenom izrazu. Dnevni izgled cele kompozicije, noću postaje nešto sasvim "drugo". Bela, čista, linearna konstrukcija mosta, sa vizuelno materijalno i funcionalno razdvojenim pravcima kretanja (drvenom ugodnom oblogom za pešake, te crveno obojenom betonskom oblogom za bicikliste), noću postaje elegantna silueta, zahvaljujući diskretnom, ali
dovoljno akcentovanom dekorativnom osvetljenju.
Poslovno ugostiteljski objekat se na logičan način integriše sa okruženjem i funkcionalnošću samog mosta.
Oblikovno ne deluje pretenciozno, već pokušava da ostvari reminiscenciju i vezu sa siluetama silosa koje su u ovom okruženju decenijski prisutne. Ali, unoseći duh modernog i jasnog jezika arhitektonskog oblikovanja, primerenog funkciji kojoj je namenjen, a posebno mestu na kojem je planiran. Veoma jasan, u svojoj naizgled jednostavnosti vrlo elegantan odgovor na zadatu temu.
Treća nagrada
Arhitekte Marija Krsmanović Stringheta, Bruno Oliveira Stringheta, Mina Kordić, Milena Kordić; Autori konstrukcije: Milan Spremić, Jelena Dobrić, Saradnik projektant: Julija Džogaz, 3D vizualizacija: Dimitrije Puzović
Most je postao "park na vodi", a osmišljen je i još jedan "mini Štrand". Ovo su ideje koje bi građani Novog Sada sasvim sigurno pozdravili.
Objašnjenje žirija: Arhitektonski koncept ovog rešenja je jasan i dosledno sproveden, tako da se kao rezultat pojavila skladna arhitektonska celina. Most i hotel su raskošni, međusobno se arhitektonski uklapaju i zajedno sa parternim rešenjem, daju ovom prostoru na atraktivnosti.
Rad je veoma detaljan, u potpunosti razrađen i sadrži veliki broj kvalitetnih prikaza.
Most je postao "park na vodi", a osmišljen je i još jedan "mini Štrand". Ovo su ideje koje bi građani Novog Sada sasvim sigurno pozdravili i poželeli u svom gradu, kao i svi gosti Grada.
Elementi konstrukcije mosta – lukovi, možda su malo prenaglašeni, ako se uzme u obzir da se radi o pešačko – biciklističko – infrastrukturnom mostu, ali svakako daju još jedan prostorni akcenat ovom mestu.
Autor rada prati efekat "toka", te pretače arhitekturu u prirodu i obrnuto. Pokušava da integriše ova dva univerzuma. Uvodi elemente zelenila na sam most, kao i i u okviru fasade poslovno-ugostitetljskog objekta.
Međutim, arhitektonsko rešenje se ne uklapa u okolni prostor (luka, rafinerija, pristaništa, teretni brodovi, barže…) te bi ovaj koncept odgovarao na području planirane marine ili nekog "urbanizovanog" dela grada.
Otkup
Arhitekte Igor Čubra, Jelena Čubra, Jelena Škerović, građevinski inženjer Nenad Srebro; Saradnik: arhitekta Jovana Filić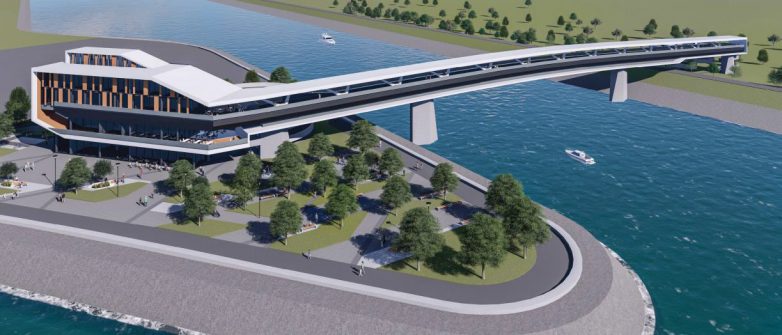 Objekat je inspirisan dinamičnim linijama brzih čamaca koji krstare Dunavom, kao i asocijacije na riblju kost
Objašenjenje žirija: Ovaj rad odiše izuzetnom studioznošću, te maksimalnom energijom da se zadovolje svi traženi uslovi konkursa. Rad u potpunosti razrađuje detalje i sadrži veliki broj kvalitetnih prikaza.
Objekat mosta i poslovno-ugostiteljskog objekta na prvi pogled deluju veoma kompaktno, kao da su deo jedne nedeljive celine… Planirana je krovna ravan koja obuhvata objekat hotela, ali se dalje nastavlja kao nadstrešnica planiranog mosta, dajući mu svojim postojanjem, dodatni komfor, zaštitu od atmosferskih uticaja, prvenstveno kiše.
Oblikovni izraz za poslovno-ugostiteljski objekat i most, kao likovne celine, je inspirisan dinamičnim linijama brzih čamaca koji krstare Dunavom, kao i asocijacije na riblju kost. Važno je napomenuti da izrazito "zavojiti" oblik rampi ne odgovara vizuelnoj celini kompleksa. Ali, posmatrač može u ovim rampama da vidi i rečnog puža, sa svojom spiralom… No to se da samo naslutiti…
Pri ovakvoj formi, odnosno korpusu predmetnih elemenata ovog konkursa (mostu i objektu), nije lako razgraničiti "javno" od "ostalog". A možda je upravo na to ovaj rad i želeo da ukaže?
Kad ste već ovde…