Butik po definiciji predstavlja hotel malog kapaciteta, koji odlikuje intimnija atmosfera od one u velikim hotelima. Kad su oni počeli da niču u prestonici i na koje bi trebalo obratiti pažnju.
Temom rekonstrukcije starih i otvaranja novih hotela u Beogradu bavili smo se u jednom tekstu pre skoro godinu dana. Tadašnja analiza socijalne slike inostranih i domaćih gostiju u prestonici i prognoze za dalji razvoj i rast ugostiteljskog sektora sada samo potvrđuju aktuelna dešavanja.
Novi hoteli (ili rekonstruisani stari) nastavljaju da se otvaraju u Beogradu, a da je ovo tržište više nego veliko pokazuje podatak da u Beogradu radi oko 100 hotela, dok u više nego četiri puta manjem Zagrebu, taj broj dostiže oko 200.
Naravno, kada se kaže hotel, ne misli se uvek na Metropol, Hilton, Hajat ili Plazu, koji spadaju u rang velikih hotela, sa preko 300 smeštajnih kapaciteta. Da bi se odgovorilo na potrebe sve većeg broj turista, naročito srednje klase koji najviše dolaze iz Kine, Irana, Turske, Izraela i Rusije, investitori već uveliko razmišljaju o izgradnji jednog drugačijeg ugostiteljskog objekta – butik hotela.
Možda većina čitalaca nije odsedala u butik hotelu, ali su mnogi bar popili kafu ili zasigurno prošli pored jednog od njih, a da nisu ni znali da je reč o ovom tipu ugostiteljskog objekta. Butik po definiciji predstavlja hotel malog kapaciteta, koji odlikuje intimnija atmosfera od one u velikim hotelima. Nivo privatnosti i luksuza u ovakvim hotelima obično je na visokom nivou, a svim gostima (bilo da noćite ili ste svratili na kafu) poklanja se puno pažnje.
Da bi se dobio karakterističan dizajn, to jest, jedinstven kreativni izraz, projektovanje ovakvih hotela mora se poveriti vrsnom arhitekti.
Prvi butik hoteli pojavljuju se početkom 80-ih godina, među kojima su se istakli Blakes Hotel u Londonu (arh. Anuška Hempel) i Morgans Hotel u Njujorku (diz. Andre Putman). Nakon njih u Evropi se otvaraju sada već poznati brendovi poput Mama Shelter u Parizu i The Chocolate Boutique u Bornmutu (Engleska). Izgradnjom ovih hotela napravljena je prekretnica u hotelijerstvu, koja je u sam vrh probila male, luksuzne hotele karakterističnog dizajna. Da bi se dobio karakterističan dizajn, to jest, jedinstven kreativni izraz, projektovanje ovakvih hotela mora se poveriti vrsnom arhitekti.
Ako bolje pogledamo staro urbano jezgro Beograda, zapazićemo da u njemu nema toliko prostora za izgradnju nekog većeg ugostiteljskog objekta, poput onih koji su nikli na Novom Beogradu ili po obodu užeg centra. Kako se u opisu butik hotela, pored raznovrsnog luksuznog sadržaja (spa centar, vinski podrum itd.) pojavljuje i manji broj smeštajnih kapaciteta (100-150, negde i manje), prirodno je da taj oblik ugostiteljskog objekta bude pogodniji za otvaranje u starom delu Beograda. Dovoljno je da investitor rekonstruiše neku stariju stambeno-poslovnu zgradu ili uklanjanjem postojeće izgradi novu, naravno u dozvoljenim gabaritima i adekvatnom arhitektonskom stilu i eto dobrog početka za jedan butik hotel.
Kako je u Beogradu u zadnjih deset godina otvoreno više ovakvih ili sličnih hotela, izdvojili bismo tri najznačajnija, koji svojom uslugom, a naravno i karakterističnom arhitekturom i dizajnom enterijera, prednjače u svemu.
Townhouse 27: Prvi butik hotel u Srbiji
Ovo je prvi autentični butik hotel u Srbiji, koji je ubrzo po otvaranju dobio nagradu Kongresna zvezda i proglašen je za najbolji kongresni butik hotel u regionu. Ime je dobio po zgradi koja je u međuratnom periodu izgrađena na Topličinom vencu broju 27, a koja je za potrebe hotela rekonstruisana i nadgrađena.
Hotel je otvoren 2008. godine, a autorsko rešenje arhitekture i dizajna enterijera potpisuju arhitekte Biljana Cvejić i Milan Dimitrijević, koji za ovu kreaciju 2009. godine na 31. Salonu Arhitekture dobijaju Grand Prix.
Iako se zgrada vodi na Topličinom vencu, ona svojom drugom fasadom izlazi na ulicu Maršala Birjuzova 56, pa su arhitekte odlučile da se vešto poigraju sa ovom denivelacijom terena. Ulazni lobi sa recepcijom pozicioniran je na ulazu iz Maršala Birjuzova, dok se bar sa restoranom nalaze jedan sprat više, u nivou ulice Toličin venac. Ova denivelacija je od spolja gotovo neprimetna, ali iznutra vešto rešena funkcionalnim polukružnim stepeništem i liftom.
Druga karakteristika hotela jeste originalna nadgradnja koja svojim izrazom ne odskače od okolne arhitekture. Autori su postepenim prelaskom sa ar-deko moderne došli do savremene arhitekture, gde se na poslednjoj etaži posebno ističe zanimljivo rešena ograda balkona. Ovaj koncept poznat je u Evropi, ali je samo vrsnim stručnjacima pošlo za rukom da ga na uspešan način izvedu, naročito kada se u okruženju nalazi istoristička arhitektura (pogledati slične primere u Beču i Parizu).
Što se tiče enterijera, on nimalo ne zaostaje za arhitekturom. Savremen, funkcionalan, sa prisustvom dekorativnih detalja, poput lustera i umetničkih ostvarenja na zidovima, odaje prijatnom intimnom atmosferom, u kojoj pored odsedanja uvek možete zakazati poslovni sastanak ili prezentaciju u okviru konferens sale.
Squre Nine: Najlepša zgrada u poslednjih 25 godina
Ubrzo nakon otvaranja, ovaj hotel je odmah osvojio simpatije gostiju iz sveta šou biznisa, jer gotovo da nema većeg koncerta ili filma koji se događaju/snimaju u Beogradu, a da zvezde ovih događaja ne odsednu u Squre Nineu.
Izgrađen je 2011. godine po projektima brazilskog arhitekte Isaja Vinfelda i svojom nenametljivom, modernom arhitekturom odmah se uklopio u svoje okruženje. Minimalistički detalji, poput jednostavnih prozorskih otvora i elegantnog ulaznog portala, ukazuju da u starom jezgru nije potrebno graditi u istorističkom stilu, da objekat ne bi narušio sklad istorijske celine.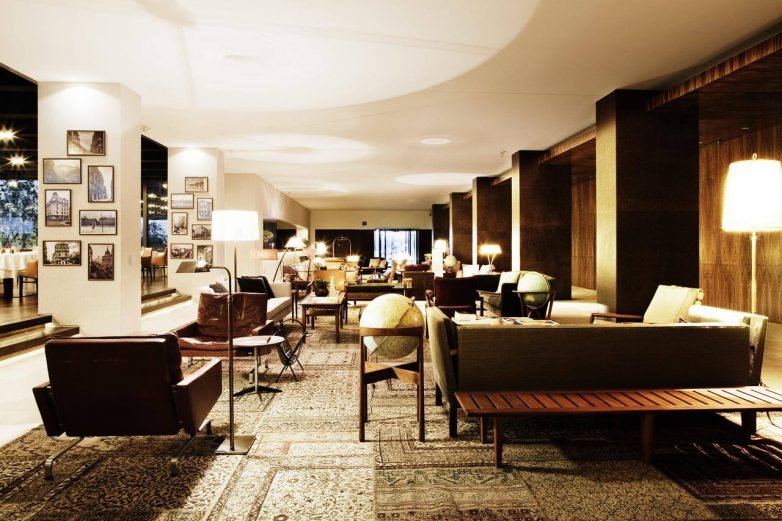 Naravno, daleko monumentalnije deluje njegov enterijer, naročito prostor ulaznog lobija i restorana, koji su dobili pečat retro-hedonističkog stila upotrebom originalnog, restauriranog nameštaja iz polovine 20. veka i naročito velikih globusa, koji su ostali zaštitni znak ovog enterijera. Ovi motivi su ponovljeni i u sobama, a enterijer lobija, stepeništa i drugih komunikacija izvedeni su u drvetu, što dodatno naglašava eksluzivnost hotela.
Ono po čemu je Squre Nine poznat jeste letnja terasa na poslednjem spratu, na kojoj pored pojedinačnih gostiju i beogradske kompanije organizuju radne ručkove i team buildinge.
Hotel Square Nine je na izboru za najlepšu zgradu u Beogradu u poslednjih 25 godina, koji je organizovao portal Gradnja.rs, proglašen za pobednika od strane stučnog žirija.
Envoy: Prenesen duh Beograda
Ovaj hotel je dovršen 2015. godine, a posebno je zanimljiv po istorijatu zgrade, koja je pre ugostiteljskog objekta dugi niz godina funkcionisala kao ambasada Australije. Investitor je za potrebe rekonstrukcije zgrade angažovao kompaniju Arhi.pro, na čelu sa arhitektom Anjom Ivanom Milić, koja je zgradi podarila potpuno drugačiju strukturu, kako fasade tako i enterijera.
Za početak, fasada ove nekada poslovne zgrade potpuno je rekonstruisana i dobila jednu naglašenu, ekspresionističku crtu, sa prozorskim otvorima integrisanim u kutijaste forme, koje ritmično bivaju prepuštene nad pročišćenom fasadom. Enterijer još jednom naglašava crtu ekskluzivnosti i udobnosti koju svaki gost ima priliku da doživi boraveći kraća ili duže u hotelu.
Kao i u slučaju prva dva hotela, Envoy ima karakterističan dvoetažni lobi sa restoranom gde pažnjom najviše pleni kutak sa retro nameštajem, policama sa knjigama i slikama naših poznatih umetnika. Autorka je nastojala da napravi kreativni spoj starog i novog, kako po formama nameštaja, tako i po zastupljenosti materijala kojim je opremljen enterijer (najviše drvo i staklo), čime je zapravo prenesen duh samog Beograda, koji takođe egzistira u toj konstantnoj fuziji starog i novog.
Zgrade sa stilom
Sva tri hotela imaju neku svoju zanimljivu crtu, neki su manje, a neki više pozicionirani u žiži prolaznika, saobraćaja i gradskih dešavanja, ali za svaki od njih je zajedničko da su veoma ekskluzivno i sa stilom uređeni i da svi gosti, bez obzira na dužinu boravka, dobijaju uslugu na visokom nivou.
Kad ste već ovde…