Zanimljiva istorija zgrade u najužem centru ruske prestonice: Od hotela Beograd, preko penthausa za bogatog Rusa, do potpuno obnovljenog hotela sa četiri zvezdice.
U samom srcu Moskve, nedaleko od Ministarstva Inostranih poslova i pešačkih ulica Stari i Novi Arbat sa mnogobrojnim pozorištima i muzejima, nalazi se zgrada podignuta 1973. godine u kojoj je, sve donedavno, bio smešten hotel Beograd. Međutim, 2003. godine bogati Rus poželeo je da u njoj kupi najviši sprat gde bi smestio svoj luksuzni penthaus, a onda je na kraju odlučio da kupi celu zgradu. Taman kada su se delovi hotela renovirali pod njegovom dirigentskom palicom, na scenu je stupio novi vlasnik koji je hotelu želeo da vrati stari sjaj. Međutim, vraćanje stare slave nije podrazumevalo i zadržavanje originalnog imena – hotel Beograd – već se sada ovo ugostiteljsko zdanje s četiri zvezdice zove isto kao i ruski lanac hotela koji ga je kupio: Azimut.
Hotel je dobio dve etaže na krovu i dve etaže pod zemljom, dok je fasada rekonstruisana tako da bude zadržan stari izgled jer je objekat pod zaštitom.
Pod rukovodstvom Azimuta, kompanija Interkom Group uradila je kompletnu rekonstrukciju hotela, zajedno sa ojačavanjem konstrukcije, pomeranjem položaja stepeništa, ali i dogradnjom dva sprata na krovu za restoran. Nadgradnja elipsaste forme urađena je betonskom konstrukcijom sa staklenom fasadom i ona ne remeti kubičnu formu zgrade. Po projektu arhitektonskog biroa T+T architects, prepoznatljiva socrealistična fasada obnovljena je i prilagođena duhu savremene Moskve ali tako da je stari izgled zadržan jer je objekat pod zaštitom.
Hotel je dobio i podzemni parking na dva nivoa i to na mestu stare kotlarnice. Za potrebe izvođenja ovog složenog građevinskog poduhvata prvo je spuštan pod, dodavani su novi stubovi i rađena je nova betonska ploča na pola visine kotlarnice. Potom su ugrađena dva lifta za automobile pošto je kolski pristup mogao biti organizovan samo u gornji nivo garaže.
Fotografije gradilišta (klik za uvećanje i info)
Enterijer soba
Po završenim građevinskim radovima, urađen je kompletan enterijer 474 soba koje su raspoređene na od 4. do 18. sprata hotela. Projekat enterijera potpisuje nemačka dizajnerica enterijera Ester Bruzkus iz arhitektonskog biroa Bruzkus Batek Architects koja je osmislila sobe koje maksimalno koriste najveći potencijal ovog hotela – a to je njegova lokacija i odličan pogled na grad.
Enterijer zajedničkih prostora
U prizemlju i na prvom spratu su restorani. Na 2. spratu je osam konferencijskih sala, dok je recepcija na 3. spratu, gde je i hotelski restoran.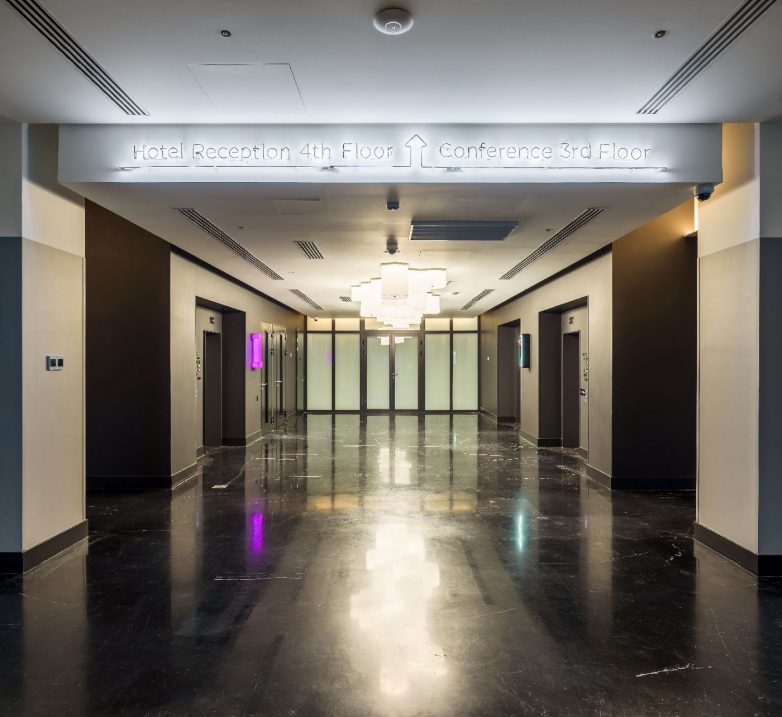 Pogled s krova na Moskvu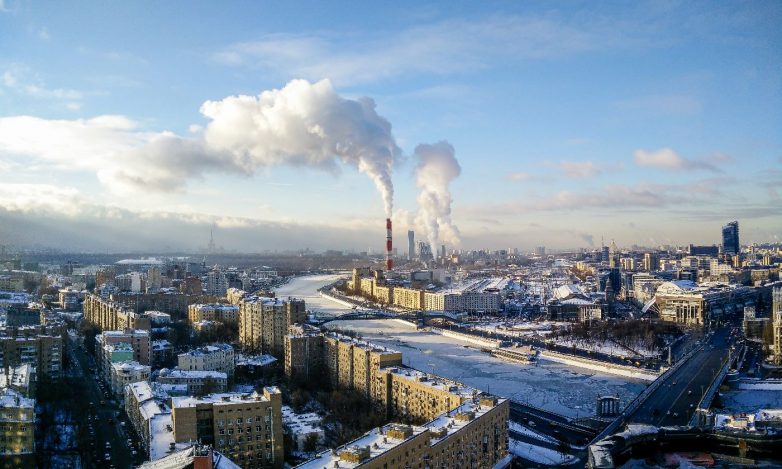 Faktografija:
izvođač: Interkom Group 
konstrukcija i fasada: T+T architects
enterijer: Bruzkus Batek Architects
projektovanje: 2014.
početak radova: januar 2016.
otvaranje hotela: jun 2017
kvadratura: 28.500 m2
broj soba: 474 od 4. do 18. sprata
fotografije: Miloš Martinović
Kad ste već ovde…
– Snimak Moskve proglašen za najbolji video napravljen dronom
– Političare zamenili turisti: Sedište Vlade postalo ekskluzivni hotel
– Slovenački hotel Plesnik po projektu Enote