Izvođenje
Pogledajte kako su Kinezi podigli trospratnicu za jedan dan
CTS ploča od nerđajućeg čelika 10 puta je lakša od betonske što znači jeftiniju i bržu gradnju, i na kraju krajeva jeftinije kvadrate u novogradnji.
Kada smo videli kako Broad Sustainable Building podiže ceo prefabrikovan hotel za samo 15 dana, mislili smo da od toga ne može brže. Međutim, sada su nas razuverili novim projektom dokumentovan snimkom na kojem se vidi kako preko noći niče cela zgrada na četiri etaže. A sve to je moguće zahvaljujući njihovom novom proizvodu zvanom CTS ploča.
Pogledajte kako je nikla zgrada od četiri sprata za jedan dan:
CTS ploča je 10 puta lakša od betonske što drastično poboljšava seizmičku otpornost objekta, a pritom pojeftinjuje gradnju.
U pitanju je ploča sastavljena od od dva čelična panela koja su međusobno spojena cevima. Cevi se za ploču spajaju zavarivanjem upotrebom bakarnog lema. Kako bi se ploča termički izolovala, prostor između cevi se puni kamenom vunom. Prema navodima proizvođača, CTS ploča je 10 puta lakša od betonske što drastično poboljšava seizmičku otpornost objekta. Antikoroziona svojstva su 100 puta bolja nego kod gvožđa, a kako kažu iz kompanije Broad, životni vek im je praktično neograničen.
Problem spajanja ploča
CTS ploče se proizvode u dimenzijama 12×2 metra, s debljinom od 15 centimetra, a koriste se i za zidove i za podove. Međutim, najveći izazov bio je kako međusobno spojiti ploče. Avio-industrija je nekada koristila saćaste ploče od nerđajućeg čelika za pravljenje konstrukcije svemirskih kapsula i aviona, ali to nije bilo rentabilno zbog ogromnih troškova. Posle brojnih neuspeha, kineska kompanija Broad uspela je u periodu od 2016. do 2018. godine da napravi jeftinu saćastu ploču tako što je saćastu strukturu napravila od cevi koje se za čelične panele zavaruju bakrom u pećima pod visokom temperaturom.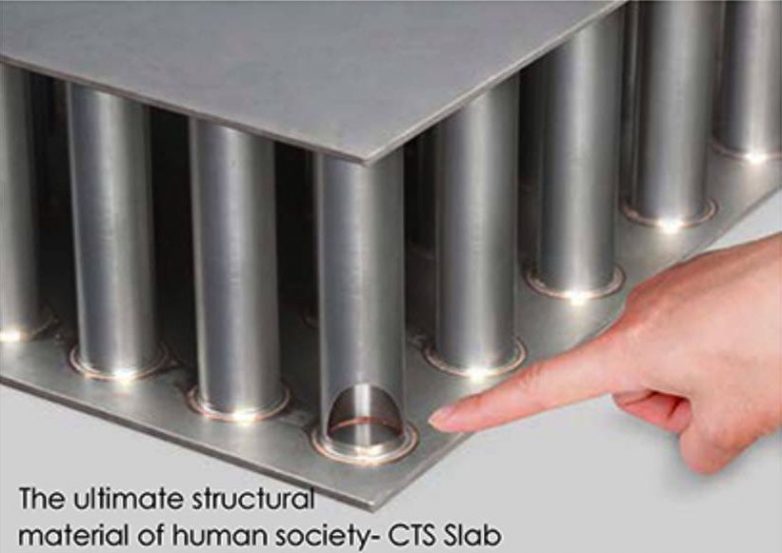 A termički most?
Kao što su to dobro primetili u TreeHuggeru, kod ovakvih konstrukcija je problem termički most. Kako objašnjavaju iz kompanije Broad, termički most zaista postoji, međutim "zidovi cevi su toliko tanke da je toplotna provodljivost na nivou drvenih greda."
A vatrootpornost?
Što se tiče vatrootpornosti, konstrukcija se može zaštititi na dva načina. Prvi je da se konstrukcija obloži pločama koje obezbeđuju vatrootpornost od 120 minuta pre nego što temperatura dostigne 1.000 stepeni. Druga varijanta je nanošenje spreja u delovima zgrade u kojima nije bitna estetika.
Kako navode iz kompanije Broad, "prednost nerđajućeg čelika u odnosu na beton je što su nakon požara betonske konstrukcije neupotrebljive, a čelična konstrukcija se samo opere vodom." Takođe, tačka topljenja nerđajućeg čelika je 1.200C, a običnog čelika 700C, što dodatno povećava vatrootpornost cele konstrukcije.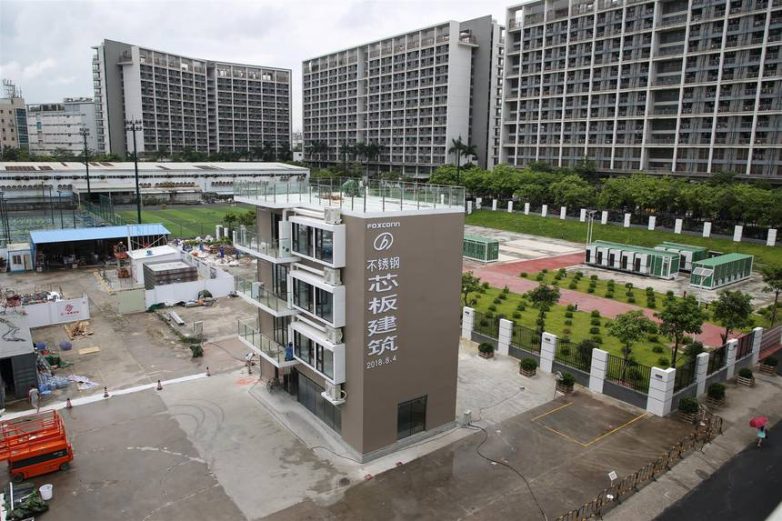 Jeftiniji kvadrati
Biće zanimljivo videti kako će se ove konstrukcije ponašati u praksi i koliko će uticati na građevinarstvo. Za statičare je posebno interesantno da su ove konstrukcije daleko lakše od betonskih pa će i cela zgrada biti lakša što znači da će i temelji biti svedeniji. Investitorima će se posebno svideti činjenica da se objekti pravljeni CTS pločama podižu daleko brže pa su i troškovi izvođenja manji, što na kraju krajeva znači i manja cena po kvadratnom metru. To će se, naravno, najviše svideti kupcima stanova.
Kad ste već ovde…