Poštovana Sonja, potreban mi je savet oko uređenja kuće u Beogradu. U pitanju je dupleks koju sam dizajnirao u minimalističkom stilu. Prizemlje sadrži dve velike sobe, veći muzički studio i spojenu kuhinju i dnevnu sobu. Želim ostrvo sa sudoperom i ugradnom pločom na pultu ali imam nedoumicu. Da li je prostorija veličine 5 x 4,8 metara dovoljna  ili bi pult smetao jer smeštanju dvoseda ili dve fotelje prema televizoru. Šaljem vam osnovu prizmelja kuće. – R.M.
Za smeštanje kuhinje u dva reda sa pultom potrebna je širina od 240 centimetara. To znači da vama ostaje svega 240 cm širine sobe za smeštanje dvoseda i televizora orjentisanog kao što je na crtežu.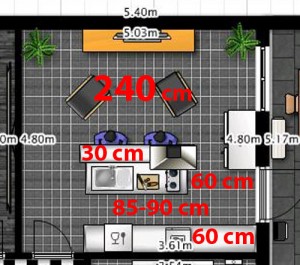 Prostor od 2,4 m nije dovoljan jer je širina dvoseda ili fotelja oko 90 cm a netkasne za TV oko 40 cm. To znači da bi prostor između sedenja i TV-a bio oko jedan metar što je malo za normalno funkcionisanje.
Ukoliko želite otvorenu kuhinju u prostoriji 5 x 4,8 m trebali bi da napravite male izmene orjentacije nameštaja u dnevnoj sobi.
Dnevna soba je centralna prostorija u kući. Iz ovoga razloga fotelje bi zamenula dvosedom ili trosedom.
Televizor postavite na zid ka muzičkoj sobi. Tako ćete dobiti potrebnu dubinu za gledanje televizora. Takođe, širina prostora od 240 će vam biti dovoljna za smeštanje dvoseda ili troseda orjentisanog prema zidu muzičke sobe.Ispred postavite klub stolić dimenzija 80 x 80 cm.
Pošto niste predvideli trpezariju, za šank postavite dve ili tri barske stolice.
Frižider izmestite u postojeću liniju kuhinjskih elemenata uz zid.