Promo
Proračun dnevne svetlosti u potkrovlju u par klikova
Prijavite se za besplatnu vizualizaciju dnevne svetlosti u vašem potkrovlju.
Često se zapitate kako možete uneti neke izmene u prostoru u kom boravite. Šta bi bilo kada bismo vam rekli da unošenjem dovoljne količine svetlosti, vaš prostor može izgledati sasvim drugačije?
Kako većina nas veći deo vremena provodi u zatvorenom prostoru, važno je osigurati što više dnevnog svetla u domu. Prirodna, dnevna svetlost ima niz prednosti za naše zdravlje i zato je vrlo važno da smo joj što više izloženi.
Krovni prozori osiguravaju dvostruko više prirodne svetlosti od vertikalnih prozora iste veličine, pa samim tim značajno poboljšavaju osvetljenost prostorija.
Takođe, krovni prozori omogućuju dopiranje prirodnog svetla u inače mračne prostorije. Ako prilikom uređenja enterijera dodate svetliji nameštaj i ofarbate zidove u svetlije nijanse, to može pomoći pri reflektovanju prirodnog svetla sa vaših krovnih prozora.
Kada klasični prozori nisu dovoljni, prozor za ravan krov može biti dobro rešenje jer će obezbediti dovoljno prirodnog svetla, pa će tako uneti život u centralni deo prostorije. Ako ostavite dovoljno prostora između nameštaja, stvoriće se dodatni prostor za širenje svetla. Više informacija o rasporedu prozora možete pronaći u našem besplatnom vodiču za uređenje potkrovlja.
Kako potkrovlju obezbedite više svetlosti?
Količina potrebnog prirodnog svetla zavisi od veličine prostorije. Kada govorimo o odnosu podne površine i količine dnevne svetlosti, VELUX preporuka je da staklena površina prozora iznosi najmanje 10% površine poda.
Međutim, kako da na osnovu skice vaše prostorije u potkrovlju imate tačnu procenu koja optimalna količina svetlosti je potrebna, kao i kakav raspored prozora bi bio najbolje rešenje za zdraviji život?
Kompanija VELUX nam predstavlja uslugu besplatne vizuelizacije dnevne svetlosti u vašem potkrovlju. Za sve vas koji imate u planu renoviranje potkrovlja, kupovinu kuće sa tavanom ili stana u potkrovlju ovo je odlična mogućnost da imate jasan prikaz kako vaša prostorija može izgledati obogaćena krovnim prozorima i dnevnom svetlošću. Sve to možete dobiti na vašu email adresu i imati sačuvano ukoliko planirate renoviranje u nekom narednom periodu.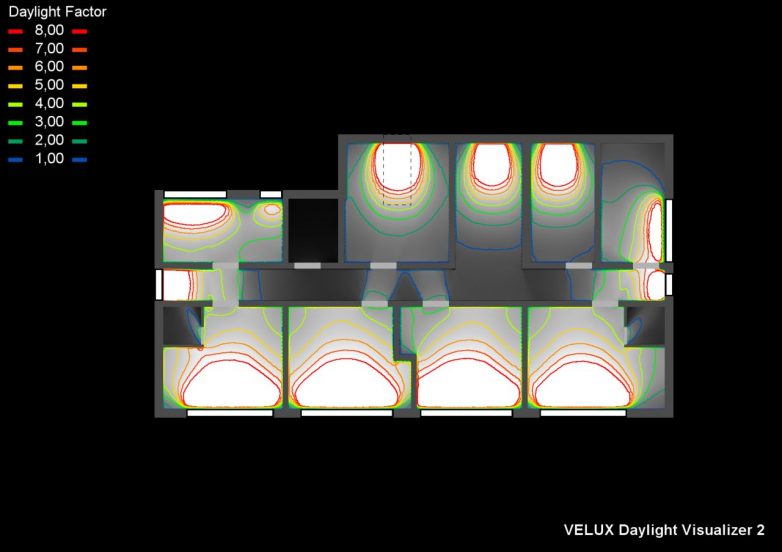 Kako se prijaviti
Postupak za prijavu je jednostavan. Dovoljno je da na sajtu popunite formu sa vašim podacima, a VELUX stručnjaci će vas u roku od 5 radnih dana kontaktirati za skicu prostora i neophodne detalje o prostoru.
Dakle, potrebni elementi za proračun količine dnevne svetlosti:
Slobodno ručna skica prostorije/stana/potkrovlja u osnovi

tačne dimenzije unete u skici

Slobodno ručna skica prostorije/stana/potkrovlja u vertikalnom preseku

Tačne visine nadzidka, plafona i slemena unete na skici
ukoliko postoje prozori fasadni i/ili krovni

dimenzija prozora (visina i širina)
pozicija prozora

parapet (visina od poda do prozora)
rastojanje od zida

Vrsta krova (ravan, jednovodan, dvovodan)
Nagib krova – VELUX aplikacija Roof Pitch, Android i Apple store
Orijentacija objekta (uneti strelicu koja označava sever na skici)
Grad/mesto u kojem se objekat nalazi
Dobićete jasan prikaz kako vaša prostorija može izgledati obogaćena krovnim prozorima i dnevnom svetlošću.
Kada VELUX stručnjaci dobiju sve podatke, sledeći korak je obrada istih i izrada skice sa predlogom ugradnje krovnih prozora pomoću programa VELUX Daylight Visualizer. Pored skica, dobićete i detaljne proračune o faktoru dnevne svetlosti za poslate skice. Sve informacije i proračune možete dobiti putem email-a ili poziva, ali o tome ćete se dogovoriti sa vašim konsultantom.
Ukoliko je vaša prostorija nepravilnog oblika, Daylight Visualizer će, zbog ograničenja, morati da je svede na pravougaonik radi lakšeg objašnjenja.
Napominjemo da je vizualizacija informativnog i savetodavnog karaktera, a da je mogućnost ugradnje predviđenog prozora potrebno proveriti na licu mesta. Besplatne konsultacije možete zakazati ovde.