Arhitektura
Sudbina Aja Sofije – između crkve, džamije i muzeja
Ponovno pretvaranje Aja Sofije u džamiju prethodilo je vraćanje još jednog srednjovekovnog vizantijskog spomenika u džamiju – crkvu Sv. Sofije u Trapezuntu.
Evropska, a pogotovo pravoslavna javnost, sa nevericom je primila vest o ponovnom vraćanju Aja Sofije (Sv. Sofije) u funkciju džamije. Naravno, turski predsednik je dekret potpisao u veoma nepovoljnom trenutku, kada uveliko tinja otvoreni sukob između dve struje unutar pravoslavnog sveta – Vaseljenske (Carigradske) patrijaršije i Ruske pravoslavne crkve, tj. Moskovske patrijaršije. S druge strane, zanimljiv je i uticaj Aja Sofije na islamsku arhitekturu, tj. arhitekturu Osmanske imperije.
U tom zamršenom klupku u koje su upleteni politika, religija i arhitektura, za sada je ponajviše neizvesna sudbina vizantijske građevine i da li će njen povratak u funkciju džamije uticati na njen status zaštićenog kulturnog dobra.
Burna istorija Aja Sofije
Crkva Sv. Sofije kakva sada postoji, izgrađena je u 6. veku za vreme vizantijskog (istočnorimskog) cara Justinijana. Podignuta je na temeljima stare bazilike, koju je u prvoj polovini 5. veka izgradio car Teodosije II, a koja je izgorela za vreme vladavine cara Justinijana. Zapanjuje brzina kojom je nova crkva zidana, od 532. do 537. godine, što je veoma kratak period ako se uzme u obzir da su građevine sličnih gabarita zidane minimum nekoliko decenija.
Naravno, postoje podaci u izvorima koji govore o problemima koji su nastajali upravo zbog ovako forsirane gradnje, gde su usled nedovoljno osušenog maltera ili nedovoljno učvršćenih konstruktivnih elemenata, čitavi segmenti počeli da pucaju ili da se urušavaju. Na svu sreću, arhitektonsko-građevinski poduhvat bio je poveren iskusnim inženjerima Antemiju iz Trala i Isidoru iz Mileta, koji su sa velikim uspehom projektovali i izveli građevinu, koja je po svojim dimenzijama i jednom arhitektonskom elementu – kupoli, zasenila postojeće monumentalne objekte. Jedini objekat sa kupolom, doduše ni nalik ovoj na Sv. Sofiji, koji je pre toga izgrađen bio je Panteon u Rimu.
Antemije iz Trala i Isidore iz Mileta izveli su građevinu, koja je po svojim dimenzijama i kupoli zasenila postojeće monumentalne objekte.
Kako su vizantijski vladari po svemu nastavljali tradiciju rimskog carstva i kulture, izgradnja jedne monumentalne kupolne građevine bila je logičan potez. Taj potez je usledio za vreme najvećeg uspona i obnova romejske imperije, tokom vladavine cara Justinijana, koji je nastojao da obnovi slavu nekadašnjeg Rima, pa mu je kao prostorno-vizuelni vesnik ove ideje poslužila izgradnja glavne hrišćanske crkve u novoj prestonici Konstantinopolju. Izuzev jednog kraćeg perioda tokom 13. veka, kada je pretvorena u katoličku katedralu, crkva je sve do 1453. godine bila pravoslavani hram, kada usled osmanskoj osvajanja postaje džamija. Funkciju džamije imala je sve do 1935. godine, kada ukazom Mustafe Kemala Ataturka, prvog turskog predsednika, postaje muzej. Nije jasno zašto je ovo urađeno, ali se predpostavlja da je ova odluka bila deo mera sekularizacije tada već Turske republike, kada mnogi objekti doživljavaju prenamenu i/ili rekonstrukciju i restauraciju.
Arhitektura
Iako je građevina projektovana od strane iskusnih inženjera, usled nedostatka iskustva u projektovanju  ovako velikih građevina, Antemije i Isidor nisu mogli da predvide ponašanje ove kolosalne strukture, pa je usled jačeg zemljotresa koji je dvadeset godina kasnije pogodio Konstantinopolj, kupola bila u najvećoj meri urušena. Kako autori građevine u tom trenutku nisu bili među živima, obnova crkve je poverena Isidoru Mlađem, koji je uvideo da bi stabilnost kupole bila znatno bolja ako bi se njena rebra spajala na nešto višoj tački. Iz tih razloga, kupola je zidana iznova, sa nešto višim tamburom, odnosno vrhom svoda na nešto višoj koti.
Po strukturi osnove, možemo zaključiti da je crkva Sv. Sofije trobrodna bazilika, ali da u svom središnjem delu poseduje četiri masivna stuba, koji su sastavni element "pandantifa" na kojima počiva kupola. Pandantifi su konstruktivni sistem kod kojeg se kupola oslanja na četiri luka, a koji počivaju na četiri stuba. Zalučeni svod je rimska tekovina, pa je ovo samo unapređen vid rimskog konstruktivnog sistema. Sličan konstruktivni sistem, pod nazivom "trompe" je takođe u to vreme bio u upotrebi, a sastojao se od kupole koja je počivala na osmougaonoj konstrukciji oslonjenoj na četiri stuba. Pandantifi su daleko elegantnije i funkcionalnije rešenje, pa su ga iz tih razloga autori odabrali u projektovanju Sv. Sofije.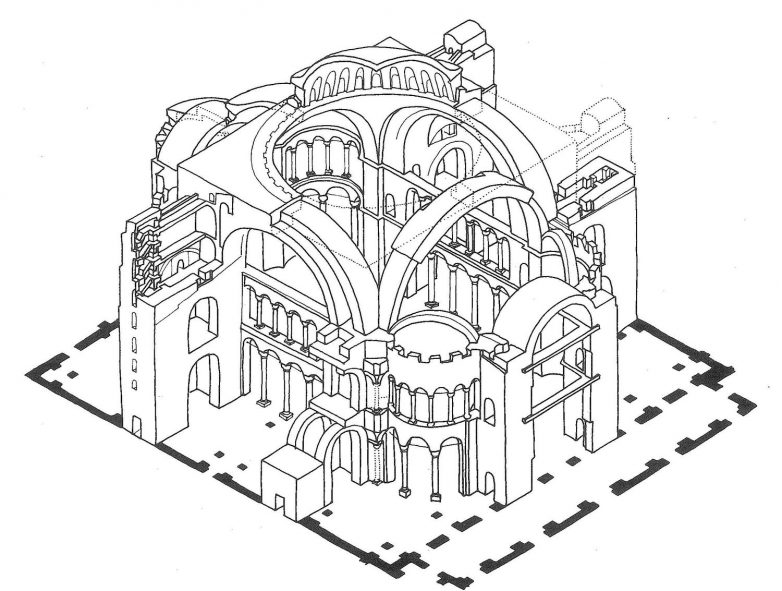 Prepoznatljiva kupola Sv. Sofije bila je razlog velikih srednjovekovnih previranja, ali i razlog njenog očuvanja i kasnijih uticaja. Previranja su nastala pre svega u zapadnoj Evropi u periodu razvoja romaničke arhitekture (između 10. i 13. veka), kada se u mnogim većim evropskim gradovima zidaju monumentalne katedrale. Mnoge od njih su posedovale kupole, ali su poručioci i graditelji gledali da one nikako ne liče na onu koju je posedovala Aja Sofija, tačnije da bude ili nešto viša ili da bude osmougaona.
Još veći animozitet prema "šizmatičnoj grčkoj" kulturi nastaje za vreme razvoja gotičke arhitekture (između 13. i 15. veka), kada se katedrale u svojim strukturama još više distanciraju od vizantijskih kupola. Nasuprot zapadnim tradicijama, vizantijsko polje uticaja (srednjovekovna Srbija, Bugarska, Rusija, Gruzija, Jermenija) upravo u to vreme (od 10. do 15. veka) preuzima tradiciju izgradnje crkava sa kupolama vizantijskog tipa, na šta nas upućuju mnoge zadužbine Nemanjića, Lazarevića i drugih vladarskih i vlasteoskih porodica širom Balkana.
Novi talas uticaja kupole Sv. Sofije dolazi nakon pada Carigrada pod vlast Osmanlija 1453. godine, kada crkva postaje centralna džamija Aja Sofija. Ubrzo po prenameni, džamija na četiri ugla dobija vitke minarete, a njena unutrašnjost, koju su krasili mnogobrojni mozaici, biva prekrečena i prebojena. Sa druge strane, njena prilagođena arhitektura postaje uzor za sve druge džamije koje su podizane širom Osmanskog carstva. Najpre u samom Carigradu, koji oko jednog veka kasnije, za vreme pobedonosnog sultana Sulejmana Veličanstvenog, dobija džamiju Sulejmaniju, koja po svojoj arhitekturi veoma podseća na Aja Sofiju. Od 16. do 19. veka, na prostoru Osmanske imperije nije postojala džamija tradicionalnog islamskog tipa, dakle prostrana kvadratna ili pravougaona zgrada, zasvođena ujednačenim krovom, već su sve bile centralnog tipa, sa kupolom u formi polulopte, što mnogi istraživači pripisuju uticaju arhitekture Aja Sofije.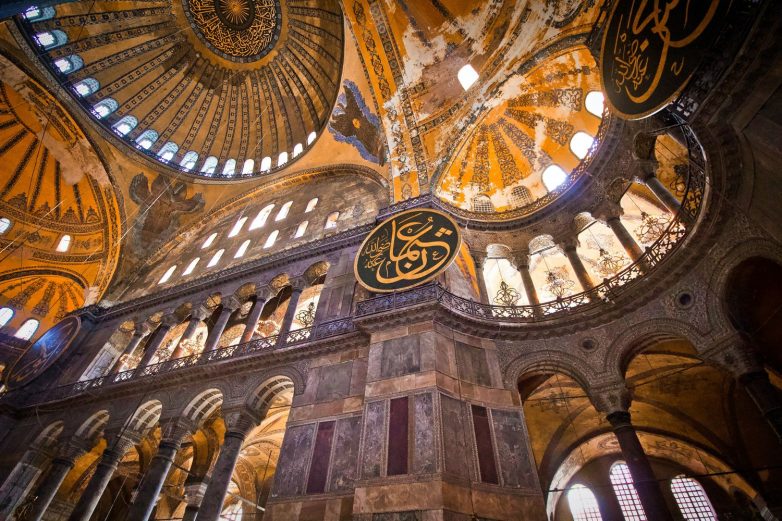 Uzor?
Ponovno pretvaranje Aja Sofije u džamiju prethodilo je vraćanje još jednog srednjovekovnog vizantijskog spomenika u džamiju – crkvu Sv. Sofije u Trapezuntu. Trapezunt je takođe bila država koja nastaje raspadom Vizantijskog carstva i koja sa grčkim/romejskim vladarima egzistira čak i koju godinu nakon pada Carigrada. Kako su baštinili istu kulturu i arhitekturu, posveta jedne od crkava Božanskoj premudrosti nije bila slučajna.
Isto tako, ni ponovni povratak ovog spomenika kulture u džamiju nije bio slučajnost, već simbolična politička i ideološka predigra za ono što je ove godine zadesilo muzej Aja Sofije u Istanbulu. Ako pogledamo prve fotografije trapezuntske Aja Sofije, zapazićemo da je enterijer džamije izveden potpuno nedolično, do granica kiča, bez ikakvog respekta za prethodnu arhitekturu i unutrašnju dekoraciju. Da li isti scenario možemo očekivati i u glavnoj Aja Sofiji? Vrlo verovatno da otkriveni mozaici neće više biti dostupni za posetioce, a možda i ponovo prekrečeni.
Šta je sledeće na redu?
Da li još previranja možemo očekivati nakon doskorašnje izjave turskog predsednika da će i sudbina jerusalmiske džamije Al Aksa takođe biti preispitana, misleći time na jurisdikciju nad starim gradom Jerusalimom, koji se sada u najvećoj meri nalazi pod kontrolom države Izrael. Ovim manipulacijama arhitektonskim nasleđem stavlja se jasna poruka regionu, da Turska ponovo želi političku, ideološku, versku i po svemu sudeći i vojnu dominaciju nekadašnjom bliskoistočnom teritorijom Osmanske imperije.
Zahvaljujem se koleginici Jasmini Ćirić, stručnjaku iz oblasti vizantijske arhitekture, na iscrpnim informacijama vezanim za aktuelna dešavanja prenamene muzeja Aja Sofije u džamiju.
Kad ste već ovde…