Kolumna
Tri beogradska spomenika za primer
Pored ovih spomenika svakodnevno prolazimo, a mnogi nisu sigurni baš tačno šta oni znače. Ispravljamo grešku jer se radi o monumentima vrednih pažnje.
U poslednjih pet godina Beograd je dobio više spomenika nego za prethodne dve decenije, a najavljena je izgradnja još nekoliko do kraja 2020. godine. Naravno, kvalitet tih spomenika nije uvek vrhunskog kvaliteta i dešava se da neki primeri, pored svoje monumentalne veličine ne poseduju estetsku monumentalnost, koja je presudna za kvalitet jednog umetničkog dela.
Upravo iz tih razloga, napravili smo osvrt na tri spomenika koji nose primarnu funkciju jednog spomenika – memorije nekog događaja ili ličnosti, ali i ništa manje značajnu funkciju vizuelnog utiska, likovnih kvaliteta i uklopljenosti u okolni prostor. Ova tri spomenika u Beogradu su relativno novijeg datuma, ali prolaznici često i ne znaju šta oni predstavljaju, pa bi bilo dobro skrenuti pažnju na njih kao dobre primere prostorno-skulpturalne umetnosti.
Memorijal Jevrejima
Prvi spomenik predstavlja memorijal Jevrejima koji su stradali u holokaustu Drugog svetskog rata u Beogradu. Događaji sami po sebi zastrašujući, ali koji moraju biti memorisani na neki pristojan, upečatljiv način, upotrebom savremenog oblikovnog izraza. Iz tog razloga, autor spomenika, arhitekta Ana Korica Šaljić odlučila se za bogdanovićevski pristup, apstraktnih motiva, koji je i u svetu uveliko prihvaćen kao najbolji za memorisanje ovakvog i sličnih nemilih događaja.
Spomenik je podignut 2014. godine i nalazi se na trotoaru ulice Braće Krsmanović, u prostoru između polurazrušene Španske kuće i zgrade KC Grada, gde mnogi ljudi pored njega prolaze, naročito noću, a verujemo i ne znajući šta spomenik predstavlja, iako je informativna tabla uredno postavljena na zgradi KC Grada.
Ovo mesto memoriše uspomenu na 6.300 Jevreja koji su mučki ubijeni ugljen-monoksidom u blindiranom kamionu pod nazivom dušegupka.
Ovo mesto memoriše uspomenu na 6.300 Jevreja koji su mučki ubijeni ugljen-monoksidom u blindiranom kamionu pod nazivom dušegupka. Celo proleće, od marta do maja 1942. godine, zlokobni kamion je na Sajmištu (Jevrejski logor Zemun) gotovo svakog dana utovarao nekoliko desetina Jevreja, vozio preko pontonskog mosta (most Viteškog kralja Aleksandra je tada bio srušen) i na ulasku u ulicu Braće Krsmanovića se zaustavljao, kada bi jedan od podoficira ubacivao izduvnu cev u unutrašnjost zaptivenog kamiona. Nakon ovoga bi kamion nastavljao prema Jajincima, gde su čekale već iskopane jame, u koje bi se ubacivala tela ugušenih iz kamiona. Autorka je ovaj događaj i traumu ovekovečila u vidu dva geometrijski prošupljena betonska zida sa natpisima proroka Isaije na hebrejskom i srpskom jeziku. Ovi geometrijski otvori nisu tek nasumično osmišljeni.
Jedan od njih postavljen je da se kroz njega može videti Sajmište, a drugi postavljeni niže da kroz njih mogu da gledaju deca, simbolišući time uzrast najmlađih žrtvi koje su prošle ovo mučko ubijanje. Drugi prorezi su simbolizovali ostale otvore na kamionu, koji bi bili zatvarani pre ispuštanja izduvnih gasova.
Između dva monolitna zida, u podu memorijala, utisnuti su i kamionski točkovi koji nedvosmisleno upućuju na spomenutu dušegupku. Možda će nakon čitanja ovog teksta prolaznici sa više pijeteta gledati na ovaj spomenik, koji se nenametljivo uklopio u okruženje.
Košarkaši na Kalemegdanu
Drugi spomenik postavljen je nešto skorije, prošle 2018. godine, na prostoru košarkaških terena na Kalemegdanu. On je postavljen u čast generacije košarkaških velikana koji su utemeljili jugoslovensku košarku, a koji su plasirali na prvo Svetsko prvenstvo u košarci, koje je održano 1950. godine u Buenos Airesu.
Kako su naš tim činili igrači Crvene Zvezde i Partizana (predvođeni legendarnim Popovićem, Stankovićem, Šaperom i Nikolićem) simbolično, spomenik je postavljen u prostor između terena naša dva najtrofejnija kluba.
Siluete trojice košarkaša pridržavaju košarkašku loptu čineći jednu specifičnu, uravnoteženu kompoziciju.
Autor spomenika, vajar Radoš Radenković, takođe je svoju zamisao pretočio u modernu apstraktnu formu u kojoj dinamično-ekspresionistički pozicionirane siluete trojice košarkaša pridržavaju košarkašku loptu čineći jednu specifičnu, uravnoteženu kompoziciju, koja zajedno sa postamentom, podseća na sportski trofej. Na postamentu je ugravirana posveta i logoi institucija koje su podržale izradu spomenika.
Možda će neko reći da je apstraktan prikaz ljudi bio aktuelan tokom 70-ih i 80-ih godina, naročito kroz likove maskoti sportskih takmičenja, ali po našem mišljenju, ovaj senzibilitet ne prestaje da bude aktuelan, naročito ako autor ima umeće da se kroz isti izrazi.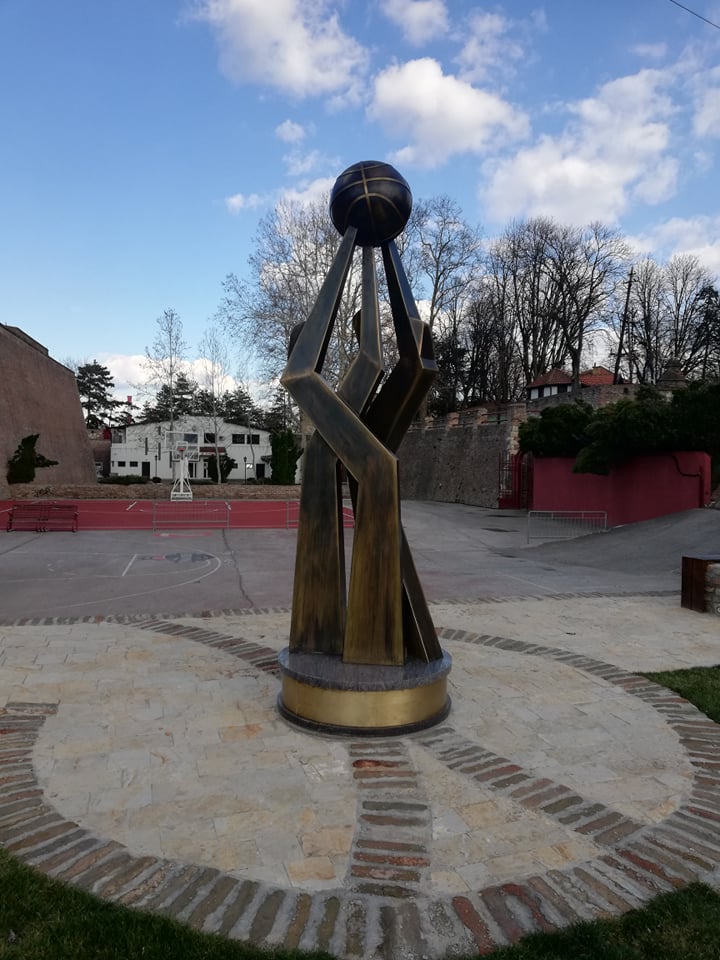 Spomenik Mladenu Sekuloviću aka Karlu Maldenu
Treći spomenik otkriven je krajem 2018. godine ispred zgrade Jugoslovenske kinoteke i predstavlja legendarnog holivudskog glumca Karla Maldena. Vrhunac u karijeri doživeo je u periodu između 50-ih i 70-ih godina. Osvaja i oskara za najbolju sporednu mušku ulogu, glumeći u filmu Tramvaj zvani želja iz 1951. godine, u kojem se proslavio i njegov poznatiji kolega Marlon Brando.
Međutim, mnogi nisu upoznati sa njegovim privatnim životom i činjenicom da je rođen u porodici srpsko-češkog porekla i da mu je pravo ime bilo Mladen Sekulović. Kako tada nije baš bilo popularno da ljudi, koji su želeli da uspeju u šou-biznisu, nose svoja prava neamerička imena, Mladen je svoje ime pretvorio u Malden, to jest, Karl Malden. I pored toga, veoma se ponosio svojim poreklom, govorio je srpski i često u filmovima tražio da lik kojeg on tumači u nekom trenutku izgovori rečenicu koja sadrži njegovo prezime – Sekulović. To mu je bilo neka vrsta ličnog pečata.
Malden stoji na stepenicama i pridržava se za jednu šipku – baš kao u filmu Tramvaj zvani želja za koji je dobio oskara.
Spomenik predstavlja zaista remek delo realistične skulpture kako po likovnom prikazu, tako i po odabiru konteksta u koji je skulptura postavljena, što možemo zahvaliti njenom autoru, vajaru Zdravku Joksimoviću. Malden je predstavljen kako stoji na stepenicama i pridržava se za jednu šipku, a oni koji su upoznati sa njegovim delom odmah su prepoznali scenu iz filma Tramvaj zvani želja. Ali umesto vrata tramvaja, iza figure se pojavljuje velika filmska traka, ubačena u slepu nišu zida, koja nam govori da je glumac "oživeo" i zakoračio izvan trake.
Ovom skulpturom definitivno su oživljeni lik i delo slavnog glumca, a mesto njegove postavke, na zidu Jugoslovenske kinoteke, dodatno naglašavaju prostorni kontekst samog spomenika.
Remek dela arhitektonične i figuralne umetnosti
Sva tri predstavljena spomenika u potpunosti se razlikuju po svojoj formi, to jest, stilu u kojem su izvedeni, a opet za svaki od njih se može reći da predstavlja remek delo arhitektonične i figuralne umetnosti. Samim tim pokazuju da živimo u vremenu kada su u umetnostima ravnopravno zastupljene geometrijska apstrakcija, ekspresionizam i realizam i da u svakom od ovih izraza može jednako uspešno da se stvara.
Kad ste već ovde…