Kolumna
Kako je politika dala vetar u leđa modernoj arhitekturi
Izgradnja zgrade Ujedinjenih nacija u Njujorku bila je velika pobeda za internacionalnu modernu arhitekturu oslobođenu istorijskih konotacija pojedinih nacija. 
U jednom od prethodnih tekstova na temu moderne arhitekture, govorili smo o njenoj ulozi u širenju revolucionarnih ideja (političkih, naučnih itd.), ali i kao faktoru pomirenja među narodima. Ova poslednja uloga svoju kulminaciju doživljava nakon Drugog svetskog rata, kada se centar svetskog uticaja iz Evrope preseljava u Sjedinjene Američke Države. Preuzimanje ove političke štafete možda najbolje može da se sagleda kroz arhitekturu jedne svetske organizacije – Lige Naroda, kasnije preoblikovane u Ujedinjene Nacije.
Nakon Prvog svetskog rata pojavljuje se potreba za osnivanjem jedne internacionalne organizacije, koja bi se brinula o svetskom miru i odnosima među državama. To je i učinjeno, pa je nakon Pariske mirovne konferencije, održane 1919. godine, osnovana Liga Naroda. Njeni ciljevi bili su razoružavanje ratnih učesnika (naročito poraženih), sprečavanje rata preko kolektivne bezbednosti, rešavanje međudržavnih razmirica putem pregovaračke diplomatije i poboljšanje globalnog blagostanja. Inicijator osnivanja Lige Naroda bio je američki predsednik Vudrou Vilson, ali SAD nisu ratifikovale Povelju Lige, najviše zbog tadašnje izolacionističke politike i nemešanja u međudržavna pitanja Evrope (američki političari su ovu organizaciju doživeli kao evropsku). Sama organizacija nije uspela u svojim ciljevima, a jedni od glavnih razloga su bili nedostajanje sopstvene vojske, kao i pogrešni koraci u rešavanju gotovo svih tada aktuelnih problema, a koji su podrazumevali isključenja određenih država članica. Period od pred izbijanje Prvog svetskog rata se ponavljao, a evropske države gotovo da nisu doživele društveno-politički napredak, što se odrazilo i na arhitekturu zgrade sedišta Lige Naroda.
Le Korbizje je u projektu Ujedinjenih nacija uvideo "revanš" za propuštenu šansu na konkursu za Ligu Naroda.
Ova zgrada, locirana na Ženevskom jezeru, očekivano je dobila naziv Palata Naroda, a zidana je od 1929. do 1938. godine. Lokacija u Švajcarskoj, kao sedište Lige, opravdana je vojnom neutralnošću ove alpske države, ali zato dugačak period izgradnje i njena arhitektura nisu opravdale svoje ideje. Sve započinje internacionalnim konkursom, na koji je po rečima jednog od učesnika konkursa – Le Korbizjea, pristiglo 377 radova. Među tim radovima našao se i veliki broj projekata u duhu internacionalne moderne, arhitektonskom izrazu koji je bio najpogodniji da iskaže neutralnost i nadnacionalne ideje koje je Liga postavila za svoje ciljeve. Ali umesto progresivne moderne arhitekture, žiri je odabrao konzervativni, monumentalizovani, akademski projekat, koji je u neku ruku najavio epohu totalitarnih režima u Evropi. Zgrada je jednostavno oslikavala duh epohe u kojoj je nastala, to jest, raspoloženje u društvu koje nimalo nije napredovalo nakon Prvog svetskog rata.
Zaokret nakon Drugog svetskog rata
Sve se ovo menja završetkom Drugog svetskog rata i preuzimanjem liderske pozicije u svetu od strane SAD-a. Već 1944. godine, dok je rat i dalje trajao, u San Francisku se osnivaju Ujedinjene Nacije, a nakon rata 1945. godine, njihovo sedište se seli u Njujork, kada bivaju prepoznate kao organizacija koja je zamenila Ligu Naroda. Ovaj sled događaja nije se odigrao nimalo slučajno. SAD su iz Drugog svetskog rata izašle na pobedničkoj strani, sa važnom činjenicom da ratna razaranja nisu preneta na njihovo tlo, ali i još značajnijom činjenicom da su prvi razvili atomsko naoružanje, omogućili su im lidersku poziciju u daljem razvoju društva.
Kako su počeli da diktiraju političke i privredne uslove razvoja, finansijski centar seli se iz Londona u Njujork (ili London pada na drugu poziciju po važnosti), gde ubrzo dolazi i sedište UN-a. Porodica Rokfeler je donirala prestižnu lokaciju od oko 7 hektara na Ist Riveru, a prve pripreme započete su neposredno posle Drugog svetskog rata. Kao rukovodeća osoba na projektu izabran je arhitekta Valas Harison, čiji zadatak je bio da okupi vodeća arhitektonska imena iz celog sveta, koja će učestvovati u izradi rešenja za sedište UN-a. Ovo su pre svega bili modernisti po svom stručnom ubeđenju, a od predstavnika iz 10 različitih država, u startu su počeli da se ističu Oskar Nimajer i njegov učitelj Le Korbizje.
23 + 32 = projekat 23-32
Tokom procesa usaglašavanja predloga, stručni tim je razmotrio oko 50 predloženih projekata. Le Korbizje je u ovom projektu uvideo "revanš" za propuštenu šansu na konkursu za Ligu Naroda, pa je svim snagama lobirao da se usvoji njegovo rešenje, takozvani "projekat 23". S druge strane, u nadmetanje se uključio i Nimajer, sa svojim "projektom 32". Tim je bio pred konačnom odlukom da usvoji Nimajerovo rešenje, ali je rukovodilac tima, Harison, odlučio da se usvoje i određeni elementi iz Le Korbizjeovog rešenje. Time je konačni "projekat 23-32" bio konačno uobličen, sa monolitnim horizontalnim objektom, izvedenim u čeliku i staklu, u koje je smešten kompletni Sekretarijat UN-a, dok su pored njega organizovani manji, organski oblikovani i horizontalno postavljeni objekti Generalne Skupštine i Saveta bezbednosti UN-a. Izgradnja je započeta postavljanjem kamena temeljca 1949, a završena 1952. godine.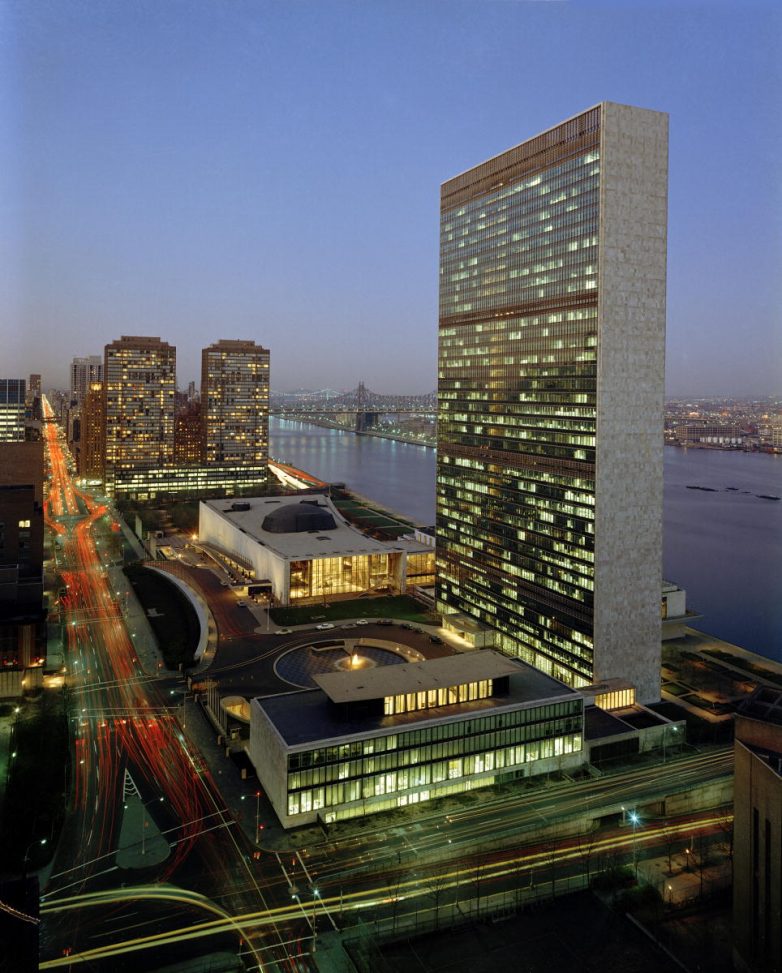 Umesto na nacionalnom identitetu i istorijskim motivima, prednost je data funkciji i autorskom izrazu arhitekte.
Ovo je bila velika pobeda za modernu arhitekturu. Izgradnjom zgrade, ključne za uređenje svetskih političkih dešavanja, u arhitektonskom pravcu koji je u startu isključio istorističke, nacionalističke i religijske karakteristike, u mnogome govori u kom pravcu je Svet na čelu sa SAD-om krenuo u drugoj polovini 20. veka. Svetski, to jest, američki politički i privredni lideri uvideli su da svet postaje globalan i da je njegovo dalje umrežavanje mnogo praktičnije uz internacionalnu modernu arhitekturu, oslobođenu istorijskih konotacija pojedinih nacija. Umesto na nacionalnom identitetu i istorijskim motivima, prednost je data funkciji i autorskom izrazu arhitekte. Kompleks Sedišta UN-a ubrzo postaje model po kojem su upravne zgrade svojih institucija počele da grade države širom Sveta, naravno angažujući arhitekte moderniste.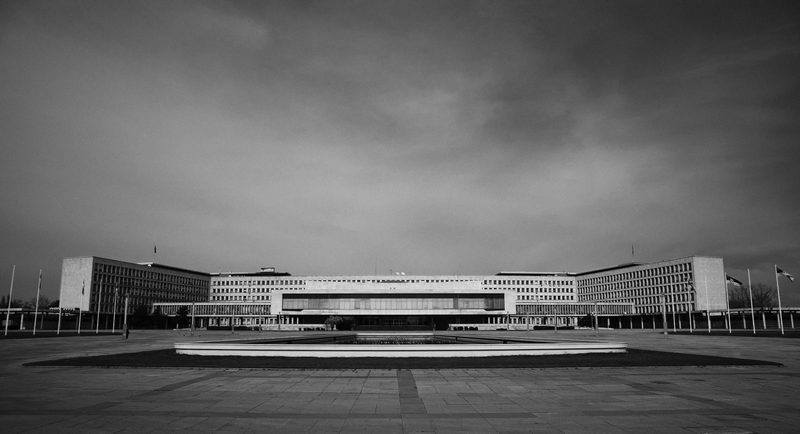 Odjeci u SFRJ
Šema monolitne staklene kule i organske betonske skupštinske sale, nakon odbacivanja socrealizma i prihvatanja internacionalne moderne (sredinom 50-ih), dolazi i u Socijalističku Jugoslaviju. Palata SIV-a (Srbije) naknadno je tokom same izgradnje prepravljena da što više poseduje koncept spomenutih skupštinskih objekata, dok je Zgrada DPO (popularna CK, sada Ušće) dobila formu monolitne staklene kule. To je bio recept koji su jugoslovenske arhitekte, učenici Le Kobizjea i sledbenici njegovih ideja, primenjivali širom Socijalističke Federativne Republike Jugoslavije.
Kad ste već ovde…