Koja je upotrebna vrednost stanova koje danas gradimo? Mate Bajlon je još pre 50 godina utvrdio 12 kriterijuma za procenu upotrebne vrednosti stana. Ali, o ovim kriterijuma se danas malo zna.
Sertifikat o kvalitetu stana je dokument koji svakom kupcu stana može biti od velike koristi prilikom odabira nekretnine. Sertifikat kvaliteta je skala objektivnih kriterijuma za procenu klasnog razreda stana. Prema svom kvalitetu, stan se može uvrstiti u jedan od 8 klasnih razreda (G, F, E, D, C, B, A i A+). Pored lokacije i veličine, ključni kvalitet stana jeste njegova upotrebna vrednost.
U Srbiji, stanovi minimalne upotrebne vrednosti prodaju se po maksimalnoj ceni. "Stan koji gradimo ne sadrži uvek odgovarajuću upotrebnu vrednost, kako u odnos na uložena sredstva, tako i sam po sebi. To znači da smo istim sredstvima mogli izgraditi i veći broj i bolje stanova". (Bajlon, 1972: 72). U takvoj situaciji, najviše pate kupci i krajnji korisnici – plate skupo, a žive glupo!
Svaki kupac bi trebalo da proveri ukupni kvalitet i upotrebnu vrednost stana koji namerava da kupi.
Neuravnoteženost cene i kvaliteta stanova u Srbiji stalno raste. Neuravnoteženost cene i kvaliteta je ove godine dosegla svoj istorijski vrhunac. Proizvodnja stanova je ogromna, ali je njihov kvalitet oskudan. Novogradnji mnogo toga nedostaje. Nedostaje ostava, porodica nema gde da se okupi, terasa je preuska, spavaća soba je pretesna. Brojevi nisu dobri. Čak 60% kupaca odabere nekretninu zbog koje se posle kaje. Iz tog razloga, pre kupovine, svaki kupac bi trebalo da proveri ukupni kvalitet i upotrebnu vrednost stana koji namerava da kupi.
Šta je upotrebna vrednost stana?
Upotrebna vrednost stana je složena ukupnost. Reč je o kulturnoj dimenziji prostora koja proizilazi iz odnosa brojčanih i relacionih parametara. Prilikom procene, upoređuju se veličina prostorija i njihov odnos, pozicija prostorije u sklopu, gleda se kako su pojedine zone međusobno povezane.
Pojam i zamisao upotrebne vrednosti stana u arhitekturu uveli su Mate Bajlon, Branko Aleksić i Branislav Milenković. Ideja procene upotrebne vrednosti nastala je tok 50-ih godina prošlog veka. Cilj istraživanja i rada profesora sa Arhitektonskog fakulteta u Beogradu bio je da u što manje kvadrata organizuju što kvalitetniji stan. Namera je bila da se ekonomično gradi, a da se nivo nedostataka stana svede na najmanju moguću meru. Lako i brzo održavanje bili su jako važni.
U pogledu porekla, upotrebna vrednost stana bila je rezultat sinteznog modernizma. Reč je o principu usvajanja obrazaca organizacije iz različitih sredina i njihovog sabiranja u jednu funkcionalnu matricu. Brojni stanovi iz jugoslovenskog perioda u sebi sadrže obrasce preuzete iz Nemačke, Amerike, Švedske, Francuske i Danske.
Mate Bajlon je prvi uspostavio kriterijume za procenu upotrebne vrednosti stana. To su:
Odvajanje dece prema polu
Odvajanje dece i roditelja
Odvajanje prostorija za lični život i prostorija za zajednički život
Okupljanje porodice oko zajedničkog stola
Mogućnost formiranja "kružne veze"
Mogućnost formiranja "proširene komunikacije"
Neometan prijem gostiju
Prolazna dnevna soba
Radna kuhinja
Garderobiranje i ostava
Otvorene površine
Vremenom, pojedine karakteristike upotrebne vrednosti stana su atrofirale i nestale. Spram jugoslovenskih stanova, savremena stanogradnja je degenerisano potomstvo. Savremenim stanovima mnogo toga nedostaje. Oni nemaju proširenu komunikaciju, kružnu vezu, otvorene površine niti prostor za garderobu i ostavu.
Četiri stožera upotrebne vrednosti stana
Proširena komunikacija bila je tekovina Beogradske škole stanovanja. Njeno poreklo dolazi iz skandinavskih zemalja, tačnije, iz Švedske. "Proširena komunikacije je nastala iz potrebe da se nađe oblik okupljanja porodice za zajedničkim stolom, tamo gde prenatrpanost stana to ne dozvoljava", ističe Mate Bajlon. Cilj intervencije bio je stvaranje stana sa dva centra. Jedan centar bio je namenjen roditeljima, drugi je bio namenjen deci i njihovim drugarima. Ideja proširene komunikacije oslanja se na predratne trpezarije koje su predstavljale kombinaciju obedovanja i ulaznog hola. Trpezarija u salonskom stanu bila je centralno mesto porodičnog okupljanja. Proširena komunikacija trebalo je da vrši istu ulogu u modernom stanu.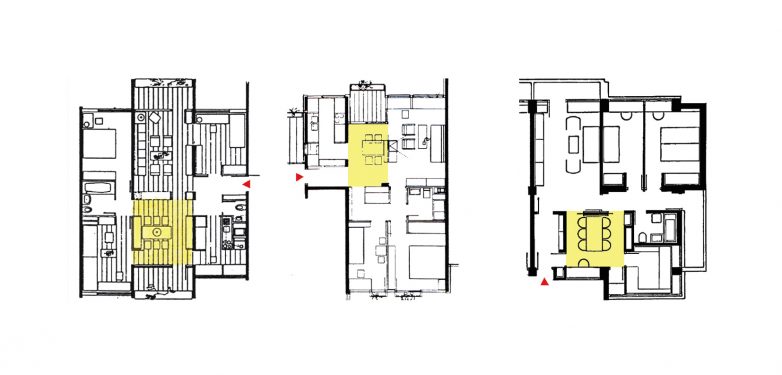 Cilj kružne veze jeste kontinualno povezivanje dnevne, noćne i servisne zone u odnosu na smer ulaznog kretanja.
Kružna veza je suštinski kvalitet upotrebne vrednosti stana. Ona podrazumeva formiranje neprekinutog kretanja u okviru sistema lančano povezanih prostorija. Kružna veza se "primenjuje u situacijama kada se želi postići veći nivo prostornosti u uslovima malih kvadrata, pri čemu se umanjuje ili neutrališe osećaj skučenosti prostora, ali i kod većih kvadratura s ciljem jasnog diferenciranja ili povezivanja udaljenih funkcionalnih zona" navode Đorđe Alfirević i Sanja Simonović-Alfirević. Cilj kružne veze jeste kontinualno povezivanje dnevne, noćne i servisne zone u odnosu na smer ulaznog kretanja.
Otvorene površine bile su rezultat uticaja moderne medicine na razvoj koncepta modernog stana. Koncept modernog stana, pored kuhinje i kupatila, podrazumevao je prisustvo lođe, terase ili balkona. Smatralo se da čist vazduh i boravak na otvorenom pozitivno utiču na zdravlje i raspoloženje ljudi. Tokom 1950-ih, lođa sve češće ulazi u stambeni organizam kao njegov sastavni deo. Darko Marušić ističe da je primena lođe bila konstitutivni motiv beogradskog stana i beogradske škole stanovanja. Kao otvorena površina, lođa je predstavljala prostorni produžetak jedne od dnevnih prostorija – najčešće dnevnog boravka ili trpezarije.
Savremeni stanovi vrlo često gube ostave, ulazno predsoblje, ugradne plakare, ali i prostor za odlaganje izvan stana.
Garderobiranje i ostava su bili stvar koja se podrazumevala. Nekada, stan bez osnove nije mogao da se zamisli. Ostava je bila sastavni deo grupe prostorija za domaćinstvo. Hodnici i predsoblja bili su namenjeni za gaderobiranje (odlaganja kišobrana, jakni, cipela). S jedne strane, oni su bili prostori prelaza između različitih zona. S druge strane, prostori za kretanje ujedno su bili i prostori za odlaganje stvari. U novogradnji, počinju da se grade stanovi bez ostava! Vrlo često, savremeni stanovi gube i ulazno predsoblje, ugradne plakare, ali i prostor za odlaganje izvan stana. Ovim redukcijama se kvalitet tih stanova značajno umanjuje, a time i njihova upotrebna vrednost.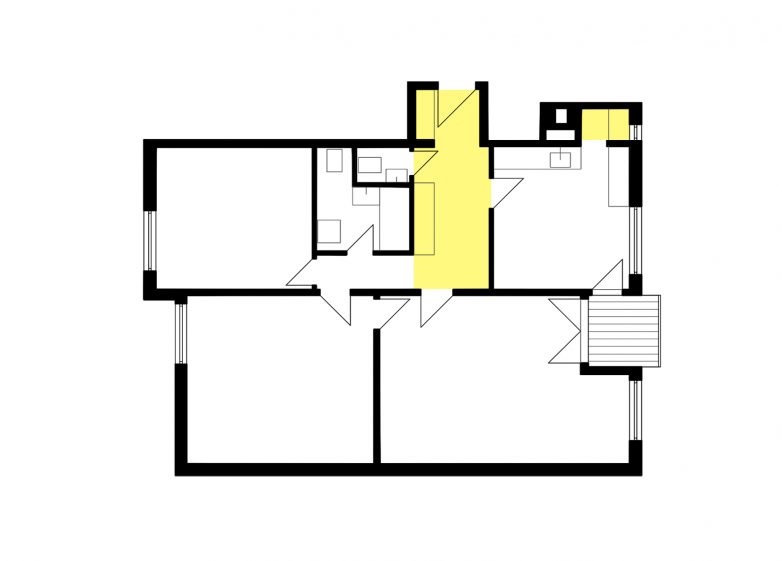 Kupovati pametno
Na snazi je neka vrsta negativne spirale. Kao društvo i pojedinci, sve se više navikavamo na sve lošije uslove stanovanja. U poslednjih par godina, sve češće se grade stanovi bez ostave, bez proširene komunikacije, bez kružne veze i bez adekvatno dimenzionisanih otvorenih površina. Upotrebna vrednost tih stanova je jako mala. Međutim, njihova prodajne cena je jako visoka. To je ogroman problem. Najviše ispaštaju kupci. Kupci nekvalitetne stanove kupuju po visokoj ceni, a potom u njima loše stanuju. To je bedna egzistencija.
Prilikom kupovine stana, treba biti oprezan. Svi smo mi stručni kada je u pitanju stanovanje kao svakodnevno iskustvo. Međutim, nismo svi stručni kada je u pitanju procena tržišna vrednost nepokretnosti ili procena upotrebne vrednosti stana. 12 kriterijuma upotrebne vrednosti stana mogu biti od velike koristi svim kupcima prilikom odabira nekretnine. Pre kupovine, obavezno zatražite od svog agenta i samog investitora da vam dostave Sertifikat o ukupnom kvalitetu stana koji nameravaju da vam prodaju. Budite informisani, ne dajte da vas prevare.
Literatura
Alfirević, Đ. i Simonović-Alfirević, S. (2013). "Beogradski stan". Arhitektura i urbanizam, br. 38, str. 41-47.
Alfirević, Đ. i Simonović-Alfirević, S. (2018). "Koncept kružne veze u stambenoj arhitekturi". Arhitektura i urbanizam, br. 46, str. 26-38.
Alfirević, Đ. i Simonović-Alfirević, S. (2019). "Projektantski principi za postizanje prostornosti u stambenom prostoru". Arhitektura i urbanizam, br. 48, str. 37-53.
Aleksić, B. (1975). "Konkursni stan". Arhitektura-urbanizam, br. 74-76, str. 42-84.
Bajlon, M. (1972). "Neka pitanja u vezi sa upotrebnom vrednosti stana". Izgradnja: Stan i stanovanje, str. 27-38.
Bajlon, M. (1975). "Stan u Beogradu". Arhitektura-urbanizam, br. 74-76, str. 23-42.
Todorović, M. (2016). "Redefinisanje funkcije ostave i novi prostori savremenog stana". Tehnika, br. 71/2, str. 194-205.
 Srodni link: