Arhitektura
Kratka istorija balkona: Od drevne Persije do pandemije
Arhitektonski element koji se pokazao kao glavni akter u našim životima tokom pandemije, imao je veoma zanimljivu ulogu kroz istoriju.
Balkon, odnosno terasa, svima nama koji živimo u stanovima trenutno je jedini prostor koji nas povezuje sa spoljašnošću i koji nam omogućava da budemo u kontaktu sa drugim ljudima, doduše iz daleka. Složićemo se, da ovih dana stan koji ima balkon čini veliku sreću kod svojih vlasnika, koji u njemu uživaju verovatno više nego ikada.
Danas je posedovanje balkona ili terase postalo privilegija, ne samo zato što nam omogućava da uhvatimo svež vazduh i sunčeve zrake, već i što je omogućilo učestvovanje u zajednici… veoma ograničeno ali ipak najintenzivnije koje je u ovom trenutku moguće. Za samo nekoliko dana, balkon je u zemljama širom sveta vratio svoju "demokratsku funkciju", odnosno funkciju učestvovanja. Sada, kada smo okruženi viškom "pametne" digitalne komunikacije, imamo potrebu da gledanjem u oči tokom razgovora, te balkone koristimo kao mesta sa kojih ćemo progovoriti, aplaudirati lekarima ili čak zapevati sa komšijama. Međutim, odakle nama uopšte balkoni?
Od Persije do Sicilije
Osmišljen u Persiji i Egiptu, balkon je imao specifičnu ceremonijalnu funkciju, koja je u određenom pogledu i hijerarhijska, gde onaj koji je na balkonu govori masama koji se nalaze ispod njega. Vremenom su balkoni, pa i njegova verzija poput lođe, postali uobičajeni u Grčkoj i Starom Rimu i korišćeni su kako za javne nastupe, tako i kao bolji položaji za posmatranje raznovrsnih događaja, te su se često mogli videti u blizini Foruma.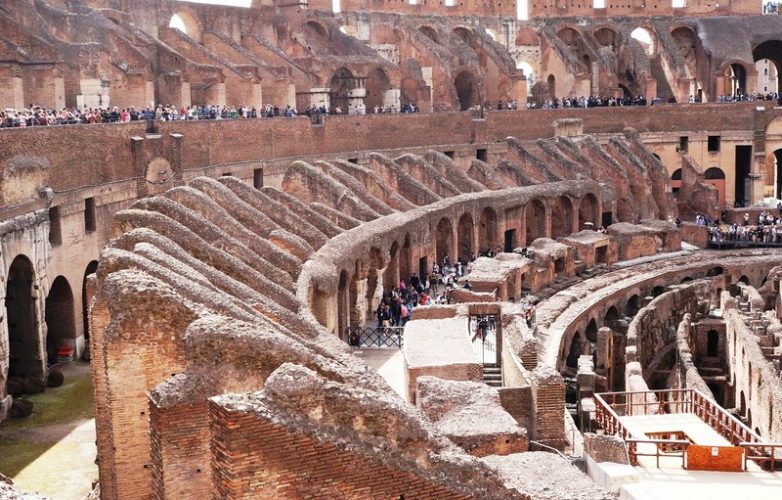 Zbog nedostatka kanalizacionih sistema, balkoni su u srednjem postali toaleti. Srećom, to nismo zadržali iz istorije…
Međutim, tokom srednjeg veka zbog nedostatka kanalizacionih sistema, balkoni su preuzeli drugu značajnu ulogu, odnosno postajali su toaleti. Srećom, to nismo zadržali iz istorije…
Nešto kasnije, tokom renesanse, balkoni su postali prava umetnička dela koja su se pokazivala sa ponosom i predstavljala statusni simbol. U ovom periodu, njihova glavna svrha je bila estetska, a ne funkcionalna.
U doba baroka, balkon je konačno preuzeo centralnu ulogu u definisanju kompozicije fasade. Vremenom postaju sve složeniji i sve je češća upotreba gvozdenih balustrada, a na primer sicilijanski balkoni su pravi raj za oči.
Mesto na kom ćete se pokazati
Pokazivanje sebe, sa uzvišenog položaja, neretko je bio slučaj kroz istoriju kada su diktatori i moćnici koristili izdignute balkone sa kojih bi masi ispod njih demonstrirali svoju moć i nedodirljivost.
Gledajući Gojine slike s početka 19. veka možemo uočiti da su na balkonima neretko bile "izložene" i prostitutke od strane pojedinaca, koje poput senki stoje u pozadini.
Sa druge strane, istorijski primer žene na balkonu svakako je Šekspirova Julija. Kroz romantičnu priču Romea i Julije možemo uočiti da je balkon postavljen kao simbol jedinog mesta na kom su mogli biti zajedno. I ona je , kao sada i mi, bila zatočena u kući i jedini spas joj je bio baš balkon.
Diktatori i moćnici koristili su izdignute balkone sa kojih bi masi ispod njih demonstrirali svoju moć i nedodirljivost.
Tokom vekova, biti zatvoren kod kuće, bilo je tipično stanje za mnoge žene koje su jedino na balkonu mogle biti slobodne i u mnogim pričama i slikama postoje pojave žena upravo na balkonima.
Aristorkratski pariski likovi, koje je čuveni slikar Eduar Mane prikazao na svom poznatom delu Balkon iz 1869. godine, uživaju u pogledu odozgo i kroz ovu predstavu dobijamo jasne informacije o statusnom simbolu ova četiri lika. Naime, nakon rekonstrukcije Pariza kada su obezbeđeni bolji higijenski uslovi u gradu, objekti sve više sadrže balkone koji postaju mesto pokazivanja buržoazije, piše Domusweb.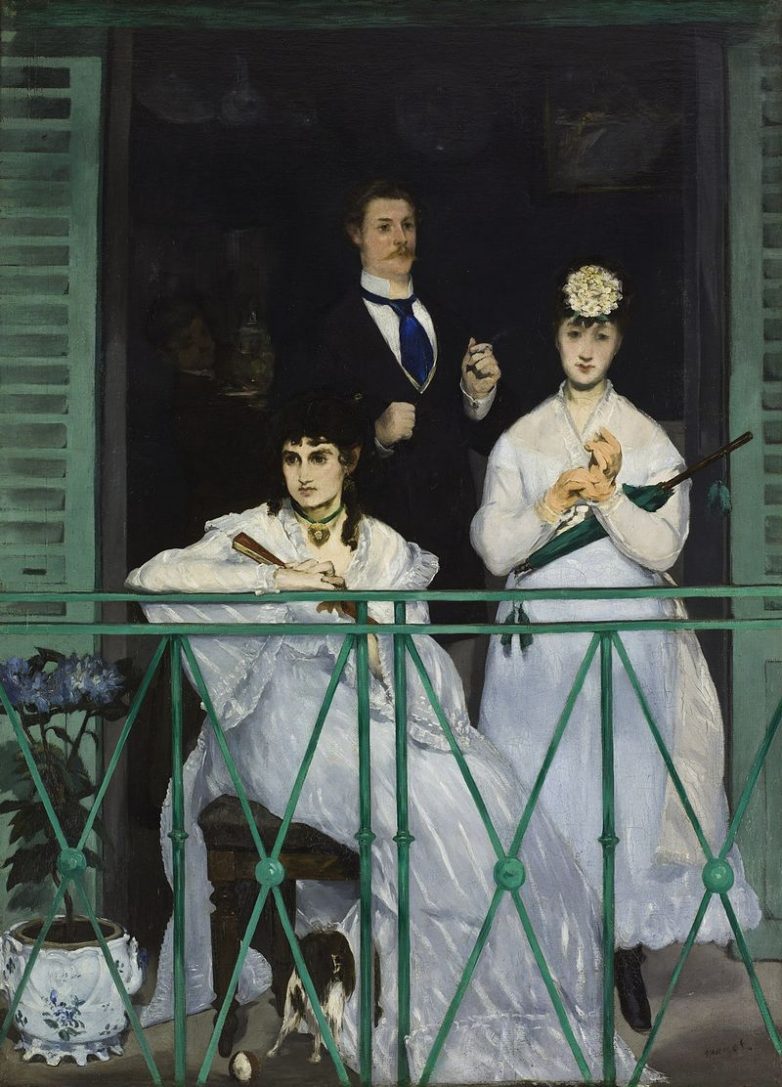 Balkon 20. veka
"Balconear" je glagol u španskom jeziku koji znači gledati u nekoga ili nešto, iz blizine a ne učestvovati. Ovo značenje nam jasno ukazuje na to šta je dugo bila funkcija balkona. Pozivajući se baš na ovaj izraz, papa Franja je pozivao mlade generacije da "ne budu balconear", već da "zarone u život baš kao što je to i Isus učinio".
Kroz mnoga umetnička dela se, u vremenima revolucije, često javlja simbol balkona, kao aktera koji prikazuje bunt ili mesto poziva na učešće.
Pojava armiranog betona dovela je do toga da se balkoni proširuju i postaju složeniji i veći.
Pojava armiranog betona dovela je do toga da se balkoni proširuju i postaju složeniji i veći. Zajednički balkon je postao sve više primenjivan element u sklopu stambenih objekata. Neretko se koristio kao prolaz koji povezuje stanove ili mesto u zgradi koje su stanari zajedno koristili, najčešće za sušenje veša, što je podstaklo razvijanje društvenih odnosa. Na ovom mestu su se razmenjivali tračevi uz kafu i organizovali zajednički događaji u zgradi. Zajednički balkon je postao više od arhitekture i definisao je društveni model života u zajednici.
Koncept se ubrzo menja pa stanovi ponovo dobijaju individualne balkone namenjene samo ukućanima. Tako su i stanovi širom naše zemlje počeli da dobijaju balkone i terase kao mesto gde se može izaći i boraviti na otvorenom. Mnogi nisu shvatali ovaj koncept produženog dnevnog boravka pa su svoje terase zastakljivali ili, još gore, zatvarali i pretvarali u sobe.
Balkon novog milenijuma
Početkom 21. veka, balkon, odnosno terasa, retko je u funkciji zajedničkog prostora i sve je više u duhu individualizma i kapitalizma. Balkon više nije mesto susreta sa ostalim stanarima, već se posmatra kao privatni prostor. Terase su često primarni element pomoću kog se potencira luksuz određenog stambenog objekta i sa svojim pogledom koji pruža, kao i prostranstvom, biva glavni akter promotivnih kampanja mnogih nekretnina širom sveta.
Sada, kada smo se svi zajedno našli u ovom nezavidnom stanju, zatvoreni u našim domovima konačno shvatamo i osećamo da su nam potrebne društvene veze. Gledamo na naše gradove od gore, ali sa željnom za ponovnim susretom sa ljudima i za željom da učestvujemo, a ne samo da budemo balconear.
Dakle, izađite na balkone… naravno, ako ih niste zastaklili.
Kad ste već ovde…