Velike krize dovode do velikih transformacija. Ništa na svetu nije dovelo do radikalnog preobražaja svakodnevnog života kao epidemija španske groznice s početka 20. veka.
Španska groznica bila je najsmrtonosnija pandemija u istoriji čovečanstva. Pojavila se na kraju Prvog svetskog rata. U tri talasa, između januara 1918. i decembra 1920. godine, širila se zemljinom kuglom. Virus je zarazio trećinu svetske populacije – oko 500 miliona ljudi. Svet je napustilo oko 50 miliona duša. Španska groznica odnela je pet puta više života nego Prvi svetski rat.
Nešto suštinski u društvu nije valjalo. Nešto suštinski se moralo promeniti. Karl Marks je bio upravu – industrijsko društvo 19. veka bilo je neodrživo i da će se samo u sebe urušiti. To je bilo tačno. Španska groznica bila je posledica loših uslova zdravlja, ishrane i stanovanja. Najveći problem bila je higijena.
Problem neprimerenog stanovanja
Najveći broj ljudi, najveći deo istorije, živeo je u najvećoj bedi. Živelo se bez vode, bez struje i bez toaleta. Proces industrijalizacije naglo je pogoršao kvalitet stanovanja. Pojedini istoričari ukazuju na poražavajuće uslove u kojima se na početku 20. veka stanovalo.
Filip Arijes, u svojoj knjizi "Istorija privatnog života – Od Prvog svetskog rata do naših dana", navodi bizarne uslove života u Francuskoj polovinom 20. veka. "Popis iz 1954. godine nudi potresnu sliku zastarelog načina stanovanja u Francuskoj. Oko 13,4 miliona stanova, jedva više od polovine (58,4%) ima tekuću vodu, samo četvrtina ima klozet u stanu, jedan od deset ima kadu ili tuš, a isto toliko stanova ima centralno grejanje." Ko bi rekao da nas od ovakve slike deli manje od 70 godina?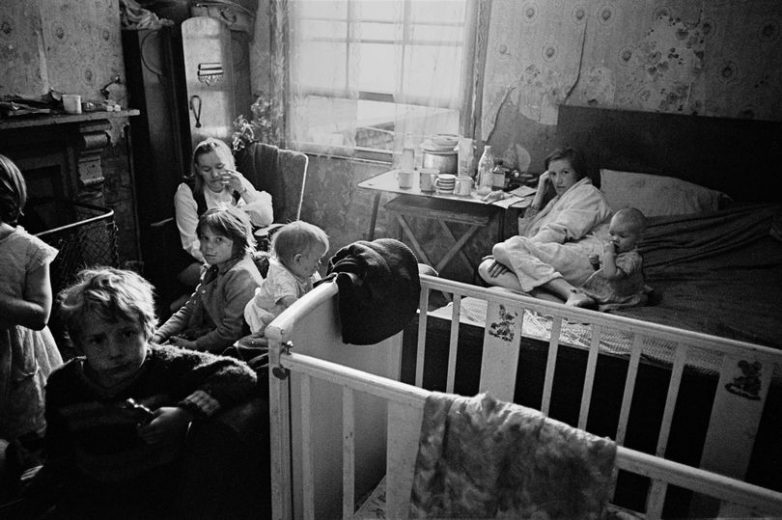 Španska groznica odnela je pet puta više života nego Prvi svetski rat. Pitanje stanovanja formulisano je kao pitanje zdravlja.
Situacija na početku stoleća bila je daleko gora, napominje Arijes. Fabrički radnici, njih nekoliko miliona, širom Evrope, spavali su, radili i živeli su u fabričkom prostoru. Poreklom sa sela, u gradu fabrički radnici nisu imali svoj dom. Dim i para udisali su se svakodnevno. Jelo se malo i nekvalitetno. Radilo se i spavalo u istom odelu. Kreveti su se delili. Smatralo se da voda slabi organizam, pa su se ruke i lice retko prali. Kupanje je bila nepoznanica.
Život u stambenim naseljima nije bio ništa bolji. Arijes ističe da je, prema popisu iz 1906. godine, trećina porodica u francuskim gradovima stanovalo u jednoj prostoriji. Tu se ložilo, tu se radilo, tu se spavalo. Takođe, nije se spavalo posebno. Više ljudi spavalo je u istom krevetu. Intimnost i privatnost nisu postojali. Nužda se vršila u noćim posudama, pred očima drugih. Reč je o realnosti koja ne odgovara predstavi koju obično imamo o tom vremenu.
I onda se dogodila 1918. godina. Za nekoliko meseci, stanovništvo sveta je desetkovano. Broj radne snage smanjen je za trećinu. Virus je pogodio marginalne delove društva, ali je ugrozio opstanak društva u celini. Rešenje je moralo biti radikalno i sveobuhvatno. Uslovi stanovanja najvećeg broja ljudi morali su biti unapređeni u ogromnoj meri. Pitanje stanovanja formulisano je kao pitanje zdravlja. O modernoj arhitekturi Betriz Kolomina govori kao arhitekturi paranoje koja se razvila iz straha prema plućnim bolestima, zarazama i virusima. Moderna arhitektura bila je rezultat kolektivne histerije.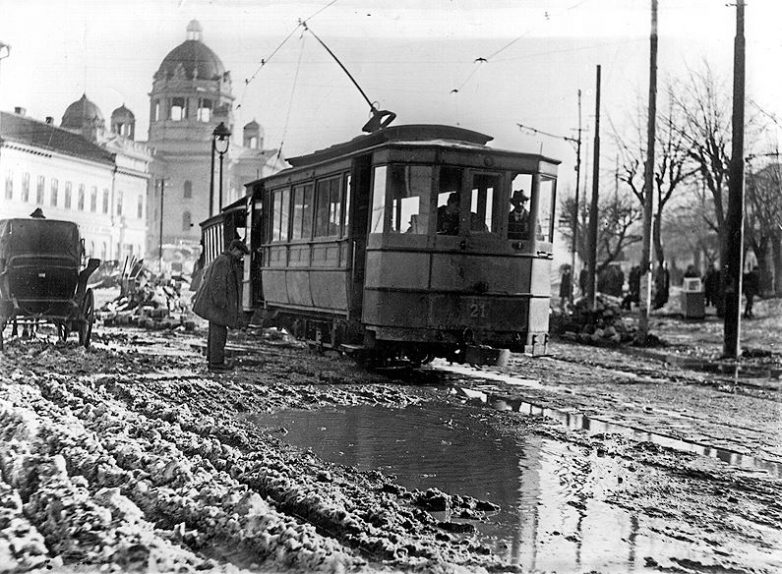 Svetlost, prostor, vazduh – koncept modernog grada
Kako je pitanje stanovanja formulisano kao pitanje zdravlja, tragalo se za prigodnim oblikom grada koji je odgovarao identitetu zdrave, moderne individue. U ostvarivanju ove ideje, arhitektura i urbanizam imali su presudnu ulogu. Urbana higijena postala je ekstremno bitna.
Nova ideja zdravlja zahtevala je novu ideju grada. Ideja modernog grada bazirala se na negiranju tradicionalnog grada, kompaktnog urbanizma i radničkih četvrti, prljavih i uskih ulica. Svetlost, prostor i vazduh bili su novi ideali. Veliki i prostrani bulevari, orijentisani prema stranama sveta, smatrali su se za prigodno rešenje.
Stambene četvrti grade se daleko od industrijskih zona. Zidale su se visoke zgrade u moru zelenila, sa ogromnim prostorima za rekreaciju. Fizička spremnost bila je obožavana. O dobroj osunčanosti i provetrenosti ozbiljno se vodilo računa. Zidane su nove kolonije, ali i čitavi delovi gradova. Novi Beograd najpoznatiji je primer modernog urbanizma na našim prostorima.
Komunalna evolucija i pojava prostorija sa instalacijama
Komunalna evolucija grada značila je ogromnu evoluciju stana i stanovanja. Bogdan Nestorović u svom članku "Evolucija beogradskog stana" navodi: "Krajem devetnaestog veka i početkom dvadesetog veka nastupa značajan preokret u rasporedu stana i načinu stanovanja. Glavni razlog je u pojavi vodovoda i kanalizacije koji daju rasporedu stana klozet i kupatilo. Kuhinja, takođe, dobija vodu. Stvara se nova grupa prostorija u stanu, grupa prostorija s instalacijama s težnjom da se one koncentrišu. Od jednostavne osnove sa sličnim odeljenjima stvara se osnova s nizom manjih i većih prostora koji se utoliko više diferenciraju po veličini ukoliko ekonomski faktor jače utiče na izgradnju." Komunalna evolucija i pojava prostorija s instalacijama suštinski su odredili koncept modernog stana.
Podela na noćnu i dnevnu zonu
Podela na noćnu i dnevnu zonu aktivnosti imala je za cilj izolaciju bolesnika u slučaju zaraze. Spavaća soba sa krevetom odvajale su se od zajedničkih stambenih sadržaja (kuhinje, trpezarije, dnevne sobe). Cilj je omogućavanje neometanog funkcionisanja porodice u slučaju bolesti nekog od njenih članova. Među prvima, ideju o razdvajanju sadržaja uveo je Aleksandar Klajn 1927. godine u svojim komparativnim istraživanjima stana za minimum egzistencije. O ovom obrascu projektovanja piše i Bogdan Nestorović u svom udžbeniku "Stambene zgrade – Osnovi projektovanja" iz 1964. godine. Segregacija dnevne i noćne zone temeljni je obrazac organizacije modernog stana.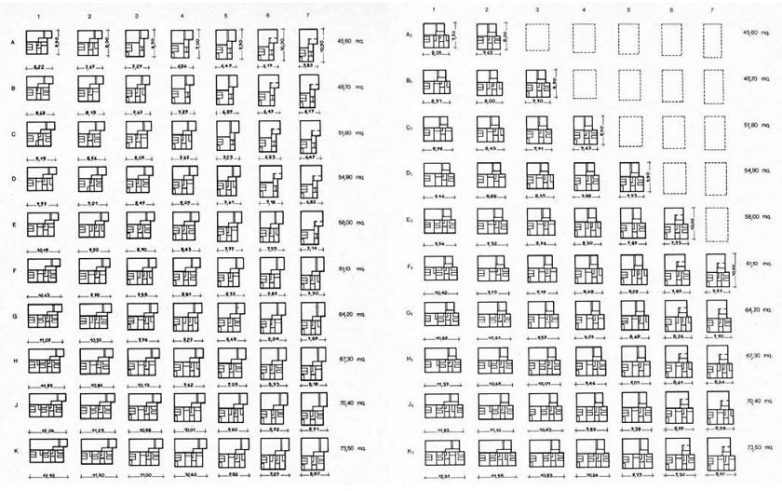 Novi programski sadržaji – Prostorije za kretanje
Ako pogledamo obrasce organizacije salonskog stana, videćemo da postoji samo podela na prostor za boravak i prostor za domaćinstvo. Prostorije za boravak nižu se jedna na drugu, bez međusobnog razdvajanja. Koncept modernog stana uvodi novi tip sadržaja – grupu prostorija za kretanje, a sve u cilju odvajanja dnevnih i noćnih sadržaja u slučaju bolesti. Rađa se uverenje da je stan najbolje organizovan ako grupa prostorija za kretanje koja kanališe saobraćaj bude u središtu stana. Bogdan Nestorović o ovome piše: "Kako pojedine prostorije u stanu imaju specifične funkcije to se sva međusobna kretanja moraju kanalisati određenim prostorima da bi različite grupe u stambenom rasporedu ostale što samostalnije." Umesto nadovezivanja, koncept modernog stana teži razdvajanju prostora i aktivnosti..
Upotrebna vrednost stana
Koncept modernog stana teži da u što manje kvadrata upakuje što veću količinu aktivnosti i sadržaja. Koncept modernog stana preteča je savremenog fenomena malih stanova. Upotrebna vrednost stana postaje presudni kvalitet. Upotrebna vrednost stambenom prostoru daje jednu novu kulturnu dimenziju. Teži se omogućavanju odvajanja dece prema polu, odvajanju dece i roditelja, okupljanju porodice oko zajedničkog stola, uvođenju otvorenih površina (terasa, lođa i balkona), ali i neometanom prijemu gostiju. Stan treba pružiti lako i brzo održavanje, ali i tehničke mogućnosti za lako i brzo pripremanje hrane. Higijena je bila ključna. Da bi stan imao odgovarajuću upotrebnu vrednost, morao je imati određen standard kvadrature, kao i promišljen odnos između pojedinih grupa aktivnosti i prostorija.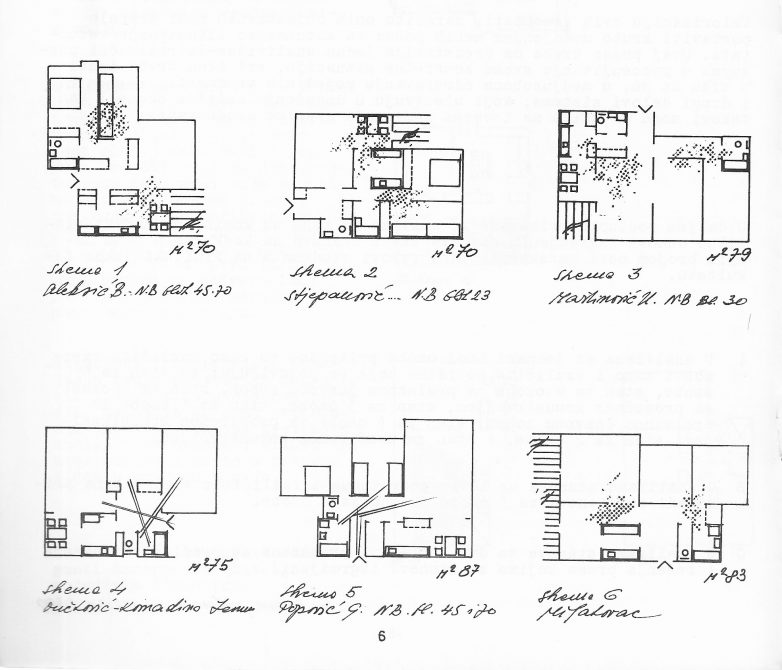 Orijentacija i provetrenost stana
Svetlost, prostor i vazuh bili su vodeći moto ne samo u oblikovanju gradova, već i prilikom organizacije stanova. Le Korbizje uvodi ideju horizontalnih prozora kako bi se stambenom prostoru dalo dovoljno dnevne svetlosti, ali i provetrenosti. Dvostrana orijentacija postaje zakon.
Uvode se minimalni standardni po kojima prozorski otvori moraju biti najmanje 10% površine prostorije. Alvar Alto uvodi nov koncept kuhinje baziran na principima osunčanosti (Altova kuhinja). U centrima gradova zabranjuje se izgradnja dvorišnih krila. Uvodi se dvorišna regulacija. Stanovi Miroslava Jovanovića (1963) i Mihajla Mitrovića (1964) ilustruju ovaj fenomen u našoj sredini.
Pouke prošlosti
Ovih dana, u vreme pandemije koronavirusa, najveći deo svog vremena provodimo u svojim stanovima. Imamo vodu. Imamo kanalizaciju. Imamo struju. Međutim, nije oduvek bilo tako. Moderno doba kakvo poznajemo danas započelo je pre manje od 70 godina. Pre toga, opšti kvalitet stanovanja bio je loš – jako loš.
Nemili događaji po okončanju Prvog svetskog rata ozbiljno su ugrozili opstanak čovečanstva. Radikalni problem zahtevao je radikalnu transformaciju. Koliko su bolja higijena, osunčanost i provetrenost stanova unapredili naše svakodnevne živote – teško je proceniti. Tragedija španske groznice sa početka 20. veka preokrenula je točak istoriji i predodredila smer razvoja modernog grada i modernog stana. Strah se uvukao pod kožu. Drugim rečima, istorija moderne arhitekture istorija je kolektivne društvene paranoje.
Kad ste već ovde…