Ideje koje su zastupali vizionari poput barona Osmana i Le Korbizjea su i danas prisutni u savremenim gradovima u cilju lakše borbe protiv zaraza.
Kada pogledamo higijenske probleme naših gradova, možemo videti da se oni nisu mnogo promenili svih ovih vekova i da se najviše svode na dva ključna problema – rešavanje dovođenja čiste/pitke vode i odvođenja otpadne.
Izgradnja vodovoda i kanalizacije, kojima se stanovništvu omogućava da održavaju preko potrebnu ličnu i kolektivnu higijenu, na prvom je mestu sprečavanja širenja zaraznih bolesti. Poznata je činjenica da jedna od većih epidemija kolere pogodila London sredinom 19. veka, a da je Pariz tih decenija i dalje kilometrima zaudarao usled nedostatka kvalitetne kanalizacije.
Ovi i drugi veći evropski gradovi posebno su bili u problemu jer su se rapidno širili, a gradski čelnici nisu znali kako da što brže i efikasnije reše problem održavanja, naročito radničkih i sirotinjskih kvartova. Da li možemo da zamislimo da je moderni WC (wather closet) u drugoj polovini 19. veka bio privilegija isključivo ekskluzivnih kuća i zgrada, luksuznih hotela i modernih poslovnih zgrada, a da je prisustvo tekuće tople vode u nekim krajevima Evrope rešeno tek od polovine 20. veka?
Sve ovo je uticalo na opštu higijenu i (ne)funkcionisanje gradova. Međutim, neka revolucionarna arhitektonsko-urbanistička rešenja su dobila bitku za čiste gradove u kojima mi sada živimo.
Antički Rim i rađanje urbane higijene
Za Antičke Rimljane često kažemo da su kompletnu arhitekturu preuzeli od Antičkih Grka, ali ta tvrdnja ne stoji u potpunosti. Oni su zasigurno od Grka preuzeli arhitektonsku estetiku (stilske redove stubova), ali su u nekim segmentima arhitekture i urbanizma izveli pravu revoluciju.
O ovim stvarima u svojoj knjizi "Deset knjiga o arhitekturi" piše i rimski pisac, inženjer-arhitekta Marko Vitruvije Polio, posebno u 8. knjizi stavljajući naglasak na vodosnabdevanje gradova. Ono se pre svega manifestovalo u izgradnji kompleksnih sistema akvadukta, kojima je voda sa većih razdaljina dovođena u veće urbane centre, snabdevajući ponekad stotine hiljada stanovnika pijaćom vodom. Delom te vode su se snabdevale i gradske česme i fontane, čime je pristup pijaćoj vodi postalo javno dobro rimskih građana.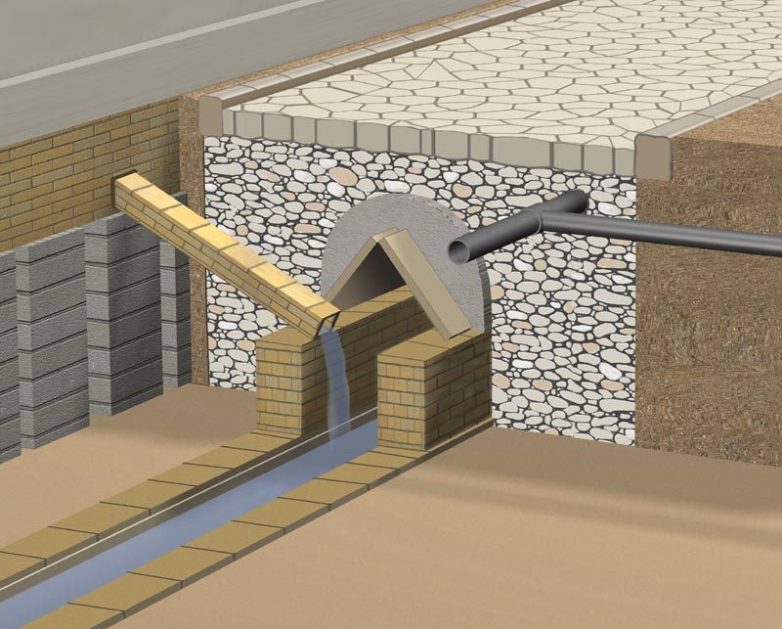 Glavni kanalizacioni odvod zvao se Cloaca Maxima, a u njega su se slivali pojedinačni odvodi, obezbeđujući time čistoću u Rimu.
Međutim, ono što Vitruvije iz nekog razloga nije spomenuo jeste sistem kanalizacionog sistema, koji je možda i više bio važan za opstanak i razvoj rimskih gradova. Po uzoru na dve glavne gradske ulice, Cardo i Decumanus, koje su se pod pravim uglom ukrštale u centru grada, povezujući sve druge manje ulice, tako je se ispod ulične mreže nalazila slična šema kanalizacionih odvoda. Glavni kanalizacioni odvod zvao se Cloaca Maxima, a u njega su se slivali pojedinačni odvodi privatnih kuća i javnih zgrada, obezbeđujući time čistoću čak i u najvećim gradovima Carstva.
Srednjovekovna degradacija do sredine 19. veka
Sve ovo nestaje raspadom zapadnorimske civilizacije i rađanjem novih srednjovekovnih gradova. Mnogi antički gradovi, pogođeni čestim upadima varvara i drugih stranih zavojevača, napuštaju svoje nekadašnje urbane prostore i povlače se u nešto veće utvrđene varoši, blede senke nekadašnjih metropola, prenatrpane privatnim kućama, sakralnim i vojnim objektima i pokojom vladarskom palatom, a sve to bez ikakvog prisustva tekuće vode ili kanalizacije.
Na gravirama koje su nastale u poznom srednjem veku, primećujemo da su stanovnici svoje otpadne vode jednostavno prosipali kroz prozor, pa su ulice svih gradova nesnošljivo zaudarale na ljudske izlučevine. A tako je, sa manjim izmenama, Evropa funkcionisala do prve polovine 19. veka. Naročito su ovakvim stanjem bile pogođene metropole poput Londona i Pariza.
Nije ni čudo što su manje ili veće epidemije izbijale svakih deset do dvadeset godina, u kojima je život gubilo nekada i do trećine gradskog stanovništva.
Baron Osman – urbanizmom protiv zaraze
Francuski imperator Napoleon III Bonaparta, tokom svoje skoro dvodecenijske vladavine, podario je Parizu izgled kakav danas uglavnom poznajemo. Kada je 1852. godine okončao mandat predsednika Republike i postao imperator Drugog Francuskog carstva, iskoristio je svoju apsolutnu moć da nesmetano krene u rešavanje socijalnih, infrastrukturnih i urbanističkih problema imperijalne prestonice.
Po njegovim rečima, Pariz je polovinom 19. veka i dalje bio prljav, zagušljiv, sa konstantnim smradom koji se širio duž mnogih naselja. Takođe, uske, neuređene ulice bile su pogodne za barikadiranje buntovnih grupa, s obzirom da su tada revolucije izbijale na svakih par decenija.
Da bi rešio ove probleme, Napoleon III naređuje da se grad potpuno rekonstruiše, da se izgrade široki bulevari koji će biti pogodni za nastupanje vojske i sprečavanje barikadiranja, ali što je najvažnije da se izgradi potrebna infrastruktura koja će omogućiti da grad prodiše saobraćajno, higijenski i estetski.
Sve nove zgrade u Parizu imale su ugrađenu vodovodno-kanalizacionu mrežu, sa sistemom vertikala kakav i danas postoji.
Za ovaj posao unajmljuje barona Žorž-Ežen Osmana, koji i pored toga što nije bio arhitekta već političar, imao vizionarske ideje po pitanju preuređenja Pariza. Ovi poduhvati su iz nekoliko razloga osporavani, na prvom mestu zbog sveobuhvatnosti i radikalnosti projekta, a na drugom zato što su sami radovi bili povezani sa finansijskim malverzacijama.
Naime, po Osmanovom projektu, bilo je potrebno srušiti preko 19.000 objekata i izgraditi duplo više novih na teritoriji centralne zone Pariza, a za sve to je car Napoleon III obezbedio dva pozamašna zajma od 250 i 260 miliona franaka. Ove činjenice su bile predmet velikih kritika, koje su uslovile 1870. godine povlačenje Osmana sa čela projekta, koji je dovršavan nekoliko decenija posle njegovog odlaska. Rezultati su bili zapanjujući.
Pariz je dobio prostrane avenije i bulevare, sa po nekoliko traka, pešačkim trotoarima sa obaveznim drvoredima, koji su štitile zgrade od prašine, buke i drugog zagađenja. Izgrađeni su prostrani trgovi, sa ulicama koje se od njih pružaju zrakasto, uređeni parkovi i šetališta duž Sene.
Posebno značajno je bila izgradnja najsavremenije mreže vodovodnih, gasnih i kanalizacionih instalacija, koje su omogućile nesmetano snabdevanje građana pijaćom vodom, osvetljenjem i naravno izbacivanje otpadnih voda. Sve novoizgrađene zgrade, bilo stambene ili javne namene, imale su ugrađenu vodovodno-kanalizacionu mrežu, sa sistemom vertikala kakav i danas postoji, koja se ulivala u centralne kolektore koji su se protezali ispod svih ulica. Stanovnici Pariza su konačno mogli da održavaju pristojnu higijenu, čime se stalo na put čestim zarazama, što se nije dogodilo od vremena Antičkog Rima.
Le Korbizje – korak dalje ka rešavanju problema
Ako su Parižani uspeli da prebole Osmana i dobiju Grad svetlosti po meri čoveka kakav i danas poznajemo, to se nije dogodilo sa arhitektom Le Korbizjeom, čije ideje su išle korak dalje i još radikalnije nastupale protiv urbanih i komunalnih problema prenaseljenih metropola. On je želeo još prostranije ulice, ali i slobodno stojeće zgrade, koje su dobro osunčane i provetrene, sa puno parkovskih površina i parking mesta koji ih okružuju.
Projekti poput "Grada za 3 miliona stanovnika" i "Ozareni grad" su na sličan način rešavali različite infrastrukturne probleme. Za početak, saobraćajnice su bile još prostranije, ali i bile odvojene od pešačke zone sistemom pasarela i uzdignutih ulica i trgova, kojima su građani mogli slobodno da šetaju, ne dolazeći u kontakt sa automobilima.
Korbizjeovo rešenje predviđalo je visoku spratnost solitera čime se garantovalo njihovo distanciranje jedne od drugih.
Vodovod, kanalizacija i druge instalacije su bile predviđene da prolaze kroz oblakodere duž jedne ili više zajedničkih vertikala, što je u mnogome olakšavalo izgradnju i održavanje. Spratnost solitera je garantovala njihovo distanciranje jedne od drugih, ali i od smoga i buke saobraćaja, a veliki trakasti prozori mnogo veću osunčanost tokom cele godine.
Možda je i on bio vizionar, daleko veći od Osmana (za Korbizjea je i Osmanov plan bio zastareo, a Pariz i dalje prenatrpan ljudima i saobraćajem), ali su njegovi projekti bili isuviše radikalni, isključivi i neaktivno nastrojeni prema istorijskom nasleđu. Takođe, dimenzije koje je arhitekta Korbizje predviđao daleko su premašivale meru čoveka, pa su samim tim u startu bile odbojne mnogima.
U jednom od svojih projekata slavni arhitekta se pomalo neslavno "obračunao" sa Parizom, po kojem bi centralna zona grada bila potpuno srušena, a na njeno mesto bi došli njegovi krstasti oblakoderi. Ovo je bilo isuviše za političare, ali i za građane, koji srećom nisu prihvatili njegovo rešenje. Međutim, Le Korbizjeove ideje su nastavile da žive, doduše  u nešto skromnijem obliku, kroz sve nove stambene četvrti ili čitave gradove koji su zidani posle Drugog svetskog rata, poput Novog Beograda kod nas.
Što više svežeg vazduha i osunčanosti
Ideje koje su zastupali vizionari poput Osmana i Le Korbizjea su i danas prisutni u savremenim gradovima ili u gradovima koji se tek planiraju i grade. Ako se izuzme zidanje u starim istorijskim jezgrima, svaki nova urbana celina planira se, projektuje i gradi po ovim principima – što više svežeg vazduha i osunčanosti, što prohodnije saobraćajnice (nadzemne i podzemne) koje bi sprečile zastoje u saobraćaju i naravno što efikasniji sistem instalacija, koje olakšavaju funkcionisanje i držanje višeg nivoa higijene, što je ključno za održavanje višeg zdravstvenog nivoa stanovništva.
Kad ste već ovde…