"Veličina projekta nije nam važna. Bitni su nam izazovi koje pojedini projekt nosi, a koji mogu jednako zanimljivi biti i u malom i u velikom projektu" – kaže osnivač studija SODAarhitekti iz Zagreba.
Od projekta enterijera, pa do čitavih kampusa – BIM radne procedure u zagrebačkom studiju SODAarhitekti su uobičajena stvar već više godina. Mladi ali napredni, arhitekte u ovom arhitektonskom biroa su BIM podigli na jedan sasvim viši nivo. Izrada konkursa, idejnih ili izvođačkih projekata se sve odvija u digitalnom okruženju.
Na konferenciji BuildUp 2019 – Digitalna gradnja će nam predstaviti više svojih projekata kroz prizmu BIM radnog okruženja, a Vedran Jukić nam deli svoje utiske kako je to osnovati i voditi jedan arhitektonski biro u eri digitalne i tehnološke tranzicije.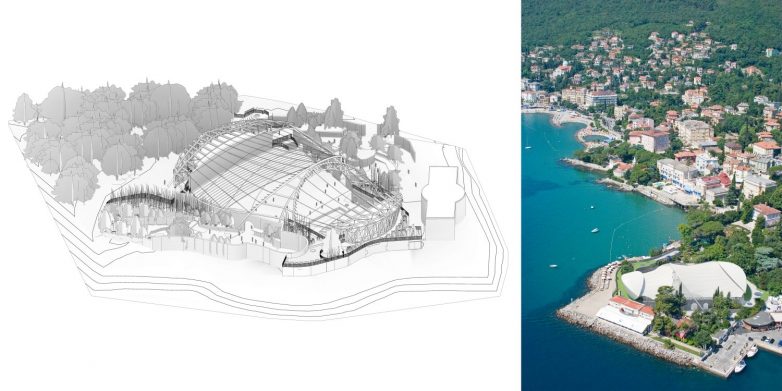 U našem regionalnom kontekstu, nije uobičajno da mali i autorski orijentisani biroi aktivno koriste BIM alate. SODAarhitekti, međutim, izuzetak su svoje vrste. Kako ste zaplovili nemirnim morem BIM tehnologija i šta je bitno za uspešnu BIM implementaciju?
BIM smo počeli koristiti 2015. godine za potrebe izrade jednog kompleksnog projekta u kojem nije bilo moguće riješiti sve zadatke dotadašnjim metodama i alatima. Implementacija je išla isključivo kroz samoedukaciju istraživanjem tutoriala na internetu.
Timski duh je iznimno važan za uspješnu BIM implementaciju, budući da se u potpunosti mijenja način rada, razmišljanja i suradnje.
Timski duh je iznimno važan za uspješnu BIM implementaciju, budući da se u potpunosti mijenja način rada, razmišljanja i suradnje, pa si cijeli tim mora međusobno pomagati i prenositi znanja i vještine kojima barataju.
Od novih članova se očekuje maksimalan angažman na savladavanju tih novih alata, budući da je opseg poslova klasičnim/starim alatima značajno smanjen. Na nivou studija imamo razrađen način uvođenja novih članova koji se sastoji od uputa i tutoriala koji se moraju proći u teoriji, ali najvažnije i u praksi.
Poznato je da mlade arhitekte brže i lakše usvajaju nove tehnologije i digitalne alate. Na kojim ste sve projektima aktivno koristili neki od BIM softvera? Da li se na BIM oslanjate jedino u fazi razrade i izgradnje, ili ga primenjujete u svim fazama razvoja jednog projekta?
BIM je širok pojam i vjerujem da još nismo iskoristili sve mogućnosti koje nudi. BIM software koristimo u svim fazama i za svaki projekt na kojem radimo, a mogućnosti koje nudi prilagođavamo fazi i tipu projekta. Budući da se cijeli sustav svakom novom verzijom razvija, od nas traži trajnu i aktivnu edukaciju kako bi ga mogli što efikasnije upotrebljavati.
Koje su glavne prednosti BIM standarda sagledano iz ugla klijenta i izvođača kao jednih od ključnih aktera uključenih u proces postavke i realizacije arhitektonskih zdanja?
Prednost BIM-a je svakako ta što se zgrada prvo jednom gradi virtualno (sa svi njenim fizikalnim karakteristikama), a tek potom fizički. Takav model nudi brojne mogućnosti raznih analiza ponašanja same zgrade prvo u virtualnom svijetu, primjenu potrebnih optimizacija, a tek potom ulazak u gradnju. Komunikacija sa svim uključenim stranama je olakšana s obzirom na trodimenzionalnu vizualnu reprezentaciju tijekom cijelog procesa.
Prednost BIM-a je ta što se zgrada prvo gradi virtualno sa svim njenim fizikalnim karakteristikama, a tek potom fizički.
Klijent može praktički u realnom vremenu pratiti razvoj projekta i pravovremeno reagirati ukoliko se pokaže potreba, te kasnije u korištenju imati znatno olakšano vođenje održavanja tijekom životnog vijeka građevine. Izvođač znatno bolje sagledava sve njegove sastavne dijelove, izvršava bolju pripremu i planiranje radova. Prednost BIMa je i ta što osim trodimenzionalnog modeliranja može sadržavati i dodatne dimenzije – vrijeme, troškovi, održavanje…
"Koliko je preseka potrebno generisati u BIM modelu kako bi se sagledali svi detalji jedne kuće i njenog okoliša?" – jedna je od interesantnijih objava na vašem FB profilu. Koliko ste preseka kreirali da bi ste drugim inžinjerima i izvođačima preneli složenost i detaljnost Tinel kuća za odmor?
Tijekom procesa projektiranja i razrade kreiramo čitav niz raznih prikaza (presjeka, perspektiva, aksonometrija) kako bismo do detalja sagledali sve dijelove zgrade. Kad projekt uđe u izvedbu taj se broj još poveća prema zahtjevima gradilišta kako bi što vjernije prikazali što se projektom željelo dobiti. Kod dislociranih gradilišta poput Tinela na otoku Korčula, koje radi udaljenosti ne možemo redovito posjećivati, to nam je svima od velike pomoći.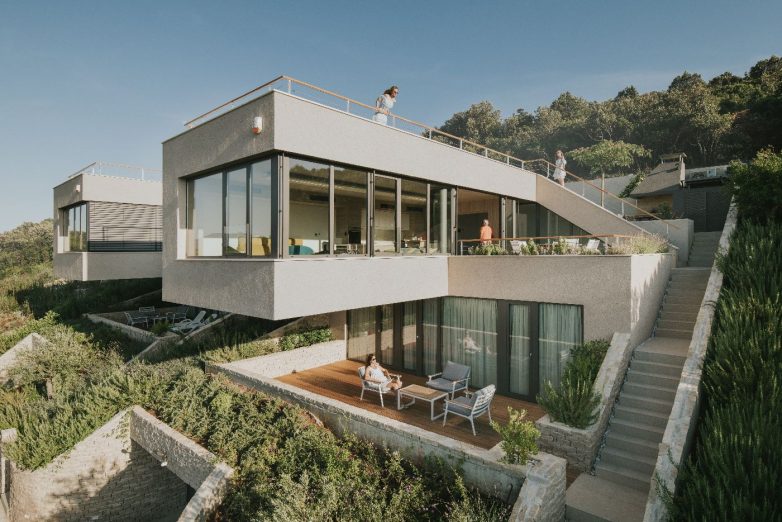 Osim high-end turističkih objekata manjeg formata na hrvatskom primorju, uključeni ste i u projekte veće razmere. Da li je veličina bitna? Tako je tekao vaš proces tranzicije od S, preko L, do XL projekata?
Veličina projekta nije nam važna. Bitni su nam izazovi koje pojedini projekt nosi, a koji mogu jednako zanimljivi biti i u malom i u velikom projektu. Tranzicija prema većim projektima kod nas ide laganim putem. Nakon dosta interijera i obiteljskih kuća, te kuća za odmor, nekako smo prirodnim putem dobivali narudžbe za projekte srednje veličine, te u zadnje vrijeme bili pozivani na zatvorene natječaje za projekte većeg mjerila (Campus Infobip i Campus Rimac Automobili, oba u Zagrebu). Najveći projekt na kojem trenutno radimo je Kompleks Centra za autizam i Osnovne škole Oporovec sa javnim trgom, također u Zagrebu.

Učestvovali ste na brojnim konferencijama, seminarima i stručnim savetovanjima, ali ne i pred beogradskom publikom. Šta će posetioci konferencije BuildUp 2019 imati prilike od vas da čuju?

Predstavit će se naši projekti kroz prizmu korištenja BIM-a. Bit će riječi o nužnosti korištenja BIM-a za nas, te o početnim radnim procesima koji su zamjenjeni onima u BIM okruženju, pa do metoda koje koristimo u svakodnevnom radu. Naglasak će biti stavljen na izradu natječajnih radova i izvedenih projekata.
Kad ste već ovde…