Veliki formati, mermer, teraco, mat keramika i geometrijske pločice su hit ove sezone!
Trendovi u enterijeru menjaju se baš kao i u modi. Zbog toga smo u salonu EuroDOM proverili koji su to trendovi u keramici kako bismo pronašli pločice za vaše novo kupatilo ili kuhinju.
Izbor pločica je zaista velik pa je vrlo teško odlučiti se za pravu kombinaciju. Međutim, na površinu su isplivale neke pločice koje su se postale veoma trendi i s kojima nećete pogrešiti pri sledećem renoviranju ili opremanju novog stana. Obratite pažnju na ovih 5 vrsta pločica!
Veliki format
Ova impresivna keramika je u trendu već izvesno vreme ali jagma za njima ne posustaje. Ploče visine 240 ili čak 320 centimetara, koje lako pokrivaju 5 metara kvadratnih, vrlo su upečatljive i efektne, a posebno kada imate slobodan zid na kojima mogu da dominiraju. Ipak, mana je što ćete postavljanje pločica velikog formata više platiti od lepljenja pločica standardnih dimenzija.
Mat keramika
Zaboravite sjajne pločice – u trendu je mat keramika! Prednost mat keramike jeste da se otisci od vode manje vide na mat nego na sjajnoj keramici. Zbog toga ovaj trend pogoduje svima onima koje vole da je njihova kuća tip-top. Ipak, ne zaboravite da dodate malo više svetla ili jače sijalice jer mat keramika ne reflektuje svetlost pa prostorija može delovati mračnija.
Geometrija
S geometrijom smo mogli i započeti jer ona nikada nije bila popularnija. Heksagonalne forme u raznim bojama u kombinaciji s pločicama ravnih linija, prostoru će dati dinamika i veoma zanimljiv izgled. Ove pločice se mogu postaviti na zidove i na podove i to tako da se prepliću s drugom keramikom što je veoma interesantan detalj kao na slici ispod. Treba takođe znati da s heksagonalnim pločicama ne možete promašiti ukoliko je ostatak enterijera vizuelno umiren.
Mermer
Ovo je omiljeni materijal dizajnera enterijera sudeći po brojnim projektima kuća i stanova. Naravno, ovo nije bez razloga. Mermerne pločice u različitim dimenzijama, koje se mogu primeniti i u kuhinji i kupatilo, daće enterijeru luksuzan i sofisticiran izgled. Najpopularnija tekstura svakako je Carrara, to jest, beli mermer sa sivom ili zlatnom žilom koji se sjajno uklapa uz hrastov furniri ili univer. Ove godine su se kod italijanskog proizvođača Florim, pojavile i nove teksture – retki mermeri koji zaista deluju impresivno i bogato.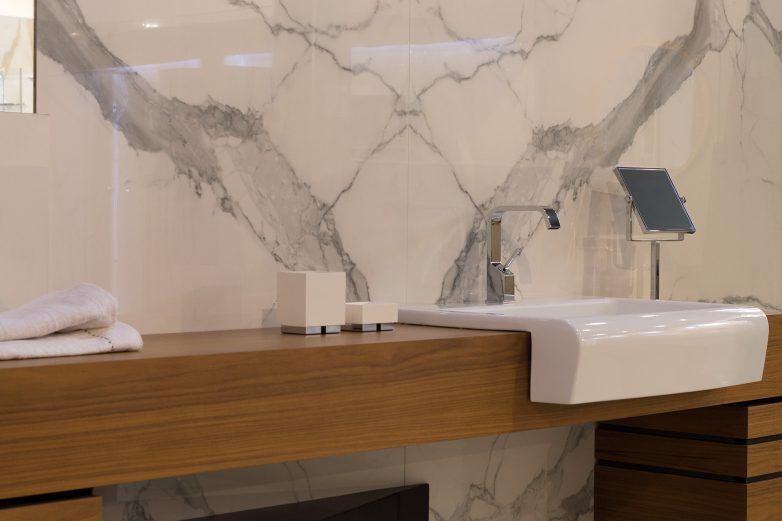 Teraco
Kao što smo već pisali, teraco se vratio u modu u velikom stilu. Omiljeni materijal iz šezdesetih i sedamdesetih godina prošlog veka, sada ponovo hara enterijerima i to u vidu keramičkih pločica s različitim teksturama koje imitiraju lomljeni kamen. Teraco pločice se najčešće primenjuju na podu, a mogu se jednako dobro koristiti i u javnim i stambenim prostorima. Pored toga što ova tekstura izgleda veoma retro, ona je zgodna jer se ovakve površine veoma lako održavaju.
Fotogalerija:
Sve ove pločice italijanskog brenda Florim mogu se kupiti u salonu EuroDOM.
Foto i video: Gradnja.rs
Kad ste već ovde…