Kroz drugi po redu Biciklističko arhitektonsko bijenale predstavljeni su planovi i vizije za preoblikovanje urbanog tkiva gradova kroz biciklizam.
Gradovi nam postaju sve zagušljiviji, prljaviji i ekološki neodrživi. Prekomeran broj automobila na ulicama ne samo da prouzrokuje saobraćajne gužve i transportni kolaps, već izduvni gasovi i buka motora značajno utiču na kvalitet vazduha i stanovanja. Pored električnih vozila, koja su za sada dosta skupa, postoji još jedno rešenje koje je svima pred očima, a koje je pritom raspoloživo svima – bicikl!
Poznati dvotočkaš rado je viđen gost na našim ulicama, ali daleko od toga da je to masovno prevozno sredstvo. Jedan od razloga za ovakvu situaciju je i loša biciklistička infrastruktura kao i obezbeđenost staza za bicikliste. Kako bi promovisali izgradnja objekata koji izlaze u susret biciklistima, NEXT architects organizovao je – gde drugde nego – u Amsterdamu Biciklističko arhitektonsko bijenale, na kojem su predstavljeni radovi projektanata iz celog sveta koji istražuju urbani dizajn kroz društvene, ekonomske i ekološke projekte.
Ova izložba ima za cilj da inspiriše ljude, a posebno arhitekte i urbaniste na razmišljanje o novim mogućnostima za gradove koji bi u budućnosti sve više bili usmereni na potrebe ljudi na biciklima kao i na planiranje sa biciklizmom na umu.
Među selektovanim projektima četiri je iz Holandije, vodeće biciklističke zemlje u kojoj čak 43% ljudi svakodnevno vozi bicikl.
Biciklističko arhitektonsko bijenale osmišljeno je od strane BYCS, organizacije iz Amsterdama, koja radi na planu međunarodnog razvoja biciklizma. Nakon prvog uspešno sprovedenog BAB-a, na ovogodišnjem bijenalu predstavljeno je 15 projekta iz devet zemalja širom sveta. Nažalost, među njima nema projekta iz Srbije iz očiglednih razloga. Selektovani projekti su izdvojeni na osnovu njihove sposobnosti da efikasno demonstriraju kako to projektantska rešenja mogu ići dalje od primarne funkcije bicikla i doprineti zdravijem životu u gradovima, kao i u održivoj ekonomiji.
Ovogodišnja izložba je organizovana kroz tri teme: Putevi, Veze i Destinacije. Kroz ove teme predstavljena je raznolikost na koje biciklizam transformiše mesta a samim tim i ljude, pokušavajući da uspostavi ravnotežu između kretanja i boravka u određenom prostoru.
Pogledajte video o Biciklističkom arhitektonskom bijenalu:
Projekti koji pomeraju granice
"Ohrabrujuće je što odabrani projekti ne dolaze samo iz zemalja koje imaju razvijenu kulturu biciklizma, već i iz mesta koja nemaju idealan kontekst, ali pokazuju ono što je moguće. To nam daje nadu da će se inspirativni primeri pojaviti svuda." – rekao je Bart Reuser, jedan od osnivača NEXT-a.
Među selektovanim projektima četiri je iz Holandije, vodeće biciklističke zemlje u kojoj čak 43% ljudi svakodnevno vozi bicikl.  Jedan od predstavljenih projekata se odnosi na revolucionarni parking za bicikle na železničkoj stanici Utreht, koji je sa 13.500 mesta najveći garaža za bicikle na svetu.
Jedan od predstavljenih projekata je i čuveni biciklistički put Bicycle Skyway dugačak 8 kilometara, koji vodi iznad saobraćajnica kroz kineski grad Sjamen.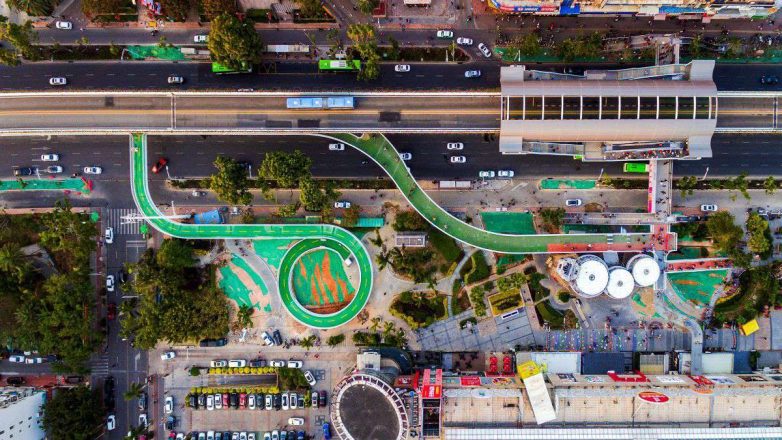 Biciklizmom do bolje klime
"Biciklizam je mnogo više od transportnog rešenja za gradove. Ono poboljšava mentalno i fizičko zdravlje, bori se protiv zagađenja vazduha i klimatskih promena, ali i povezuje zajednicu na dinamičan način." – istakao je Maud de Vries iz BYCS- a.
Svi projekti su dostupni i u online galeriji na bycs.org, a ovo su neki od izdvojenih.
Kao što vidimo, biciklizam uveliko transformiše gradove širom sveta. U Srbiji je situacija malo drugačija, ali verujemo da se i kod nas mogu pomeriti stvari s mrtve tačka. Kakvo je stanje na našim biciklističkim stazama, možda najbolje se može sagledati iz kolumne Mladena Borockog.
Kad ste već ovde…