Proveli smo dan s majstorima na sanaciji novosadske Katedrale. Rad na visini preko 50 metara im je svakodnevica, a užad im je osnovno sredstvo za rad. 
"Od kako ste vi u selu ima mnogo više vernika," dobacila je slučajna prolaznica koja je prolazila ispod začuđenih majstora koji okačeni o užad skidaju krst sa crkve, i potom pojasnila: "Kada meštani prođu ispod vas, svi se krste!". Međutim, Andreju Trusini, Danimiru Plavšiću i Srđanu Crnogorcu iz firme Limarija Ralbovsky iz Selenče, svakodnevica je da se popnu na toranj visokog objekta i da zakačeni o sajle na visini i po nekoliko desetina metara, sređuju limariju na krovu, krpe oluke ili da menjaju crep. Njihov najnoviji poduhvat bila je sanacija krova na crkvi Imena Marijinog, među Novosađanima poznatija i kao Katedrala.
Na ovom poslu su oko dve godine. Trenutno se radi farbanje limenih delova na krovu, zamena polomljenih crepova, postavljanje reflektora na veliku, a sada i na malu kulu, farbanje oluka i postavljanje zaštitnih rešetki na krovu. Celokupne radove planiraju da završe do kraja godine.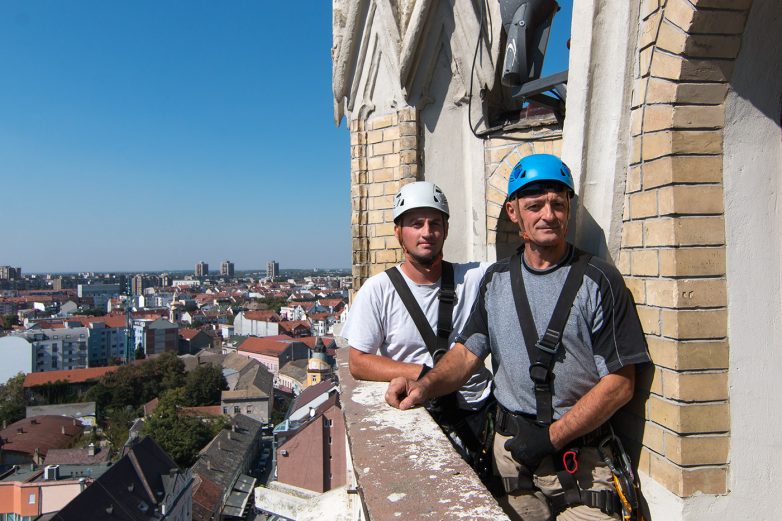 Ne, ne bojimo se visine. Mi je volimo! Za industrijske alpiniste rad na 50 metara iznad tla nije nikakav problem
"Ne, ne bojimo se visine. Mi je volimo!" odgovorio je Andrej na naše, očigledno, nepotrebno pitanje. Ova četiri neustrašiva momka bave se, kako su istakli, industrijskim alpinizmom. Ono što obični majstori ne mogu, oni mogu! Njihova osnovna oprema za rad jesu užad, pojasevi, osigurači, kaciga… i hrabrost! Kada nam su nam Andrej i Danimir pokazali kuda treba da se popnemo do terase katedrale, u početku smo mislili da to nije neki naporan posao. Međutim, nakon zidanih stepenica koje vode na prvi sprat crkve, dalje u visinu vode improvizovane drvene stepenice koje postaju sve uže i uže, a svetlosti ima sve manje i manje. Na polovini puta ka vrhu, već zadihani i s blagim osećajem klaustrofobije, zatičemo zvona koja su deo mehanizma sata.
"Dobili smo zadatak da namestimo položaj kazaljki na satu, što nije bio nimalo lak posao jer su one izuzetno teške", kaže Danimir i dodaje da su to uspeli tako što su se užadima zakačili za grede, izašli na fasadu crkve i ručno pomerali kazaljke na svoje mesto. Naravno, to je za sugrađane bila atrakcija sama po sebi, a posebno što su pritom na katedrali odigrali i Užičko kolo.
Put ka vrhu
Put nastavljamo ka gore, a Danimir nam usput priča kako su pre početka radova izneli nekoliko stotina kilograma izmeta od golubova koji su u ovom prostoru našli svoj dom. Golubovi su proterani, krov je zakrpljen, tako da je sada situacija normalizovana ali i dalje mračna. Taman kada smo pomislili da se vratimo nazad, pojavio se tračak svetlosti koji je nagoveštavao da izlazimo ka vrhu. Trud se na kraju isplatio jer je pogled sa terase katedrale zaista fantastičan. Ceo grad se vidi kao na dlanu, a posebnu pažnju kradu pogledi ka novom mostu, hotelu Centar koji odavde izgleda veoma lepo, ali i Pupinovoj palati koja je pojela pola vizure.
Pogled s Katedrale:
Okačeni o užad, oni popravljaju crepove, sređuju limariju na krovu ili krpe oluke i u tome uživaju.
"Neobično je raditi na visinama iznad ptica", rekao je Andrej i bilo nam je odmah jasno kako to izgleda. Dok jedni ne smeju da pogledaju preko ograde, ovi momci rade sa njene druge strane viseći nad provalijom od 50 metara gledajući golubove iz ptičije perspektive. Okačeni o užad, oni popravljaju crepove, sređuju limariju na krovu ili krpe oluke i u tome uživaju.
Kako ističu, najviše rade silose i crkve po Vojvodini. U pojedinim crkvama godinama niko nije izlazio na krov, a atmosferski uticaji i golubovi napravili su najveću štetu.
Zidovi za penjanje su mačiji kašalj
Ipak, njima alpinistička oprema ne služi samo za posao već i za zabavu. Tokom slobodnog vremena oni organizuju adrenalinske parkove širom Vojvodine, a bave se i streličarstvom. Bandži skokovi su im omiljena adrenalinska aktivnost, dok im zidovi za penjanje, kao što smo i pretpostavili, nisu veliki izazov.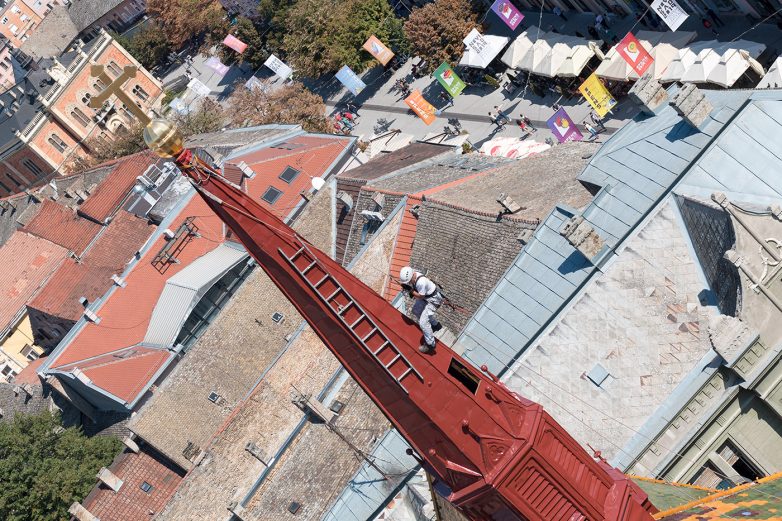 Hrabri, neustrašivi i posvećeni
Tokom vremena provedenog sa njima shvatili smo koliko su ovi momci hrabri, neustrašivi i posvećeni svom poslu. Sa njima smo se popeli do vidikovca na velikoj kuli katerdale, prošetali ispod konstrukcije krova, zavirili u svako zvono katedrale… Nije teško primetiti koliko oni uživaju u svom poslu koji je zapravo toliko opasan da se ljude krste kada ih vide.
Kad ste već ovde…